How To Get From New Jersey To New York City | The (Really) Exhaustive Guide
Posted on January 16, 2023
By

Summer Daidone

5207 Views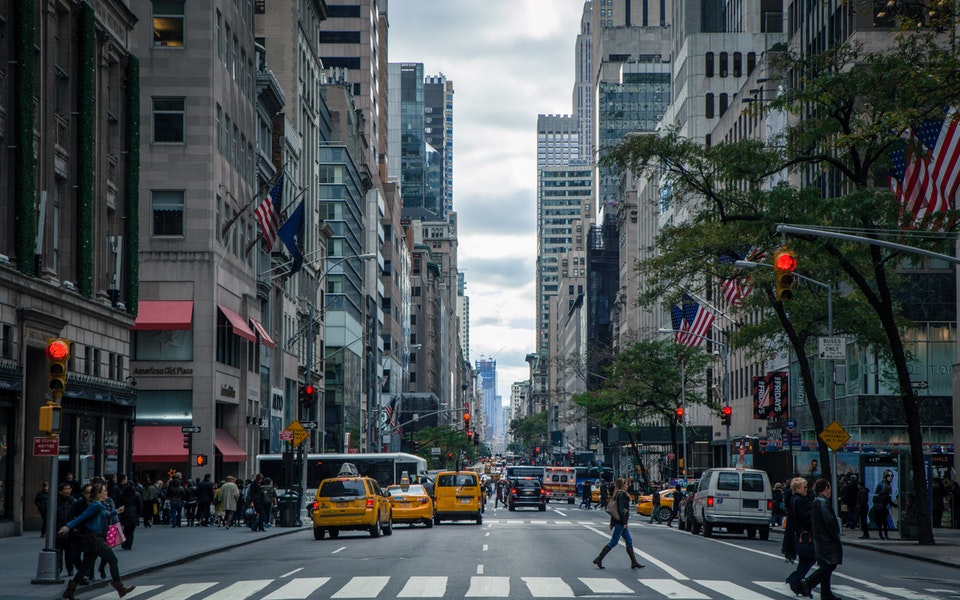 From Northern New Jersey into New York City: Your Ultimate Guide
Whether you live in New Jersey or are just vacationing in New Jersey, you're probably not aware of how many different ways you can get from the Garden State to the Big Apple.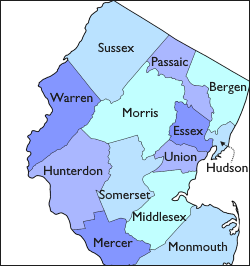 New Jersey and New York City are separated by a 315-mile-long river that originates in the Adirondack Mountains and drains into the Atlantic Ocean. This river, the Hudson River, is officially the boundary between the two states.
Right across the river from New York City lay the most northeastern NJ counties: Bergen County, Hudson County, Union County, and Essex County. These counties are home to some of the most famous and most populated cities in all of New Jersey.
Essex County is home to Newark, Montclair, Fairfield, and other major towns and cities. Union County has some smaller cities like Clark, Rahway, and Elizabeth.
In Bergen County, explore Ridgewood, East Rutherford, Fort Lee, Teaneck, Mahwah, and more! Within Hudson County, you'll find some really cool cities to explore, including Jersey City, Hoboken, Secaucus, Bayonne, Weehawken, and many more. The best part? All of these lie just outside of New York City!
So How Can I Get from New Jersey to New York City?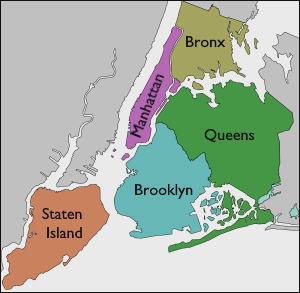 The best part about traveling to New York City is that there are so many options. Whether you feel like driving into the city yourself, or doing something a little different and hopping on a ferry, the opportunities are nearly endless!
The first thing to consider is where exactly you are looking to travel to. New York City is made up of five different boroughs: Manhattan, Brooklyn, Bronx, Queens, and Staten Island. There are different ways to get to each borough, which can make planning a trip very complex. Are you visiting the Bronx Zoo in northern New York City? Are you looking to see the bright lights of Times Square in Manhattan? Do you need to get to the Verrazano-Narrows Bridge in order to travel from Staten Island into Brooklyn? There are different methods of transportation for all of wherever you are headed to.
Luckily, we have put together a complete guide to every way of getting from NJ to New York City. Decide where you need to end up, then pick your favorite way to explore, and get on over to the City that Never Sleeps!
[button link="#drive"]Drive[/button] [button link="#train"]Train[/button] [button link="#ferry"]Ferry[/button] [button link="#bus"]Bus[/button] [button link="#bike"]Bike[/button]
Coming from a Specific City?
Choose your origin city below to get specific transit information and directions to New York City.
---



Driving into New York City from NJ
Because the Hudson River runs right through the two, the only ways to get directly from New Jersey to New York City in a car are by bridge or tunnel. There are four different bridges leading into New York City: George Washington Bridge, Bayonne Bridge, Goethals Bridge, and Outerbridge Crossing. There are also two tunnels leading into New York City: Lincoln Tunnel and Holland Tunnel.
George Washington Bridge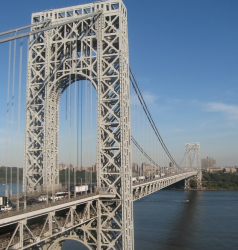 The George Washington Bridge is the most northern option, as it connects Fort Lee to Washington Heights. This bridge's construction began in late 1927 and opened to traffic first in 1931, originally called the "Hudson River Bridge". The bridge is 4,760 feet long and 213 feet tall at it's the highest point. There is an upper and lower level to the bridge. Trucks and RVs are required to use the upper level and are prohibited from the lower level. The tolls for the George Washington Bridge change over time and vary from vehicle to vehicle. The toll is paid heading into New York from New Jersey. Traveling westbound to New Jersey is always free.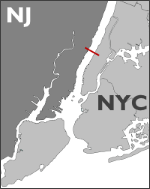 On average, the George Washington Bridge has more than double the number of vehicles passing over it than any of the other bridges or tunnels going into New York City. Over 50 million vehicles take the George Washington Bridge into New York City each year. For this reason, the bridge is infamous for it's heavy traffic. Plan accordingly, and try not to travel during rush hours. Avoid traveling between 6 a.m. and 10 a.m. and between 4 p.m. and 8 p.m. on weekdays. You can even sign up for Port Authority alerts to come to your phone to alert you of any possible delays.
Lincoln Tunnel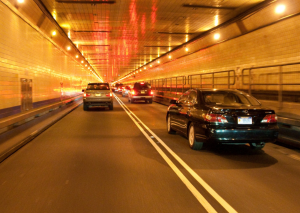 The Lincoln Tunnel is a 1.5-mile-long set of three tunnels that run under the Hudson River. These connect Weehawken, New Jersey to Midtown Manhattan in New York City.
An average of approximately 110,000 vehicles pass through the Lincoln Tunnel each day. In the morning during rush hour, the center tube is used by only buses.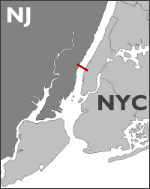 Buses account for 11.4% of all vehicles that travel through the Lincoln Tunnel into Manhattan because it leads to West 39th Street, with Port Authority in New York City located right around the corner.
All vehicles pay the toll heading into New York City from New Jersey. Those who are traveling westbound into New Jersey from Manhattan do not pay a toll.
Holland Tunnel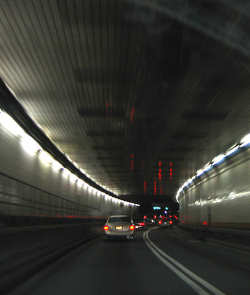 The Holland Tunnel is an underground tunnel that connects Manhattan, New York, and Jersey City, New Jersey. It also runs underneath the Hudson River. The north tube is 8,558 feet long and the south tube is 8,371 feet long. It is located under approximately 93 feet of water.
The tunnel leads into Lower Manhattan. The New York City portal opens to Canal Street and Hudson Street, just outside of Soho.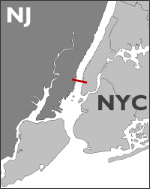 This is the ideal tunnel to take into New York City for those who are looking to explore the southern parts of Manhattan, including the East Village and Two Villages. Check out Battery Park for a beautiful view of Ellis Island and the New Jersey skyline, or visit the sentimental National September 11 Memorial & Museum.
Bayonne Bridge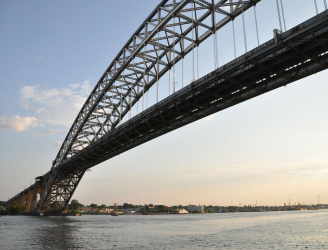 The Bayonne Bridge connects Bayonne, NJ with Staten Island, NYC. It crosses over the body of water known as Kill Van Kull, which connects to both the Hudson River and the Atlantic Ocean.
When it was built, the Bayonne Bridge was the longest steel arch bridge in the entire world, and it now is known as the fifth longest. It is 5,780 feet long and stands 148 feet high.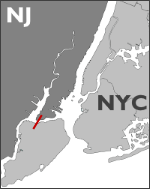 It is the most northern of the three bridges for vehicles that connect New Jersey to Staten Island.
The Bayonne Bridge has less traffic on average than any of the bridges or tunnels, as it only carries about 4,500 vehicles each day. Trucks and commercial vehicles are permitted access to this bridge. Tolls are collected from vehicles when traveling south from New Jersey into Staten Island, but it is always free to travel Northbound back into New Jersey.
Goethals Bridge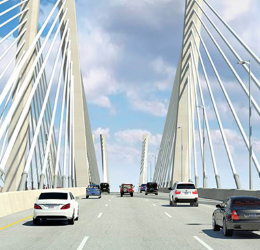 The Goethals Bridge is a set of two cross-ways that connect Elizabeth, NJ, and Staten Island, NY. Rather than crossing the Hudson River, this bridge crosses Arthur Kill. The original Goethals Bridge was built in 1925 and had four lanes for traffic. It was one of the first bridges built by Port Authority.
This old bridge was closed in 2017 and was replaced with two connected bridges–an eastbound and a westbound span. The bridges are 7,110 feet long and 141 feet high. While it is open for transportation, the project will not be fully complete until 2018.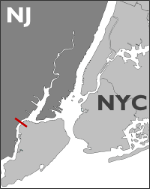 Just like the other bridges connecting New Jersey and New York City, tolls are only collected from those who are traveling eastbound into New York. There are no tolls collected from those who are traveling from Staten Island into Elizabeth.
It is open to trucks and commercial vehicles. I-278 runs over these bridges, which is the same highway that runs over the Verrazano-Narrows Bridge into Brooklyn.
Outerbridge Crossing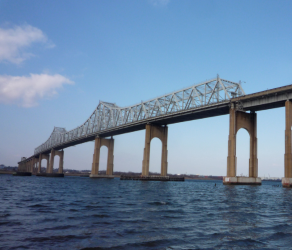 The Outerbridge Crossing was another one of the first projects done by the Port Authority and was designed by the same man who designed the original Goethals Bridge in 1925. It connects Perth Amboy, New Jersey to Staten Island, New York over Arthur Kill and is approximately 10,148 feet in length.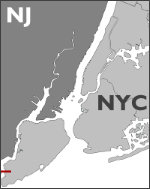 The Outerbridge Crossing is the most southern connection between NJ and New York City. It is the ideal bridge for those who are traveling from southern or central NJ into Staten Island.
It has a pretty high volume of traffic crossing through each day and therefore has undergone many repairs and updates in the past few years. In 2017, it was announced that a $230 million study will be done for a potential replacement bridge.
---
Taking the Train to New York City from New Jersey
One of the most cost-effective ways to travel from New Jersey to New York City is by train. The two main railways entering New York City are PATH and NJ Transit Rail.
PATH – Port Authority of NY & NJ
PATH, Port Authority Trans-Hudson, is a transit system running between northeastern New Jersey and lower/midtown Manhattan in New York City. On average, the PATH transports approximately 280,000 riders per day. See the map below for all of the PATH transit lines and stops.
PATH fares are paid with Pay-Per-Ride MetroCard, SmartLink, or PATH SingleRide tickets. Each ride on the train costs $2.75 unless trips are bought in bulk using SmartLink. See more information about fares and purchase tickets here.
Because the NJ Transit Railway does not have stops in these areas, the PATH is ideal for those who are in the Jersey City area looking to travel into Manhattan. The stops at World Trade Center, 9th St., 14th ST., 23rd St., and 33rd St. also make transferring to uptown and downtown subways simple.
On Monday-Friday from 11p.m. until 6 a.m. and Saturday, Sunday, and holidays, the train system changes a little bit. Rather than having four different lines, the train only runs on two different lines. See the schedule here.
NJ Transit Rail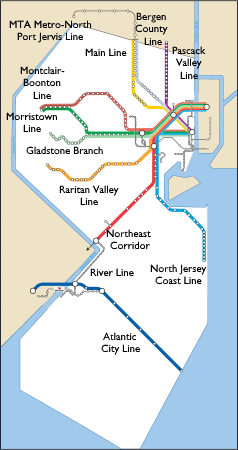 New Jersey Transit is the most extensive public transportation railway network in all of New Jersey. While it does only make one final stop in New York City, at Penn Station New York, it does pick up passengers from all over the state.
NJ Transit has 12 lines that run across mainly central and northern New Jersey, and cover some of southern New Jersey:
Northeast Corridor
Raritan Valley Line
Gladstone Branch
Morristown Line
Montclair-Boonton Line
Main Line
Bergen County Line
Pascack Vallet Line
North Jersey Coast Line
Atlantic City Line
River Line
MTA Metro-North Port Jervis Line
Because schedules and train fares vary depending on the day and destination, see the Train Schedule on NJ Transit's website.
It is possible to get to New York City from each one of these railway lines. We are happy to show you exactly how to navigate the NJ Transit lines for a successful trip into the city, no matter where in NJ you are coming from!
Traveling from Northern NJ and Transferring to PATH Trains in Hoboken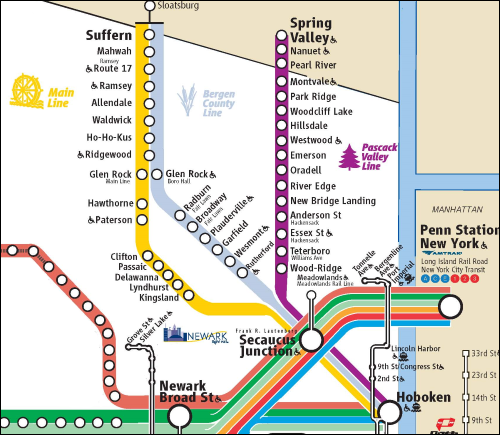 Because the main stop for NJ Transit trains is New York Penn Station, your options become less flexible.
Luckily, those who are going to Lower Manhattan can transfer to the PATH train at Hoboken Station. There are three lines that go to Hoboken Station:
These lines run through Bergen Passaic, Essex, and Hudson counties.
Get on the train at one of the stops listed on the map on the left, or transfer to these lines at Frank R. Lautenberg Secaucus Junction.
Once your train arrives at Hoboken Station, hop off and transfer to a PATH Train. From there, you can get off in New York City at either Christopher Street, 9th Street, 14th Street, 23rd Street, or 33rd Street.
Traveling from Northwest NJ and Newark Broad Street Transfers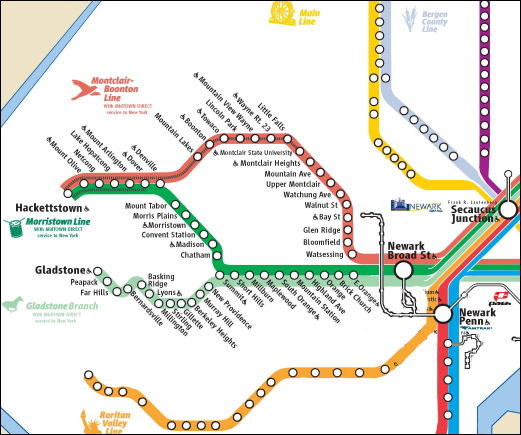 Those who are traveling to New York City from the northwestern regions of New Jersey can hop on the train on one of the following lines:
Montclair-Boonton Line
Morristown Line
Gladstone Branch
The stops for these lines are shown on the map to the right. They primarily run through Warren, Morris, Hunterdon, and Somerset counties before all stopping at Newark Broad Street, Secaucus Junction, and finally New York Penn Station.
Each of these lines does go to New York Penn Station, and no transfer is necessary. Hop on at any one of these stops and stay on until arriving in New York City!
These are also the only three railway lines that stop at the Newark Broad Street stop, so those who need to get on the Newark Light Rail can transfer here.
Traveling from Central NJ and PATH Newark Penn Transfers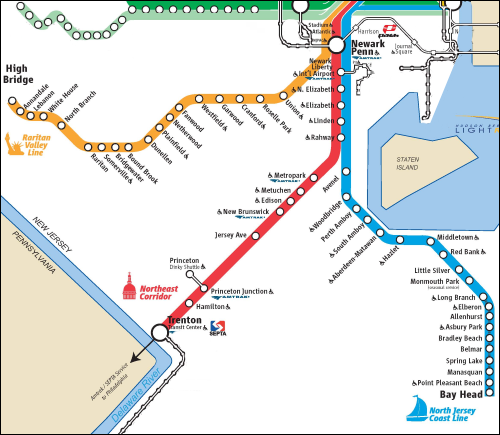 Those who are traveling to NYC from Central New Jersey can take 3 different train lines and have many options for transferring:
Raritan Valley Line
Northeast Corridor
North Jersey Coast Line
These lines run primarily through Hunterdon, Somerset, Middlesex, Mercer, Monmouth, and Ocean counties.
All three stop at Newark Penn Station, which is a transfer station to PATH trains. This means if you are looking to get to Lower Manhattan, these trains are perfect for you!
If heading into New York Penn Station works for your trip, all of these lines do run directly into New York City. Hop on the train at the closest stop near you, and hop off when you're in the city. It's as simple as that!
Traveling from Southern NJ to NYC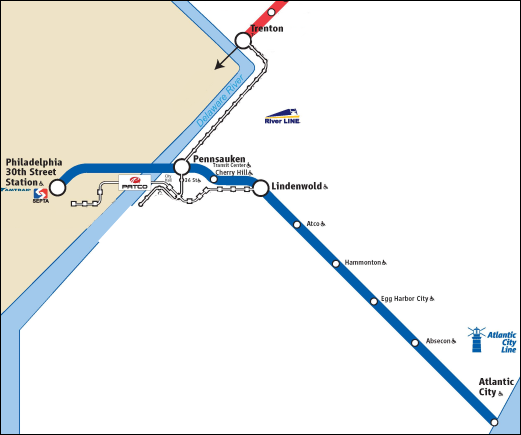 While NJ Transit does not have many stops in Southern NJ, it does have a few on the Atlantic City Line. These stops include:
Pennsauken
Cherry Hill
Lindenwold
Atco
Hammonton
Egg Harbor City
Absecon
Atlantic City
Once you get on at any of these stops on the Atlantic City Line, you will have to ride the train to Pennsauken and then transfer to the River Line.
See the stops made on the River Line (connecting Pennsauken and Trenton stops) below.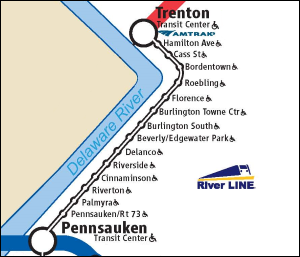 The River Line will take you up to Trenton, where you will have to transfer to the Northeast Corridor line.
From here, the train will continue to Newark Penn Station where you can transfer to a PATH train to ride into the city and get off at a stop in Lower Manhattan. You also have the option to stay on the NJT train all the way until it arrives at New York Penn Station.
While it does involve a few more stops than other regions, this is still a trip worth taking for those who prefer taking trains over buses and driving. Bring along a good book or a fun game to play, and you'll be in New York City before you know it!
---
Take a Ferry to New York City from New Jersey
Try something different on your next trip to New York City, and take a ferry from New Jersey. There really is no cooler way to cross the Hudson River than on a boat, and if the weather is gorgeous it makes for amazing photo opportunities.
We put together a list of all of the ferry companies that can bring you from NJ to NY. Choose the best one for your trip based on where you are coming from and where in the city you are headed.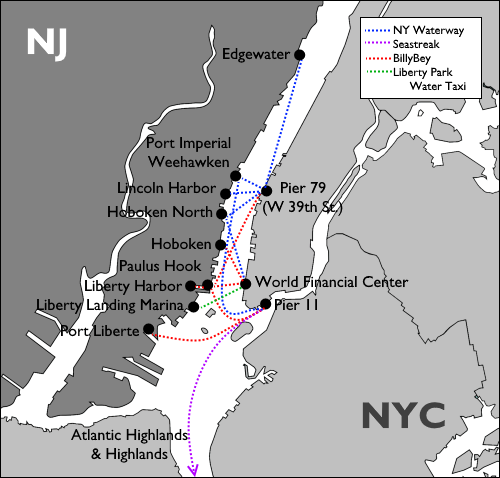 NY Waterway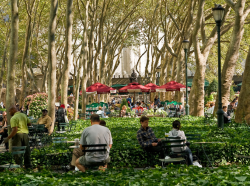 NY Waterway offers the most options for those who are looking to take a ferry from NJ to NYC. It leaves from more northern NJ ports than other ferries, including both Bergen County and Hudson County ports.
Ferries leave from four different ports in New Jersey: Edgewater being the most northern, the Port Imperial Weehawken, Lincoln Harbor, and Hoboken North.
The boats stop at three different ports in NYC, ranging from Midtown Manhattan to Lower Manhattan and Two Bridges. Ferries stop at Pier 79 at West 39th St., World Financial Center, and Pier 11.
With boats arriving at Pier 79 from three different NJ ports, there are a few different options. Pier 79 is right near Midtown Manhattan. Get off the ferry here and check out Bryant Park!
See more information about NY Waterway ferries.
Seastreak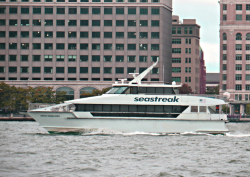 Seastreak makes it easy to get from Central NJ to NYC.
The boat leaves from ports in both Atlantic Highlands and Highlands. The ride takes about 40 minutes and you'll arrive in New York City at Pier 11.
Here, you can see the breathtaking views of Two Bridges, Manhattan, and the Brooklyn Bridge.
See more information about Seastreak ferries.
BillyBey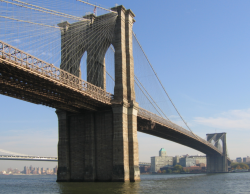 The BillyBey ferry has multiple routes from New Jersey to New York. It is currently owned by NY Waterway, so bookings can be made through there.
With boats leaving from many ports in Hudson County NJ, there are many options for getting to where you are going. These NJ ports include Hoboken, Paulus Hook, Liberty Harbor, and Port Liberte.
The BillyBey Ferry makes stops at three different ports in NYC: Pier 79 (West 39th Street), World Financial Center, and Pier 11. Head over to Pier 79 if you're looking to explore Midtown Manhattan. The port at World Financial Center is in a great spot, as it is located right next to the World Trade Center and the 9/11 Memorial in Lower Manhattan. Pier 11 is right near Two Bridges, which provides an absolutely amazing view of the Manhattan Bridge and the Brooklyn Bridge (it's even better at night!).
See more information about BillyBey and NY Waterway.
Liberty State Park Water Taxi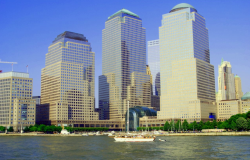 The Liberty Park Water Taxi has one route. It runs from Liberty Landing Marina to Brookfield Place. It runs Monday through Friday from 6 a.m. until 8:45 p.m. year-round and every 30 minutes from 9 a.m. until 7:45 p.m. on weekends.
Liberty Landing Marina is in Jersey City, NJ. The ferry arrives in New York City right near the World Financial Center and Brookfield Place. These are also right next to the World Trade Center and the 9/11 Memorial. From here, you can venture out into Tribeca and enjoy a night full of great meals.
See more information about the Liberty State Park Water Taxi.
---
Take a Bus to New York City from New Jersey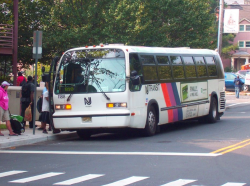 Because NJ Transit has over five dozen bus routes that run through New Jersey, a bus is one of the best ways to get to New York City. It really does not matter where in NJ you are, you are sure to have a bus stop within a few miles from you.
Along these routes, some buses also let people off at Secaucus Junction and Newark Penn Station, where you can catch trains to New York as mentioned above.
Traveling by bus from New Jersey to New York City usually involves stopping at the Port Authority Bus Terminal located in the heart of Midtown Manhattan. This is a popular stop for NJ Transit and private carriers, including Greyhound and Peter Pan Bus Lines. Depending on traffic, the bus ride from city to city usually takes about 30 minutes to an hour.
Once you arrive at the Port Authority Bus Terminal, you can access multiple transportation options such as the subway, taxi, and connecting bus lines. If you've got a bit of a wait, the bus station offers various amenities like restrooms, food vendors, and shops to restock your snacks.
Because the Port Authority Bus Terminal offers a key connection to New York City, it can get busy during peak travel times. To avoid long queues and possible delays, purchase your bus ticket in advance and arrive early to give yourself enough time to navigate the terminal.
For bus schedules and fares, please visit the NJ Transit website.
NJT even offers an Advanced Trip Planner for those who are looking to take more than one form of public transportation in one trip.
---

Walk or Bike to New York City from New Jersey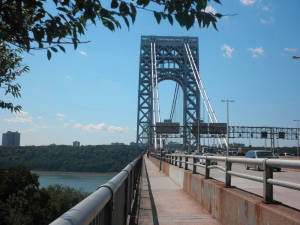 A Breathtaking Trip You'll Never Forget
This is something that if you haven't done before, you have to try at some point! It sounds crazy, but its doable. The views are breathtaking and it feels super rewarding. This will also be a story that you'll tell your friends and family for years to come!
If you were looking for something romantic to do on a night with beautiful weather, this is it! The George Washington Bridge has a pedestrian walking and bike path.
As long as you're not afraid of heights, you can conquer it! Pedestrians are allowed to walk on the south side of the bridge between 6 a.m. and 11:59 p.m. It takes about 20 minutes to leisurely walk one way across the bridge.
Access the Bridge from Fort Lee NJ
Head over to Fort Lee and take on the challenge of walking across the bridge. You can also check out Fort Lee Historic Park, which surrounds the opening of the George Washington Bridge.
Bring your bike for even more fun, as once you bike across the bridge you can continue biking through Washington Heights and into Upper Manhattan. This is an awesome day trip idea!
---
Take a Limo from New Jersey to New Youk
If you're looking for a more luxurious and stress-free way to travel from New Jersey to New York City, consider using Islip Limo Company. This reputable limo service provides a wide range of transportation options, from luxury sedans to stretch limousines, all equipped with the latest amenities and technology to ensure a comfortable and convenient journey. With experienced and professional drivers, you can sit back and relax while Islip Limo Company handles all the navigation and traffic for you. Whether you're traveling for business or pleasure, Islip Limo Company is the perfect choice for a stylish and enjoyable trip to the Big Apple.
Get On Over to the City of Dreams
Whether you decide to drive, take the train, float along on a ferry, hop on a bus, or daringly walk across the GWB–the best part about New York City is that the opportunities are endless!
There is so much to do and see in every part of New York City, and we don't have enough time in our lifetime to see it all.
If you're traveling to the tri-state area, we highly recommend staying in one of the best hotels in New Jersey that are near New York City.