Jersey City, New Jersey sits right on the Hudson River–in between Bayonne, Hoboken, and Union City. It is one of the most diverse cities in the entire world and is known as one of the best places to go to a diner. Walking along the Hudson River in Jersey City provides some amazing views of the Manhattan skyline (as seen in photo above). We figured out how to get from Jersey City to NYC in every way possible, which makes planning your next trip simple.
Because it is such a large and populated city, Jersey City is broken up into regions that are well known to the people from the area:
The Heights
Newport
Exchange Place
Ellis Island
Liberty State Party
Grove Street
Journal Square
Greenville
Hackensack River Waterfront
Drive from Jersey City to New York City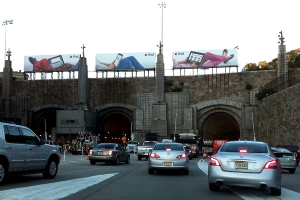 Hudson, Essex, and Bergen counties are known for having some of the worst traffic in all of NJ. While Jersey City is really only located about 1 mile (the width of the Hudson River) away from New York City, it can take anywhere between 3 minutes and an hour to get from one to the other by car.
If you were thinking of driving into New York City from Jersey City, be sure to check on traffic updates and use real time traffic reports to predict the road conditions.
Holland Tunnel – Jersey City, NJ to Lower Manhattan, NYC
Jersey City is home to the New Jersey end of the Holland Tunnel. The Holland Tunnel toll plaza is located right in Newport in Jersey City. The Holland Tunnel connects to Lower Manhattan, and is great for driving if you are going to Greenwich Village, the East Village, or World Trade Center.
Lincoln Tunnel – Weehawken, NJ to Midtown Manhattan, NYC
About 3 miles north of the Holland Tunnel is the Lincoln Tunnel. The toll plaza for the Lincoln Tunnel is located in Weehawken, NJ. The Lincoln Tunnel is better if you're headed towards Midtown Manhattan, Hell's Kitchen, the Upper East Side, or the Upper West Side.
Take the Train from Jersey City to NYC
One of the fastest ways to get from Jersey City to NYC is by taking the PATH Train! The routes are convenient and quick. There are four PATH station stops in Jersey City:
Newport
Journal Square
Grove Street
Exchange Place
The train goes directly into New York City from Jersey City. Choose between two different lines depending on where in the city you need to end up.
JOURNAL SQUARE → GROVE STREET → EXCHANGE PLACE → WORLD TRADE CENTER
JOURNAL SQ → GROVE ST → NEWPORT → CHRISTOPHER ST → 9 ST → 14 ST → 23 ST → 33 ST
PATH Fares can be paid either with a MetroCard or SmartLink. The price per ride is $2.75, unless trips are bought in bulk in which case the price per ride becomes lower. This fare is cheaper than most other ways of traveling from Jersey City to NYC, and the commute is much easier and quicker.
Take a Bus from Jersey City to NYC
There are many bus lines that run between stops in Jersey City to stops in NYC. This is a great alternative to the train because it is inexpensive, however, can take much longer. While a train may only take 10 minutes, a bus can take up to an hour because it deals with the same tunnel traffic that a car would.
See NJ Transit's Hudson County bus System Map.
Search for bus fares and schedules.
Take a Jersey City Ferry to NYC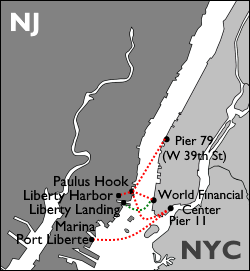 Hop on a BillyBey ferry (now owned by NY Waterway) or a Liberty Park Water Taxi to get to NYC by boat.
This is a really cool and unique way of traveling across the Hudson River, and is definitely worth the trip!
The map on the right shows the different NJ ports and which NYC ports the ferries travel to.
Paulus Hook → Pier 79 (West 39th Street)
Paulus Hook → World Financial Center
Paulus Hook → Pier 11
Marina Port Liberte → Pier 11
Liberty Landing Marina → World Financial Center
Check out the NY Waterway website and the Liberty Park Water Taxi website for rates.
Staying in Jersey City NJ?
Jersey City is one of the best places to stay if you are from far away and want to stay at a hotel that is close to New York City. Stay at one of the best hotels in Jersey City and make traveling to and from NYC a breeze. Check out some of the hotels below and book now for amazing rates!
Hyatt Regency on the Hudson – Exchange Pl. Jersey City, NJ  

The Westin Newport – Washington Blvd. Jersey City, NJ  

DoubleTree by Hilton Hotel & Suites – Washington Blvd. Jersey City, NJ  

Residence Inn by Marriott Jersey City – Christopher Columbus Dr. Jersey City, NJ  

Courtyard Jersey City Newport – Washington Blvd. Jersey City, NJ  

The Holland Hotel – 12th St. Jersey City, NJ  

Ramada Jersey City – Tonnele Ave. Jersey City, NJ  

Courtyard Jersey City Newport – Washington Blvd. Jersey City, NJ  

All of these Jersey City hotels are within a few miles of the Holland Tunnel, and close to a nearby PATH train station. FunNewJersey.com makes it easy to plan your next trip!
---
Want to see more? See our guides to getting to NYC from a different city:
Trenton Montclair Atlantic City Fort Lee Red Bank
Also see our list of the 19 best hotels in NJ near NYC!