Montclair Township NJ, of Essex county, is in the northeast region of New Jersey. It is well known as being home to Montclair State University, one of the great public universities in New Jersey.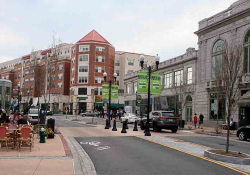 The town has some really interesting historical, educational, and cultural attractions. Visit the Montclair Art Museum to enjoy a gorgeous collection of American and Native American art, or go see a concert at the iconic Wellmont Theater.
Because Montclair is not too far from New York City, it is a great place to stay for those who want to explore both New York and New Jersey.  There are also many options when it comes to public transportation because it is a bustling college town. Use our guide to find out every way to get from Montclair NJ to NYC.
Driving from Montclair NJ to NYC
Two of the best ways to get to NYC from Montclair are by taking the Garden State Parkway or NJ-3 E.
The drive is approximately 20 miles no matter which route you take and the drive takes approximately 50 minutes depending on traffic conditions.
The interactive map below shows the route from Montclair NJ to NYC on NJ-3 East. Click to print these directions.
Train from Montclair to NYC
New Jersey Transit's Montclair-Boonton Line has many stops throughout Montclair. From south to north, the stops are as follows:
Bay Street
Walnut Street
Watchung Ave
Upper Montclair
Mountain Avenue
Montclair Heights
Montclair State University
Depending on the schedule, this train ride can take anywhere from 45 minutes to an hour and a half.
See NJ Transit's train schedule.
Bus from Montclair NJ to New York City
There is a park and ride bus station in Montclair: Bloomfield Ave at Bell St.
Hop on this bus, and you'll have to hop off and transfer to a different bus that will take you to Port Authority in NYC.
There are a few different itineraries when it comes to bus routes from Montclair to New York City. Create your itinerary here
Find a Hotel in Montclair
Staying in Monclair? To help with planning your trip, we also put together a list of some of the best hotels in the Montclair area.

The Wilshire Grand Hotel – Pleasant Valley Way West Orange, NJ

Residence Inn by Marriott West Orange – Prospect Ave. West Orange, NJ

Courtyard by Marriott West Orange – Rooney Cir. West Orange, NJ

Turtle Brook Inn – Northfield Ave. West Orange, NJ

La Quinta Inn & Suites Clifton – Route 3 East Clifton, NJ

Comfort Suites Newark – McCarter Hwy. Newark, NJ

Holiday Inn Totowa Wayne – Route 46 Westbound Totowa, NJ
Check out a list of all hotels in the Montclair area.
---
Want to see more? See our guides for getting to NYC from a different city:
Jersey City Trenton Atlantic City Fort Lee Red Bank
See our list of the best hotels in New Jersey that are near NYC.