The Best Hiking Trails In New Jersey
Posted on January 16, 2023
By

admin

57 Views
New Jersey has amazing camp sites, and plenty of outdoor adventures that are worth noting. After all, we are the Garden State, right? If you have been bitten by the hiking bug,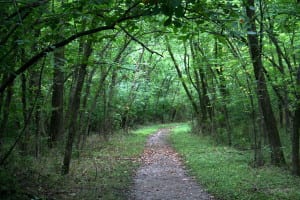 then you're probably wondering where to get the best scenic routes, the best exercise, and the best experiences out there.
You've already packed your hiking gear and put on your boots, now you have to find the right site. To help you out, we decided to blaze a trail for you…
Holmdel Park, Holmdel NJ
Aside from being home to beautiful Longstreet Farm Museum, Holmdel Park has achieved local fame for having some of the most well-mapped, clean, and picturesque trails in the area. Here, you can begin with a nice, quick stroll by the fishing lake, get a little bit more in touch with nature by walking through the arboretum, or getting into a full physical challenge by walking up the giant hill.
Completely outfitted with family fitness outposts, the Holmdel Park trail system allows you to get as into the physical side as you want while enjoying a huge variety of different landscapes. This is one of the most child-friendly hiking venues in New Jersey, and is an ideal way to get your kids interested in hiking, nature, and physical fitness. No wonder it's such a popular place for families to go!
Mount Tammany, Dunnfield Creek Natural Area
This massive mountain is not for the faint of heart, and stretches a whopping 3.5 miles. With constant twists and turns, it's a trail that has been proven to be a challenge for fit beginners and intermediates time and time again. Located right at the Delaware Water Gap, right between New Jersey and Pennsylvania, this trail offers some of the most scenic mountain views in all of New Jersey.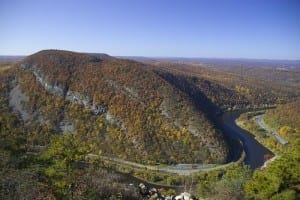 Once again, we want to make sure you understand that this is a physically challenging hike, and is not meant for newbies. In fact, Mount Tammany may actually be one of the most demanding trails in the state, and for those who want a challenge, it is definitely one of the best places to go hiking around. However, as challenging as it is, the trails are clearly marked, and the views are absolutely amazing. You can read more about this trail and how to get to it here.
Sunset Beach, Cape May
As a good hiker can tell you, not all hikes involve climbing up a big hill or a mountain. If you're a fan of gorgeous beach scenery, breathtaking sunsets, and hearing the waves crash along one of the more striking parts of the Jersey Shore, then you may want to take a stroll in and around Sunset Beach.
Much like Holmdel Park, Sunset Beach is very family-friendly, and allows you to feel totally safe while out in nature. It also has just as many amenities, and allows you to stop by some historic sites, too. You can read our full story on this Jersey shore spot here. This is a child-friendly park location that also can be a better option for people who may have some slight difficulty walking.
Lastly, people who love to get an amazing shot of a sunset on a beach have to bring their camera. The views in this area are just too good to pass up!
Buttermilk Falls, Newton
For those who really want to have a challenging hike, and for those who have the proper navigational tools and gear, the area in and around Buttermilk Falls can offer an amazing challenge with an even more incredible reward.
Buttermilk Falls is the tallest waterfall in the state of New Jersey, and the multiple trails in the area make it one of the best places to go hiking in New Jersey. The falls themselves are exceptionally beautiful, and offer a surreal glimpse into the wilderness that was Northern New Jersey before settlers came.
This little-known trail can only be reached by going to Stokes State Forest in Newton. The trails are clearly demarcated, but it's often best to bring a GPS guide just in case. You can never be too careful at higher level hiking trails. After all, the trail that leads to Buttermilk Falls is part of the Appalachian Trail – a notoriously difficult trail.
It's also worth noting that the Buttermilk Falls trail also is close to Crater Lake, a pristine crystal-clear lake that is ideal for swimming. However, there are never any lifeguards on duty, so you'll have to swim at your own risk.
You can find out more about Stokes State Forest here.
Allaire State Park, Farmingdale
Though it's most well-known for housing historic Allaire Village, Allaire State Park also is a great venue for hikers to enjoy fall foliage without the potential of getting lost. With multiple trails leading throughout the massive acreage of the park, it's hard to get bored or to feel like there's a trail that leaves no challenge to you. The longest trail is a whopping 16.3 miles long, so there's more than enough hiking for anyone to do. How far you walk is all up to you!
That being said, Allaire State Park is also one of the very few parks in this article that offers families the ability to do a multiday hike. After all, they allow overnight camping to happen at a very reasonable rate – $45 per night. If you are up to the challenge of a multiday hike, this is definitely a place to go.
Allaire State Park
4265 Atlantic Avenue, Farmingdale NJ
732-938-2371
Washington Crossing State Park, Titusville
If you've ever wonder what it was like to be George Washington crossing the Delaware, we couldn't tell you. You can come pretty close to it, though, by taking a hike through Washington Crossing State Park. Aside from the obvious bonus of feeling close to the history that let America become the United States, this state park has some of the most gorgeous landscapes that you could imagine.
Here, you can also get a close look at a variety of different flora and fauna often not seen through different parts of the state. Trees you may find include mixed hardwoods, cedars, and even red pines. As far as wildlife goes, there have been occasional bobcat sightings in the area. Nature photographers may want to get their cameras ready if they decide to hit trails in this area.
Washington Crossing State Park generally has intermediate to moderate difficulty trails, with a number of campsites dispersed throughout the area. (There are also porta-potties if you need them.) Overall, there is a total of 15 miles filled with trails for people to explore, so you won't ever have to feel like you're running out of fun!
Washington Crossing State Park
355 Washington Crossing-Pennington Road
Titusville NJ
609-737-0623
Tips For Hiking In New Jersey
If you have never hiked before, it's important to choose a trail that you know is smaller and safers, such as the Holmdel Park Trail. When hiking, make sure to bring plenty of water, a map or a GPS device (just in case you get lost), your cellphone, and an extra change of socks. If you have any other hiking gear, make sure to pack it in a durable backpack. Bug spray is often a good idea!
If you have never hiked before, you might also want to consider signing up for a hiking group at a local park. This will allow you to train your body to be used to the demands of a rougher trail, and also will allow you to learn safety tips that you otherwise wouldn't have known. Besides, learning the ropes from an experienced hiker is always a good way to get the most out of any excursion.