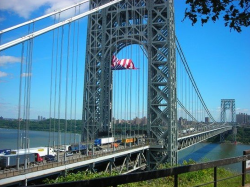 Fort Lee NJ is located in Bergen County, in the northeastern region of New Jersey.
It is on the Hudson River, right across from the Manhattan borough of New York City. The George Washington Bridge connects Fort Lee and Manhattan.
Visit Palisades Interstate Park for some amazing views of the bridge and the skyline. This is one of Fort Lee's top attractions.
Drive from Fort Lee to NYC on the GWB
Fort Lee is the western terminus of the George Washington Bridge, which makes getting to New York City super easy.
It usually takes about 15 minutes to get from Fort Lee into New York City. It is best to travel over the George Washington Bridge during low traffic times. Be sure to check local traffic updates before making the trip!
The interactive map below shows the connection between Fort Lee and Manhattan, the location of the bridge, as well as the distance from Washington Heights to Times Square. This is about a 6 mile distance!

Trains from Fort Lee NJ to NYC
Taking the train from Fort Lee into New York City is a great option for those who are headed to Midtown or for those who would rather not bring their car into the city. Save on parking, gas, and tolls this way! Taking the train is also great for avoiding traffic.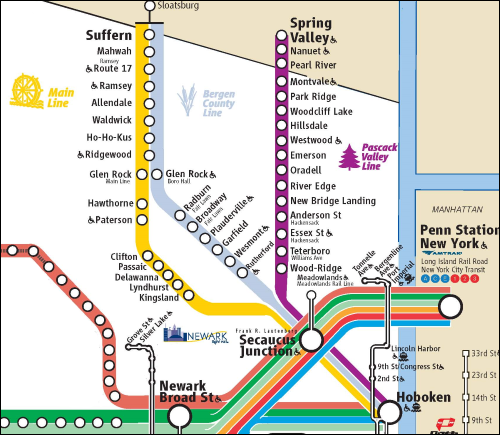 While NJ Transit does not have any stops that are directly in Fort Lee, there are many that are in surrounding towns on the Pascack Valley Line.
The nearest stations to Fort Lee include (listed from most southern to most northern):
Wood-Ridge
Teterboro
Essex Street
Anderson Street
New Bridge Landing
Use the interactive map below to get directions from Fort Lee to the nearest train stations. Each of these trains head south to Secaucus Junction. Hop off the train here and hop on any departing train going in the direction of New York City. This train will make it's final stop at New York Penn Station.

Fort Lee to NYC Buses
The most popular form of public transportation in Fort Lee is the bus.
Because it is so close to the George Washington Bridge, there are many buses that leave from Fort Lee an head into New York City.
This is an extremely cheap way to get into Midtown. Bus rides take approximately 30 minutes.
Use the Bus Schedule tool on NJ Transit's website to plan your itinerary.
Find a Hotel in Fort Lee NJ
If you're traveling from far away and looking to stay in the beautiful city of Fort Lee NJ, we highly recommend staying in one of these nearby hotels.
The best part about staying in Fort Lee is just how close you are to New York City. Maybe you can even try out walking or biking across the George Washington Bridge! It's certainly an experience you won't ever forget.

DoubleTree by Hilton Fort Lee – Route 4 Fort Lee, NJ

Holiday Inn GWB – Route 4 Fort Lee, NJ

Teaneck Marriott at Glenpointe – Frank W Burr Blvd. Teaneck, NJ

Crowne Plaza Englewood – S Van Brunt St. Englewood, NJ

Hilton Garden Inn Ridgefield Park – Challenger Rd. Ridgefield Park, NJ

Hampton Inn Ridgefield Park – Route 46 E Ridgefield Park, NJ

Best Western Fort Lee – Route 4 Fort Lee, NJ
See all hotels in the Fort Lee area.
---
Want to see more? See our guides for getting to NYC from a different city:
Jersey City Trenton Montclair Atlantic City Red Bank
Also see our picks for the 19 best hotels in NJ near New York City!