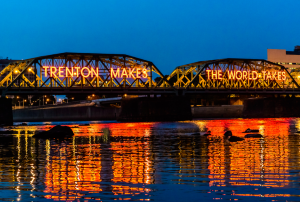 Trenton, of Mercer County, is New Jersey's state capital. With a population of approximately 85,000 people, the city is pretty huge. It borders the Delaware River, which makes it very close to Pennysylvania, "the Keystone State".
While Trenton is pretty far southwest in the state of New Jersey, it has an abundance of public transportation options that take passengers into New York City.
Looking to get from Trenton NJ to New York City? You're in luck! We put together a comprehensive list of every way to get from Trenton to NYC.
Drive from Trenton NJ to New York City
The drive from Trenton to NYC takes about an hour and 20 minutes, depending on traffic conditions. The two cities are approximately 66 miles away from each other.
The fastest route to take is I-95, the New Jersey Turnpike. This route does require tolls. See the interactive map below for details.
Train from Trenton NJ to New York City
Take either an Amtrak Keystone Train straight into New York City, a NJ Transit Northeast Corridor train straight into New York City, or take the Keystone Train to either Secaucus Junction or Newark Penn Station where you can transfer to the Northeast Corridor train.
The fastest train route from Trenton to New York City would be the Amtrak Keystone Train direct route. This trip takes approximately 55 minutes to get from Trenton Station to New York Penn Station.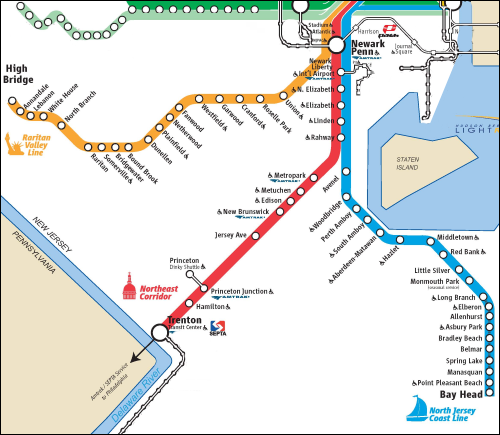 New Jersey Transit
Hop on an NJ Transit train at Trenton Transit Center.
Depending on which schedule the train you get on runs on, the total travel time for the trip can take anywhere between 70 and 110 minutes.
See the NJ Transit train schedules from Trenton Transit Center to New York Penn Station.
Newark Penn Station also serves as a transfer station for those coming from different trains. If you are coming on an Amtrak train, you can transfer here!
Amtrak Keystone Train
The Amtrak Keystone Train runs from Harrisburg to Philadelphia to New York.
Hop on at Trenton Station, and you'll be at New York Penn Station in about 50 minutes.
This train also makes stops at Newark Penn Station, Princeton Junction, and New Brunswick Station where you can get off and transfer to a NJ Transit train to continue your trip to NYC.
See the train schedule for Keystone Amtrak Service.
See the full interactive map for Keystone Amtrak Service.
Buses from Trenton to NYC
While there are no buses that run directly from Trenton to NYC, there are different routes that require transferring at a few different stops.
Use the NJ Transit Bus Schedule creator to plan your trip.
Find a Great Hotel in Trenton NJ!
Staying in Trenton a few nights? We've made a list of the best hotels in and around Trenton to make planning your trip much easier.

Hilton Garden Inn Hamilton – Route 130 Hamilton, NJ

Residence Inn Hamilton – Route 130 North Hamilton, NJ

Homewood Suites by Hilton – Route 130 Hamilton, NJ
Comfort Inn Bordentown – US Highway 206 Bordentown, NJ

Hampton Inn & Suites Robbinsville – West Manor Way Robbinsville, NJ

Holiday Inn Express Bordentown – Route 130 Bordentown, NJ

Still not sure on which one to choose? See all hotels in Trenton.
---
Want to see more? See our guides for getting to NYC from a different city:
Jersey City Montclair Atlantic City Fort Lee Red Bank
Looking to stay in a New Jersey hotel that is near New York City?
Check out our picks for the 19 best NJ hotels near NYC.