Six Flags Great Adventure: The New Safari Off-Road Adventure Experience
Posted on January 16, 2023
By

Summer Daidone

188 Views
It's all over the amusement park's website, and all over their commercials on the TV. You have to had heard by now: Six Flags Great Adventure has officially shut down their drive-thru safari and changed it into a free, in-park off-road style ride. I was kind of disappointed when I first heard about it, as I remember driving through the Wild Safari with my dad at just three years old. However, it turned out that this idea they had to make the Wild Safari into a free ride was an awesome plan.
I've been to the Great Adventure amusement park at least four times this year, and each time we ended up going home without riding the Off Road Adventure because it's line was so long. One time they even told us that the line was four hours long, so they weren't allowing people to wait anymore. When I finally managed to get on an hour-long line this weekend, the weather channel app on my phone was telling me it was supposed to thunder storm any minute, which probably explains why the line was so short that day. I realize now that whenever Great Adventure opens a new ride or attraction, we shouldn't expect to actually get on that ride until the next summer because of how long the lines are.
Unfortunately, after one and a half hours of waiting on line for the ride, just as we were ten people away from getting on the ride, someone comes over the intercom and tells us they are shutting down the ride. Angry parents and their kids left, but I was not moving from that line until they let me on the ride. Fortunately, they did let a small group of us on after waiting for a few minutes and fighting with the security guards.
On the not-so-bright-side, once we got onto the large, off-roading vehicle, it began downpouring. I did not mind, and it seemed as though our tour guide did not mind much either when all she told our group "Looks like we might get a little wet on our safari ride today" over the intercom.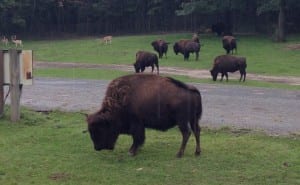 The Adventure Begins!
The vehicle took off and we ventured through all different "worlds". Some of them included Africa, Australia, and even New Jersey. All of these sections were given cute names that the tour guide was really excited to say to us. The first few animals we saw while driving on a dirt path were Rhea (which look like grey ostriches), North American Bison (our tour guide made it very clear that they were NOT buffalo), and Roosevelt Elk. Unfortunately, I only has my iPhone to take pictures and because of the rain, they did not come out so great. Next time I will bring my camera and I know I can get some great shots! There was an opportunity for a great picture at every stop we made.
Elephants and Zebras, Classic Zoo Favorites!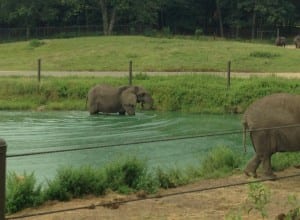 Next, we were off to another land where we saw elephants and zebras. Some of the elephants were actually swimming in the lake, which I thought was really cool. Our tour guide informed us of how they weigh an average of 8,000 pounds. She was very informative throughout the whole ride and always had cool facts to tell us about the animals. We watched a few videos on the front of the truck which she knew all the words to. She also always knew the answer to everyone's questions, which I found to be really impressive.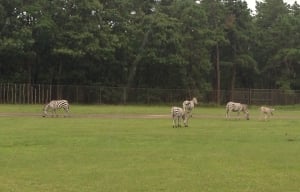 We saw a few zebras here, but they were really far away. They were out grazing in the grass in the distance and I didn't have a very good view from where I was sitting because they were on the other side of the truck. We did get to see a lot more zebras later in the tour, though (including adorable baby zebras!). Unfortunately, I didn't get any pictures of the baby zebras or the ones that were close to the truck. Next time, I will definitely aim to do so!
And now for my favorite part.. the giraffes!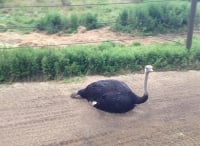 The next part of the tour, which was my personal favorite, was the giraffes. When we first got onto the ride, we were told that the only two animals that can come up to us in the vehicle were the ostriches and giraffes. Luckily, all of the ostriches were laying down because I probably wouldn't have been too thrilled to have an ostrich pecking at me, although I do love ostriches because of how oddly tall they are. However, I was very excited for the giraffes and hoped they would come out to the truck.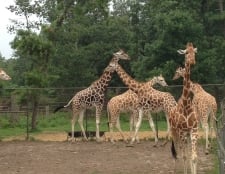 Ruined by the rain…
When we pulled up, we were very close to the giraffes. One was initially walking towards us, but did not come into the truck. As we were driving away, I saw one begin walking into the road we were just driving on. Another feature halfway through the ride was a little campsite where we would have been allowed to get off of the truck and hand-feed giraffes if it wasn't for the pouring rain. We didn't stop at the outpost, and I was a little disappointed but I understood because at this point it was beginning to thunder. Next time I would love to stop at the campsite and feed the giraffes. I would actually go back and wait on line all over again just to do this because it gives the opportunity for an up-close and personal experience with the animals.
We also got to learn about new animals!

We got to see all kinds of different animals like the East African Crowned Crane, Aoudad, Asian Water Buffalo, and Greater Kudu. These would not have been interesting if it hadn't been for our great tour guide telling us funny or cool things about each one. Our tour guide always explained each animal and gave us little facts about each one we met with. Sometimes she went on to tell us about how a certain animal loved or hated the rain as much as we did, or even how long the animal has been at the Six Flags Safari and what it's nickname is. She truly made the ride in the rain enjoyable.
Lions, and tigers, and bears, oh my!
These were some of the last animals we got to see on our trip through the safari. We got to watch a short little video on the TV screen on the front of the vehicle about lions, as well as the bears. First, we saw the lions. They were sleeping in their den to stay out of the rain, but we still had a great view of them. Next, we saw bears. There were black bears and brown bears, both types included special viewings of "mother and cub dens", where we got to see a little bear cub running around in the bushes trying to see a bird high up in the tree. It was adorable and our tour guide was very excited by this. We also got to see some of the bears running across the hills, chasing each other and play fighting. The tour guide told us that the original teddy bear was created to look like a brown bear because they are so cute!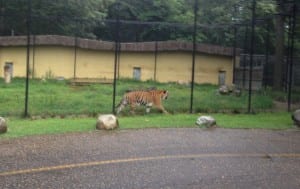 Finally, we drove past the tigers. There were all types of tigers, including: Siberian tigers, white Bengal tigers, and special types of these tigers that were white with black stripes. They were all out of their homes and walking around in the rain, despite the common belief that "cats" hate the rain. There was only one type of each tiger to most of the cages, and I was worried that they might be lonely. We learned that tigers will eat a LOT of meat when they are out in the wild alone, and that the different types of tigers have to be kept separately.
This ride was definitely worth the wait.
We saw MANY animals on this ride. Some that I did not mention in this post are: swans, flamingos, emus, deer, llamas, peacocks, rhinos, kangaroos, and yaks. There were so many animals I could not even name them all!
Overall, I think that changing the drive-thru Wild Safari into a fun Off-Road Adventure ride was one of the best things Six Flags Great Adventure could have done this summer. It has been turned into an hour long learning-experience where everyone has fun, gets to ask questions, and has an up-close and personal view on the animals. The safari has more animals than almost any zoo in New Jersey. I loved our tour guide, as she was full of personality and very helpful for every question that a guest had.
Although we did miss out on seeing some animals that were hiding because of the rain, and we didn't get to stop to feed the giraffes at Camp Adventura, I still loved the ride. I can't wait to go back to the park to ride it on a sunny day and get the full experience.
I would highly recommend checking out the length of the line for this ride the next time you are at Six Flags Great Adventure, and believe me when I tell you that it is worth the wait. Every age and every member of the family is sure to find something to love about this Off-Road Adventure.
Check out the Six Flags Great Adventure Safari Off Road Adventure for some of the best wild animal experiences you can find anywhere in New Jersey!