Apple Picking Nj: All About New Jersey's Illustrious Apple Picking Season With Tips On The Best Places To Go
Posted on January 16, 2023
By

admin

1409 Views
The Only Apple Picking Guide (for New Jersey of Course) That You Will Ever Need
Apple picking is a cornerstone of New Jersey's family entertainment scene, and also happens to be one of the healthiest ways to spend a day.
During the summer and fall months, New Jersey's orchards are ready for the picking—and that means an amazing opportunity for bonding time and fresh apples!
Imagine the fun you'll have when you take your family out to a beautiful farm to pick apples.
New Jersey is home to many farms that offer apple picking.
It is definitely a unique and fun idea to do with kids as well.......
A lot of these farms also have other activities and events going on throughout the year.
Some also offer produce and homemade products for sale.
We are going to include a couple of really interesting New Jersey-based apple pie recipes at the end of this blog post for you!
When is Apple Picking Season in NJ?
Just for your information, apple picking is usually available from August through October. There is a short three-month window.
So here it is, the most unbelievable and in-depth resource for apple picking NJ.
The Quintessential Guide to Apple Picking in NJ
Now that COVID-19's viral outbreaks have started to ease up and outdoor activities are being given the go-ahead from medical professionals, people are starting to bring their bonding time outdoors once more. Being outdoors and taking in the fresh air is great, but what's even greater is having a delicious memento from your outdoor trip.
Before We Begin: What to Know
When you're going apple picking for the first time (because everyone has a first time!), it's important to remember a couple of things:
Don't expect all the apple varieties to be there at once. Different varieties will bloom at different times, which means that a farm that has 17 varieties might only have four available to you when you go. If you're looking or a specific apple, it's best to call ahead or check online before you go.
You might get charged a base fee. A lot of farms will vary in the way they do pricing. Many will charge an entry fee as a way to upkeep and maintain their farming equipment. That being said, even with the fee, you usually get better quality apples and a neat little experience, so it's worth it.
If you have allergies, carry an allergy pill. Hay fever is a thing, as is pollen allergy season. The more severe your allergies are, the better prepped you should be. People who are allergic to farm animals should also check ahead to see if they need any extra protection.
Some farms are more kid-friendly than others. Very young children might not be too thrilled at going apple picking without some other distractions available to them. If you have kids under 10, choose a farm that's considered to be more kid-friendly.
Grab sunscreen. Apple picking season typically runs from late summer to late fall. Though the temperatures during this time tend to be a little cooler, the sun is still going to be blazing hot. To avoid sunburn (or just sun damage in general), we suggest grabbing SPF 30 at the minimum.
Have a rain check. Though it's rare, you might end up going to an apple orchard only to have it rain. It's a good idea to know whether or not orchards will let you pick in the rain. (Most won't, some might.) If you're caught orchard-less, make sure you still have a good outing you can enjoy nearby.
Can You Be Too Young to Go Picking?
With a lot of family-friendly activities, age limitations can become an issue. This is especially true when you are new parents who are looking for a way to spend the day outdoors while dealing with a young toddler.
There's plenty of good news to be had here. There's no age minimum when it comes to apple picking. In fact, it's fairly common to see parents carting their babies around in hiking-friendly strollers while they select some apples. Toddlers can be easily lifted up high so they can reach a fruit, while kids who are slightly older like to run through the trees.
What's more, is that the vast majority of farms on this list have at least one or two additional things kids like to do. Sometimes, you might be able to sneak in a cool hayride. Other times, it can be something along the lines of freshly-made ice cream.
Is This A Good Date Idea?
If you choose to do this a little later in the day, there's no reason why you shouldn't be able to use apple picking as a great date option. We suggest finding an orchard that's known for picturesque scenery, foodie-friendly treats, and for having restaurants nearby.
It's important to remember that some orchards are more adult than others. Choosing a venue that suits the idea of a day date is a good idea. After all, not every date wants to hear the squawk and squeal of happy kids around them.
Though most people will find this to be a cute idea, it's always a good idea to double-check, especially if your partner was expecting something a little more romantic. For example, I wouldn't recommend this as an anniversary date unless you met at the orchard.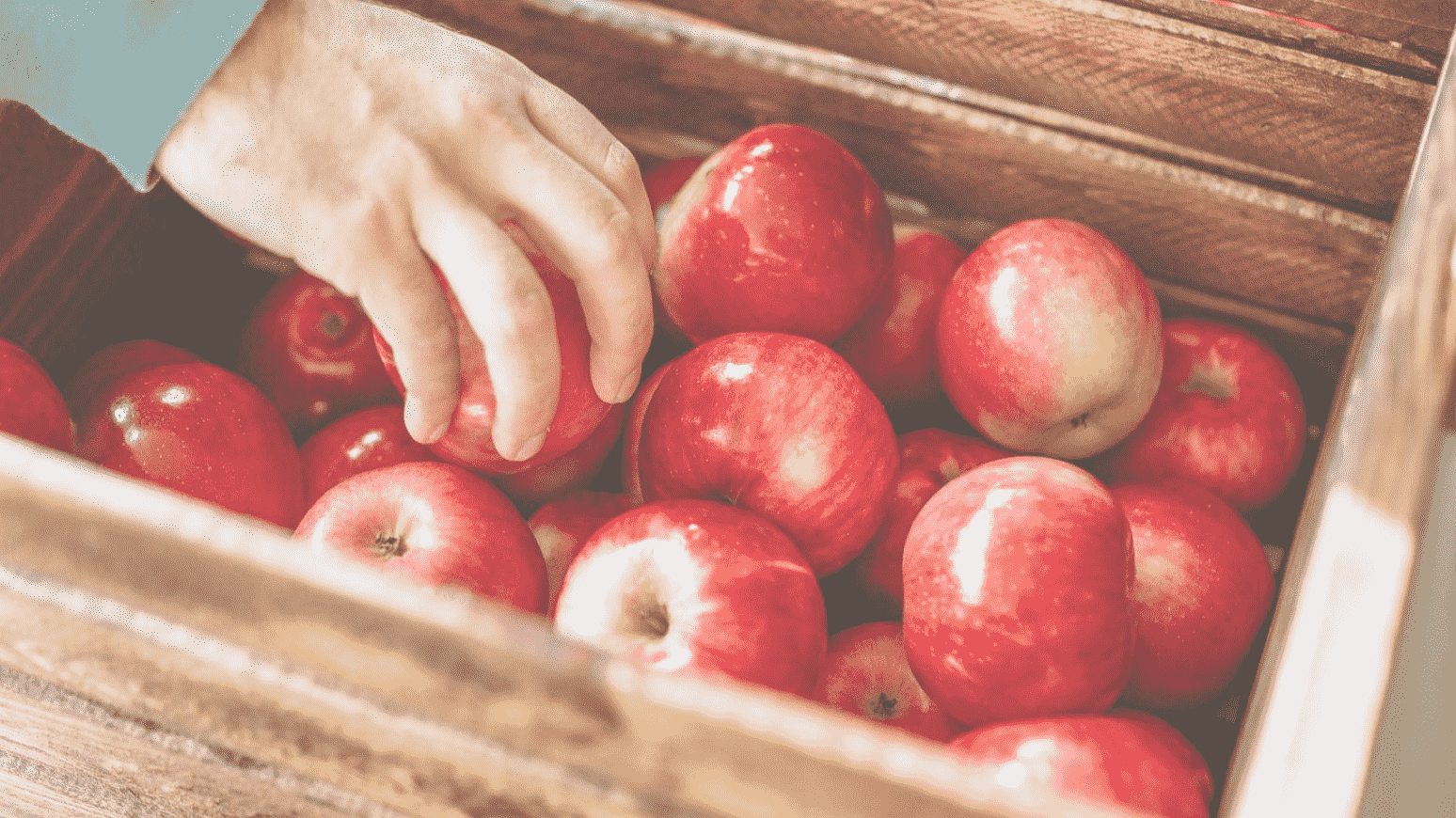 Our Picks for the Best PYO Apple Orchards
Finding orchards that are PYO (Pick Your Own)-friendly isn't always easy to do. Looking for the best orchards near you? This guide is here to help you out.
Apple Picking Central Jersey
The vast majority of orchards that offer PYO are found in Central New Jersey. So, we decided to kick it off with our picks in this section of the state!
Eastmont Orchards – Colts Neck
321 County Rd 537, Colts Neck, NJ 07722
If you're hoping to head to the Jersey Shore region, one of the best places for apple picking you can add to your trip is Eastmont. This sprawling orchard covers multiple acres and is filled to the brim with both apple and peach trees.
During the middle of the summer (July and August), peaches are the name of the game. Top varieties offered here include SugarGiant, Fantasia, Glengold, and Lady Nancy. Once August hits, apple season gets into high gear. This is when Eastmont really shines, with much of its thanks being to its wide variety of apples.
This is a great place for people who want a variety of apples. If you're a fan of Braeburn, Honeycrisp, McIntosh, or Spartans, you'll love this place. Want to try a more unique varietal? Their Arkansas Black apples are an amazing end-of-season pick!
Wightman Farms – Morristown
1111 Mt Kemble Ave, Morristown, NJ 07960
Located right on the outskirts of historic Morristown, Wightman Farms is an excellent choice for people who want to get a little bit of Revolutionary War ambiance with their apple picking experience. Though having historic landmarks nearby is cool, it's the farm's offerings that make this place awesome.
The farm itself offers up a massive array of pick-your-own produce: strawberries, cherries, apples, pumpkins, flowers, and peaches. For people who love the idea of farm-fresh goods, Wightman is going to be a regular stop throughout most of the year. Top apples to try here include their Golden Delicious, Empire Apples, and their mouthwateringly crisp Cameo apples.
Once you're done picking your apples, you might be able to complete your meal through a trip through the farm's luxury grocery store. Their meat and dairy sections are phenomenal and foodie-approved.
Apple Picking Princeton NJ
Terhune Orchards – Princeton
13 Van Kirk Rd, Princeton, NJ 08540
If you're in the Princeton area, you're in luck. You have one of the best orchards in New Jersey for apple picking and child-friendly activities. Terhune Orchards is a massive farm operation that offers up wine tastings, child-friendly events, and grocery shopping alongside its apple-picking (and veggie-picking) works.
In terms of apple picking, you got your fair share of goodies to choose from. A jaw-dropping 24 different apple varieties are available here from September through October. Of those, you can pick your own from around 12 different options. We're huge fans of their Galas and their Pink Lady apples.
Do your kiddos still have a little too much energy to spend? Not a problem. After you've done your picking routes, bring your kids over to the farm's barnyard to meet some animals, or have them sit down and listen to a story.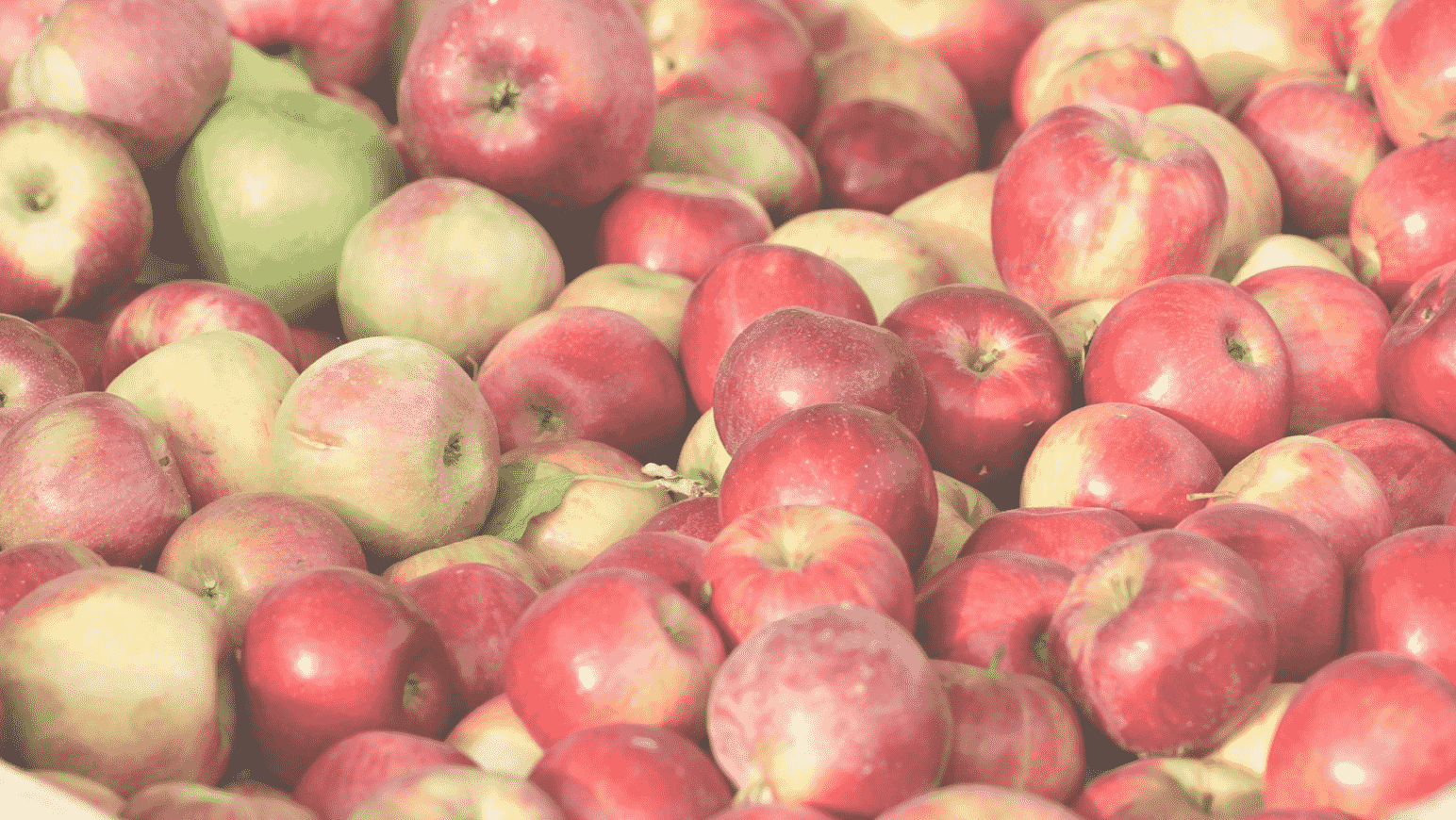 Apples picked at Terhune Orchards in Princeton, NJ
Battleview Orchards – Freehold
91 Wemrock Rd, Freehold Township, NJ 07728
There's something delightful about seeing the old world charm that comes with a history-tinged country store like the one seen at Battleview Orchards. Nestled right in the farm-heavy township of Freehold, this welcoming orchard is a relic from simpler times in the best way possible.
The orchard portion of Battleview is noted for having PYO days for its peach trees and apple trees during the summer and fall months. In terms of apples, they have 14 different varieties to enjoy that bloom over a nice range of seasons. Their Braeburns, Jonamacs, and Fuji apples are particularly stellar.
If you're feeling something a little bit different, it's worth noting that Battleview also boasts strawberry, sour cherry, nectarine, and pumpkin picking at different points during the year. Not feeling like going for a picking session? Their country store is open year-round and offers farm-fresh apple products.
Speaking as someone who adores good cider, I want to beg you not to leave this store without grabbing a bottle of their stuff. It's a sinfully decadent apple cider.
Giamarese Farm & Orchards – East Brunswick
155 Fresh Ponds Rd, East Brunswick, NJ 08816
This is one of our go-to farms because we actually live in the Monroe area so this is very close to home.
So, here's what you need to do to enjoy the apples at this beautiful farm:
As soon as you get there, head into the farm market before you go out into the field.
Once you have your baskets you take a nice little walk down out into the orchard. Apple season here is from late August right through Columbus Day.
In terms of their apples, Giamarese has a very respectable (I'd go so far as to say impressive) 17 varieties you can pick. This includes common strains like Golden Delicious and Cortland, but don't be fooled. They also carry hard-to-find varieties like Nittany and Mollies Delicious, too.
Here is some information about a couple of other varieties that they have with a little bit of an explanation about each.
Stayman-Winesap – this cultivated variety is in between a Stayman Apple and a Winesap Apple. It is well-liked for its very firm crisp yellow flesh. Some people love to eat these with wine and cheese because the apple has a tinge of tartness and wine flavor.
Sun Crisp – Sun Crisp apples are on the medium to the smaller side. According to this website, the sun crisp apple was created by crossing together a golden delicious, Cortland, and a cox's Orange Pippin. It was also cultivated and originated in our great state of New Jersey! What makes us Apple so special is that it is very hardy and has a longevity unlike other varieties and it also is not very prone to browning. It can actually last half of the year if it is stored correctly.
Who knew that we were learned so much about sun crisp apples today?
Autumn Gala – the skin of this beauty is a nice deep orange-red. It also has a nice firm texture. These are a recommended variety if you're going to make applesauce.
Blushing Golden – this is an apple that looks like what its name sounds like. It has a yellowish tint with a little bit of orange in areas. It tastes very similar to a golden delicious, but it has a little bit more of a tang to it.
Cameo – this one is especially curious to us and according to Google and Wikipedia, it's a cultivar that happened by chance. The hybrid parents are unknown but do Sayers do believe that it's possibly a cross between a red delicious and a golden delicious apple. The color is a light red with a lot of yellow streaks in it, and it has a perfect balance of sweet and tart.
Giamarese has been a mainstay in the Rutgers New Brunswick area when it comes to fresh fruits, and rightfully so. This orchard boasts pick-your-own fruits, veggies, and Christmas trees from May all the way to December!
Along with having a full store, Giamarese Farm & Orchards acts as a major proponent of education in the East Brunswick region. They regularly offer school tours and make a point of helping kids learn about the importance of farming.
Melick Orchards – Califon
472 County Rd 513, Califon, NJ 07830
Out in the far western corner of the state, surrounded by lush farmland is Melick Orchards. This cozy orchard was a must-have on this list, primarily because it's currently the largest apple orchard in New Jersey. By default, that makes it one of the best places in NJ for apple picking—if only for the sheer size of the ground you can wander.
Here, you'll find a lot of varieties—many of which are fairly standard-issue like Golden Delicious or Fuji. However, you don't get an orchard to get to that size without some serious digging. That's why so many families flock to Melick Orchards for their Asian Pears, Blondee apples, and Red Frees.
Like most other major orchards, Melick also makes their own apple products that are ready to buy (and enjoy) in their farm store. Their cider is amazing, as are their baked goods. What most people really adore about this place, though, is the option of riding horse-drawn carriages through the farm!
Von Thun's Country Farm Market – Monmouth Junction
505 Ridge Rd, Monmouth Junction, NJ 08852
Sometimes, you aren't really just looking for a place where you can pick bunches of apples. Sometimes, it's more a matter of being able to just take in all the parts of the country lifestyle in a way that is both relaxing and engaging for your younger family members. We definitely get it.
Von Thun's has a rather limited apple picking assortment compared to most of the other places on this list, but don't let that fool you. This farmers market is no one-trick pony by any means of the word. Along with its PYO orchards, you can get fresh produce and enjoy a massive array of different events.
You can usually chill out with farm animals, play a round of mini-golf, or just attend one of their many festivals. Events are thrown almost every month here. Oh, and if you're a fan of the farm-to-table movement, you might want to book a day of dining on their special gourmet Saturdays. They do a full restaurant-style meal featuring filet mignon!
Hillcrest Orchard & Dairy – Branchville
2 Davis Rd, Branchville, NJ 07826
Hillcrest Orchard isn't just an orchard. It's also one of the biggest dairy farms that will let people visit while making a stand for ethical dairy farming. This makes it a wonderful place for families who want to give kids an idea of what ethical food production looks like…while maybe squeezing in some apple picking too!
If you're going solely for the apples, you're in for a treat. You begin your time by taking a hayride to the orchard. From there, you get to pick from trees that have a dozen different apple varieties that range from cooking-ready to ready-to-eat.
Fans of dairy need to give their in-house brand, Jersey Girl Cheese, a shot. This brand features a nice range of handmade cheeses produced from 60-head of hand-raised cattle. You can literally taste the difference, and from what we hear, their cheeses go incredibly well with local wine!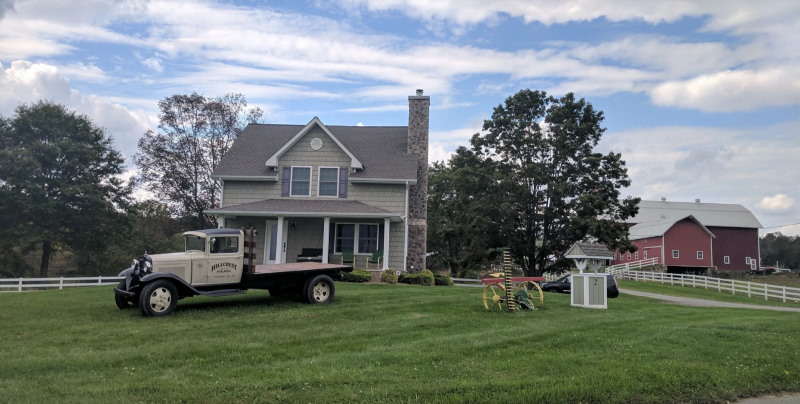 North Jersey – Apple Picking Northern NJ
Do you live near Newark or a little higher north? Well, you're a member of the Northern New Jersey crowd. Don't worry, we have you covered too.
Demarest Farms – Hillsdale
244 Wiermus Rd, Hillsdale, NJ 07642
When you live in the far North-East corner of New Jersey, finding a good apple farm can be slim pickings. Thankfully, there's always Demarest Farms that you can go to. This is one of the best apple orchards for people who want to enjoy a farm-fresh experience without going too far out from the City.
This farm is primarily known for its massive gourmet, locavore-friendly farmers market, but they also have a decent pick-your-own apple farm that families can enjoy. Here, you get to enjoy over 14 different apple varieties, including a couple of rarer ones like Mutsu and Liberty apples. Since many of these varieties are New York-specific, you really can get a taste of the Empire State here!
Believe it or not, groceries and PYO farming isn't all Demarest offers. They also boast a weekly movie night that screens family-friendly titles. During months when they aren't doing PYO, Demarest Farms offers up tractor-pulled hay rides, kids events, and barnyard animal times.
Sun High Orchards – Randolph
19 Canfield Ave, Randolph, NJ 07869
If you love the idea of blending a little education with a lot of apple-picking fun, you (and your kids) need to check out Sun High Orchards. Nestled right in the heart of rural New Jersey, Randolph's favorite orchard remains a popular place to bring kids who need a taste of the simple life.
Of course, you don't need to be a kid to be able to enjoy a day of apple picking here. Foodies will find their respectable selection of popular apple varieties awesome. The fact that they also offer up seasonable produce for sale alongside those apples is just icing on the cake. Oh, and if you're not a chef? Sun High has you covered with mouthwatering apple pies.
Like most of the other top-rated apple-picking destinations in the state, Sun High has other activities that make it a great place to explore. Families will love their farm tours for a regular visit. If your kiddo loves farming, giving them a birthday party here is also doable.
Riamede Orchards – Chester
122 Oakdale Rd, Chester, NJ 07930
Riamede, oh Riamede. Northwest Jersey is so lucky to have you! This apple picking venue is one of the best in the state for foodies to attend, and that's mostly due to its assembly of 34 different varieties that people get to enjoy.
Along with standard varieties, Riamede Orchards has an awesome heritage selection that would make any serious apple fan's mouth water. Some of the more unique listings on their menu include Northern Spy (a creamy, tart, cider-like apple), Rhode Island Greening Apple (the finest cooking apple of Colonial times), and Turley apples (a Winesap variety).
What makes this orchard so awesome is the sheer number of historic and rare varieties you get to enjoy. Riamede is a paradise for anyone who literally wants to bite into history.
Alstede Farms – Chester
1 Alstede Farms Ln, Chester Township, NJ 07930
Though most people think of apple picking as a kid-centric activity, you don't always have to be a kid or have kids to enjoy it. Alstede Farms is a good example of a more adult-centric (but still family-friendly) PYO farm to visit. This farm, like many others, is a very foodie-friendly option that has a wide range of different fruits and veggies you can pick by hand.
Along with potatoes, peas, and other goodies are the apples everyone loves and adores. Alstede Farms has a plethora to choose from, including all of your favorites like Granny Smith and MacIntosh. Want a more unique breed? We suggest trying their Shizuka (a tropical-tasting breed), their Lodi apples (known for their sharp taste), or Rambo apples (known for making incredible applesauce).
So where does the adult side of things come into play? Simple. Alstede Farms is an avid pro-clean eating company that makes a point of showing off local foods. Once in a while, they offer up wine pairings and tastings for tourists who want to add a little alcohol into the mix.
Apple Picking South Jersey
Though Southern New Jersey has ample farmland, it's surprisingly short on PYO farms. Thankfully, visitors and explorers still have their fair share of farms to choose from. These below are particularly awesome.
Windy Brow Farms – Fredon
359 Ridge Rd, Fredon Township, NJ 07860
Windy Brow Farms is one of the best places in South Jersey to go apple picking, especially if you have a family who has a hereditary sweet tooth. Why? Because this isn't just an apple orchard; it's a bakery and ice cream store, too!
People who are hungering for a good selection of carefully-grown, ready-to-pick apples are not going to be disappointed. Windy Brow Farms currently grows at total of 45 different apple varieties, many of which you can grab through their walking orchard.
Some of the cooler (and more unique) varieties you can buy include Keepsake (a sugary-sweet, hard apple), Cox Orange Pippen (an orange-hued pick known for its spicy flavor), and Fortunes (a 1.5-pound apple!). If you're up for it, you can also choose from 15 different stone fruit varieties, too.
Along with awesome fresh fruit, you can also check out their bakery and their handmade ice cream. Gourmets with a taste for sweet treats or French patisserie breads will love their selection. By the way, they do offer vegan-friendly ice cream, just in case you have a veggie-loving friend who wants a treat, too.
Mackey's Orchards – Belvidere
284 County Road 519, Belvidere, NJ 07823
If you find yourself wandering around the Belvidere area, make sure to keep an eye out for Mackey's around September. This cherry and apple tree orchard has been a mainstay for fresh fruit in the South Jersey area for decades and shows no sign of stopping anytime soon.
This eight-generation family farm is known for having a great selection of fresh produce, but apples still tend to be their major draw. Unlike other apple orchards on this list, they do not announce what apples they have on their farmland online. The only way to know what's in season is to check out their Facebook group or call ahead.
Mackey's Orchards also has a few other goodies up their sleeves in terms of family fun. If you're a fan of hayrides, tours, or Christmas in the country, you're going to enjoy Mackey's.
Hill Creek Farms – Mullica Hill
1631 NJ-45, Mullica Hill, NJ 08062
South Jersey might not have as many famous apple orchards, but that doesn't mean you're out of luck. If you're yearning for some perfectly ripe from the tree treats, Hill Creek Farms is a phenomenal place to go—and it's right in the middle of Mullica Hill. This sprawling venue has countless U-Pick crops (including apples!), a self-guided tour through the area, and a two-story farmhouse restaurant.
Hill Creek Farms gives visitors a breathtaking view while letting them stock up on their favorite fresh apples. Some of their most popular varieties include Jonagold, Fuji, and Cameo. That said, most people don't just come here for the apples. They come here for the train rides, duck races, the playground, or the gem mining company nearby.
There are so many things to do at Hill Creek, it's almost unbelievable. If you're looking for a day trip (or weekend trip) that has everything from mining to apples, to wine tastings, this is a great place to go. Your family will want to go again and again!
Oh, and if you're hankering for a sit-down restaurant meal, you're in luck. Hill Creek Farms has two main eateries as part of its property: The Loft Cafe and Farm-to-Table. The Loft is more casual but still has a delectable menu, while Farm-To-Table veers closer to fine dining with a locavore bent.
Longmeadow Farm – Hope
561 Hope Blairstown Rd, Hope, NJ 07844
Far on the West side of New Jersey is Longmeadow Farm, a relative newcomer to the indie farming scene in New Jersey. Though they originally started off growing pumpkins in 1993, it didn't take long for the owners to decide to get into the apple farming game.
Today, Longmeadow Farm is a cornerstone in Hope's rich community and boasts one of the largest apple variety selections in the area.
The farm's orchards currently carry a total of 15 different varieties, including Rome, Stayman Winesap, and super tasty Gala apples. Their selection might be basic, but they do the basics well.
Experience-wise, families and couples will not be disappointed. The farm makes an effort to make the orchards child-friendly by adding some fun hayrides to the mix. If you're looking for extra goodies, don't fret. They have local honey, jams, jellies, and a bunch of vegetables to enjoy, too.
Silverton Farms – Toms River
1520 Silverton Rd, Toms River, NJ 08755
By the nature of it alone, going to a local farm and picking your own produce is a lot more sustainable than heading to a grocery store and buying from a "megacorp" farm.
Silverton Farms, though, is a farm that tries to take it to the next level. More impressively, this goal-oriented farm succeeds at it.
Families who want to check out sustainable, "green" farming up close and personal should give Silverton a visit.
Their PYO selection involves many of the classic names you would hope to see, all farmed with the highest ethical sustainability standards out there.
Not feeling apples? Not a problem. This farm also has a nice stand filled with treats like local honey, free-range eggs, and a wide variety of different vegetables. Fans of truly flavorful, locally-sourced food will be wowed by the quality here.
Mood's Farm Market – Mullica Hill
901 South Bridgeton Pike, Mullica Hill, NJ 08062
When it comes to picking farm-fresh produce, Mood's Farm Market would give many other longterm establishments a run for their money. That being said, they don't specialize in apples. They're an all-around, veggie-and-fruit farm that is all about helping people really get that unique connection to their food.
When it comes to their apple selection, Mood's offers 11 varieties that bloom throughout the late summer and fall.
Their top picks include their Red Delicious, Golden Delicious, Empire, and Ginger Gold Options. All of these options make Mood's Farm Market a definitive choice (a really good choice) of a place to go apple picking in NJ.
If you're lucky enough to roll in during the month of September, you might get an added perk in the form of a hayride for the kids.
In their actual marketplace, you can also pick up gourmet pantry goods, engraved pumpkins (when in season), donuts, and of course, really rockin' apple cider!
What are the Best Apples for making apple pie?
What do you think the best Apple is for making apple pie? Well believe it or not that is not such an easy answer.
We did get some help from this amazing website.
This is where they pick the top 11.
Let's see if you Apple lovers all agree.
Coming in at number one is, the Esopus Spitzenberg. The what? Never heard of it but according to food 52, it is the pride of New York's Hudson Valley which is of course very close to New Jersey.
We are pretty proud of that fact. Because we're neighbors with the Hudson Valley! 😊
But who knew that that Apple was voted number one because it is both very sweet and tart. Seems like a contradiction to us!
Let us know if you know of a New Jersey farm that has this variety.
Here are the other 10 winners. The Bramley's seeding, Gravenstein, Belle de Boskoop, Northern Spy, Pink Lady, Granny Smith, Golden Delicious, Honeycrisp, Jonagold and coming in at number 11 is the Braeburn.
Conclusion
If you were one of the many people who thought that the Garden State was an ironic name, think again. New Jersey's massive array of apple picking orchards are proof that we're still lush and green as ever.
No matter what corner of the state you're in, there's bound to be a great place to go. So when fall comes around, make a point of giving your local farmer's shop some love.