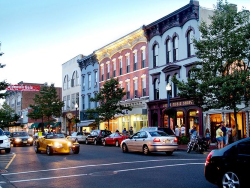 Red Bank is a beautiful town in New Jersey located in Monmouth County. It it right on the Navesink River, which connects to the Atlantic Ocean. It is close to Rumson, Middletown, and Long Branch.
There are some really great restaurants in Red Bank, as well as some really awesome bars.
Looking to get from Red Bank to New York City? Look no further! We have put together this comprehensive guide so that you have all the driving directions and public transportation schedules that you'll need.
Driving from Red Bank to New York City
Driving from Red Bank to New York City can take anywhere between one hour to an hour and a half. The cities are approximately 50 road miles away from each other.
The fastest route to NYC from Red Bank is the Garden State Parkway to I-95.
See the interactive map below for directions, or click to create your own route.

Train from Red Bank NJ to NYC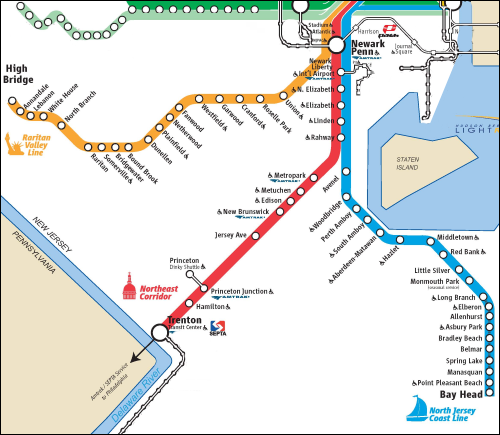 Red Bank has it's own train station, where New Jersey Transit trains run on the North Jersey Coast Line.
The North Jersey Coast Line train do go straight into New York Penn Station with no transfers necessary.
Hop onto the train at Red Bank Station, and you'll arrive at New York Penn Station in about and hour and 20 minutes. The train is probably the most efficient and cost effective way to get from Red Bank to NYC.
Surrounding stations include: Monmouth Park, Little Silver, and Middletown.
Red Bank to NYC by Bus
There are buses that run routes connecting Red Bank Station and Port Authority in New York City.
Because a few transfers will be necessary, this trip can take anywhere between three and four hours.
Use NJ Transit's bus schedule search to create your itinerary.
NYC Ferries in the Red Bank Area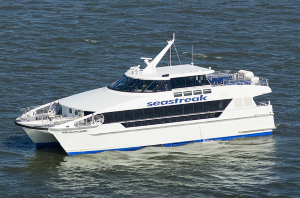 One of the coolest ways to get to NYC from Red Bank NJ is by taking the Seastreak Ferry.
This ferry leaves out of Atlantic Highlands and Highlands in New Jersey.
Because Red Bank is just 20 minutes away from here, this is an awesome idea for those who want to avoid traffic.
The ferry ride only takes 40 minutes to get to Wall Street/World Financial Center and an hour to get to East 35th NYC. Whether you're going to lower Manhattan or Midtown, there is a port for you!
Stay in Red Bank for the Night
Looking for a hotel in the Red Bank area? Check out our hand-picked selection of some of the best hotels below.

Molly Pitcher Inn – Riverside Ave. Red Bank, NJ

Courtyard by Marriott Lincroft – Half Mile Rd. Red Bank, NJ

The Oyster Point Hotel – Bodman Pl. Red Bank, NJ

Extended Stay America – Newman Springs Rd. Red Bank, NJ

Comfort Inn Middletown/Red Bank – State Route 35 S. Middletown, NJ

Residence Inn by Marriott Tinton Falls – Park Rd. Tinton Falls, NJ
See all hotels in the Red Bank, NJ area.
---
Want to see more? See our guides for getting to NYC from a different city:
Jersey City Trenton Montclair Atlantic City Fort Lee
Also check out our picks for the 19 best hotels in NJ near New York City.