Your Guide To Nj Beaches For The Perfect Summer 2021
Posted on January 18, 2023
By

admin

285 Views

Table of Contents
Free Beaches ♦ NJ Beach Clubs ♦ Pet-Friendly Beaches ♦ Family Fun ♦ Beach Activities » Driving, Water Sports, Biking, Horseback ♦ Best Places to Eat by the Beach ♦ Bars and Clubs at the NJ Shore ♦ Isolated Beach Spots
All 57 Beaches!
Below we have all 57 beaches and a rating out of 5 stars. We based our rating off of nearby activity, size, pricing, cleanliness, and the ocean for swimming. These are only ocean beaches and do not include beaches on bays or rivers. Check out the NJDEP website for consistent updates about closures, warnings, and more in regard to New Jersey Beaches. fun with us
If you're looking to explore the beautiful Atlantic waters, check the Swim Guide for the status of beach water qualities from all over!
Links lead to live camera streams of the beach and the waves. This is great to check out if you're planning on surfing.

7 Fun Facts About The NJ Shore!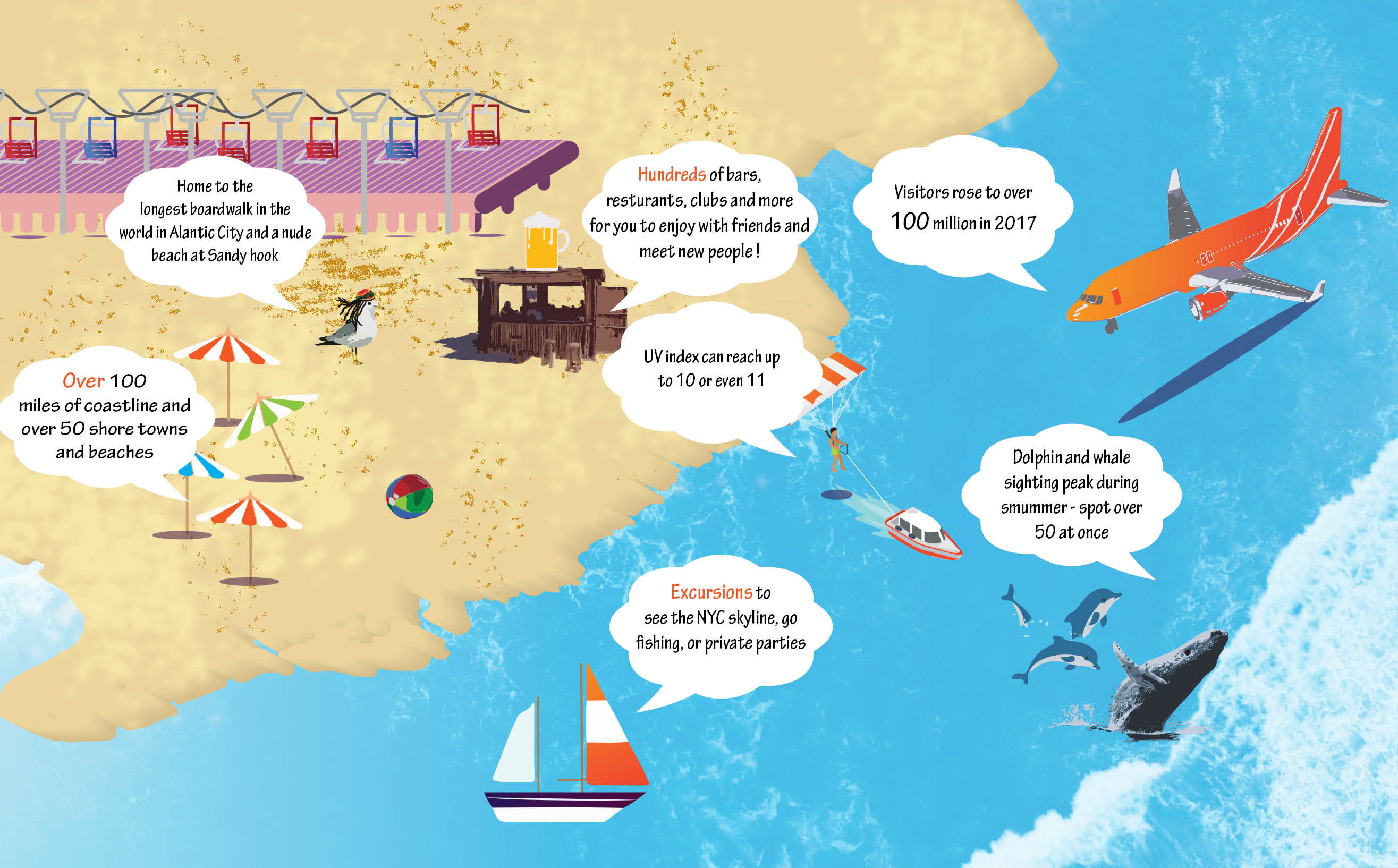 Free Beaches for a Budget-Friendly Day!
Atlantic City
From the casinos to the restaurants to the boardwalk attractions, there is plenty to blow your money on, without beaches being one of them! Take advantage of the free beaches in AC with your friends or family.
Barnegat
Barnegat is right on the bay and offers a public dock, boardwalk, and free beach! Go crabbing, fishing, boating, or plain old swimming on this beach.
Highlands
A number of smaller beaches are scattered all over the small town of Highlands where you can watch a variety of boats take off and come back to shore. There are a number of nearby eateries and restaurants to enjoy, as well.
Ideal Beach
For seclusion and quiet, stop by this beach on the bay. Bring your pets, fishing equipment, or both! Unwind after a hard week at Ideal Beach in Middletown, NJ.
Leonardo Beach
Park at the nearby marina, and walk over to this quaint yet comforting beach to cast a line or go swimming in the bay.
Jennifer Lane Bay Beach
Nestled away in Manahawkin , this quiet beach lies right on the bay and is guarded on summer days so you can take a dip in the water. Alternatively, take advantage of their fishing piers or spots for volleyball.
Strathmere – Upper Township
Right next to Ocean City, you will find the lesser-known beach spot of Strathmere. Take in the ocean air in a less crowded environment with larger attractions only a few minutes away!
Union Beach
On Raritan Bay, this beach offers a quiet location with a small boardwalk. The parking is only $1 an hour. The surrounding salt marsh environment makes this a great place for bird watching!
Wildwood
As a family favorite along the shore, Wildwood offers 5 miles of beautiful, sandy beaches. Stop by the boardwalk attractions, restaurants, and arcades for a day filled with fun.
William Morrow Beach
Located in Somers Point, William Morrow Beach hosts free concerts on summer Friday nights where you can kick back, relax, and enjoy the music with loved ones. Make a night out of it!

Enjoy Exclusivity at NJ Private Beaches and Beach Clubs!

If you're not sure whether or not a beach club is right for you, check out our Beach Club Guide to help you with the decision!
Promenade Beach Club
732-483-0500
1 Cooper Avenue, Long Branch, NJ 07740
Promenade Beach Club is a hot spot for younger families in the summer, featuring a 25-meter pool and a kiddie pool for the little ones.
With a number of organized activities for the kids and a fantastic bar and outdoor lounge area, everyone in the family will enjoy their summer at the Promenade.
Sea Bright Beach Club
732-842-0245
999 Ocean Avenue, Sea Bright, NJ 07760
This is a classic and exclusive beach club that you and your family can enjoy come the summer months.
Edgewater Beach and Cabana Club
732-842-1714
1465 Ocean Avenue, Sea Bright, NJ 07760
Every cent you put in is distributed to funding a luxurious experience. With guaranteed parking, and themed nights, you can feel free to unwind and enjoy your day and evening here!
Take advantage of their weekly kids activities and swimming lessons for the kids!
Driftwood Cabana Club
732-842-2273
1485 Ocean Avenue, Sea Bright, NJ 07760
As a family owned business, the focus of this club is specifically geared towards encouraging a a family environment.
Enjoy events and activities, for both adults and children.
Whether attending a club party or splashing around in the spray park, a great time is inevitable.
Allenhurst Beach Club
732-531-2700
1A Allen Avenue, Allenhurst, NJ 07711
For an experience enjoying a beautiful private beach with a number of amenities, join the Allenhurst Beach Club.
Be tended to with their poolside service or indulge in some alone time in a private bathhouse or cabana.
Monmouth Beach Bath & Tennis Club
732-222-0100
65 Ocean Avenue, Monmouth Beach, NJ 07750
With beautiful views, tennis courts, a pool, and shaded seating, what more can you ask from a beach club?
The MBBTC has also held a number of beach weddings due to its stunning appearance and private beach access.
Deal Casino Beach Club
732-531-8800
125 Ocean Avenue, Deal, NJ 07723
This beach club in Monmouth County is open on weekends all summer long and always has some exciting upcoming events.
Join to take part in their Night Under the Stars and Family Color Wars events or simply to enjoy a cabana on a private beach.
The Sea Shell Resort and Beach Club
609-492-4611
10 South Atlantic Avenue, Beach Haven, NJ 08008
As a resort and beach club on LBI, The Sea Shell provides more amenities than you can dream of. From luxurious rooms, to palm-lined private beaches, they have it all!
Whether you're looking for a quick stay or a romantic getaway, you will find what you're looking for.
Skippers' Cove Beach Club
732-614-8955
5 Bluebeard Way, Waretown, NJ 08758
Skippers' Cove is an intimate, 240-home community hidden along the Jersey Shore.
With membership, you will have access to their private beach, the Clubhouse, Marina, and all other common areas. For a more exciting night, you can enjoy some of their events held throughout the year, as well!
Ocean Beach and Yacht Club
732-252-7474
265 Harbor Drive, Lavallette, NJ 08735
This is a beach community of around 490 homes with access to a private beach and hosting a number of fun and exciting activities all summer long.
Have your kids make some new friends while you enjoy a relaxing summer away.
Haven Beach Club
800-401-8393
1 West Kentucky Avenue, Haven Beach, NJ 08008
This beach club is one of the oldest nonprofit clubs on LBI with an in-ground pool as well as a variety of swimming and sailing programs.
Fill your summer with relaxation and events for both kids and adults courtesy of the Haven Beach Club.
Ocean Oasis Water Park and Beach Club
609-522-3900
Surfside & 25th Street, Wildwood, NJ 08260
Unlike the others, this beach club is located in Morey's Piers and offers the thrill and fun of waterslides and play areas right on the beach.
While you kick back under one of the private cabanas and enjoy food and beverage service brought right to you.
This is perfect for kids who seek excitement and parents who seek relaxation.
Beach Club of Cape May
Dead end of Yeaton Road, Cape May, NJ 08204
A membership to this hidden gem grants you access to a private beach on the sandy, beautiful shores of Cape May. Take advantage their enclosed Cabanas and Pool House with a serving counter and bar area.
The Pavillion or designated beach area is a perfect place for private parties due to the beautiful scenery and ocean breeze. Enjoy an outdoors or indoors celebration!

Pet-Friendly Beaches for Adventuring in New Jersey!
No one wants to see the look on their pups face when the whole family leaves without them.
Take your best friend for a day of fun in the sun and get their tail wagging faster than you've ever seen on these dog-friendly beaches!
Note: Be sure to check with the municipalities as dates are subject to change.
Avon-by-the-Sea
Leashed from Oct. 1 – May 1.
Asbury Park
Here dogs are allowed on the beach and boardwalk! Oct. 1 – April 30.
The 8th Avenue Dog Beach here allows dogs all year round. Off-leash times are allowed from 6 p.m. until 8:30 a.m.
Barnegat Light
Leashed Oct. 2 – April 30.
Beach Haven
Leashed Sept. 16 – May 14.
Belmar
Leashed Oct. 1 – April 30.
Bradley Beach
Allowed Sept. 16 – April 30 and can be put off leash if well-trained and responsive.
Brigantine Beach
Dogs need to be on a 6 foot leash and allowed Oct. 1 – May 29.
Dogs are allowed all year-long on the North End Beach.
Harvey Cedars
Leashed Sept. 16 – May 29.
Long Beach Island
Leashed Oct. 1 – April 30 on all LBI beaches.
Mantoloking
Leashed Sept. 15 – June 15.
Ocean City
Leashed (leash can be up to 6 feet) Oct. 31 – April 30.
Sea Isle City
On six-foot leash, allowed Oct. 31 – April 30.
Stone Harbor
Dogs on six-foot leash allowed on north end between 80th and 82nd streets between 7 p.m. and 9 a.m.
Sunset Beach at Cape May Point
Leashed Sept. 15 – April 15.
Ventnor City
Leashed Oct. 1 – May 14. Restricted to the areas washed by the high tide line.

Fun Attractions and Boardwalks for Kids!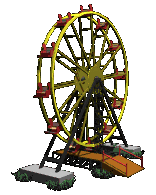 Asbury Park Pedal Boats
Keep the kids active while having fun. Take a beautiful swan pedal boat out on Wesley Lake. Kids of all ages will love it and want to come back every year!
Seaside Heights Boardwalk
Casino Pier is the spot to take the whole family. From the water park, to the rides, to the arcades and games, to private cabanas, it has it all! This boardwalk attraction is a favorite among families in the summer, and for good reasons. Check it out for yourself and be the judge.
Wildwood Boardwalk
Morey's Piers in Wildwood requires a whole day to fully explore. Separated into three sections (Surfside, Adventure, and Mariner's Piers), you will find new and exciting fun on each one. Two of them have water parks attached that are perfect for a hot but thrilling summer day. Go pier-hopping with the kids for a load of family fun in Wildwood, NJ!
Point Pleasant Boardwalk
Point Pleasant features Jenkinson's Boardwalk in Ocean County which is crowded with rides, attractions, dining, arcades, and more. You and your family will want to dedicate an entire day or even week exploring up and down the promenade.
Jenkinson's Amusement Park is located at 300 Ocean Avenue and features rides for small children as well as for the thrill-seeking teens.
If the bustling crowd and excitement of rides aren't what you were hoping for, you can visit Jenkinson's Aquarium. Explore aquatic life and learn about all kinds of sea critters. This is great for your animal lover.
They also host a variety of themed weeks and days in the summer such as Shark Awareness week and International Owl Awareness Day.
It's easy to get caught up in all the shops and activities on the boardwalk, but don't forget about the beautiful sandy beach! Listen to the waves of the Atlantic crash on the shore or maybe even jump in!
Ocean City Boardwalk
OC Boardwalk is home to Gillian's Wonderland Pier. The kids will get have a handful of tickets which they can ration as they pick and choose their very favorite rides to go on, or maybe they'll compete in some challenging games in an attempt to win a prize!
Gillian's is a perfect small-scale amusement park that is a great way to wrap up a beach day with the little ones.
Local's Tip: Be sure to buy tickets in the spring when they're half off and use them for your vacation in the summer.
Ripley's Believe it or Not! AC
For all things weird, Ripley's is the place you want to be. Here, truth is stranger than fiction! There are 14 galleries and thousands of square feet for you to explore.
This is a great stop if your beach day is tarnished with rain or clouds. Escape the weather to spend the day exploring and discovering oddities.
Make sure to take part in the many interactive exhibits.
The Laser Maze is a favorite among past attendees. It's fun attempting to go through without setting off any of the alarms and even more fun watching your family members attempt to wiggle their body through!
Wetlands Institute Stone Harbor
Wetlands Institute is a non-profit organization that focuses of studying, preserving, and protecting coastal ecosystems. The whole family will learn a thing or two about the environment around them.
In the summer, you will get a chance to explore the facilities led by a professional naturalist. The tours include back bay boat rides, paddleboarding, kayaking, animal interactions, family entertainment, and guided beach & dune walks.
This guarantees a day of fun adventure out in the sun as well as a day of education learning about the valuable world around us and how you can help it.
Hours in the summer (May 21- Sept 23) are from 9:30 a.m. to 4:30 p.m.
Thundercat Dolphin Watching
In the heart of Wildwood Crest, is the Thunder Cat, a speed boat cruising the oceans along the coast of Cape May and Wildwood beaches.
It has received acclaim from many past happy customers and even magazines. Locals describe the incredible experience of seeing tens of dolphins jumping out of the water. Not to mention the even more incredible experience of hearing the children laugh with excitement as they point their fingers at the spectacle.
The ride is smooth and clean for your family's comfort.
Guests even refer to the boat as the "dolphin magnet". Relax on this 90 minute trip learning about historical sites and marine life while seeing it all in action. You don't want to miss this!
Silverball Pinball Museum
A day at Silverball is fun for the whole family. You will be taken back in time as you see all the games from your time in a new light. And they will just have fun playing!
Silverball Pinball Museum has 600 arcade games in rotation so every time is a slightly different experience. Each game has a sign that discusses its history, the context, highlights, and in-house high scores.
See if you or the kids can make it to the charts!
Local's Tip: Make sure to bring change or download the Asbury PARK app to be prepared for the metered parking nearby. Free parking is available a few blocks away, too.
Thundering Surf Water Park
The town of Beach Haven is home to Thundering Surf, an exhilarating water park with a little bit of something for the whole family.
There are attractions intended for kids between the ages of 4 and 14 that include smaller slides for the young ones and larger slides for older kids and adults.
The FlowRider is a signature ride that simulates the thrill of riding a wave and flow boarding! The older kids will love it.
As for you, you can get in on the fun or relax in the Lazy River or as a spectator in the lounge.
Lines are never as long as they would be in a more centric water park and it's a great alternative for when kids get tired of beach day after beach day.
Fantasy Island Park
Visitors to Fantasy Island Park love it whether they've been coming there for 20 years or are first-timers.
This is a classic amusement park, including carnival games, bumper cars, a ferris wheel, reptile and magic shows, arcade, and thrilling rides for the older kids.
Try out their Drop Zone, which is a hit with teens!
Fantasy Island Park also recently installed a new card system that keeps track of all your tokens on a single card that you can refill at specific ATM's around the park.
Jersey Shore Pirates
Take the kids for a day on the water with NJ's original pirate adventure! Jersey Shore Pirates in Brick has been acclaimed by MSN, APP, and so many more!
See your kids get all decked out in pirate gear and learn some lingo before setting sail on open seas for an hour and fifteen minutes.
They will learn all about history, read a treasure map, man a water cannon, and work together to defeat an enemy pirate! Jersey Shore Pirates is great for a unique activity the kids to do by the shore when they just don't feel like heading to the beach again.

Spend an Action-Packed Day on NJ Beaches!
Driving on the Beach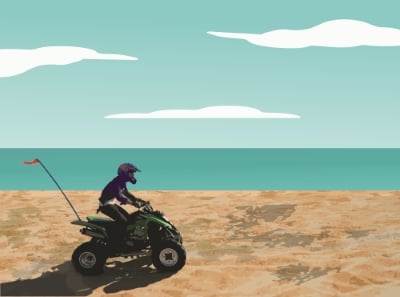 Island Beach State Park
Dates: May 16 – First Sunday in October
Location: Between Gillikens and A-7 South
Permits: Obtained from Park Visitor Contact Station at entrance gate
| | | |
| --- | --- | --- |
| Permits | NJ Resident | Non-resident |
| 3 – Day Permit | $75 | $90 |
| Annual Permit | $195 | $225 |
| Replacement Fee | $25 | $25 |
Entrance fees are also charged per vehicle from Memorial Day to Labor Day.
Brick Township Beach
Dates: October 1 – April 30
Location: Cars are allowed north of 5th Avenue from Normandy to Mantoloking line. Accessible from North Brick Beach lot.
Permits: $35 obtained from township clerk on Chambers Bridge Road.
Ocean Beach
Dates: September 15-May 15
Location: Dover Township
Permit: $25 by personal check obtained from Twp. Clerk at 33 Washington Street in Toms River.
Lavallette Beach
Dates: September 15 – early May
Location: Access at Ortley, Philadelphia, and Trenton Avenues. You only travel up 10 mph.
Permit: $35 obtained from Twp. Clerk at 125 Washington Avenue.
Ortley Beach
Dates: October 1 – May 14
Location: Beach access from Harding & 2nd Avenue
Permit: 25$ obtained from Twp. Clerk at 33 Washington Street
Seaside Height
Dates: September 15- May 15
Location: Beach access from Heiring Avenue
Permit: $15 permit obtained from Seaside Heights Boro Hall
Seaside Park
Dates: October 1- May 15
Location: Cars enter the beach on Brighton Avenue
Permits: $42 for residents and $50 for non-residents obtained from the Old Elementary School on 3rd and Central Avenue
Berkeley Township Beach
Dates: October 15- MDW
Location: Enter the beach on 20th Avenue
Permit: $35 for Berkeley residents and $50 for others obtained from the Clerk's Office at 630 U.S. Route 9
Harvey Cedars
Dates: October 2 – May 14
Location: Beach access from 83rd Street, Middlesex, Bergen, and Essex
Permits: $50 obtained from Police at Township Bldg at 76th and Long Beach Blvd
Surf City
Dates: Third Saturday in September – fourth Saturday in May
Location: Beach access at 5th and 18th Street
Permits: $25 permit obtained from Police Headquarters at 813 Long Beach Blvd
Ship Bottom
Dates: Third Saturday in September – third Saturday in May
Location: Beach access at 5th, 17th, 31st Street
Permits: $25 permit obtained from 1621 Long Beach Blvd
Long Beach Twp
Dates: September 15 – May 15
Permits: $50 permit obtained from Police Station at 68th and Long Beach Island Blvd; good on all LBI beaches
Holgate- Edwin Forsythe Wildlife Refuge
Dates: September 15 – April 1
Location: McKinley Avenue, access from the end of the boulevard
Permit: $50 permit obtained from Police Station at 68th and Long Beach Island Blvd
Brigantine
Dates: Year round except for North End section past old Coast Guard Station which is closed May 15 – August 15
Location: North End entrance at 15th Street and Jetty entrance at Seaside Road
Permits: $175 permit obtained from Brigantine Community Center at 265 42nd Street
Ocean City
Dates: September 15th to May 15th.
Location: Access from the North End, 23rd Street, and 57th Street
Permits: $125 permit obtained from the police station at 835 Central Avenue
Sea Isle City
Dates: September 15th to May 15th
Location: Access for fishing at 22nd Street and 75th or 85th Streets
Permits: $50 permit obtained from 2333 JFK Blvd
Avalon:
Dates: September 15 to March 31st.
Location: Access from 9th, 20th, 32nd, 38th, and 79th Street
Permits: $40 obtained online submitted to Borough of Avalon at 3100 Dune Drive
Stone Harbor
Dates: September 15th to March 30th
Location: Ramps at 85th, 96th, 102nd, 118th, 122nd, 123rd Streets
Permits: $50.00 permit obtained from the borough clerk at 9508 Second Avenue
North Wildwood
Dates: Monday after Labor Day to Monday before Memorial Day.
Permits: $25.00 permit obtained from North Wildwood Police Station at 10th & Atlantic Ave.
Beach access points: Entrances at 2ndAve. 5th Ave. & 15th Ave.
Wildwood
Dates: October 1st to May 1st.
Location: Access is at Cresse Ave.
Permit: $25.00 permit obtained from: City clerk's office at 4400 New Jersey Avenue
Wildwood Crest
Dates: October 1st to April 30th.
Location: Access at Cresse and Washington Avenue
Permit: $15 before June 1st, $25 after June 1st; permit obtained from Police Dept. at 6101 Pacific Avenue
Water Sports
Island Water Sports NJ, 9701 Third Avenue, Stone Harbor
609-368-6114
They have just about everything from kayaking to wakeboarding. Walk in and choose what water adventure you will take on today.
Services: Kayaks, paddleboards, waverunners/jetskis, paddleboards, tubing, waterskiing, wakeboarding, flyboarding
Aqua Trails, 1600 Delaware Avenue, Cape May
609-884-5600
Experience and explore the water in a different environment.
Services: Kayak, canoes, paddleboards
Wakeside Watersports, 1936, 4216 Park Rd, Sea Isle City
609-263-9100
Don't miss out on an exciting aqua opportunity!
Services: Tubing, waterskiing, wakeboarding
Pedals and Paddles, 35 Third Avenue, Seaside Heights
732-830-5757
Jump around on a water trampoline or pedal your way away from shore on an aqua trike!
Services: Paddleboard, kayaks, water trampoline, pedal boats
Harbor Outfitters, 625 Asbury Avenue, Ocean City & 354 96th Street, Stone Harbor & multiple Sea Isle City locations
Take part in one of their tours or explore ocean territory on your own.
Services: Kayaks, paddleboards, surfboards
Holgate H2O Sports, 83 Tebco Terrace, Long Beach NJ
609-492-1342
Make the most of your time at LBI, a NJ beaches gem!
Services: Jetski, pontoon boat rentals, skiff boat rentals, kayak rentals , boat excursions
Route 37 Water Sports, 3430 Route 37, Toms River
732-270-0075
Stay above water while still having a blast in these rentals.
Services: Waverunners, pontoon boats, skiff boats
Coastline Adventures, 440 Route 35 North, Brick 732-300-5115
Learn to surf and put your skills to the test!
Services: Surfboards, paddleboards
Island Surf & Sail, 3304 Long Beach Blvd, Long Beach Twp
609-494-5553
Venture out on the open waters using one of the three rentals Island Surf & Sail has to offer!
Services: Kayak, paddleboards, surfboard
7th Street Surf Shop, 720 Asbury Avenue, Ocean City
609-398-7070
Catch some waves out in the NJ ocean!
Services: Surfboard, skimboard, paddleboard
Extreme Windsurfing, 7079 Black Horse Pike, West Atlantic City
609-362-5137
Experience a whole new kind of surf!
Services: Windsurfing, paddleboards, kayak
Randazzo Surf, 2nd Street Beach, North Wildwood
732-825-7873
Take on the waves!
Services: Paddleboards, surfboards, boogie boards
Totally Tubular Watersports, 314 Bay Avenue, Ocean City
609-398-9000
Plan a day for aquatic adventure!
Services: Tubing, waterskiing, wakeboarding, banana boat rides
Super Fly NJ, Behind Sunset Park, Harvey Cedars, LBI
732-523-5965
Experience the extremes of water sports.
Services: Flyboarding
Atlantic Parasail, 1001 Ocean Drive Dock 1 Wildwood Crest
609-522-1869
See the coast from a bird's eye view!
Services: Parasailing
FlyOCNJ, 314 Bay Avenue, Ocean City
609-398-1000
Soar high above for beautiful views.
Services: Parasail
Belmar Parasail, 608 River Road, Belmar
732-681-8359
Take in views of the Monmouth County shore!
Services: Parasailing
Check out our Belmar Parasailing video!
AC Parasail, 800 N New Hampshire Avenue, Atlantic City
609-345-1212
Come sail up, up, and away!
Services: Parasailing
Beach Haven Parasail, 2702 Long Beach Blvd, Beach Haven Gardens
609-492-0375
Experience the wind in your face as you reach new heights.
Services: Parasailing
Bike Rentals
Shore Riders Bike Rentals, 405 Arnold Avenue, Point Pleasant Beach 08742
732-595-2453
Rate: $25/day
Ray's Bike Rentals, 60 S Hartshorne Drive Highlands, 07732
732-754-5731
Rate: $32/day, $17/one and a half hours, $22/three hours
Pedego Electric Bikes 217 Jersey Avenue, Spring Lake 07762
732-201-4117
Rates: Pedal Bike: $15/hr $30/day $120/week Electric Bike: $25/hr $100/day $400/week
Shore and More General Store, 100 5th Avenue, Seaside Park 08752
732-793-6171
Rates: Beach Cruiser $10/hr $25/week $60/week Surrey: $30/hr
Surf Buggy Bike Shop, 1414 Long Beach Blvd, Surf City 08008
609-361-2611
Rates: $12/hr $25/day $40/three days $55/week
AAAA Bike Shop, 5300 Ventnor Avenue, Ventnor City 08406
609-487-0808
Rates: $15/day $25/overnight $75/week
Ocean City Bicycle Center, 740 Atlantic Avenue, Ocean City 08226
609-399-5550
Rates: $7/hr $12/two hours $14/day $18/overnight $45/week
Hollywood Bike Shop, 2522 Dune Drive, Avalon 08202
609-967-5846
Rates: $10/hour $25/day $55/week
Zippy's Bikes, 3900 Pacific Avenue Wildwood 08260
609-408-8956
Rates: $25/day $50/three days $75/five days $100/week
Shield's Bike Rentals, 11 Gumey Street Cape May 08204
609-898-1818
Rates: $6/hour $18/day $32/three days $40/week
More!
Horseback Riding on the beach!

Best Eats Right by the Shore!
Dock's Oyster House, Atlantic City
At Dock's you can enjoy some of the best seafood while escaping the louder and commercialized AC restaurants. Their selection of oysters is varied and seasonal, with over 10 varieties at any given point. Their seafood selection and innovative taste pairing are definitely something to give a try. Dinner for two with drinks, appetizers, and meals will cost around $90.
Top Dish: Flounder and Crabmeat
Tuckers, Beach Haven
Tucker's is great for a romantic dinner where you can watch the sunset from the deck or enjoy a dinner with the family. The service here is always great, friendly, and accommodating. Seafood is again, a big hit here.
Top Dish: Ale Battered Fish & Chips
Strollo's Lighthouse Italian Ice, Point Pleasant Beach, Long Branch, Belmar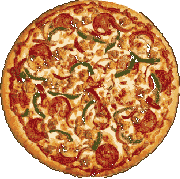 What better way to refresh after a hot beach day in the sun than with some creamy Italian ice.
Join in on the locals' debate whether it's called Strollo's or Lighthouse.
Top Dish: Red, White, & Blue (Cherry, Lemon, Blue Raspberry)
Tommy's Tavern, Sea Bright
Just steps away from the Sea Bright beach you will find the industrial-chic dining spot that is Tommy's Tavern. The options on their menu are diverse, making it great for groups of varying tastes and preferences.
It is huge and has indoor seating, a bar area, outdoor seating, and even half-outdoor seating. Try their cocktails out, too!
Top Dish: Tommy's char-grilled wings.
Local's Tip: Visit during the off-season for their half-off pizza nights on Wednesdays!
Frank's Deli, Asbury Park
Frank's Deli is adored by locals and loved by visitors! Their meals and homemade and full of flavor with no frills. It has a classic and original feel and has even been visited by Anthony Bourdain.
Enjoy delicious meals in one of the best NJ delis by the beach.
Top Dish: Pork Roll, Egg, & Cheese / Corned Beef Hash for breakfast and an Italian Sub for lunch.
Cash only!
Beach Shack, Point Pleasant Beach
Just steps from the boardwalk, Beach Shack is a family-owned local sandwich shop open seasonally. They feature a variety of sandwiches, wraps, and more that are perfect for a to-go meal that you can enjoy by the beach.
Top Dish: Shack Attack
The Red Store, Cape May Point
For a meal made from seasonal ingredients and a dynamic menu, The Red Store is the place to eat! The chef changed the menu every night to utilize the freshest ingredients possible. Located at the very tip of NJ and right by the beach, it is a quaint restaurant but packed with flavors.
The Red Store is a general store and cafe in the daytime but provides fine dining at nighttime. Dinner is a multi-course feast $65/person.
Top Dish: Taco Truck Fish Tacos for lunch
Cash only!
Neptune Market, Harvey Cedars
Stop by to pick up lunch for your beach day or for a quick breakfast. Neptune Market is a local deli always offering the freshest ingredients possible! The owner is personable and employees are available to help out with all your munching needs.
Top Dish: Cheesesteak
The Chicken or the Egg, Beach Haven
Featured on Man vs. Food for their wing challenge!
This popular Beach Haven spot is often called "Chegg" by locals. They pride themselves on their wings and breakfast varieties. If you can handle spice, their Killer Beesting sauce is one to try! Just be prepared for a wait during peak hours.
Top Dish: Buffalo Chicken Omelette with the Killer Beesting Sauce for breakfast. Wings for lunch!
Fishin' Pier Grille, Avalon
Treat the family to some delicious breakfast & brunch. They have everything from classics to innovative flavor combinations. Locals call it the best breakfast on the island! Don't miss out on their fresh-squeeze orange juice, either!
Top Dish: Any one of their specialty omelettes
Local's Tip: Arrive early, before 9, to avoid long waits especially on weekends. Perfect way to start off a beach day.
The Original Hot Spot #1, Wildwood
Hot Spot is a favorite dining spot for families who visit Wildwood regularly. With a casual ambiance, friendly staff, and classic food options, you can't go wrong.
This is a great spot if you're trying to avoid the overpriced tendencies of the Wildwood boardwalk.
Top Dish: Gyro
Local Fisheries!
The freshest seafood you will find.

The Perfect Nightcap!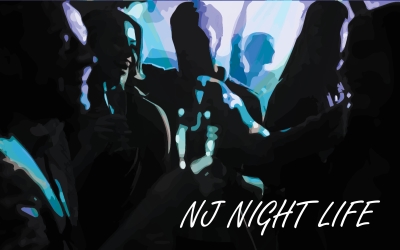 When the sun sets and you're ready to get a couple of drinks in you, check out local clubs, venues, and bars for the best nightlife NJ's beach towns have to offer!
Martell's Tiki Bar, Point Pleasant
Martell's has made its name as a go-to bar on the shore. The premier tiki bar offers tropical drinks right on the beach in NJ. You will feel as though you are on an island.
You are steps away from the beach at any moment and have a view of the band stage that hosts many of the hottest acts on the shore.
Local's Tip: Try the Tiki Tea and unwind on the voted best dance floor in Monmouth and Ocean County!
Bar Anticipation, Lake Como
Bar A is a hot spot especially for younger crowds in the summer. It is huge with several bar areas and plenty of room to dance. This is a party-like atmosphere where you will want drink after drink.
Local's Tip: Be prepared to bring a second form of identification. Also passports are discouraged as they often do not accept them as a form of ID.
Must Try: The shot wheel and Beat The Clock Tuesdays!
D'Jai's, Belmar
This is a hopping and popular college bar with fun events and specials on drinks regularly taking place.
Check out what else there is to do in Belmar!
Daddy O, Brant Beach
This is the only rooftop bar in LBI offering panoramic views of the island. It opens at 4 p.m. and offers a variety of cocktails and drinks to enjoy. The ambiance is slightly more upscale.
Boogie Nights, Atlantic City
Voted Best Nightclub by SJ Magazine
If you want to travel back in time and get your groove on, Boogie Nights is the place for you! Located in Tropicana, they will bring the magic of the 70's and 80's to you every Friday and Saturday night.

Don't miss out on the bonus 90's night every Thursday night. The themes regularly draw in a mixed crowd from early 20's to early 50's!
Donovan's Reef, Sea Bright
Donovan's has around 3 bar areas, one of which is on the beach, for you to enjoy. The atmosphere is lively and vibrant and there is regularly live music.
Local's Tip: Sea Bright is a great place to bar-hop due to the concentration of bars varying from a more upscale vibe to very casual ones.
Must Try: Signature rum buckets!
Cash only!
The Stone Pony, Asbury Park
The Stone Pony is one of the top rock venues on earth, and one of the best in New Jersey. During the summer they have outside concerts for their "Summer Stage" that is steps away from the beach.
Today's top artists and rising stars are consistently performing, making it a great nighttime outing.
The Pool After Dark, Atlantic City
This indoor pool and nightclub in AC is located inside Harrah's Resort. They consistently feature famous DJ's and are known for their celebrity clientele.
Live lavishly and spend a night at The Pool After Dark. The pool is heated and hot tubs are available. The crowd here is usually younger and in their 20's.
Jenks Club, Point Pleasant
You will find this dance club right on the boardwalk of Point Pleasant. This is a more diverse type of nightclub. They feature a variety of music from electronic DJ's to local rock bands.
For a night of dynamic and varied artists, have your drinks at Jenks.
Captain Hook's Bar, Seaside Heights
If you're looking to ignite a competitive spirit among friends, Captain Hook's is the best place to do it!
Their bar features a number of games such as ping-pong, air hockey, beer pong, pool, darts, skeeball, arcade basketball, and more! Get a few drinks and get playing.
Cash only!
The Brown Room, Cape May
Nestled inside Congress Hall, you will find this smaller bar. It's an intimate atmosphere with live music and a variety of drinks. It's a great place to stop at in the late night hours for some drinks and to relax.
Keep in mind, some NJ towns are dry towns, meaning they don't allow the sale of alcohol.
Check out one of our 8 bar crawls, two of which are in beach towns in NJ!

Isolated and Secluded Beach Spots!
Southern Cove at Island Beach State Park
This spot will be found right by the far southern tip of Island Beach State Park. If you have a jeep you could take out on the sand or are willing to make a two-mile walk, you will find yourself at one of the most secluded and beautiful beaches.
You will reach the southeast tip where the dunes almost enter the water. At first glance, it won't seem like you can pass the dunes but if you walk along the edge of the water you will find yourself among where the dunes recede again.
Brigantine's North End Beach
Similar to the Southern Cove experience, you will need a vehicle or your feet to carry you across a stretch of sand before arriving to the isolated NJ beach.
It is about three miles from any developed roads or areas. If you have a seasonal permit from the local community center, you can drive the first mile and a half and walk the rest of it. The experience will be worth if a state of ultimate seclusion is what you're looking for.
This is right by the North Brigantine State Natural Area, where you can also venture off to for some alone time and stunning views. Remember to bring bug spray!
Pearl and Sunset Beach
Right in Cape May Point, Pearl Beach is a private beach that can be accessed by traveling down a small path surrounded by greens and bushes. It is located between Cape and Central avenues and has a lifeguard, making it a great place for swimming.
Nearby you can also access Sunset Beach by either walking up the coast or accessing it from a separate location. Some have even seen dolphins in the distance. Here you can watch a stunning sunset, something that is rare to find here on the east coast!
Stone Harbor Point
Tucked away in the southern end of the town is an isolated beach perfect for alone time and bird watching. Down Second Avenue south is a parking lot where you can park your car, right below the last homes on 122nd street. Here you will find a small and unmarked sandy path that winds between sand dunes and leads to the ocean.
You can walk up to two miles to the tip which is Hereford Inlet. You should be careful to not get stranded and keep track of the tides and conditions. Enjoy the nature and alone time on the sandy shore.
High Bar Harbor
Located on Long Beach Island, this lollipop-shaped harbor is unknown to many. It belongs to the Barnegat Lighthouse State Park and is just behind the light itself.
If you visit, you will probably find yourself completely alone. You will have beautiful views of the lighthouse and the water, something you will not find anywhere else.
Take Long Beach Boulevard north into Barnegat Light and make a left on 20th street which turns into Auburn Road. Then you will bear right at a fork in the road onto Sunset Boulevard. Once you take it to the end and park, you will see a small trail that leads to this beach.

Don't forget to check out summertime events at NJ beaches including bonfires, movies on the beach, fairs and festivals, and more!