Top 10 Jersey Shore Sports Bars
Posted on January 16, 2023
By

Kerry O'Brien

837 Views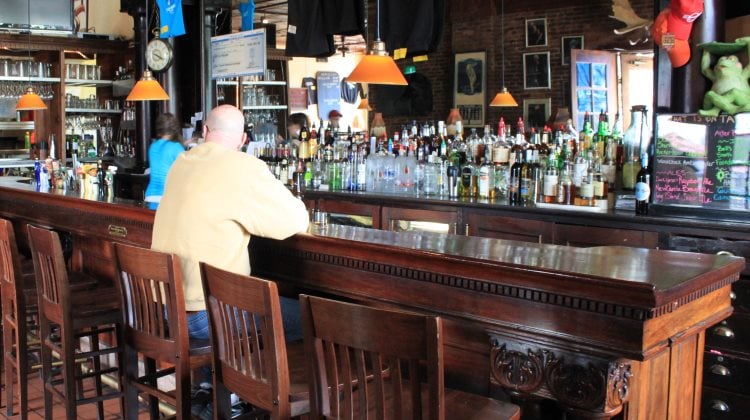 Best Sports Bars Along the NJ Shore
Most Americans enjoy watching sports. Baseball is the national pastime, football is America's game, and basketball and hockey are winter time favorites. No matter which sport is your favorite, everyone loves putting on their jerseys and rooting for their favorite team.
Watching the big game at your house is fun, but heading out to a local sports bar is even better. Enjoy beers and bar food while watching your team play on giant HD TVs. Find out the top 10 game day bars along the Jersey Shore where you can share drinks and gear up for the excitement of the game.
1. River Rock Restaurant and Marina Bar: Located on the banks of the Manasquan River in Brick, NJ,  River Rock is an awesome place to watch sports because it has a casual feel, great seating and wall to wall TVs that show everything from  football and baseball, to soccer and  NASCAR!
River Rock Restaurant and Marina Bar
1600 Rt. 70, Brick, NJ 08724
732-840-1110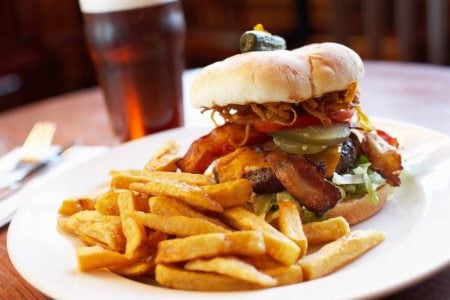 2. The Irish Rail: As an Irish pub with an excellent selection of beers and specialty drinks, burgers that are to die for and wings that will knock your socks off, you will definitely want to head to this Manasquan, NJ bar to watch the game.
The Irish Rail
229 E. Main St., Manasquan, NJ 08736
732-223-9300
3. Klee's Bar and Grill: Found in one of NJ's most popular Shore towns, Seaside Heights, Klee's Bar and Grill offers the NFL Sunday Ticket every week during game season, has a great drink selection and provides guests with countless other fun events throughout the week.
Klee's Bar and Grill
101 Boulevard, Seaside Heights, NJ 08751
732-830-1996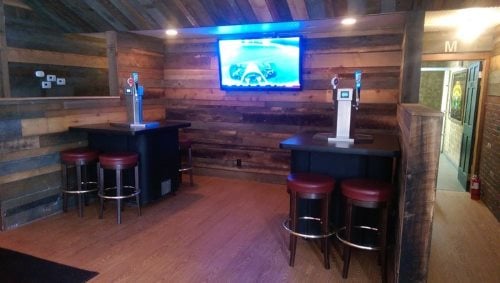 4. Spring Lake Tap House: Recently voted the best sports bar at the Jersey Shore, Spring Lake Tap House offers more than just wings and  beer. They provide their guests with access to every game, be it the NFL or NCAA. This is great for groups with fans of different teams; now there's no fighting over the remote!
Spring Lake Tap House
810 Rt. 71, Spring Lake, NJ 07762
732-282-1530
5. Mulligan's Shore Bar and Grill: This bar and restaurant in Wildwood, NJ is one of the best places you can go along the Shore if you want to see the big game, but don't want to be stuck at home on the couch. More than a great selection of drinks and food, this Jersey Shore sports hotspot has a friendly environment where you are sure to meet fellow fans who will root alongside you.
Mulligan's Shore Bar and Grill
310 W Hildreth Ave., Wildwood, NJ 08260
609-522-4883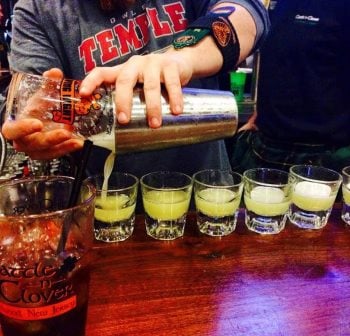 6. Cattle 'n Clover: If you are in Wildwood, NJ and need a fun and energetic environment where you can watch your favorite team in action, head over to Cattle 'n Clover. They have beers on tap, mason jar drinks and food that will keep you full and happy until the final score is read.
Cattle 'n Clover
3817 Pacific Ave., Wildwood, NJ08260
609-522-3800
7. Lucky Bones Back Water Grille: This upscale Jersey Shore bar serves custom-made drinks and has a sophisticated bar where TVs are regularly playing the latest game. They also have a full menu of gourmet quality food so while watching the game, you do not need to subject yourself to wings and chips, but instead crab cakes, pasta or steak.
Lucky Bones Back Water Grille
1200 Rt. 109, Cape May, NJ 08204
609-884-2663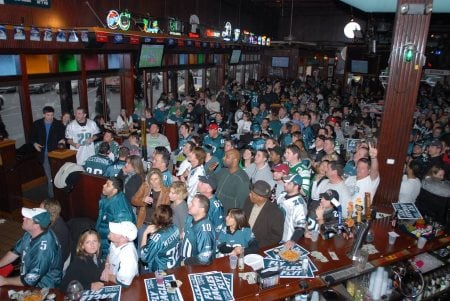 8. Chickie's and Pete's: This sports bar at the Tropicana is one of the best places to watch football in the Atlantic City area. They have a spacious environment that is fun and casual. They serve a wide variety of domestic and craft beers, specialty drinks and even have a gluten-free food menu. Every sports fan can find something delicious to eat while enjoying the big game.
Chickie's and Pete's
2831 Boardwalk, Atlantic City, NJ 08401
609-344-1080
9. D'Arcy's Tavern: Located in Bradley Beach, NJ, D'Arcy's Tavern is a bar with an open air atmosphere and game day specials that will excite any sports fan. On any regular Sunday during football season, you will find specials on beers and food that make the game even more enjoyable.
D'Arcy's Tavern
310 Main St., Bradley Beach, NJ 07720
732-774-9688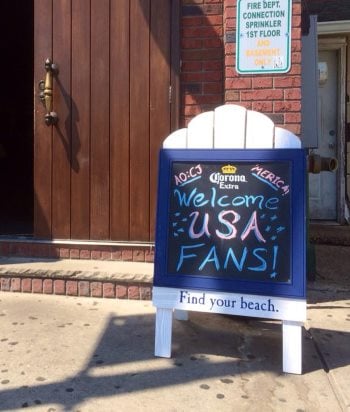 10. Jack's Goal Line Stand: Found in Long Branch, NJ, Jack's Goal Line Stand is the ultimate NJ Shore spot to watch any sports game: football, soccer, baseball or another sport. They have a great beer menu and food menu that includes game day favorites such as pizza, ribs, sliders and much more. The twist that makes this bar better than others in the area for sports is that their food is gourmet quality and their drinks are always readily available.
Jack's Goal Line Stand
149 Brighton Ave., Long Branch, NJ 07740
732-870-8800
So now that you know the ten best places along the Jersey Shore to watch sports, you may consider changing your Sunday plans. Put away the cheese tray, throw the burgers and salsa back in the fridge and tell your friends which spot to meet you at!
Would you gather with friends at any of these bars on game day? If not, is it because you don't live near the Shore? Let us know and we can tell you which bars are the best in your NJ County!
Check out our NJ Beach Guide for all things to do up and down the shore!