Sunset Beach: South Jersey's Hidden Gem
Posted on January 16, 2023
By

admin

1654 Views
Sunset Beach and Why You Should Visit
Sunset Beach, New Jersey's shore gem, is one of the most family-friendly areas in all of the historic Cape May area. With its beautiful sceneries and some of the most scenic views in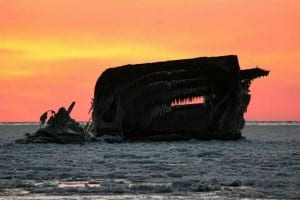 the entire state, it's a little-known resort town that has been cherished by South Jersey locals for decades.
Before you start packing up for a trip to Sunset Beach, check out this quick and easy guide for first time visitors.
Unlike most beach areas in New Jersey, this area is not known for the myriads of people who go there to get a tan or even swim in the ocean. Find out why after the jump!
Beach Time At Sunset Beach
Much like a larger portion of Cape May, Sunset Beach is known for its gloriously gorgeous beach at sunset time.
As the name suggests, catching the sunset at this beach is absolutely gorgeous. The atmosphere always seems to glow a unique, fiery orange. There is always a good view in sight. It's also a unique view, thanks to the ruins of an old shipwreck right off of the coast.
Find and Collect Cape May Diamonds! (A Very Fun Activity for Kids)
This beach is known for having Cape May "diamonds," which are small clear quartz pebbles that just happen to look like real gems.
For most people who grew up in and around the area, digging for Cape May diamonds in the area has become a cherished childhood moment. If you're new to the Cape May diamond phenomenon, don't worry.
You can get your own "diamonds" by digging a little bit deep into the sand. Many locals collect them – and many kids swear it makes them feel like real pirates.
USS Atlantus
The ship was once a concrete ship called the USS Atlantus – a military vessel that had sank. If you ask a local, especially one of the shopkeepers or lifeguards, they'll be happy to tell you the tale of what happened to the ill-fated Atlantus.
Sunset Beach is also very close (or even home) to the Cape May Light, one of the few lighthouses in New Jersey still standing. The Cape May Light no longer functions as a lighthouse, but still can be visible today. It's worth noting that it's a popular tourist attraction and photography subject for locals in love with beach lore.
There are also abandoned train tracks from the mid-19th century and a WWII bunker within driving distance as well. Needless to say, history buffs love this beach.
The Flag Raising Ceremony
Sunset Beach's next biggest attraction is the flag ceremony that is performed every morning and night in May through late September. Since 1973, this patriotic spectacle was used to acknowledge and celebrate the hard work of veterans when it came to keeping their country safe.
Each flag used in the ceremony was a flag that had once graced the casket of a veteran. It's a beautiful ceremony, but it is one that should definitely be treated with respect.
Entertainment Around Sunset Beach
There are plenty of places to go throughout the Cape May area, and in fact, it's safe to say that Sunset Beach is part of one of the top resort towns in the state. In fact, you can check out quite a few of the attractions in Cape May county on our site!
If you are looking for a way to really experience Cape May and Sunset Beach alike, we definitely would suggest trying out East Coast Parasail for a sky-high perspective on one of the most beautiful beaches around.
More nature-attuned folks would definitely like to get in touch with Cape May Whale Watcher, which allows you to see real life whales and dolphins right off the Jersey shore.
For those who are hoping to get a souvenir or some beach paraphernalia during the trip to Sunset Beach, you can rest assured that it will be very likely to happen.
There are three souvenir shops throughout the area. These Sunset Beach Gifts, the Rock & Garden Décor Shop, as well as a small home and garden shop. All three are owned by the same family, too, so there's definitely a nice family atmosphere there 24/7.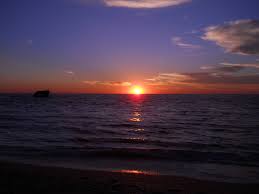 Also within reach is a cute and family-friendly mini-golf location. You may as well practice a game or two with the kids while you're there, right?
Food and drinks can be found throughout the Cape May area, especially if you hit up the local historic district. Between the Mad Batter and a number of other popular Cape May hotspots, there really shouldn't be any shortage of food.
The Sunset Beach Cottage
In our research efforts for this article, we also found out that there is a cottage directly on Sunset Beach that tourists can rent. The cottage itself is a 1 bedroom, 1 bathroom home with a maximum occupancy of four people.
Unfortunately, it's not pet-friendly but can still make for an amazing home away from home for those who are interested in dropping by for a full weekend. You can find more information at the Sunset Beach Gifts site, right here.
It's definitely worth a look – especially if you dig up too many Cape May diamonds to haul around on your own!
Sunset Beach And Pets
It's worth noting that for the majority of the year, pets are not allowed on this beach. However, there is a small window of time when your furry friend can tag along on an excursion to Sunset Beach. From September 16 to March 30th, dogs are allowed on the beach.
However, if you do choose to bring them for the ride, you will have to keep them leashed and pick up after them at all times.
Incidentally, it seems like Sunset Beach is open to the public throughout the year. That alone makes it one of the best beaches in New Jersey.
A Final Word About Sunset Beach
Sunset Beach is extremely small when compared to other major beach destinations like Sandy Hook or Wildwood or the Point Pleasant Beach boardwalk.
But, sometimes, really big things do come in small packages.
This family owned resort area has been a favorite since the 1970s, and has even been cited by a number of different news sources as one of the top 25 beach destinations in the US.
It's one of the very few beaches that doesn't try to sell itself by boasting about soft sand, or by boasting that there are palm trees lining the pathways. It's not a normal beach, but sometimes, weird is way better than normal.
---
Check out our NJ Beach Guide for all things to do up and down the shore!
FAQs
Can you swim at Sunset Beach Cape May?
Yes, you can swim on Sunset Beach in Cape May.
How much are Cape May diamonds worth?
A Cape May diamond is worth about $8 a carat.
Can you swim at Sunset Beach?
Yes, you can swim at Sunset Beach in Cape May New Jersey.
Where can I find Cape May diamonds?
You can look for Cape May diamonds in the sand on the beach in Cape May New Jersey.
What does a Cape May diamond look like?
Cape May diamonds look like small pebble-shaped cloudy diamonds. These "diamonds" are actually made out of quartz.
Where can I find Herkimer Diamonds?
Herkimer Diamonds can be found on the coast of New Jersey and New York. These "diamonds" are a type of quartz.