Plan Your Perfect Romantic Getaway in New Jersey
Posted on January 16, 2023
By

admin

256 Views
Valentine's Day is quickly approaching, and with it being the most romantic holiday, you will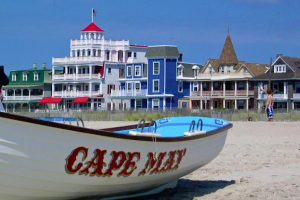 be faced with having to come up with the perfect gift idea. The truth is that every relationship requires work, but what really strengthens a bond is the quality time spent together. Most people get caught up in their day-to-day responsibilities that they forget what creates lasting memories. There is only one way to maintain the spark in a relationship, or even reignite it. You need to plan the ideal romantic getaway for you and your significant other, and Valentine's Day is the best time to do this. See upcoming events in NJ.
There are so many considerations when planning your perfect romantic getaway. Where should you go? Where should you stay? What would you want to see? How long should you stay? Will there be enough things to do to keep busy or interested for the duration of the stay? Is it romantic enough, or is it primarily a family-style getaway? If you are looking to make just the right plans you will want to consider New Jersey to really impress that special someone. If you are looking for a wonderful experience that is both exciting and romantic then consider some of these ideas:
1. Decide on how long your getaway will last. Will you be staying overnight, a weekend, or a week? This is important in deciding where you will stay and what you will want to experience during that time. Depending on your own ideas of romance you may want to consider at least a weekend getaway so you don't feel rushed and you can truly enjoy the time together. It will allow you to get the most of your time together and relax. New Jersey is the perfect destination for couples who are looking for an easy-to-reach location with a number of romantic options.
2. Schedule plenty of quality time together. There is possibly nothing more relaxing or romantic than a couple's massage. Spending quality time together either quietly or talking about what's important to you is a wonderful way to spend a few hours. It doesn't matter if you are a massage veteran or a first-timer, this is an excellent way to begin your romantic getaway. Don't forget the small touches that will make the experience extra special. Flowers and special music give it an extra touch, and the spa or hotel you choose for the services will be more than happy to help or offer suggestions.
3. Enjoy the beautiful New Jersey beaches. If you take the trip to New Jersey you will have no excuse for not visiting one or more of their beautiful beaches. Enjoy the romantic settings all day and then enjoy some of the most beautiful sunsets. If you enjoy the beach make sure that you schedule your romantic getaway for the summer months. In addition to relaxing on the sand, New Jersey offers endless activities on the beach that are geared toward every interest. From boating to water skiing, you can enjoy every adventure or try something new.
4. Don't forget the romantic dinners! You will find exquisite options for dining with your significant other in New Jersey. You can expect to find anything your heart desires, from four-star restaurants to quaint options with amazing food, you will find every nationality and the best seafood around. Your options are unlimited, but you can be sure that you will enjoy every meal!
5. Try something you have never tried before. Because there are so many options you will not struggle to find something fun and exciting to do that you have never tried before. Tour a vineyard, take a romantic hot air balloon ride, explore the museums and galleries, or try your luck in Atlantic City. Whether you choose a quiet activity for just the two of you, or something that takes you into the excitement of the city, take the plunge and do something different and special together to make it a truly unique experience.
No matter what you are looking for or what you enjoy doing, New Jersey has it all. After spending a weekend you will wish you had more time to enjoy the sites, the restaurants, the beaches, and the activities. You will be planning your next romantic getaway to New Jersey before you even leave for home. Take advantage of the opportunity to spend quality time with your significant other and do it in the ideal locale of New Jersey.
Experience romance like never before and reconnect, rekindle, or strengthen your relationship with everything available. Don't wait to book your romantic getaway. Take a look at all that New Jersey has to offer and begin planning your perfect weekend.
Find some awesome New Jersey romantic getaway ideas here.