iPlay America Opens Topgolf Swing Suite in Freehold NJ!
Posted on January 16, 2023
By

Summer Daidone

445 Views
The most exciting news of 2019 is here–iPlay America's Topgolf Swing Suite is now officially open!
If you haven't already heard about or been a part of the latest Topgolf craze, we're here to tell you that you're missing out!
Taking turns hitting targets with your friends while enjoying drinks and delicious snacks has changed the meaning of an "awesome night out".
Visit iPlay America's website for details!
What is Topgolf Swing Suite?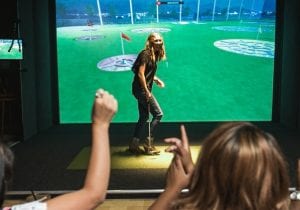 Topgolf is traditionally played in outdoor bays where players take turn hitting golf balls in the direction of targets. The golf balls track each player's shot accuracy and distance, while awarding them points for hitting targets.
Topgolf's newest extension features a simulated game experience in a luxurious atmosphere.
The Topgolf Swing Suite located in iPlay America features six unique bays with game simulators, lounge seating, HDTVs, and full food and beverage service.
Fun for all Skill Levels!
When it comes to the TopGolf Swing Suite, it doesn't matter if you're an expert or if it's your first time ever holding a golf club. The game is easy to understand and fun for everyone!
Choose from 8 Fun Games!
The best part about the interactive Swing Suite? You can play more than just golf!
All of the games below are offered at iPlay America's Topgolf Swing Suite and are available in both beginner and advanced levels.
TopContender – Players aim for colorful targets while testing their precision and control.
TopPressure – A game of accuracy involving both golfing and darts. Hit specific targets to earn points!
TopChallenge – Closest game to traditional golf. Hit your ball as close to the hole as possible, and don't land in the water!
Baseball Pitching – Perfect your pitch! See if you can defeat the players of the other team. They love to swing with power!
Zombie Dodgeball – Defend yourself from a trio of zombies by hitting them with dodge balls. Don't let a zombie hit the fence before the time runs out!
Carnival Classic – The classic carnival game: pop as many balloons as you can! If you make it to the bonus round, test your skills as dunking a clown!
Hockey Shots – Take aim at targets with a hockey stick and puck! You get 8 shots to make a goal.
Quarterback Challenge – Can you score the game-winning touchdown? Your wide receivers are counting on you!
iPlay America's Grand Opening Celebration
Join iPlay America on May 3rd, 7-9pm for the Topgolf Swing Suite grand opening celebration! Greg T of Z100 will be there LIVE with the party patrol!
Come out for a night of music, giveaways, games, and more! See more information here.

Already played at the new Topgolf Swing Suite?
Let us know which game was your favorite in the comments below!