Deep Cut Gardens Middletown Nj: Here's What You Can Expect To See When You Visit
Posted on December 16, 2020
By

admin

711 Views
A Tour of Deep Cut Gardens

Deep Cut Gardens in Middletown, New Jersey is the living demonstration of native and cultivated plants.
And it is truly a mesmerizing place to visit!
New Jersey is a state full of historical and breathtaking places to visit and Deep Cut Gardens is one of them.
It is an absolute incredibly unique place to visit and explore.
The park is named after the Deep Valley in which it is situated.
It is  a 54-acre park that is currently part of the Monmouth County parks system.
Having an Italian background, these gardens in Middletown are dedicated to home gardeners.
Come see up close and personal all of the amazing demonstration gardens which provide a living display of native and cultivated plant materials.
All of their different varieties of native and cultivated plants can be visited in the different seasons.
When you first arrive you will see large greenhouses near the entrance.
These greenhouses were built to grow a variety of plants and gardens throughout the year.
Come During The Season For Amazing Orchid Flowering

If you are an admirer of Orchid flowering, you will have to wait for the peak season, which begins from mid-February and ends in mid-March.
Due to the Covid-19 pandemic, the greenhouses are closed for public visits, but you can still take a glance at beautifully grown flowering varieties from the glass windows.
There are many succulent and houseplants, grown in harmony that are well-maintained by the park management.
You can improve your home gardening and horticulture skills by walking around these greenhouses and orchids.
If you have any questions and queries, you can ask the staff members on the spot.
Gardening programs
Gardening programs and classes are also offered, and you can build your skills, by taking these opportunities. For more information, you can visit the horticulture reference library where you will find books and magazines along with other helpful videos.
Additionally, there are seed exchange centers and nurseries also allowing you to introduce new varieties of plant materials in your garden.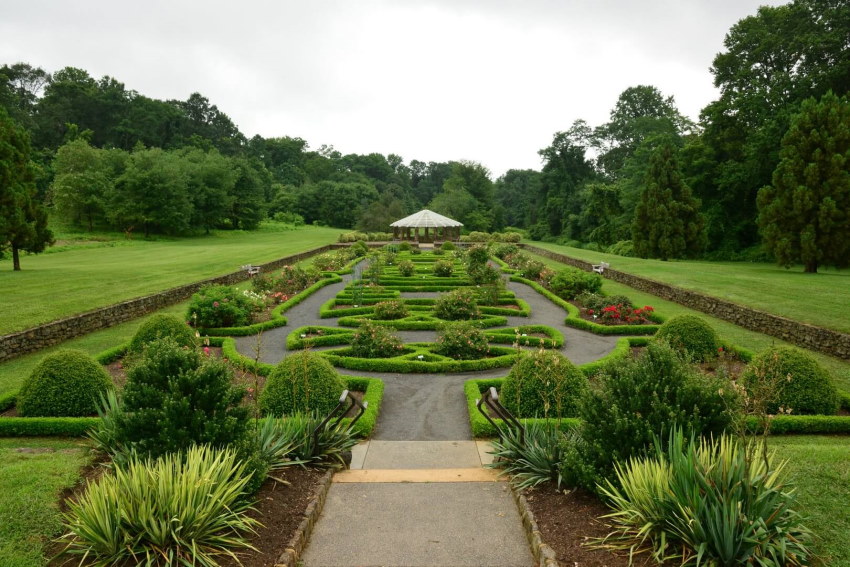 Places to Visit in the Park
Once you enter the park and begin the adventure, you will have to choose from two paths.
The main path and the other pathways.
It is advised not to follow the main path as it is crowded and you can't practice social distancing. If you are following the main track, you must wear a mask, for a safe visit.
The park has some mesmerizing places to visit from the beginning until the end.
Let's find out what you'll see:
Touch of Naples, Italy

Some spots in the park mimic some spots of Naples, Italy. In 1935 Vito Govnee, famous Mobster occupied this property and redesigned the place in a way that some spots reminded him of his village in Italy.
These spots include the Miniature of Mount Vesuvius, rocky gardens, and a chain of cascading pools.
You will be blown away by the beauty, uniqueness, peace, and versatility of the park. It is the best spot to visit these days when we are supposed to do social-distancing.
Also, it can help you reduce Covid-19 anxiety and depression.:)
Shades and benches are installed in the gardens throughout.
Also, trees are there to provide natural shade and protect you from getting exhausted in sunlight.
Rocky Gardens
This part of the Deep Cut Gardens also belongs to the Mobster Vito Govnee.
It so closely resembles the rocky Garden in Naples that it feels like you are in Italy.
This is the part of the garden is full of flowers and wood boxes. It is advised to visit this portion in the early morning or evening, to avoid the sunshine and heat, as this is an entirely un-shaded part of the garden.
Rocky Gardens are full of dozens of varieties of roses and other plant materials.
Variety of Roses
In my opinion, the roses are the best part of deep cut gardens.
When strolling around, you will come across a variety of roses.
More than 180 varieties of roses are planted in the garden.
Of course, they all have different colors and shapes.
All of the rose bushes are labeled with their common and scientific name.
The scientific naming can be really helpful for Botany students and botanists.
You will love the smell of these roses as you walk around the garden.
Bonsai Trees
Another stunning feature of the park is the ancient Bonsai trees.
These trees also called "Dino trees" are present along either side of the path leading to the rose Parterre.
Climbing is strictly prohibited, as these trees are fragile and look as they are bowing to God.
People of all ages will love roaming beneath the twisty branches of these aged trees.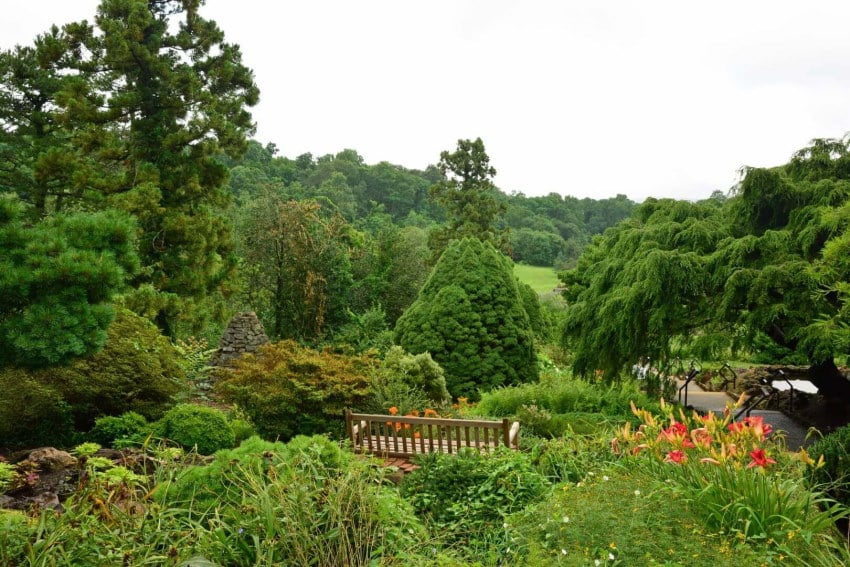 Koi Ponds
You will find the stupefying Koi ponds, a few yards from the Dino trees.
These ponds are filled with hundreds of Koi fish swimming in them.
The ponds truly are ponds are a dream place to visit.
Make sure you allot extra time to admire the sheer beauty of these ponds. The friendly fish will welcome you as you dip your hand into the water.
You can relax by sitting beside the ponds to see the brightly colored fish
Unfortunately, feeding the fish is not allowed.
Miniature Mount Vesuvius statue
The historical statues will transport you back in time. The miniature statues mimic the Vesuvius Mountains and the rambunctious Italian Volcano.
These miniatures were built when this property was occupied by Genovese.
You must seethe volcano!
This miniature volcano erupts flames, fire, and smoke when the fire is lit inside it.
Children will be astonished and will love to dig deep into the history of this great Volcano.
Biking, fishing, and alcohol consumption are not allowed in the park.
Also, unfortunately, you cannot buy any drinks or food in the park but you can bring your own.
If you want to enjoy a lunch or picnic in a mesmerizing environment, you can eat in the designated sitting or picnic area.
The visit to the park is entirely free of cost.
Don't forget to wear a mask or practice social distancing.