Day Trip: Asbury Park, NJ
Posted on January 16, 2023
By

Ray Gallagher

651 Views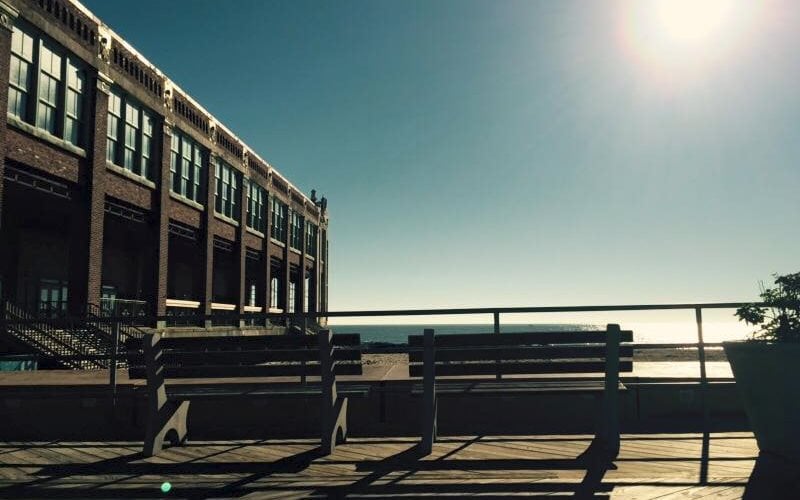 Spend a day at the Jersey Shore's best town

Asbury Park is turning into the hottest place to be on the Jersey Shore. Besides the beach, it has a rich history and vibrant cultural life. Here is a dawn-to-dusk guide through some favorite places to hang out in Asbury Park.
BREAKFAST
Toast: Life is all about "peace, love and pancakes" at Toast, a vibrant brick-walled breakfast spot located downtown. Made from a special family recipe, Toast's pancakes are served up fresh from the griddle every morning. If pancakes aren't your thing, choose fro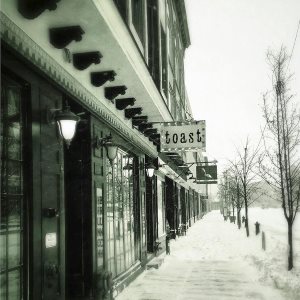 m their extensive breakfast menu for omlettes, breakfast sandwiches and sides. Toast is open until 3 pm, so guests can come in for lunch, too! Their sandwiches, wraps and burgers are a great pick-me-up during your lunch break. If you're from Essex County, NJ, you might want to check out their original Montclair location, too!
Toast
516 Cookman Ave.
Asbury Park, NJ 07712
732- 776-5900
THINGS TO DO
Asbury Park Beach: This beach spans over a mile of pure Jersey Shore coastline. Despite being one of the best and most popular beaches in Monmouth County, it is also one of the least expensive. Day badges are only $5 per person during the week, and $7 during the weekend and holidays.  Children under 12 are admitted free.
Hot Sand: If the sand on the beach is too hot, or the weather is too cold for sunbathing, visit Hot Sand. This glass blowing studio is one of the coolest craft places on the Jersey Shore. Walk-ins are welcome, no reservation necessary. Artists as young as 9 years old are welcome to create their own glassware. Children 4 and up are welcome to make sun tiles with pre-cut pieces of mosaic glass. Hot Sand regularly hosts workshops that cover glass blowing fundamentals, glass fusing and jewelry making.
Hot Sand
550 Cookman Ave.
Asbury Park, NJ 07712
732- 927-5475
Catsbury Cafe: This new addition to Asbury Park brings Asian cat cafes to NJ. See our review here.
LUNCH
Twisted Tea Cafe: Enjoy healthy vegetarian food from scratch at Twisted Tree Cafe. Although their ingredients are simple, their menu is not. The Twisted Tree features many gluten-free and vegan options as well. They offer salads, soups, hummus and sandwiches that are deliciously light, but big on flavor. Try a refreshing drink from their smoothie menu, or grab a cup of coffee to go. After eating a healthy lunch, indulge in some vegan baked goods, like their raw, GF brownies with chocolate ganache icing!
Twisted Tree Cafe
609 Cookman Ave.
Asbury Park, NJ 07712
732-775-2633
MORE THINGS TO DO
Hold Fast Clothing and Records: Asbury Park is known historically for its rock music scene. Hold Fast Clothing and Records keeps the Jersey Shore sound tradition alive. Browse through their extensive collection of LPs, 45s and CDs. They also sell vintage bands posters, merchandise and other collectibles. Hold Fast regularly hosts in-store performances and album release shows. This is the best place for punk, metal, reggae and all things alternative rock.
Hold Fast Clothing and Records
611 Cookman Ave.
Asbury Park, NJ 07712
DINNER
Stella Marina Bar & Restaurant: The best Italian food in Asbury Park can be found at Stella Marina. Its boardwalk location allows for gorgeous ocean views. In the summer months, guests can enjoy salty breezes while dining on the patio. Stella Marina i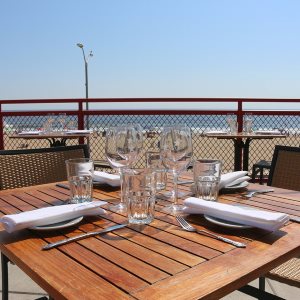 s equal parts classy and trendy, and is perfect for either a family dinner or a romantic date by the water.
Stella Marina Bar & Restaurant
800 Ocean Ave.
Asbury Park, NJ 07712
732- 775-7776
Cross & Orange: Inspired by the heritage and passion of the ambitions of mid-19th century Manhattan, this gastropub pays homage to the spirit of the makers and doers. Focusing on the art and architecture of cuisine, their scratch-made approach echoes the deliberation of artisans and innovators. Cross & Orange has quirky menu offerings, such as wild boar tacos, butternut squash gnocchi and fried frog legs. Their cocktail list features premium cocktails that will make you say goodbye to your basic vodka cran.
Cross & Orange
508 Cookman Ave.
Asbury Park, NJ 07712
732- 361-5502
BARS
Langosta Lounge: Summer never ends at Langosta Lounge. This hip boardwalk bar offers "vacation-inspired cuisine" in an upscale yet trendy setting. Come in for Happy Hour during the week from noon to 7. Enjoy craft beers, wine and cocktails at the bar, along with exotic appetizers and meals. They treat every night of the week like a vacation, and there are always drink specials and live entertainment happening.
Langosta Lounge
1000 Ocean Ave.
Asbury Park, NJ 07712
732- 455-3275
Bond Street Bar: This is Asbury Park's best-kept secret. This tiny watering hole is smaller than most people's kitchens, but what it lacks in size, it makes up for in spirit. This edgy little dive bar has an outdoor seating area during the summer months. Their beers start at $2 and are often served in mason jars. They offer a unique twist on typical bar food. Their specialty grilled cheeses come highly recommended.
Bond Street Bar
208 Bond St.
Asbury Park, NJ 07712
732-774-1575
ROCK OUT
The Stone Pony: This is one of the most well-known rock venues in the country. Known for being Bruce Springsteen's old stomping grounds, local and national acts alike come to jam out at this Jersey Shore rock club. If you're lucky enough to visit Asbury Park from May through September, The Stone Pony hosts its annual Summer Stage. Rock out with an ocean view in the Pony's parking lot.
The Stone Pony
913 Ocean Ave.
Asbury Park, NJ 07712
732-502-0600
Asbury Park is quickly becoming one of New Jersey's premier tourist destinations. From beaches to bars to the stunning boardwalk, Asbury Park is a fun place to take a day trip in the summer or winter. Let us know about your favorite Asbury Park hangout.
Check out our NJ Beach Guide for all things to do up and down the shore!