Crystal Springs adds Adventure to their Luxury Resort!
Posted on January 16, 2023
By

Jesse Shea

682 Views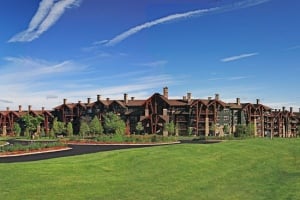 Crystal Springs Resort has long been known as one of New Jersey's most unique four-season resorts. From their seven championship golf courses to their outstanding restaurants, spas and hotel accommodations there is truly something for everyone. Crystal Springs Resort is the perfect NJ vacation destination for couples, families and even a friend's weekend getaway! With so much already available to do and enjoy right on the resort, who would have thought they could have added anything else? Well they did!
Crystal Springs Resort has added adventure to their luxurious resort. They have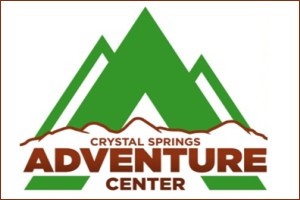 everything you could possibly want for an adventurous weekend away in New Jersey! They now offer a wide variety of on-site guided activities including hiking, kayaking, canoeing, archery, fishing and so much more. Take your adventure off the resort for the day and enjoy several off-site self-guided activities which include a bike park, a zip line, canoeing and hiking. Any of these activities will liven up your weekend getaway at Crystal Springs Resort! Whether you spend it with your loved one or your whole family there is something for everyone to do and enjoy.
More ways to see and explore the Skylands Region of NJ!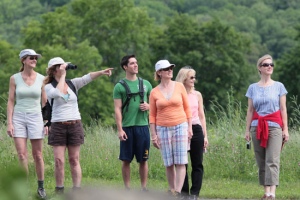 Hike through some of the most beautiful and unique trails New Jersey has to offer! An experienced guide will walk you through the Great Appalachian Valley where you will get a bird's-eye view of Sussex County's farmlands, pastures, lakes and mountains. Once you reach the top there are a wide variety of trails for hikers with any level of experience. You can also choose to hike the woodlands of Hamburg Mountain, the same land Native Americans called their home years ago. A guide will bring you to the top of the mountain which is nearly 2 miles high! At the top dozens of animals including birds, mammals and reptiles will be just a few feet in front of you! Both of these trails offer unbelievable views of the surrounding area, it is the best way to see the Skylands Region!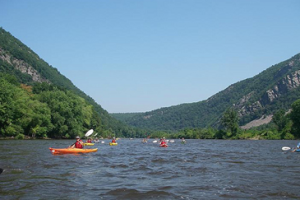 After your hike through the Great Appalachian Valley or Hamburg Mountain enjoy a peaceful canoe or kayak ride back to your resort destination. Instructors will give you a short lesson on all of the basics of kayaking and canoeing, then off you'll go down beautiful Mountain Creek Lake. As you travel down the lake you will get amazing views of the surrounding mountains and valleys. Animal lovers will get close to a wide range of birds, fish and reptiles. Canoeing and Kayaking down Mountain Creek Lake is the perfect way to relax and enjoy nature.
Famili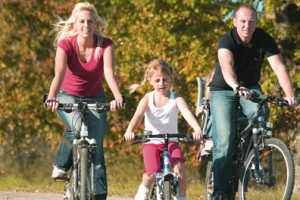 es with children 8 years and older can enjoy a scenic bike ride to the historic Paulinskill Rail Trail. The Paulinskill Rail Trail was once part of the New York- Susquehanna and Western Railroad line, in nearby Lafayette, NJ. Bike through a diverse landscape that features farmlands, small towns, forests and wetlands. Don't worry about lugging your bikes and helmets with you on your trip to Crystal Springs Resort, they give you everything you'll need to enjoy a quiet, relaxing bike ride! The bike trail is a great way to escape for a peaceful day in the beautiful New Jersey wilderness.
If you're looking for a more adventurous biking experience, spend a few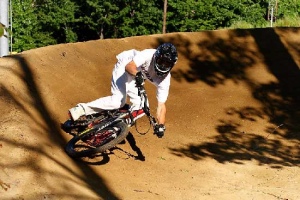 hours at Crystal Springs Resort's brand new Mountain Creek Bike Park! The park was designed by riders, for riders and has everything you need and want for a thrilling day outdoors at Crystal Springs Resort. Mountain Creek Bike Park artfully combines a trail network with well-maintained natural terrain and man-made features. The park has everything from ramps to dirt paths and inclines, perfect for bikers of all levels, so dont' be shy! Grap your bike and ride on!
For a un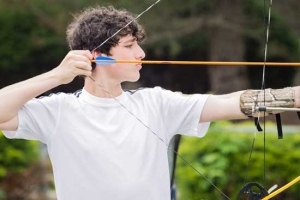 ique way to spend the day outdoors at Crystal Springs Resort, try your hands at archery! Climb to the top of Hamburg Mountain and experience tranquility and excitement all in one! A guide will teach you everything you need to know about archery. You will get to safely release your arrows and experience a thrill like no other! Afterwards, take a swim in the lake, take a canoe ride or enjoy a game of beach volleyball!
Many would argue the most relaxing way to spend the day outdoors is by fishing. At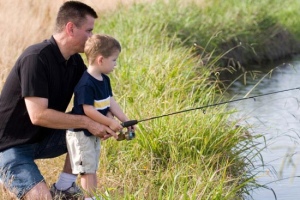 Crystal Springs Resort Adventure Center there are plenty of opportunities to fish in beautiful, crystal clear lakes and quarries. Instructors are available to teach you the basics of freshwater fishing, including a how-to of the sport, baiting, luring and casting. The quarry is located right in the heart of Crystal Springs Resort and is stocked with fish available for catch and release. Crystal Springs Resort is not only concered with your fun, but also the environment! Rods, bait and instruction are all available right on the resort!
Experience s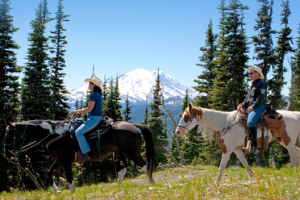 ome of the most beautiful horseback riding trails New Jersey has to offer in the Skylands Region of Sussex County. You will meet up with your four-legged companion and travel through the Hamburg Wildlife Preserve. You will spend the hour watching for flora, fauna and amazing wildlife along the way! Horseback rides are suitable for all levels, from beginner to the most experienced.
Take your thirst for adventure to new heights and climb aboard their brand-new Zoom Ziplines! The tours last about 1.5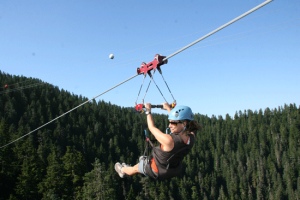 to 2 hours and there is plenty to see and experience! You will soar 200 feet above the Skylands Region of New Jersey taking in the amazing views of the mountains, lakes and natural beauty of Crystal Springs Resort and Sussex County, NJ. The Zoom Zipline is a great outdoor adventure activity for couples, friends and even kids!
The next time you're thinking about getting away for the weekend, come down to Crystal Springs Resort where there is something for everyone! Their brand new Outdoor Adventure Center is an amazing way to experience the natural world of New Jersey, something many of us look past and ignore. There is no need to leave New Jersey to experience the outdoors, come down to Crystal Springs Resort where luxury and adventure are wrapped up into one amazing getaway.