Wacky and Wild Fun: A Few Crazy Attractions Kids will Love in NJ
Posted on January 16, 2023
By

Kerry O'Brien

681 Views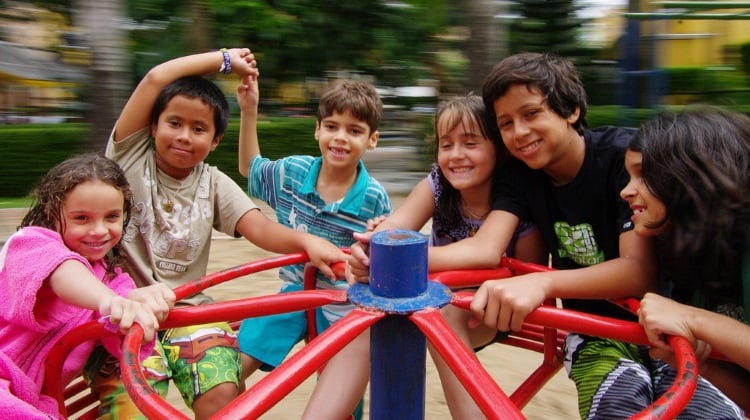 Three of the Craziest Things to do with Kids in NJ
While educational activities are important, sometimes the kids need a day of wild and wacky fun. Since New Jersey is such a unique place, you are almost guaranteed to find a crazy place to visit with your child: one that is just around the corner from your house, or simply a short drive away.
Monster Mini Golf
With six locations scattered throughout Northern and Central NJ, kids are sure to have a blast at any of the Monster Mini Golf locations. Whether you take them to the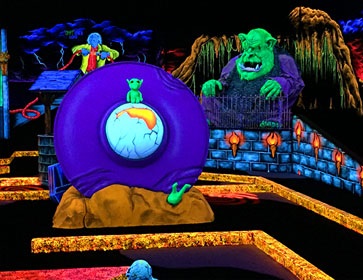 Eatontown, Paramus, Union, Fairfield, Edison or Marlboro facility, mini golfers can spend hours maneuvering through the obstacle golf course, only illuminated by black lights! Due to its unique darkness and use of brightly painted figures at each hole, scoring a hole-in-one seems impossible.
With the glow in the dark theme decorating the building, the excitement begins the moment your child walks through the door. They will eagerly be looking around to see what their mini-golfing afternoon has in store for them. Not only can they spend time on the golf course, but they can also play their favorite arcade game in the wildly crazy glow in the dark manor that Monster Mini Golf has adopted as their own.
Monster Mini Golf is a great place to spend an afternoon when the weather isn't cooperating. Burn off some energy in the glow of the black lights and fluorescent paint. Kids will surely be having so much fun that getting them to leave will be a challenge!
High Elevations Trampoline Park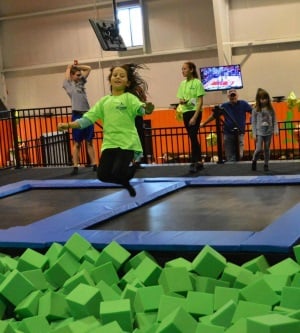 This Southern NJ trampoline park located in Sewell, NJ is definitely one of the most high-energy places to bring children. With floors and walls almost entirely lined with trampolines, the only option at High Elevations Trampoline Park is to bounce! Kids can jump and play for hours, releasing energy and having fun! They can do everything from the traditional bouncing session where they gather a group of friends or their family and jump or they can play one of the many games this crazy facility offers.
High Elevations Trampoline Park features numerous fun and outrageous attractions, including jumping dodge ball, basketball and even fitness classes. They also have toddler jump times where little ones can get out on the trampolines, jump and have a crazy good time, while simultaneously being safe and free of potential harm from jumping with older children.
Another fun attraction that High Elevations Trampoline Park has is a foam pit. Nothing is crazier than jumping from trampoline to trampoline, only to do a flip into a pit of foam blocks! Kids can perform all sorts of crazy tricks in this foam pit and, once they are tired of jumping into the pit and pulling themselves out repeatedly, they can happily return to jumping alongside their friends.
High Elevations Trampoline Park
7 Enterprise Court, Sewell, NJ 08080
856-270-2456
Imagine That! Museum
Imagine That! Museum of Florham Park is an awesome interactive kid's museum where everyone can have fun, be a little crazy and express their creativity. The museum
features 50 unique exhibits spanning 16,000 square feet.
With exhibits conveniently separated and displayed within their own rooms, children can freely roam the museum with their parents, choose where they want to play and how long they wish to remain at each location.
Some options of exhibits children can interact with include Tot Spot, Race Car Room, Pet Vet, Doctor and Dentist Office, Grocery Store and Diner and even Science Discoveries Room! They have rooms and exhibits for almost everything imaginable. Because the museum is entirely interactive, their play won't be viewed as educational. While of course their interactivity with some of the exhibits will provide them with everyday skills they can use later in life, the main purpose of this museum is to let children's imaginations run wild.
Imagine That! Museum
4 Vreeland Rd., Florham Park, NJ 07932
732-966-8000
There are countless cool and fun places parents can bring their children for a day of fun in New Jersey, but sometimes the most memorable places a child is brought, the places they remember years down the road, are not the traditional museum or arcade, but the crazy places that have outlandish attractions and exhibits that make them think.
While this guide to crazy NJ attractions for kids is not definitive, it's a great starting point of where you can bring your children for an afternoon or evening of fun. Each attraction is located in a different region of the state, ensuring that every parent has an option of a crazily cool play place or museum.
Another option, if you are simply looking for things to do with kids in NJ, is to find a cool play arena or other type of crazy attraction near you, maybe one that has just opened up for business, and share your experience with us! Whether the attraction is a play place, restaurant with a kid-centric and fun theme or an interactive zoo where kids can play with the animals, please let us know!
We love hearing about the cool places our readers have visited and what it was about the attraction that made it wildly fun and exciting. Share your thoughts about the NJ attractions you find/have found wildly cool and exciting in the comments below so everyone can rejoice in the fun and visit new attractions!