151 Things to Do in NJ And Why You Should Do Them Right Away
Posted on January 16, 2023
By

Justine Zborowski

357 Views
Jump to it! These buttons will get you to the fun faster!
Best Unknown Attractions Picture Perfect Destinations Things To Do With Kids Adventurous Things To Do Romantic Things To Do Free Things To Do Cultural Things To Do Foodie Things to Do
---
Unknown (Lesser-Known) Things to do in NJ
---
1. This Month's Featured Attraction
Do something really unique! Take a fencing class!
We pride ourselves on our exceptional facility, our world-class coaches, and our dynamic programs.
If you are new to fencing, do not worry! Check out their fun intro packages!
---

1 a. Visit Little India in Edison NJ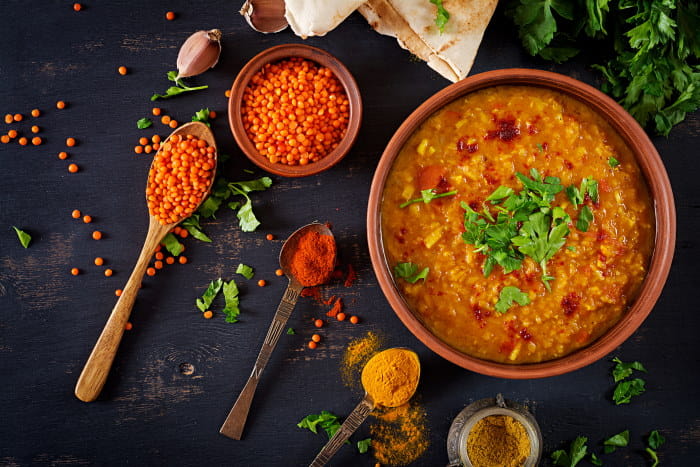 Enjoy authentic Indian food and explore beautiful (and very unique) Indian shops
This is one area in central Jersey that you need to explore.
Find dozens of things to do in Little India in Edison NJ.
---
2. Visit the Worlds Largest Minature Museum | Northlandz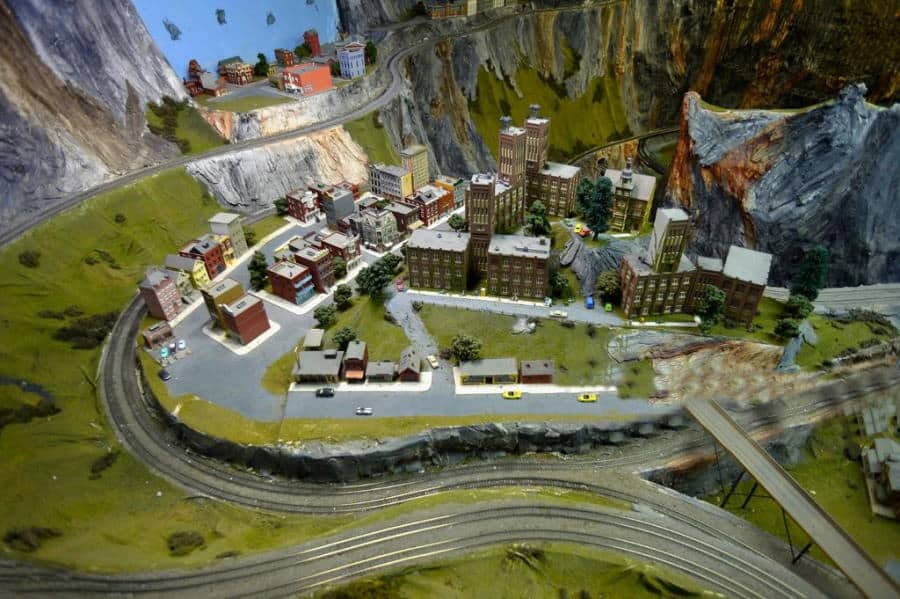 Northlandz is a Miniature World of Wonder! You'll find a wide variety of intricate and detailed miniature buildings, from replicas of real-world landmarks to fantastical structures straight out of your dreams.
Why should you do this?
Kids love outdoor adventures! Climb aboard the Northlandz 1890s Steam Engine Replica Outdoor Train for a fun-filled experience the whole family will love!
---
3. Meet, Mingle, and Touch Real Alpaca's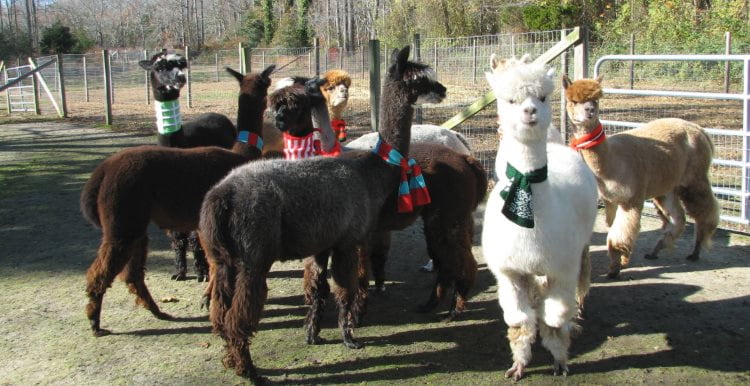 Cuddle an Alpaca! Visit a real Alpaca farm and touch and hold these amazing animals!
Jersey Shore Alpacas
Jersey Shore Alpacas, 521 Route 47 South, Cape May, NJ 0820
609-889-4957
Why should you do this?
There is no charge! (Donations are appreciated, however)
You've never touched or fed an Alpaca.
---
4. Tour 5.5 Acres of Chainsaw Carved Sculptures
They grow art! In the Spring season, check out intricate new projects and keep updated on their Instagram. Freehand Custom Carvings is a family-run international sculpture gallery that showcases sculptures from Germany, England, Scotland, Denmark, Australia, and all over America.
Why should you do this?
The sculptures are like taking a world tour from all the different inspirations and creativity of international carvers!
---
5. Delaware Valley's Oldest & Largest Flea Market!
Find any and everything on this humongous plot of land! If you've ever been to a farmer's market, you know how fun it is to walk around and find things! In our own experience, on a hot summer day, we got the freshest smoothies made right in front of our eyes made from just simple and sweet fruit!
Attending this auction is like going back in time and you don't want to miss it. Shop or just walk around to see handmade, unique items, honey-roasted peanuts (YUM), glass items, old antiques, and much more at Columbus Farmers Market Complex!
Why should you do this?
To experience the amazingly unique and fascinating Amish Market as well as have a slice of pizza at Kate and Al's.
---
6. Ride Horseback Under the Stars!
Escape NJ, feel like you are in the backcountry with BBQ, campfires, and hayrides!
Take a 90-minute trail ride and afterward have a Western-style BBQ for 90 minutes accompanied by live entertainment!
At the end of the evening, you'll travel back on an old fashioned hayride!
Tell John, Charlie from FunNewJersey.com sent ya!
Have the trusted stables with beautiful and scenic trails, stunning horses, friendly trail guides, and clean facilities transfer you to the wild west like never before under the majestic, moonlit sky.
This just might be the greatest date idea of the perfect thing to do together in all of NJ
Do something new and exciting, experience Echo Lake Stables in Newfoundland, NJ for your next date or family outing!
---
7. Take a Hammerin' Blacksmithing Class!
Ever wanted to learn how to make a pocket knife or metal creation? Bill Barrett will give a master class at Historic Speedwell in Morristown, NJ to teach children or adults of age 13 and up how to work on a project with basic blacksmithing techniques! These classes fill up quickly because of how few there are in a season, so check out their calendar to get a chance to make something you'll be able to take home and be proud of, take a lesson at Speedwell!
---
8. Bowl at a Retro Bowling Alley Re-Opened!
Did you ever think a bowling alley could double as a concert venue? Asbury Park has outdone itself! You can grab delicious food (with vegan options, too) while bowling a couple rounds. Check their website for operating hours, as the lanes are not open when there are concerts!
Try a game at Asbury Lanes for a retro experience!
---
9. A Theme Park on a Lake!
Seriously, imagine mini-golf, water slides, ping pong all on a lake! This is a place like six flags but half the bill and you can bring the whole family! Tomahawk Waterpark by Lake Hopatcong, is perfect for young kids up to teenagers. This runs from May-September with hours that vary depending on the early and late season. Visit this fun amusement park in Sparta Township, NJ.
---
10. Peanut Butter Lovers, Unite!
From peanut butter hot chocolate to cannolis, this shop has it all!
Though you can shop online, the real magic is going to Cape May to get some and watch the process!
Grab a jar of nut butter, choose from over 40 flavors of jam, or get Elvis Presley's favorite sandwich…you can even get dog treats!
Peanut Butter that you will never forget!
Stop in on a sunny day to pick up a memorable peanut butter creation from Cape May PB Co.
---
11. Peruse All British Things!
From candy to drinks, to biscuits explore this quaint little gift shop! This man who calls himself The English Gardener owns a gift shop on Kings Highway in Haddonfield New Jersey to share his love for English goods which includes 3,000 items from the Old County and the colonies!
If you are near Haddonfield, don't miss out on this cute doorway into another country's culture!
---
12. Get Ghostly at a Paranormal Museum
Visit everything between imagination and reality!
Learn about famously haunted places, look at supposedly haunted objects, and dolls and learn about history.
The tour will provide full context for every artifact they house and feed your curiosity!
Visit The Paranormal Museum in Asbury Park to look at all the evidence and investigate for yourself! Go quick because although their exhibits do not change, their artifacts are rotated in and out due to a high volume.
---
13. Get Your Country on at the Only NJ Rodeo!
The best show on dirt running May 26th through September 29th! This thrilling Americana experience offers 7 pro-rodeo events each week! Cowtown performs an authentic show that you don't even have to go to the south for! Who can say they went to a real cowboy performance right here in New Jersey..not even all state residents can say that!
For the Riding, Racing, and Roping of these amazing farm animals at a family-friendly show, go to Cowtown Rodeo for more details.
---
14. Wander the Majestic Rutgers Gardens!
Escape from the everyday stresses of life!  The hidden garden of the university is one that is still unknown to many state residents. Entrance to this botanical garden is also free, and well worth the trip. Students and staff take great care of this evolving center for research. Check out wonderful selections of Peach, Apple, Asparagus, Holly, Dogwood, and of late, Hazelnut if they are in season, and be sure to stop by the farmers market stocked with fresh goods!
Here is a map so you can walk along 100 years of evolved historic gardens in New Brunswick NJ.
---
15. Tour a Real Mine
Travel back to the 1830's! Walkthrough 1300 feet of the tunnel where the fluorescent Rainbow Tunnel exists. You will not only gain interesting historical knowledge but you will be amazed at the different natural colors of this mine.
Tour the world famous fluorescent "Rainbow Tunnel"

---
16. Experience the 3 Hour "CETACEAN SPECTACULAR" Whale & Dolphin Watch Cruise 
See dolphins and whales up close! Cape May Whale Watcher offers many diverse cruises to choose from including the Sunset Dolphin Watch, Whale & Dolphin Weekend Watch and the Prime Rib Dinner Cruise.
Why should you do this?
Captain Jeff Stewart will give all FunNewJersey.com visitors a $5 off coupon! Just mention FunNewJersey.com when calling in or when boarding the vessel.
---
17. Vintage Pinball Museum
A Blast from the Past! Submerge yourself into over 600 Americana pin-ball games. Get out with the family to reminisce and create some friendly competition, before some of your favorite games go to other locations!
Play like you've never played before at the Silverball Museum Arcade
---
18. Hit an Eco-Cruise
Interact with the majestic wildlife of the Hackensack River! Choose from 3 different itineraries on how you want you excursion to go! Learn about natural and human history of this beautiful location that isn't offered anywhere else.
Visit the Hackensack Riverkeeper Eco-Cruise
---
19. Visit Martinka
Who is Martinka? The Martinka Brothers established the world's first magic society! Check out rotating artifacts from Houdini and other famous magicians. 
Visit the Martinka Magic Museum
---
20. Have a Picnic In a Lovely Grove at NJ's First Zoo!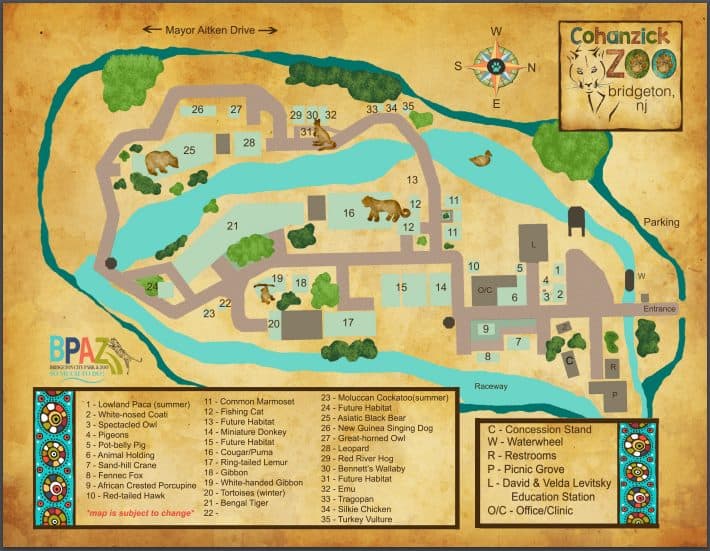 Click on the map above to download and print the zoo's attractions!
Dating back to 1934: Cohanzick Zoo is a non-profit that respects all living things, through fostering education and wholesome recreation. However, they welcome the donations in which the fuzzy animals will reap the benefits of!
Why should you do this?
It is small and intimate and it's free! For an amazingly unique idea, you can bring your kids or loved ones for a romantic picnic in their lovely grove and then stroll the zoo and see the beautiful animals.
---
21. Explore 13.5 Acres at the Reeves-Reed Arboretum
Experience this Secret Garden: The Arboretum offers scenic hikes through their picturesque green forests! There are trails that will range from easy to moderate. Put your boots on, and find your own little spot in the garden to decompress and be one with nature.
Through every season, there are new activities to learn or explore. RRA offers 13.5 acres to get lost in (not literally)!
---
22. Get in the Ball!
Become a human bumper-car: Visit Eatontown, NJ to play hilarious games.  They are continuing to expand the games offered and you DON'T want to miss out!  
Visit Knockerball NJ
---
23. Experience Amish Culture!
Bringing the best of Amish Culture to NJ: This is a Dutch Farmer's Market from Pennsylvania that has set up an amazing market in Princeton. There's nothing like fresh, homemade food in any category you can think of! Satisfy your taste buds while also getting the best quality. 
Why should you do this?
The donuts, the pickles, the butchered meats, the jams and jellies, the Amish sheds, and the wonderment of the Amish culture. Did we mention the donuts?
---
24. Sneak into a Speakeasy!
Shhh! Keep it a secret: Because of its convenient setting by a discreet cove on the Navesink, this Tavern was established around 1919!
Grab a beer and make some new friends while appreciating the historical significance of this Speakeasy.  
Go find: Murphy's Tavern
---
25. Zen Out with Goats!
Have you ever experienced a yoga class with goats? If the answer is no, you are missing out! Tighten your core with baby goats testing your strength in those hard poses. You are sure to get some laughs and goat cuddles by the end of it. 
Go get your downward goat on, but first check their event calendar!

---
Picture Perfect Spots in NJ
---
26. Take Pictures in 54 Acres of Gardens and Greenhouses.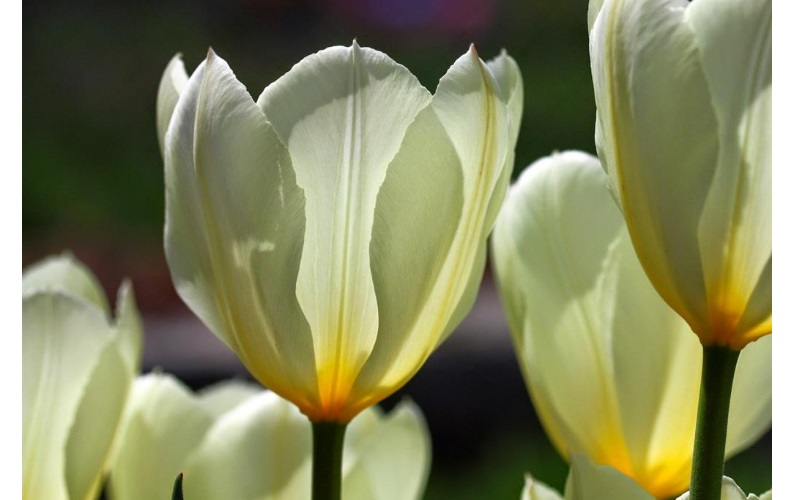 Click on the picture above for a brochure and map of this Monmouth County Park located in Middletown, New Jersey. 
Why should you do this?
The gardens will bring color to your life! There is always something beautiful in bloom for every season which will create breathtaking photos.
---
27. Take a Selfie with Samson!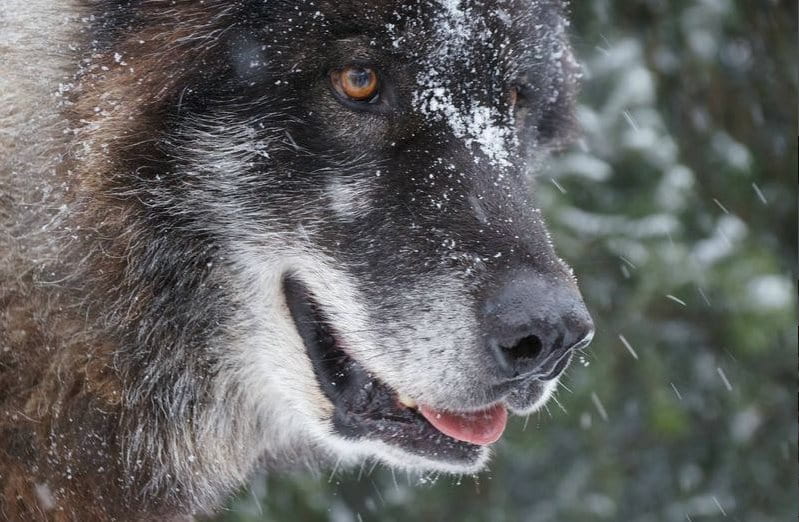 Who is Samson? 
He is one of the wolf dogs that live at Howling Woods Farm in Jackson, NJ.
After you pre-book a tour, you will be able to interact with the majestic animals and take pictures. Don't forget to howl with the pack!!
Why should you do this?
There is no charge! (Donations are appreciated, however)
You've never touched or fed a wolf-dog!
---
28. Sip and Paint!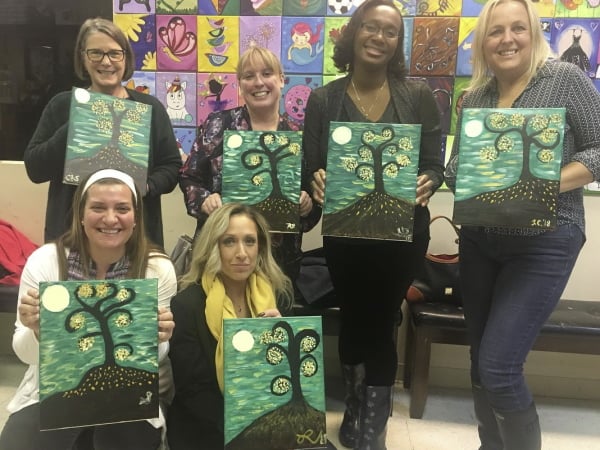 Paint & Sip at Bright Zebra Studio is a 2-hour instructor-led painting experience where you can enjoy your favorite adult beverage while you create the featured painting.
All sessions are instructor-led to ensure you have a stress free painting experience and an awesome result. You'll be so happy with your results that you will want to hang your painting up as soon as you get home!
Absolutely no prior experience is required.  Your instructor is a professional artist who will take you step by step through the painting process.
Not only will you leave with a painting, you will want to show everyone, but you will learn about the different brushes and palette knives as well as a bit of art history if we are painting a famous artists' work.
You will be uplifted and inspired. Everything you need to create your masterpiece is included. Reservations are required.
Sip with Bright Zebra Art Studio in Morganville, NJ!
Why should you do this?
 Bright Zebra Art Studio is a great place to get together with friends and try something new. You can reserve a private painting class just for your group or join in on one of the open public events. Check out their upcoming event schedule here.
---
29. Sail Along Picturesque Barnegat Bay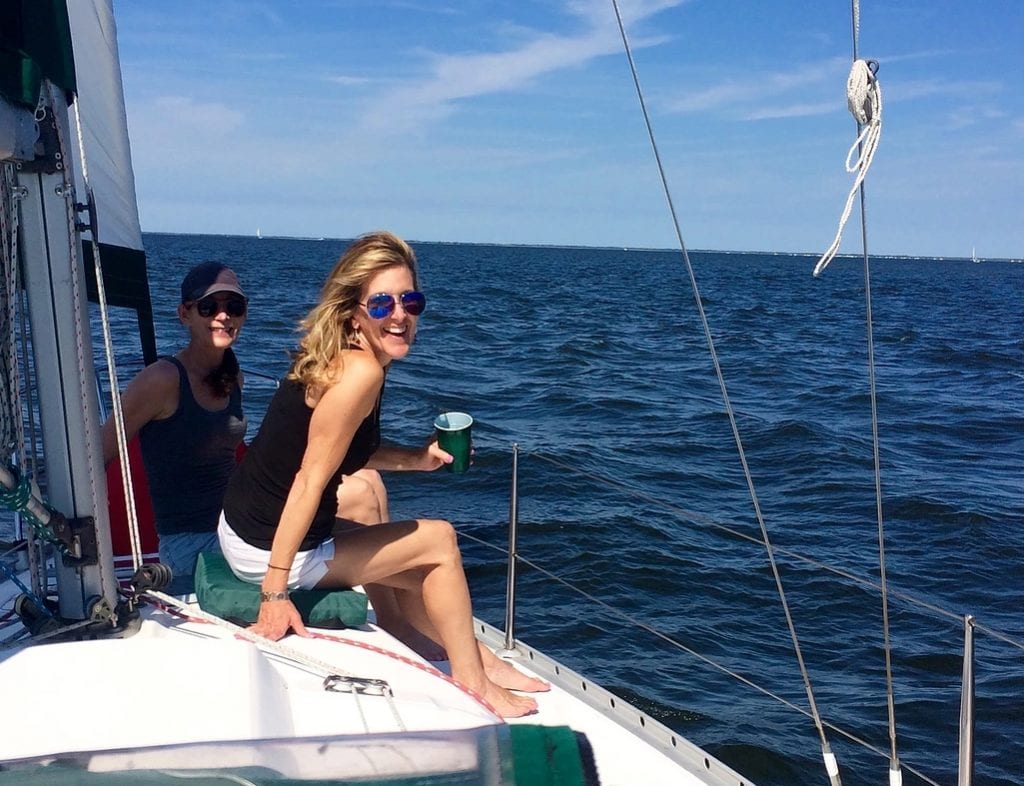 Get your loved ones together and get to sailing! A Day on the Bay is a sailboat charter company located next door to the Captains Inn Tiki bar on the Beautiful Forked River. Sit back and relax as you sail along the bay and take in some of the most breathtaking views on the Jersey Shore. The trip is approximately 2 1/2-3 hours guided by Captain Warren and First Mate Andi. You'll even have an opportunity to take the wheel–which makes for a great Instagram photo!
Why should you do this?
Say FunNewJersey.com sent you, and you'll get free cheese and crackers on any weekday sail!
---
30. Snapshot the River Running Past the Red Mill Museum
The town of Clinton is known for this notorious postcard scene! There is definitely an edge to this picturesque little town. Not only does the Raritan River pass between the town, but the town also offers quaint little shops and restaurants! Try on clothing and pose for the camera! Whatever your idea of fun maybe, you'll find it here.
Hit up Clinton, NJ for more information, and visit their Instagram too for a view of their month by month galleries!
---
31. Walk The George Washington Bridge from Fort Lee
This suspension bridge is 4,750 ft. long and is lit up in bright lights at nighttime! Day or night, this fascinating bridge is so intriguing to take pictures of. This bridge connects Fort Lee to NYC. From land, looking up at how high it towers in the sky, you can every detail of its architecture and engineering spot on. Walk the bride and take pictures from above.
Visit Fort Lee, NJ, and find the perfect hideaway to achieve the perfect setting to take your picture at the George Washington Bridge!
---
32. Photograph a Rainbow of Irises
Keep the flowers blooming! Go visit these 1,500 varieties of colorful irises. Get in touch with nature and go on a path through large beds of flowers.
Visit Presby Memorial Iris Gardens.
---
33. Lilac Season at Willowwood Arboretum
With 15 different gardens and features! Go photograph April through October, when you visit the cherry blossoms and lilacs and more abundant selections among stone cottages and barns. Fun fact: they actually host a lilac party which marks the beginning of the season in May every year as well as host a Mother's Day celebration.
Visit Willowwood Arboretum.
---
34. If You Love Colonial Architecture 
Glen Ridge, NJ is a historic little town perfect for the camera lens! This small historic town is about 90 percent historic district that is 6 blocks wide and 3 miles long, The colorful and detailed design of the houses that you will witness is something beautifully rare that you will not find anywhere else. Driving or walking through this town is a perfect stop if you are visiting the surrounding area. The town of Montclair is on the outskirts and is perfect to explore afterward.
Visit Glen Ridge, NJ
---
35. Photograph Sunflower Fields at Early Sunrise
During the bloom season, attend one of these events to get the perfect shot! Get early sunrise photography shots and late-night milky way shots! There are plenty of natural nature-filled pollinators that will help you to put your focus on wildflowers and wild birds!
Visit Sussex County Sunflower Maze-Liberty Farm
---
36. Princeton University Art Museum
Become Part of Art! Look at the art pieces or make your own with the art! In the galleries of Princeton, there's a lot to be seen. Interact with the art, and make it come to life! Its history goes back to the 1750s! Learn about 100,000 historic art pieces that have come from all over the world on showcase for you at the Princeton Art Museum. Find your favorites, and see them in person before the exhibits are refreshed. Submerge yourself in the wonders of art.
Visit the Princeton Art Museum
---
37. Visit A Real Wolf Preserve 
Lakota Wolf Preserve is a great place to learn about wolves and other furry animals. Take a Wolf Watch tour which guides you on a nature walk to see the wolves up close and personal!
---
38. Where Nature and Art Collide
Interact with 302 Life-Size Sculptures! This constantly evolving exhibit offers contemporary outdoor art pieces. Read about their history, and take memorable photographs with the art!
Visit: Grounds for Sculpture 
---
39. At 1,803 ft. View Landscapes of 3 Different States! 
Bringing you the most peace on earth: This historical monument offers a spectacular panorama of hills, valleys, farmland, and forests. Take a quiet moment to enjoy the diversity of this lush, green, nature spot hidden in New Jersey.
Visit: High Point Monument
---
40. Capture these Colorful Open Meadows
1000 acres of landscape to view: Photogenic animals, foliage, flowers, and more will bring out your inner photographer. Duke Farms will interact with you and share your photos if you tag them so that your work will be acknowledged!
---
41. Climb to the top of Jenny Jump Mountain
See panoramic vistas that you never knew existed: Jenny Jump State Forest boasts some very stunning rolling terrain with amazing views of the Highlands and the Kittatinny Mountains.
Why should you do this?
Because if you take the narrow path that leads to the top of Jenny Jump Mountain, you will witness breathtaking panoramic scenic views that you will never, ever forget!

---
Kid-Friendly Things to Do in NJ
---
42. Play Construction for a Day! 
Become an operator! These machines are designed to be safe for the public, and super fun for the kiddos!
Visit: Diggerland in New Jersey for a day of fun while operating crazy machines.
Why should you do this?
You should visit because this is the ONLY construction-themed park in all of North America!
---
43. Somerset County's Interactive Eco-Exhibit!
Explore the swamp inside and outside! The Environmental Education Center at Lord Stirling Park is located in the western portion of the Great Swamp. The 18,000 square foot building features The Great Swamp Experience, an educational exhibit featuring interactive displays telling the story of the Great Swamp from prehistoric times to the present. There are also 9.5 miles of trails open to the public for hiking, bird watching, walking, running, or cross country skiing. Programs and events take place all year long. Experience the scenic, clean parks of Somerset County. For more activities, scroll through the list of different, diverse parks in this county.
Why should you do this?
There are many activities for children: crawl into a beaver lodge, touch animal fur, or explore the gardens and trails. Children of all ages will enjoy!
---
44. Challenge Your Balance On the High Ropes!
Test your skills! What makes iPlay America so unique other than its HUGE play space? Picture a high ropes course mixed with a gym like SkyZone all indoors! The SkyTrail High Ropes Course includes rope bridges, zig-zag beams, cargo nets, walk-across beams, vertical rope ladders, and more! Kids will appreciate this large feat or for the little ones, there is even a Kidz Rope Course to start! Put on your harness, strap in, and explore!
Why should you do this?
Not only is iPlay America one of the best indoor amusement parks, but it also has the largest indoor ropes course in all of New Jersey! Children of all ages can participate and join in on the fun, with the big kids!
---
45. Try an English Horseback Riding Class!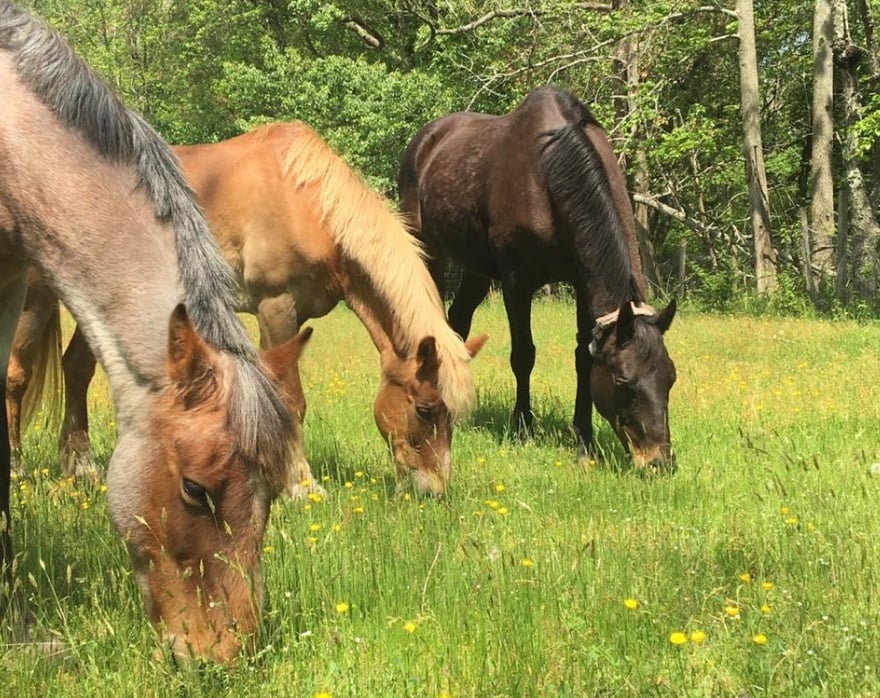 Get a group together and take a riding lesson! Whether you're a beginner or advanced rider, there's a class for you at Hunter Brook Horse Farm in Howell, NJ. Take a private lesson or get a group together for a group lesson. The farm is 50+ acres, has a brand new indoor arena, outdoor arena, grass jump course, and 1/2 mile track.
Why should you do this?
Horseback riding is an awesome hobby to pick up. If you buy 10 lessons, you'll get one lesson free!
---
Climb to the Top of "Mt. Rushmore"!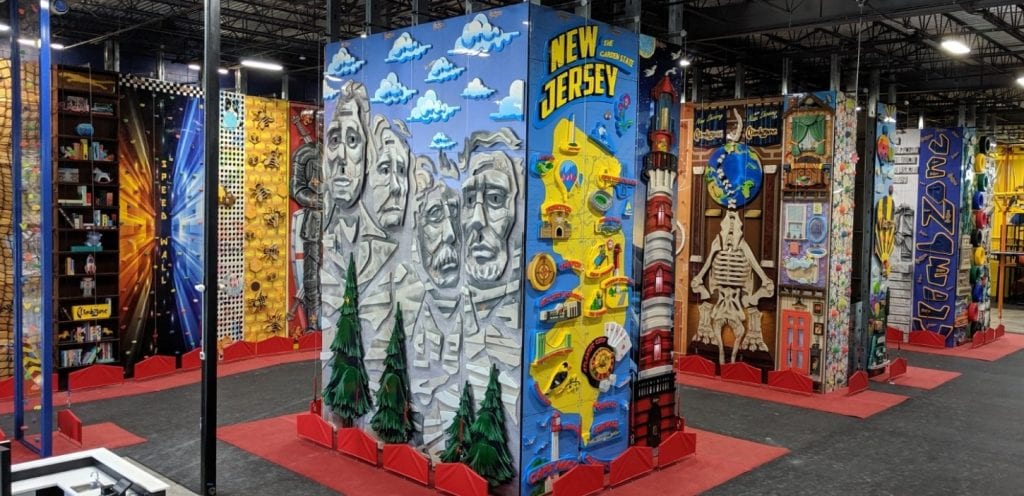 A unique indoor family fun center! ClimbZone in Howell, NJ is not your average family fun center. With 68 themed walls to climb, there is fun to be had by all ages. The facility also has a ropes course, a soft play area for toddlers, a zipline, virtual reality, and arcade games!
Why should you do this?
There is nothing else like this facility in Central NJ! Take a picture at the top of the "Statue of Liberty"!
---
Tandem Bike on an Island!
Rent two-person bikes for a day, and explore Long Beach Island Attractions! Okay, we are not sending you on some long bike trek through the woods, this is WAY more fun! Rent with Surf Buggy in Beach Haven where you can travel to easy-to-reach locations nearby like Fantasy Island Amusement Park, or Thundering Surf Waterpark! Kids will love this idea, and families will be able to explore and save a buck because you don't have to worry about parking! You can truly see everything Beach Haven has to offer from just traveling on two wheels with a backpack!
---
Race Slot Cars at the Oldest Race Place in America!
The longest operating, family-run slot car racing place in the US! Your son or daughter will have the time of their lives here! The Race Place is where you can show your kids how to race like you did when you were younger. This cute and quaint location running since 1966 gives you rentals and even has snacks so that you can stay for a while. They have a Hurricane Track and a Cyclone Track so that you can try both!
---
Catch a Rutgers Football Game!
From August through November, show your support for NJ's Scarlet Knights! Visit a home game and get enthusiastic, sport some red for a fun, action-packed game! The Rutgers Football Schedule lists the home and away games every year! Kids will enjoy all the entertainment and to participate in cheering on our team.
---
Jump High to the Sky (Zone)!
Bring out your best tricks! There are at least 10 locations in New Jersey. We know that the kids are little balls of energy and will love to tumble and jump it out!
SkyZone NJ will channel your inner Olympic gymnast like Laurie Hernandez (from Old Bridge NJ!).
---
50. Dress Like Your Fave Video Game Character!
Play Pac-Man, Donkey Kong, Q-Bert, and more dressed up like them! Morristown Game Vault hosts Cosplay Night many nights a year that you don't want to miss–check out their always updated Instagram. Even if the kiddos don't dress up, they will LOVE to see all the characters as if they're in a theme park! Play pinball machines along with other classics!
---
Cannon Ball into a Natural Pool!
Visit a man-made pool built-in 1936 with a diving board! Lounge around in this natural pool with your flamingo floaty! The pool ranges from 4 feet up to 10 feet. You're surrounded by woodland area in this hidden spot supplied with lifeguards, picnic areas, and more! They are open from May 25th until June 23rd on weekends only, and then daily starting June 24th through September 2nd, then back to weekends September 7th through September 29th.
Highlands Natural Pool is for sure something you've never experienced before. Hop in!
---
Interactive Children's Art Exhibits
Hand's on, free activities for the young and curious! Monmouth Museum is perfect for children over the age of 6 can enjoy the four exhibitions with different displays and subjects. They can explore weather broadcasts, ancient Egypt, Space, and of course the Arts Studio!
Monmouth Museum will entertain the kiddos and it also has cool exhibits for adults as well!
---
Game at a Retro Arcade
Kids now will see how we played back in the day! Whether you're looking for a classic or more modern experience, customize your time with arcades, pinball, and other consoles even if they are no longer in stores! This arcade is the perfect day of fun for kids with high energy because instead of sitting on a couch all day, they are running and moving around!
Drop into the Golden Age of Gaming at YESTERcades in Somerville, Westfield, and Red Bank!
---
Mine at the Gem Mining Company!
Kids get a bag of sand with hidden gems inside and sift with special machines to find them! Children have a large sense of curiosity and will appreciate this sense of adventure at Hill Creek Farms. Plus the best part is that they can take their keepsake/treasure home! There are a variety of kid-friendly things to do when the farm is open for the season!
Bring the family for fun at The Farm!
---
Visit Critters at the Bugseum of NJ
Touch bizarre exotic and worldly bugs and learn about them! Check out the bee-hive, watch ants build their nest, and play bug games to learn about the majestic lives these critters lead. You, of course, can touch some of the coolest insects like a tarantula, scorpion, or cockroach under the direction of staff! Children will be fascinated with the many displays at this museum.
Buzz around at Insectropolis in Toms River NJ!
---
Aquarium Home to 8,500+ Animals!
Visit Your Marine Friends! Learn and experience some of the most unique sea-life in the United States. Adventure Aquarium on the Camden Waterfront is considered one of the best aquatic educational facilities in the United States! Don't forget to walk on the bridge over the Shark Realm!! These animals are well taken care of and will not disappoint the kiddos.
---
Become a Monster at Mini-Golf!
Play mini-golf among goofy bright animated monsters! When visiting New Jersey, this unique gaming place is a must. The kids will be fascinated by the luminescent black lights and monster art. You've never played holes like this! Also, try your hand at some arcade games, and then trade tickets in for real prizes!
Monster Mini-Golf will give you a rare golfing experience along with a variety of fun kiddie games!
---
Get Your Paws Dirty
Play. Protect. Preserve. That is the motto at Paws Discovery Farm. Kids will be greeted by the welcoming committee on the farm! Children will be happy campers when they get to explore and interact with all their fuzzy friends!
Why should you do this?
Learn about the critters in a workshop! The kids will enjoy learning about and interacting with these sweet furry animals on the farm. Thier staff will take the time to educate them in-depth about animals and farm life!
---
They'll Soar High on the Airplane Ride! 
Jenkinson's Amusement Park has the widest and wildest selection of rides!
Many rides are intended for small children and will give them a memorable first amusement park experience.
The boardwalk offers attractive rides, an aquarium, a beach view, and more.
Jenkinson's Boardwalk is located in Point Pleasant on the Jersey Shore.
Why should you do this?
The kiddie rides on the boardwalk will have kids feeling like the captain of their plane or the sailor of their boat. After the excitement, grab a creamsicle soft-serve ice-cream cone at Kohr's, the ice cream that all New Jersians brag about!
---
60. Float on the Lazy River… Inside!
From surfing to floating– Whatever your game is, this park has it. The indoor attractions include a surfing simulator, floating jungle gyms, tubing slides, and more! Parents can hang in the hot tub while their kiddos splash around too.
Take a virtual tour of Sahara Sams.
---

Watch Blacksmith's Creations Be Made!
Go back in time! The Historic Village at Allaire will fascinate the kids with history. In this old industrial community, the staff at the park dress from the 19th century and remain authentic to its time. Families can visit old buildings like the sweets shop, blacksmith workshop, and other exhibit halls! This park is great to walk around, but is also suited for biking, hiking, or fishing too!

---

Adventurous Things To Do in NJ
---
Try Paddleboarding at the Jersey Shore!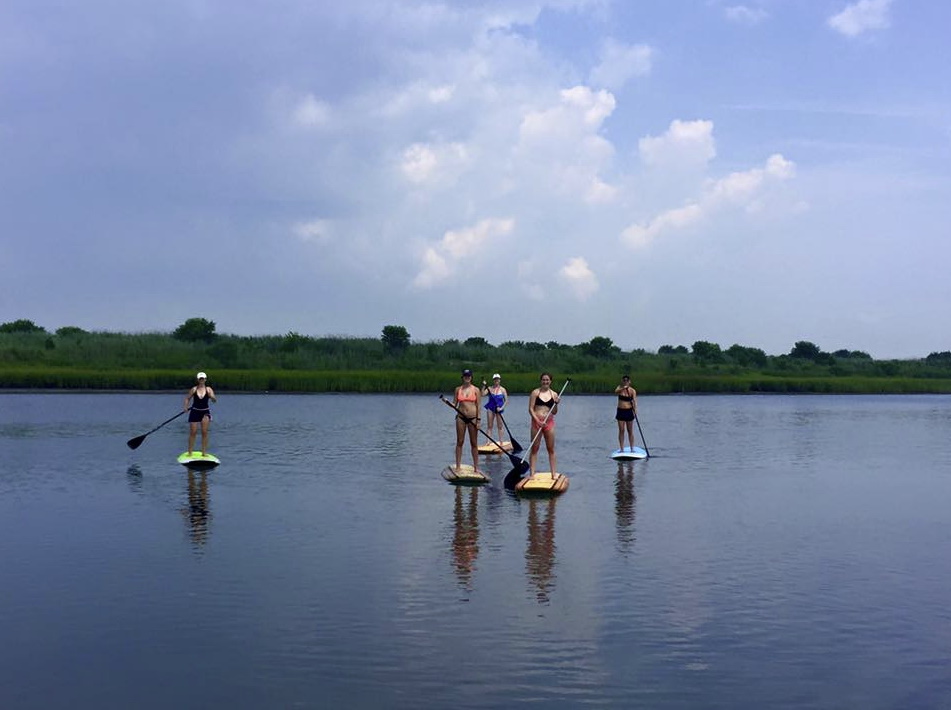 Try your hand at paddleboarding! Don't know how to paddleboard yet? It's easy enough to learn! You must know how to swim and also be physically fit enough to be able to get to a standing position from your hands and knees.
Think you might not be able to paddleboard? SUP Guy offers 4 different types of rentals: stand up paddleboards, single kayaks, double kayaks, and surfboards.
SUP Guy will bring you and your rental equipment right to your doorstep.
---
Fly in the Sky!
From Sky to Ground, you'll be extremely safe and comfortable! Fly with one of the best-rated skydiving centers in the world! With tandem skydiving, you will have a fun, thrilling experience with spectacular views!
Get a photo and video of your unique dive at SkyDive CrossKeys with the BEST voted Dropzone in America!
---
Hike and Sip!
Walk 6 miles of beautiful terrain and then be greeted by 6 to 8 different tastes of wines! The hike is perfect for many reasons: you have an actual guide, you will take in great scenic views, you're provided with lunch, you're working off calories before wine tasting, AND you get a souvenir glass!
What's better than a guided hike by NJ Adventure Tours that includes wine??
---
Fish on a Sunset Cruise!
What you catch is yours to keep (abiding by regulations of course)! Take an afternoon trip from Shark River to the Atlantic Ocean. There are many exciting things to do at Golden Eagle Fishing. Have a drink, watch the sunset, catch fish, and maybe even spot some dolphin visitors! Be sure to get a photo of your catch from this trip along the beautiful Jersey Shore.
---
Skim the Water Top!
Sail from the water up to 500 feet! Soar atop Jersey waters with the wind in your hair overlooking the shoreline! Point Pleasant Parasail opens May 26th every season. The captains have 25 years of experience combined, and are sure to follow regulations that will ensure the safety of every customer!
---
Swim in a Lake 1,000 ft. Above Ground!
Walk 7.9 miles to a glacial lake! This hike is not easy but it is well worth the view and the swim! View the map to plan your hike, and challenge yourself! We recommend you go prepared with backpacks of water and snacks because you are going to want the extra energy along the way.
Learn more about the beautiful Sunfish Pond Hike!
---
Play Laser Tag in 15 acres of Outdoors!
Imagine laser tag meets the Walking Dead! Hideout in trailers or tents to get your next target! This outdoor facility gets you immersed in camouflage so that you have the perfect gear to win, and get your competitors out!
Get ready for extreme fun with this thrilling sport! Check out Fireball Mountain Park and bring your friends and family!
---
Go in the Backwoods on an ATV Tour!
For family, parties, and couples this is ultimate fun! Get the most thrilling, outdoor experience through the beautiful forests of Monmouth County. ATV's are easy to use, and guided tours will ensure that you will have the most fun with the time you have. Go fast, get a little dirty–that the most exciting part! Book a session with NJ ATV Rentals!
---
70. Defy Gravity While Rock Climbing!
Scale a large and bumpy rock wall! This vault is total and absolute fun and a great challenge for kids or adults of all experience levels, and the coolest part is that it's inside! Each location is custom-designed with a unique layout by climbing professionals that include arches, keyholes, overhangs, and more!
Apply your strength and agility at Gravity Vault Gyms in New Jersey!
---
Hike the Appalachian Trail!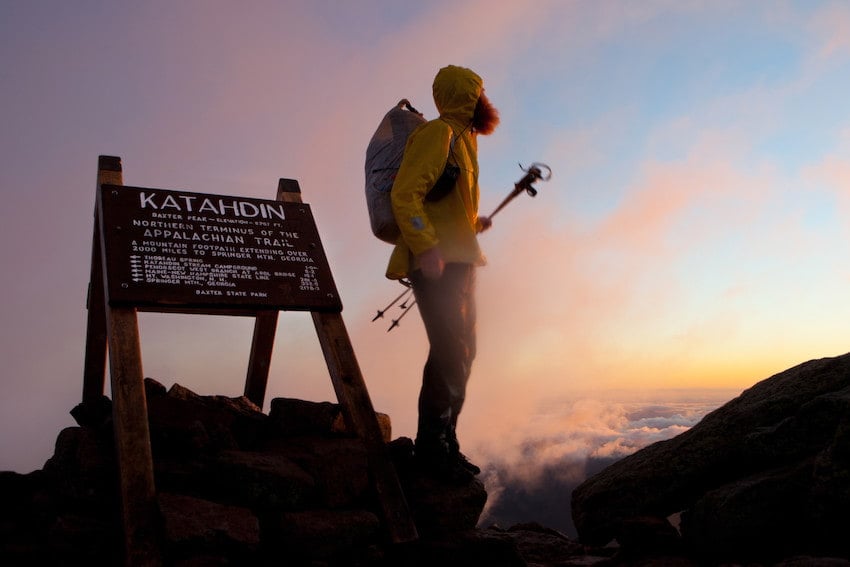 Well..part of it! Hike between the northern and southern ends of the Appalachian Trail. 
The hiker in you will be positively challenged and give you something to brag about! This range is easy to moderate.
Why should you do this?
The Appalachian Trail is the longest hiking trail by foot only in the entire world! Hike part of the trek that covers New Jersey to become inspired by the one's who do it all! The makeup of the trail is constantly changing, so hike it while it is available!
---
Go on a Zip-Tour at Mountain Creek!
Awaken the thrill-seeker in you! Get unmatched panoramic views of the surrounding landscapes. The tour brings you on a series of zip lines from 200ft – 1,200ft long! Visit Mountain Creek Zip-Tours in the Spring!
Why should you do this?
Because you can soar over a mountain-top lake and your adrenaline will pump because it is unlike any other zip-line or ropes-course in NJ!
---
Trail Ride through Capik Nature Preserve!
Get beautiful views of the water while on horseback! Take an exclusive, guided trail through the backwoods of the nature preserve with a horse picked especially for you! Catch other wildlife on your trip from foxes, deer, and coyotes to turtles, hawks, and rabbits–don't worry you are with a guide and you are safe! This makes for an exciting experience close to home.
The animal-lover will be ecstatic to spend 1/2 hour, 1 hour, OR 1 1/2 hours with these fellas at Legacy Riding Stables.
Why should you do this?
You'll be able to see NJ from a different perspective and ride on trails never seen before!
---
Why Walk When You Can Fly?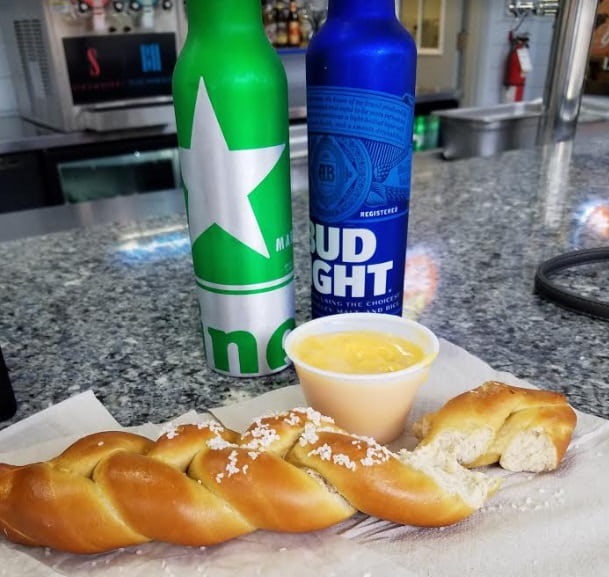 Coast by the thrill rides more than 20 feet in the air! One HAS to go on the Six Flags Sky Ride when in NJ. This is a great way to plan the rest of the day because you fly by some of the park's greatest thrills! Eat your lunch on here or just decompress for a few minutes when you need a break. Peacefully oversee the amusement on your sky chassis at Six Flags!
Why should you do this?
Because you can stay in the air for a long period of time, longer than a roller-coaster! Plus, you can rest your feet and eat a meal up in the air!
---
Climb a Ropes Course at Night!
Crack some glow sticks, use your headlamp, and go! Experience the excitement of this self-guided aerial obstacle course! Wear your sneakers, reserve your spot and climb!
Be like a monkey and do something out of your own comfort zone at Tree to Tree Cape May!
---
Finish a Fat Sandwich!
These loaded sandwiches have 5 sides AND a burger on one roll! You have to be adventurous to order this NJ classic that originated in New Brunswick on the Rutgers University Campus.
Save your appetite for this trip to RU Hungry?
---
Order an Overload Bagel!
When in Jersey, it is a sin not to get a bagel! Try an Oreo overload bagel or a flamin' hot Cheetos bagel! The wacky menu contains the most diverse bagel AND cream cheese pairings! Although it is definitely a meal you'll want to take a picture of, they are also tasty and fresh too! You'll definitely have to visit this notorious Bagel Nook!
---
Feed Australian Parakeets in Free Flight!
Birds will land on your shoulder if you give them a snack at Turtle Back Zoo! The Aviary is open from May through September. In this enclosure, you can interact with 500 budgerigars! Not every zoo offers this, which is why it is super cool and exciting. You can also visit the touch tank! There are friendly stingrays and sharks that staff will let you "pet" and learn about.
Get hands-on at the Turtle Back Zoo in West Orange NJ!
---

Romantic Things To Do in NJ
---
Create Your Unique Blend of Olive Oil
Discover the intricacy of olive-oil making! Learn something new at this winery, The Grape Escape offers specific food-making classes too so you can make something flavorful with your significant other and watch as Italian culture will make you fall in love all over again.
Why should you do this?
This intimate cooking class is not just about learning to cook, but more for the 5-star experience! You will taste olive oils and balsamic glazes, formulate herb blends, take home 2 bottles of your own, and be served 3 cultural dishes!
---
Overnight Hot-Air Ballooning Adventure!

The most romantic getaway adventure in NJ! Surprise your loved one with a romantic dinner, a stay at a lovely B&B, and then an unbelievable hot-air balloon ride!
You can take a sunrise flight or a sunset flight, it's your choice!
Here is the adventure package from In Flight Balloon Adventures LLC!
Why should you do this?
This is a once in a lifetime adventure. In-Flight Balloon Adventures will make all of the romantic arrangements for you. They will customize the adventure to your liking.
See all places to go ballooning in NJ.
---
Go on a Date to a Drive-In Movie!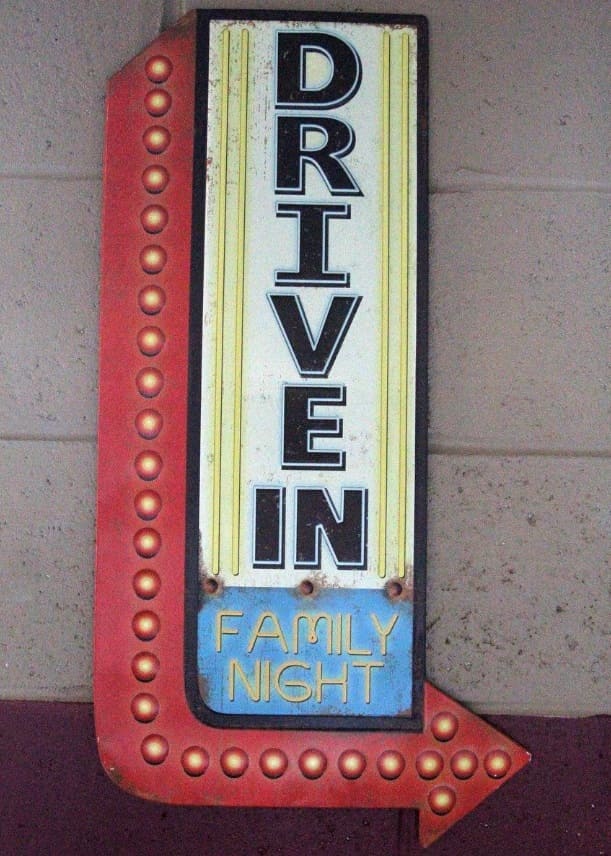 New Jersey's Only Drive-In Theatre! Grab a soda and some popcorn and experience the nostalgia of this romantic, old-style movie theater where your parents used to go on dates! This Drive-In is 1 hour away from Atlantic City, Philadelphia, and Delaware for when you want to venture around after.
Check Delsea's Drive-In in Vineland to see what movie is playing; they open mid-March and stay through the season!
Why should you do this?
The number of drive-in theaters is decreasing every year. Catch a movie here so you can say you did! This is one of the only drive-ins left in NJ!
---
Walk Underneath The Seaside Heights Boardwalk
Find your spot under the boardwalk! We are not sure if this is allowed, but we've done it many times. See what it is like under the boardwalk in the sand while watching the waves roll in. It's a fabulous place to neck in private.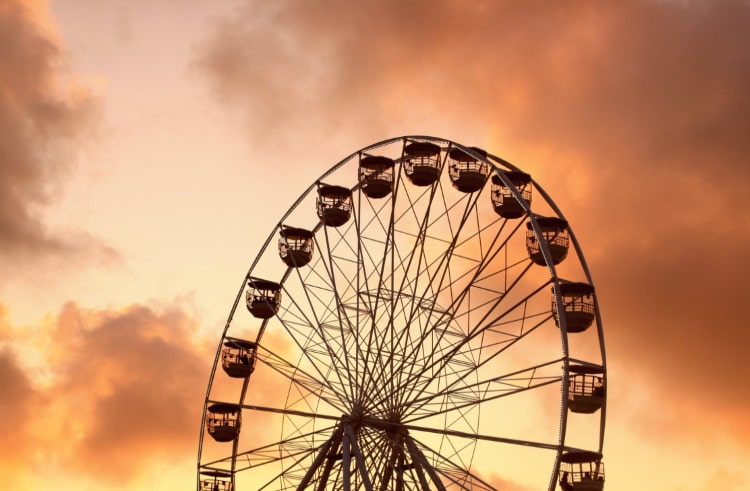 Why should you do this?
If you live in NJ and you have never ventured underneath the boardwalk at Seaside Heights, you'll need to do this right away. It is dark, romantic and its super fun.
---
Reconnect at This Luxurious Bed & Breakfast!

A romantic and secluded, gorgeous place to stay! This stay-cation offers scenic views of the countryside, fireplaces, whirlpool tubs for two, private outdoor sitting areas, stocked refrigerators, and Bose radios. You both will be waited on with a complimentary breakfast, afternoon appetizers, flowers from the garden, and more. While close to quaint towns like Lambertville, NJ and New Hope, PA, everything you need for a sweet getaway is here at the Woolverton Inn.
Why should you do this?
Woolverton Inn is the most restorative experience in all of NJ where individuals can get their own downtime, couples can reconnect and groups can rejuvenate. The bed and breakfast is located in the most beautiful pastoral setting with 10 acres of serene park-like scenes and beautifully preserved farmland nearby. You can also engage and visit with their 5 lovely sheep!
---
Take a Heated Trolley Through Princeton!
Learn about 'genius country' with an expert guide and sight-see Princeton! A specialty that the trolley offers is their holiday and seasonal tours! Even in the depths of winter, you will be chauffeured around to see the lights and mom-n-pop shops of Palmer Square!
The best part? They offer special discounts depending on which tour you book! If you take the Wintertime Tour which runs from the end of November thru December 21st (or so), you'll get 10% off lunch/dinner at Yankee Doodle Tap Room (excl. alcohol) or $1 off your first draft at Triumph Brewing Company. Whichever time you visit, you will receive something special. Visit Trolley Tours in Princeton!
---
Discover Your Ferry Tale in Cape May!
Take a scenic ferry ride to explore the beach town of Cape May! Couples will cruise around on a fun boat ride that connects you to many other little towns while overlooking scenic landscapes. Plan your cute little New Jersey day trip.. you will honestly forget that you are so close to home!
Hop on the Cape May Ferry for a day spent with your love while enjoying the company of each other and doing some traveling in some new places and exciting quaint towns.
---
Beat Him at Pool at Recess Bar!
Find Console Gaming, Billiards, and Shuffleboard! What better way to keep things interesting and fresh than by getting flirty and competitive in pool or video game? Play with your partner who also happens to be your best friend! Date night just got a lot more fun. take a break and visit Recess Bar.
---
Drink Wine and Play Golf!
Play your best at this championship golf course on a vineyard! Stay a weekend at the Tuscany House Hotel which old has 50 rooms, where everything for both of your needs are at the end of your fingertips. Spend some time touring the fields of the winery, playing some golf on this specialty course, and then hanging out at the outside pools- all the things that you both adore!
---
Piggy-Back Ride to Pick Apples!
Throughout the fall season, take cute pictures and pick some apples! Apple-picking for couples is a must in the fall with your significant other. You can get some assistance picking the freshest apples from the top of the trees while sitting on their shoulders. Not only is it super cute, but you will have a picture to use for your Christmas card and a fresh-baked apple pie to show for it (if you choose to bake, which we say you absolutely should)!
Handpick your produce from Terhune Orchards or pick up apple cider donuts and fresh, rich apple cider hot or cold!
---
Camp Out Nestled in the Woods!
You can tent camp or rent a cabin on site! What else would qualify as a romantic getaway more than this? Rent your own little property for a couple nights, make a fire, and look up at the stars on a clear night, you can sleep in, and you can rent paddleboards! There is no need to drive anywhere because all of the activities are within walking or biking distance. The trip will give you both some well-rested, intimate time away from everyone and everything!
Book a stay at Cedar Creek Campground and don't forget to meet the birds at the front office!
---
90. Get Some Friends for Top Golf!
Compete with other couples for friendly competition! Grab a golf club and practice your swing while getting wined and dined on! This is a fun sport to do with your significant other which is affordable and indoor/outdoors, so it is perfect for every season!
Take the trip to Top Golf for a refreshing, sporty date!
---
Dress Your Sunday Best and Bet on Horse Races! 
Visit Monmouth Park for a real horse race! This is incredibly exciting and a one of a kind experience if you have never attended before! The park has a calendar of events that range from May to September. Visit the website to learn tutorials on how to bet and keep it simple. This is a fun new date idea for you both as a couple–especially if you WIN!
See some horse racing at Monmouth Park!
---
Dine Like You're in France at a Monet-Inspired Cafe!
Have exquisite french cuisine at a place where you'll feel like you're in a painting! Rat's Restaurant is in a beautiful setting that is surrounded by a sculpture garden. With a pond home to ducks and fish, it accompanies the right amount of colorful and intricate design both inside and outside to set the mood for your date!
Book your reservation for lunch or dinner at this unique, art-inspired dining experience with a funky name like Rat's Restaurant.
---
Visit a 1950's era Vegas Style Restaurant!
Diner with a Show! Be sure to check out the calendar for this Vegas-style restaurant! Live entertainment will set a romantic mood for you and your significant other. Any couple will have fun!
Visit: Hell's Kitchen in New Jersey for a day spent with your favorite person dining like you're in Vegas!
---
Dancing with Your Star!
Romance with a dance! Couples will be able to step out of their comfort zones, appreciate each other, and get a couple laughs in the meantime! This studio is for beginners to all levels. Any couple will have fun and learn how to dance socially!
Visit: Gift of Dance Studios in New Jersey for a day spent with your favorite person learning something new.
---
Summer: Look Out from the Rooftop Bar at The Asbury Hotel!
Drink in the intimate corners for an evening with your love. Socialize within The Asbury community! There is something for the musicians, the film-lovers, the social butterflies, and the one's who appreciate a good drink. Plan a relaxing evening on top of this hotel overlooking the layout of the unique and charming town of Asbury!
Dress for a casual yet elegant night out at Salvation.
---
Winter: Visit The Asbury Winter Park!
Skate around an ice rink, fire pit, and get some s'mores and drinks. Cuddle up next to the warm fire after a fun time on the ice! The winter park is perfect to have some good laughs in an atmosphere designed for people to socialize and to tend to all of your needs and help you both decompress.
Grab your coat and head to the Winter Park which runs Friday- Sunday and IS Weather Dependent!!
---
Free Things To Do in NJ
---
Attend a Free Concert, Beach-side!
Rock out to bands in NJ on Sundays & Thursdays Mid-June through August! For the yearly schedule, check out their website! Amazing local bands will put on a free show that you can enjoy from genres like jazz and soul, to Motown or classic rock!
Perfect events for a summer evening right at Pier Village in Long Branch where you can pick up great food as well. Check out the Summer Concert Series.
---
Fitness Programs at Military Park!
The arts and games all for free at the park is endless! With a farmer's market, restaurant, ping-pong table, concert stage with many other amenities, this park is where you want to take your whole family! Starting in the spring are classes for zumba, line-dancing, yoga, and even cooking classes!
This little boardwalk built within the city is like heaven. Head to Military Park to do something everyone will enjoy!
---
Bike the Henry Hudson!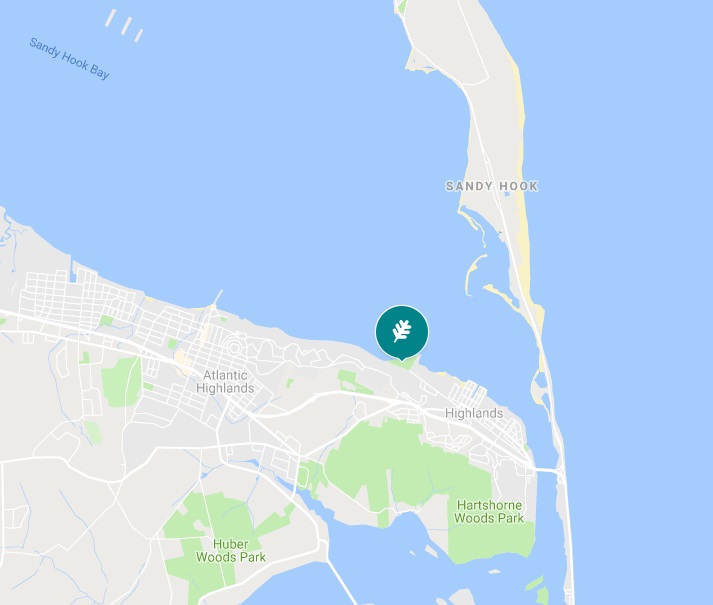 This adventurous, free trail ranges a total of 24 miles! From Aberdeen/Keyport to Atlantic Highlands (aka the beach) we recommend starting at the Northern section that runs 12 miles that continues to Popamora Point on Sandy Hook Bay! You can also ride down the shore to Long Branch and take the train back, too!
Bike the Henry Hudson Trail and then spend the rest of the day relaxing at the beach!
---
100. The Most Cherry Blossom Trees in the World!
(Except for Japan) Walk this beautiful, serene park! There are over 5,300 cherry trees on this landscape. Home to 14 different varieties, it has come to be known as "Cherry Blossom Land". Catch different scenic views from across the lake, play some tennis or horseshoes, and explore what it has to offer!
Branch Brook Park is beautifully developed and is like New Jersey's Central Park.
---
See Breathtaking, Famous Art Exhibits!
See what's on display at 70 South Gallery! Visit this passionate art gallery in Morristown, NJ. It features famous artists and photographers like Vivian Maier! When in the state, call ahead or visit their website to catch the pieces and exhibits that you just have to see in person, they are always filtering in and out so come quick! This gallery stays updated and current and brings in beautiful works of art by renowned artists for their audience to enjoy.
---
Meet Some Furry Farm Animals!
Horses, ox, pigs, cats, cattledogs and more!: Howell Farm in NJ, dating back to the 1900s, is home to many unique critters. Go back in time where the staff reenacts the past as best they can on this farm that showcases and imitates a key period in agricultural history! Kids will love this trip to the dairy farm– introduce them to all the creatures/tenants here to see why this is unlike other pastures!
---
See the Great Falls! (Just Not Niagara)
This powerful waterfall is the second biggest in volume east of the Mississippi! Look in awe at the raging flow of the falls right before Paterson NJ! On a sunny day, you will want to see this beautiful beast of nature. This historic park will teach you and lead you to everything you need to know and see.
Step out to the industrial history of Paterson Great Falls.
---
Picnic Among 244 Different Species of Wildlife
This National Wildlife Refuge is the best during early mornings or late afternoons! If you are quiet and respectful, you will be able to see majestic animals in their natural habitat. Although it's a free thing to do, it is VERY valuable to see nature at its finest! Have a peaceful picnic or hike trails! Explore the 900 acres and check out the brochure.
Pay a trip to the wildlife at  Great Swamp Refuge.
---
The Grand Central of Ghosts!
This was a spy's s house in the revolutionary war! Many previous visitors are known to have seen paranormal activity or ghosts inside or through the windows. You are longer allowed to go in there, but we can all wonder why. It is still worth it to look at the outside to see for yourself if you are intrigued!
This weird NJ story will spook you easily The Spy House, in Port Monmouth NJ.
---
Walk Along Snake Rock if You Dare
The previous land of The Almshouse, Penitentiary, Quarry, and Hospital for the Insane! You can definitely see why the grounds would be spooky or haunted! Many years ago it was also known for the many black snakes that occupied it.
It is now known as Laurel Hill Park but is still one of the weird locations of NJ.
---
Re-Watch Your Favorite Movies on the Big Screen  
Get comfy with a free day at the movie theater! Many cinemas in NJ host a free kids series in the summers that feature their favorite movies. Don't let them miss the chance to put their feet up, eat some popcorn, and watch their shows on the big screen!
At Cityplex12 in New Jersey, they can spend some time with their favorite animated movie characters!
---
Walk the Jettys at Manasquan Inlet!
Be like true NJ locals and walk out on the jettys! If you've never done this, you are missing out. You can really do this at any Jersey Shore boardwalk! Sitting out watching the ocean brings a sense of relaxation and calm like nothing else. As long as there is no crazy storm, you can do this in any season–just dress accordingly!
If you can dish out a couple bucks, grab a tasty scoop of ice cream at Carlson's Corner right before the beach. View the live cam at Manasquan Inlet.
---
Walk Through NJ Hall of Famers  
Walk through a museum dedicated to everything sports-related! This museum includes photos, equipment, scrapbooks, and other memorabilia. It also features a large Trophy Room where you can find your favorite athletes and teams of all sports in this region of New Jersey like John Borican, "the Olympic all-around black athlete", Willie Mays, Philadelphia Phillie's artifacts, and more!
At Bridgeton Hall of Fame All Sports Museum in Cumberland County New Jersey, a walk through legendary teams in history for free!
---
Spot a Bald Eagle on a Hike!   
A great trail for any season! Hike a short and easy trail that spans a mere 3.1 miles that can also be cut short if you choose to cut some parts off. How many chances do you actually get to witness a bald eagle, our nation's emblem, in your life? It is a smart idea to print your trail map ahead of time.. Stop at Jenkins Landing and search for bald eagles, and bring your binoculars!
At Peek Preserve that overlooks the Maurice River in the Pine Barrens, explore the outdoors, and witness the beautiful landscapes of New Jersey!
---
Great Wildlife Views at Cattus Island!
This wheelchair-accessible boardwalk and trails overlook Barnegat Bay! We have suggested many parks and hiking trails because they are free. However, if you love great views of the water and nature, you will THRIVE here.
Check out Cattus Island County Park!
---
Cultural Things To Do in NJ
---
Visit The NJ Vietnam Veterans' Memorial
Learn about the political, historical, social, cultural, and military aspects of the Vietnam Era. If you are a history buff, or know someone who had served in the Vietnam War, this powerful tribute is one you absolutely need to visit. This honors those who served America and the state of NJ during the Vietnam Era, especially the 1,562 New Jersey men and 1 woman who sacrificed their lives for us. Tour the Vietnam Veterans' Memorial right in Monmouth County, NJ.
---
Take a Tour Where NFL Home Teams Play!
How cool would it be to walk around Met Life Stadium and explore the VIP access? Walk right where your favorite Jets and Giants players have stepped foot, and NFL teams have won career-changing games. Visit premium spaces, such as the Commissioners Club, Press Box, and our luxury suites, as well as taking a walk on the field, of course! Tours are offered every Saturday at reasonable prices…when do you ever get to tour a stadium when there's not a game going on? Check out behind the scenes at MetLife Stadium in East Rutherford.
---
Look Into Window of America's Past
A house built by a signer of the Declaration of Independence! The permanent exhibition has incorporated stories of residents who lived or worked at Morven over time; this includes women, children, generations of enslaved men and women, immigrant servants, and later, employees. Read about American history dating back to the 1750s!
---
See America's Most Detailed African Art! 
Northern, Eastern, and Southern African Art is a Rarity! This museum's collection depicts and incorporates other sides of African Culture extremely well, which would normally go unmentioned in other exhibits!
Catch this exclusive featured installation soon as possible!
---
Take a Food Tour! 
Mangia Hoboken runs April through October! Taste some of the most authentic Italian gourmet food businesses in the United States! This walking and tasting tour will go over the culture and history as well and is perfect fun for friends and family. Book your reservations soon!
Tour Mangia Hoboken and check out the itinerary!
---
See a Contemporary Dance Show! 
The leading dance company in NJ! If you are passionate about dance, you will thoroughly appreciate attending an event or lecture at Princeton Ballet School. Get tickets for an upcoming show or educational session if you are in New Jersey.
See the calendar of events happening at American Repertory Ballet Princeton Ballet School!
---
Bathe on the Only NJ Nude Beach! 
No, you don't have to go abroad to experience this! Find a quiet spot on Gunnison Beach, one of the beaches at Sandy Hook, and you can leave the bathing suit at home. Feel absolutely, totally free and run into the water or bask under the sun without getting any harsh tan lines–just don't forget the sunscreen! Visit Gunnison Beach on Sandy Hook.
---
Soar to Space in the NJ State Planetarium
Recline in your seat and look up at the Full DomeVideo! Take a tour of the universe with educated staff that will go through star-talks and solar system knowledge! Get educated with galactic knowledge at NJ Planetarium!
---
Learn from Exhibitions in Morris Museum! 
Check out interesting and different current exhibits on their website! This museum's collection from trumpets, sound gardens, and trains. There are traveling collections that you don't want to miss! Find out how music can be transformed into visual art.
Catch rotating installation that you are amazed by as soon as possible!
---
Tour Thomas Edison's Laboratory!
The national historic park showcases where Edison made all of his creations! When touring, be sure to listen to the free guided tour from the website to teach you about how Thomas Edison lived and answer any questions that you may have! How interesting it is to be learning about the man who created electric power generation on your cellular phone!
Get a virtually history lesson here.
---
Witness Lady Liberty! 
Oversee the Upper New York Bay, Liberty Island, and Ellis Island! Liberty State Park highlights the Statue of Liberty, a Holocaust memorial, and a 9/11 memorial. It is really a true honor to pay tribute to, and witness significant artifacts representative of our world's history. Looking at the bay, you will have a clear view of Lady Liberty, which is HUGE which is why it is a must when you are visiting NJ.
---
Take a City at Sea Tour 
Walk aboard one of the largest battleships ever built! Battleship New Jersey is about as long as 3 football fields. On this ship launched in 1942, you will be led into areas of the ship hidden to the public. The tour involves walk-throughs of the Machine Shops, the Medical and Dental facilities, the Post Office, the TV Studio and Control Room, the Brig, the Barber Shop and more. Also, World War Veterans are Free! Come learn about this large ship that has sailed through such historic times.
---
Family Fun at the Recreational Complex! 
Paddle Boat on the waterfront! The park offers a new and safe children's playground among other walking trails. Play some mini-golf, have a picnic, or dine at McLoone's next door! This dynamic park is one you'll want to visit to do a little bit of everything and enjoy the weather outside. Visit Essex County South Mountain Recreation Complex

---

Foodie Related Things To Do in NJ
---
125. Visit The Oldest Pizzeria and Restaurant in NJ!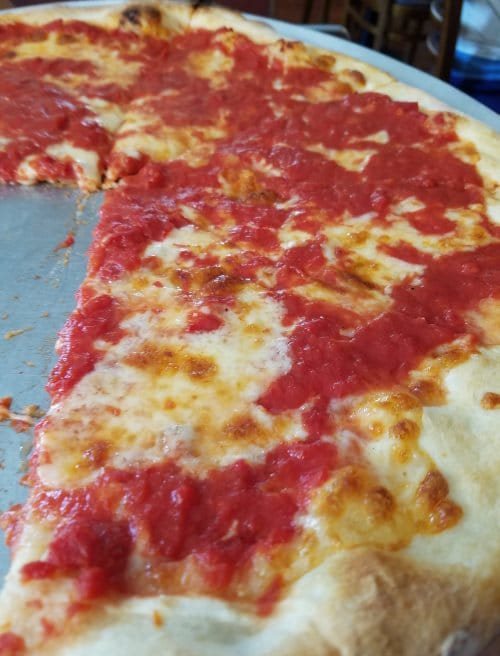 Papa's Tomato Pies! 
Established in 1912, it is the oldest family-owned pizza restaurant, not just in NJ, but in the entire USA!
Papa's owner Nick Azzaro is a third-generation pizza pie maker extraordinaire.
Why should you do this?
This old-school (extremely affordable) restaurant makes the best tomato pies in the entire universe. Also, the heaping plate of Chicken Parm is a mere $10. Try the mustard pie with a beer! You won't be sorry, trust us!
Papa's was also voted #1 in NJ and unbelievably in the top 20 in the entire US by NBC and ABC!
Our second choice of the best tomato pie in NJ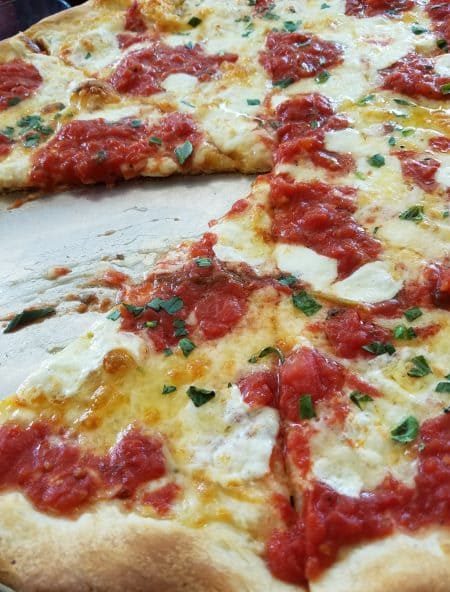 Joey's of Hamilton
It's all about the sauce at Joey's.
It is silky smooth, it's sweet…
It's tangy and amazing!
Then you have the crust. Thin, airy, and the perfect crispness when you bite down on it.
The real secret? It's the cheese. Mozzarella is a leading actor in this pizza movie but it's not the star. There is another cheese in play and it's not what you would guess. We are sworn to secrecy, so don't ask us. Go and experience it for yourself and leave a comment at the end of this post.
Do a 2 for 1 Papa's and Joey's are in close proximity. Why not hit up both and report back to us? Can any of you NJ native foodies handle this chore and report your findings to us? They are only 12 minutes apart. Click on the map below to get directions from one another

Let's get a vote going right here.
Who Makes The Best Tomato Pie in The Trenton Area?
Why should you do this?
We promise that these will be an amazingly tasty Tomato Pie. One that you will not soon forget!
---
VooDoo Shrimp Credited by Bobby Flay
If you love seafood, your mouth is going to water! Drew's Bayshore Bistro in the quaint town of Keyport makes their famous dish of Voodoo Shrimp which is in a spicy Worcestershire cream sauce served with jalapeno cornbread. Chef Drew is inspired by the Gulf Coast and Low Country cuisines which is how he guides his cooking.
Do you live for savory, fresh seafood? Visit Keyport, NJ for the full foodie EXPERIENCE here. Order the shrimp–it's Bobby Flay approved!
Why should you do this?
How many times can you say you ate at a restaurant approved by an American Celebrity Chef? Exactly, so if you have a passion for food or just want to satisfy your taste buds, pay Chef Drew a visit!
---
Bourdain Approved: Hot Dogs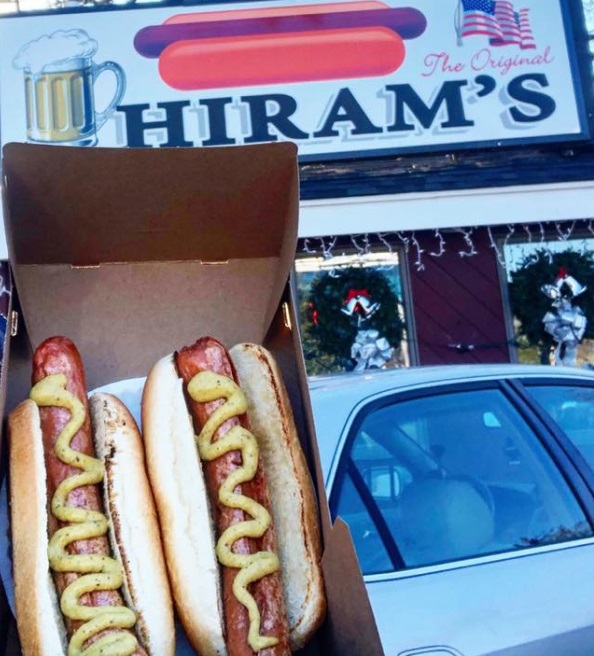 Visit this cute little hot-dog stand! Feed your soul at Hiram's Roadstand in Fort Lee, NJ which has been around since 1932!
Why should you do this?
Everyone loves to indulge in greasy, fried food sometimes! Find comfort in knowing that one of the most trusted experts of international cuisine in the world ate here, too!
---
Give Your Ice Cream Personality!
You've never seen ice cream like this! These confectionery creations are something every young person (or young at heart) DREAMS of. From monstrous milkshakes to ice cream characters, Coney Waffle will make you laugh, fill your belly, and give you a yummy Instagramable moment!
Eat at any of the 4 Coney Waffle Locations around NJ!
Why should you do this?
They select their ice cream from THOUSANDS of unique flavors. AND
No two characters made from these sugary treats are the same!
---
We Do Breakfast the Best! 
After all, Jersey is the state with the most Diners! Amy's Omelette House is home to just about any possible topping/inclusion that you would put in your eggs! With 222 choices (more choice is better, right?) for just omelets alone, your breakfast will be one to remember. Although it is an Omelette house, they also serve lunch and dinner, with other substitutions for breakfast like pancakes, french toast, and oatmeal!
Breakfast is the most important meal of the day! Start it with Amy's with multiple locations around New Jersey!
---
Grab a Latin Dish from Mother Spoon! 
The chef was named Best Chef in the Mid Atlantic region in 2012! Cucharamama features vibrant Latin art and mood along with Artisanal South American mouthwatering cuisine. Try dishes like Peruvian-Style Roast Leg of Pork, Chilean Beef, and Chicken Potpie, or Shrimp in a Spicy Peruvian Pepper Sauce!
---
What Are Bruce Springsteen's Favorites? 
You might even see The Boss himself while attending one day! The musician from New Jersey is a simple man, he loves his pizza, hotdogs, and ice cream!
Growing up, he would grab a bite at WindMill Restaurant in Long Branch in which they would stay open just for him sometimes! He had also claimed to have Jersey Freeze save the broken ice cream cones because they were so tasty. And lastly, he actually cashed his first check at Federici's in Freehold and ordered a pizza! Head over to these locations or read more about his unique experiences at these places!
---
Get Your Tequila and Tacos! 
Choose from 91 tequilas and 26 mezcals with modern tacos! Get fresh and modern Mexican food over a tasty cocktail! Check out your favorite cocktails or if it's a taco, burrito, salad, don't forget dessert on their Instagram! Central Taco and Tequila also makes daily, in-house hot sauce, guacamole, and salsa. Experience Modern Mexican food in a cool atmosphere right in South Jersey.
---
Make Jam With Farm to Table Ingredients!
Use fruit picked fresh from the garden! This cooking class shows guests how to make jam and fresh hors d'oeuvres. Fresh & Fancy Farms use farm-to-table chefs, farmers, and sometimes guest chefs to teach preparation skills and show you the best seasonal ingredients to use in your cooking!
---
All-You-Can-Eat Brazilian Steak House! 
Eat fresh slices of savory and spiced meats until you are absolutely full! The diverse menu will explain all of their dishes, and you should absolutely try something new. How do you know if you'll like it (or love it) if you don't try it! Try different kinds of chicken, steak, pork chops, sausage, fish, shrimp–you name it. You will be full up until your head hits the pillow!
End your evening with a juicy slice of meat from the selection at Boina Brasa in New Jersey!
---
Highly Coveted French Cuisine! 
Authentic food that reminds you of the Provencal countryside! Chez Catherine was acknowledged by the New York Times for her exquisite dishes! Choose how many courses you would like (Dinner Menu, French Business Lunch, or A La Carte and Dessert) while anything that you order will be pretty and delicately placed and taste delicious! Chez Catherine is also the most romantic dinner spot located in Westfield, NJ.
---
Pizza Re-Imagined as a Dessert! 
The fact that this delectable dessert also happens to be Instagram-worthy makes it even better! Who said that cookies had to be round, and brownies had to be square? If you have sweet tooth, you're probably drooling right now because you can have a whole sized pizza slice made from and topped with sweets!
Make after-dinner the best part! End your meal with Brother Bruno's Pizza in Wayne, New Jersey!
---
Must Order | Bar Omakase ("I'll Leave it Up to You")
Get a handcrafted meal by Japanese sushi chefs! Have authentic Japanese cuisine and experience raw fish like never before, not like Americanized sushi! Ai Sushi prides itself on staying true to the culture while providing guests with the freshest ingredients in the kitchen daily. If you are an adventurous foodie, this restaurant is for you!
---
A Cafe Beautifully Set in Front of a Flower Shop! 
Order sweet or savory crepes here among fresh flowers! This neighborly European Cafe serves up fresh, healthy meals that some say we're better than they had in Paris! Drink some cappuccino art with terrific service! This hidden creperie is sure to satisfy your taste buds and make you feel as if you're in Europe!
Take a trip, be treated as a local at Cafe Flora in Cherry Hill NJ!
---
140. Salt Water Taffy from an 1898 Candy Shoppe! 
See salt-water taffy actually being made in this combo of a retail store and factory! The long-lasting history of this sweets shop speaks for itself. Saltwater taffy is something you need to have when you are at the Jersey Shore, however, they are much more than that. Shriver's creates macaroons, fudge, mint rolls, AND saltwater taffy.
Stop by to watch how the sweets are made at Shriver's in Ocean City, New Jersey!
---
Brunch on Southern Comfort Food! 
Visit Modine in Asbury Park for the crunchiest, golden fried chicken! They describe themselves as a road trip through the coastal Low Country! With great drinks, a large variety for brunch and supper dining, you'll feel loyal to it like it's your mother's cooking.
If you want real Americana style food that warms your heart and puts a smile on your face, drool over the menu here, and then make your move!
---
Try Texas Korean BBQ on a Doughnut! 
The restaurant's menu includes out-of-this-world harmonious flavors of two different cultures! Their signature dish is the Chonut 2.1 made with chopped smoked brisket, smoked kimchi, Fatboy barbecue sauce, cheese, bacon, and scallions ALL on a glazed DONUT!
Kimchi Smoke Barbecue has a unique menu that has one of those dishes that you have to eat at least once in your life–that is if you don't still crave it over and over again!
---
Named One of the Best Sushi Bars in America! 
Try the Fashion Roll OR golden eye snapper, baby yellowtail, white salmon, or live orange clam when available! This restaurant is creative, stylish, and offers fresh and prepared rolls! This is a unique sushi experience. Try Honsho in Jersey City!
---
Nationally Recognized Hoffman's Ice Cream
For when you're done at the Point Pleasant Boardwalk! This amazing ice cream shop that shifted from a Carvel in 1976, has even been recognized by Martha Stewart! With dozens of delicious, and extravagant homemade ice cream and sorbet flavors that you can view on the website, you can also order a pint online to get a taste of the Jersey Shore!
---
The Parker House in Sea Girt 
Dine over fresh catches of the day in this jaw-dropping, beautiful house! This restaurant was established in 1878 and has been "serving fine food and good times for 140 years"!
Parker House is a MUST when visiting NJ!
---
Taste for Mediterranean Flavor! 
Eat at the Best Greek Restaurant in all of Middlesex County! Chef Kappas was born and raised in Central Greece, therefore, he has all the delectable recipes! Try fresh and exciting dishes new to your tastebuds. Visit their website to look at lunch specials and dinner specialties!
The Greek on main will begin your passion for quality rich Mediterranean dining!
---
Brooklyn Style Meets Southern Italian Cuisine 
Watch these authentic recipes made right in front of your eyes! Cafe 2825 offers table-side experiences that will make you wide-eyed and hungry. These include burrata style fresh mozzarella, soft polenta, wheel of Rome's favorite Pecorino cheese, and the dressing for your caesar salad.
Do your taste-buds a favor and go to Atlantic City to dine here. You can thank us later.
---
Get the Best Philly Cheesesteak NOT in Philly!
Donkey's Place holds the best ranking for Cheesesteaks! This eatery established in 1943 does things a little differently. They make their sandwiches on a poppy seed kaiser roll with thinly sliced steak, topped with soft sauteed onions and melted American cheese on top and not within. Though it is not the traditional Philly cheesesteak, it is worshiped by the surrounding area and to famous chefs.
Decide for yourself without having to go the extra mile and visit this well-worn yet charming bar, here!
---
149. Art in a Cup of Coffee!
Bwe Kafe serves a top-quality and earth-conscious cup-o-joe! Get the cutest, tastiest brew next time you visit the Hoboken area– just check out their Instagram! Give this business your support because it isn't just any coffee place; each sale goes to further education for Haitian youth while also supplying the Haitian population with clean drinking water, and benefiting Haitian farmers!
Read about the added benefits of their brewing methods, and the rich taste you will receive at Bwe Coffee!
---
150. Take a Bite out of the Best Brooklyn Pie that is Not in Brooklyn!
This Brooklyn Pie is in Manalapan, NJ! Cheese on the bottom. Sauce on the top. And a beautiful sweet sauce at that! This is known as an upside-down pie. And it is the best upside-down Brooklyn style pie that you will ever eat. The dough is fluffier than pillow cotton. Well not really, but the dough texture is silky smooth and second to none. This is the best in class. Trust us.
There are 3 locations (Jackson, Manalapan, and Toms River but we have only been to the Manalapan one.
---
151. Start Livin on the Edge (Veg: That is)
Vegan specialty wraps, sandwiches, salads, soups, and burgers! If you are on LBI, hit up this little hole in the wall vegan spot. You will not be disappointed. Specialties include the avocado club, black bean burgers, and potato salad. There are a few picnic tables outside to enjoy your vegan feast. Living on the Veg is Cash only.
FAQs
What is one of the most unique attractions in NJ?
A three-hour sailboat charter on the picturesque Barnegat Bay. A Day on the Bay is a sailboat charter company located next door to the Captains Inn Tiki bar on the Beautiful Forked River. Tell them that FunNewJersey.com sent you and you will get free cheese and crackers on a weekday sail!
What is one of the most unique day trip ideas in NJ?
We recommend that you visit the oldest pizzeria in New Jersey. Papa's Tomato Pies holds that title and it is still rated the #1 spot in New Jersey to try their famous pie. Afterward, you can take part in some cultural events by seeing a performance at the Princeton Ballet School or taking a visit to the New Jersey Planetarium. The Morris Museum is also an innovative museum that uses interactive displays to blur the lines between auditory music and visual art.
What can you do in New Jersey for free?
In the summertime, one of our favorite things to do in New Jersey is to go to The Summer Concert Series at Pier Village in Long Branch. Here, you can see some amazing free concerts while also picking up some great food.
In the spring, try visiting Branch Brook Park, which has the second most cherry trees in one place, after Japan. While some may think this title is held by D.C., they would be wrong.
You can also visit Paterson Great Falls any time the weather is nice. This is a huge and powerful waterfall set in a pristine natural environment. It is a perfect way to spend a beautiful day.
Why do people want to live in NJ?
There are plenty of reasons to want to live in New Jersey. Outside of the close proximity to great beaches and New York City, there is also a lot to do here and a thriving culture as well as plenty of history to discover.
There is one of America's only nude beaches at Gunnison Beach. Residents can also take part in a thriving culture by going on the Mangia Hoboken food tour. You can even soak in all of New Jersey's rich history by visiting Thomas Edison's Laboratory.
What to do down the shore when it rains?
Drew's Bayshore Bistro is one of the best places to visit down the shore when it rains. The voodoo shrimp here is world-renowned, even Bobby Flay loves it! Brighten up your day by trying some of this Gulf-Coast inspired famous shrimp for yourself.
If you're stuck in the rain on the Jersey Shore, you can also visit a candy shop that's been around since 1898. This candy shop still makes the saltwater taffy it sells. Stop in for treats such as macaroons, fudge, and mint rolls in addition to the saltwater taffy.
What is there to do in Wildwood if it rains?
In Wildwood, we really love visiting the Hereford Lighthouse on a rainy day. It is very affordable to enter for the whole family, and you can go on an easy self-guided tour. The Gateway 26 Casino is another place to go on a rainy day in Wildwood. This place is safe and fun for the whole family. Finally, a trip to the arcade may just be the cure for the rainy-day blues. Funhouse Arcade offers plenty of fun games right on the Wildwood Boardwalk as the perfect cure.
Is the Cape May Zoo open when it rains?
The Cape May Zoo is a wonderful free zoo in Cape May that is open when it rains. You will want to wear your rain jackets and carry an umbrella as not every area is covered. However, many animals act differently in the rain, so while some may be hiding away, you will still get to see many animals doing amusing activities as they play in the rain. One visitor loved that she got to see bears eat apples and romp around on a rainy day, and she loved even more that the experience was free! One of the best perks of visiting the Cape May zoo on a rainy day is that the zoo will be very empty so you and your family will feel like you have the whole zoo to yourself. Totally worth it even if you get a little bit wet.
What to do in Cape May this weekend?
There are plenty of great things to do in Cape May this weekend. For instance, you can visit Cape May PB Co and pick up some of the most amazing peanut butter you have ever had. They also offer hot chocolate, cannolis, and more. You get to watch them make the peanut butter and even choose from over 40 flavors of jam. Make sure to pick up some dog treats for your pup before you leave. Afterward, make sure to go to Cape May Whale Watcher to see plenty of dolphins and whales up close and personal in their natural environment. We can't think of a better way to explore Cape May!