Horseback Riding on the Beach in New Jersey
Posted on January 16, 2023
By

Jesse Shea

3009 Views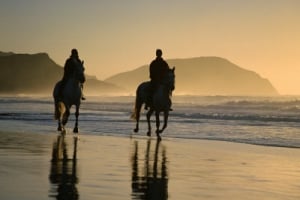 Picture the majestic sight of a horse galloping along the shore- you might have seen it in movies or on TV. It seems like a romantic and exhilarating activity limited to the big screen or island getaways. Unfortunately, horses are not permitted in most beaches in New Jersey. But don't worry- your beach horseback riding adventures do not have to be limited to your next tropical vacations to somewhere far away!
Horse owners will be delighted to know that Island Beach State Park in Ocean County, New Jersey allows horseback riding on the southernmost six miles of the beach during the off-season. From October through April, horse owners are welcome to bring their horses for an unforgettable ride next to the beautiful Atlantic Ocean waves. In order to enjoy this unique outdoor activity, simply make a reservation and register with the park five days in advance. There are no additional fees to bring your horses onto the beach other than basic entry fees. You are allowed to bring up to ten horses to the park, and there is a special designated parking area for trailers where the horse-friendly trails begin.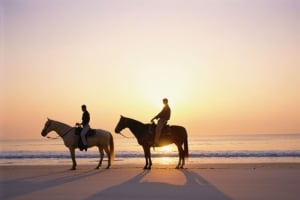 Horseback riding is also permitted on Brigantine Island's North Beach from October 1 through March 30 between the hours of 7am and 8:30pm. A permit is required to, but the experience is well worth that extra step. Brigantine is a beautiful shore point in Southern Jersey characterized by largely untouched beaches. You will not have to deal with the kinds of crowds that populate other shore points such as Seaside Heights or Point Pleasant. It makes for a lovely backdrop to enjoy a horseback ride.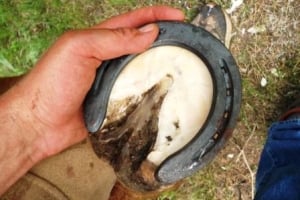 If you have never ridden your horse on the beach before, it is important to keep some things in mind to be prepared. It is best to fit your horses with proper horseshoes because sand is likely very different from the kind of terrain your horses are familiar with. Remember that ocean water is neither safe nor preferable to drink, so bring along some fresh water for your horse as well as for yourself. To be safe, bring along several gallons of it!
Walking on sand is much more strenuous than walking on firmer ground, so you should make sure your horse is physically capable of handling the extra strain. It is best to ride your horse closer to the ocean on the firm wet sand; however, keep in mind that horses are not familiar with beaches, so the ocean might scare them! Horses can become excited and frightened by the waves which could potentially cause a dangerous situation for both of you. Some may even panic if waves hit their hooves. Beginner horseback riders probably should not attempt to ride a horse on the beach because it may become difficult to handle the horse at times.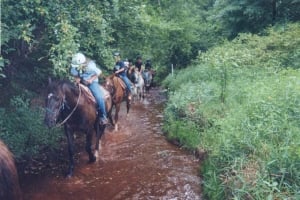 Taking a horseback ride along one of New Jersey's beautiful beaches is one of the most fun activities in the Garden State. As long as you take safety precautions and keep local regulations in mind, you are sure to have the experience of a lifetime. And if you don't own your own horse, don't worry- there are plenty of other picturesque places where you can go horseback riding in New Jersey!
Click here to find places that offer guided and self-guided horseback riding for people of all levels through other natural NJ landscapes. A mountainside ride through streams and creeks can be just as fun!