[  Work From Home Jobs NJ   |  53 Ways to Make Money Online   |  Best Businesses to Start   |  How to Start a Blog   ]
[ How to Start in Affiliate Marketing  | Best Affiliate Niches  |  Best Affiliate Networks to Join  |  Affiliate Marketing Myths Debunked ]  [  Starting a Business in NJ (A-Z) ]  [  Best online Courses  ]
1 Best Online Courses: So you Can Quickly Learn What to do to Grow Your Business
To earn, you've gotta learn!
Don't recreate the wheel by yourself.
Take a course that will show you step by step how to get what you need to be done.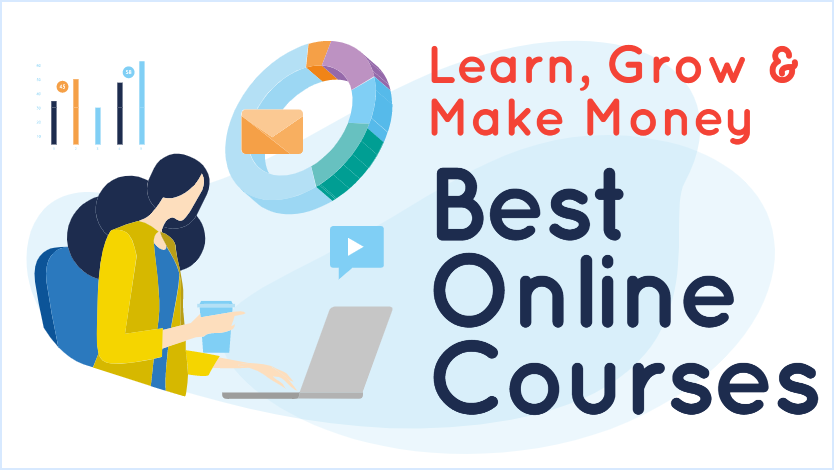 Best Courses: Essential Training 
These courses will take you by the hand and walk you through the steps on how to get what you need to get accomplished.
Some courses are free, some cost a few dollars, some are very reasonably priced but require an investment on some level, and some are on the pricier side and take a real investment into yourself and into your business.
Disclaimer: Because of our experience and because we have tried these courses by paying for them ourselves, some of these companies may reward us with compensation for us referring them to you. But many of these companies do not have an affiliation with us and a bunch of them are also great free resources.
Lastly, all of our advice and recommendations to you (as our loyal visitors) are free for you. We do not monetize our site with off-topic ads. We try to keep everything straight to the point with full transparency.
FunNewJersey.com has been in business for almost 20 years we have helped many small businesses with all kinds of training including sales training, search engine optimization, and affiliate marketing training.
To really learn how to grow your business you need to always have ongoing training.
Look for mentorship
The best training, whether it's one-on-one whether it's courses that you are taking online, should provide real mentors that you can reach out to, and get real advice from.
That is the philosophy that we look for when we refer to any kind of online courses or training.
1. Complete Affiliate Marketing Course 
This is John Credtani's Super Affiliate System Program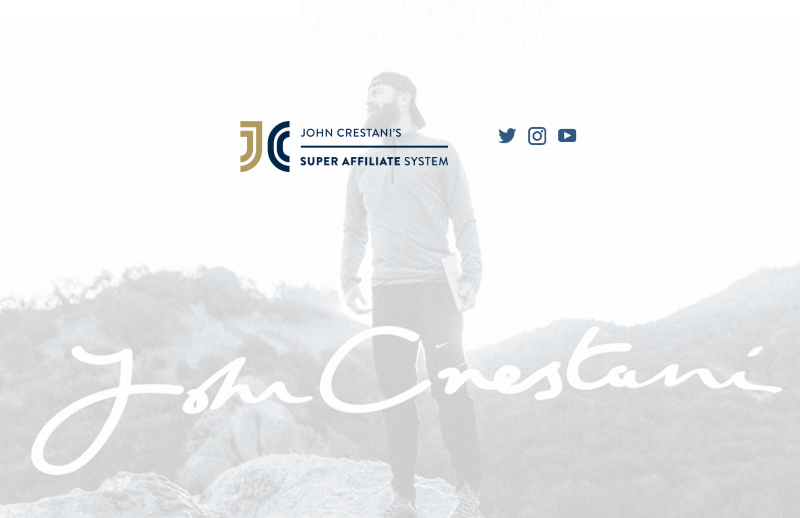 A 6 weeks course with over 50 hours of training
This is a full six-week training course that is geared more towards new marketers.
I myself have gone to this course step-by-step, and even though I am an intermediate marker, I learned quite a few cool little tricks and techniques to the trade.
The course focuses on everything related to affiliate marketing including choosing your niche, finding offers, and course traffic mastery.
You will learn how how to build website landing pages and how to drive traffic to them.
If you want to learn about PPC and paid ads this is a good course for you
The course focuses a lot on Google ads set up, video advertising Facebook ads, and how to scale your business.
It is for more serious-minded individuals that are not afraid to spend money on a course.
There is an investment involved from you yourself in putting in the time and effort of going through the course as well as a financial investment for the course.
There is a free training video that you can watch first to see if the course is right for you.
See our full in-depth review of the super affiliate system.
2. Authority Hacker Course on Building Authority Web Sites 
Free training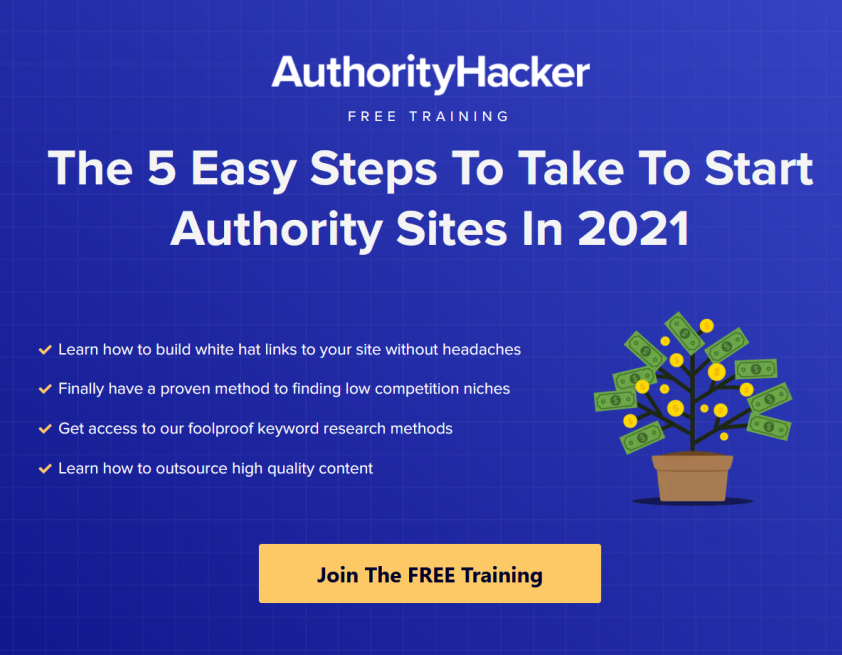 The Authority Hacker affiliate marketing course is one of the most comprehensive in-depth courses for people that are looking to build their own website.
Your search is over
If you have been digging around online for marketing courses on how to build an authoritative website or an affiliate website and you're just not sure which one to pick.
Stop in your tracks right now.
The AuthorityHacker course is by far one of the most comprehensive, in-depth, easy-to-understand, and completely professional courses online,
You will learn how to create an amazingly highly profitable website with this course.
Here are some of the things that you will learn in this free training
How to find the absolute best niche blog about
How to do keyword research
Content creation
Setting up your website
Off-page SEO – This includes actionable methods to get high-quality backlinks pointing back to your site.
The Authority Hacker free training is one of the most in-depth for both beginners and intermediate marketers to build their own authoritative website to make money online.
Register now for the free training.
More Recommended Courses Coming Very Soon!
We take our time vetting and trying each course before we review them.
Other Related Resources
See our complete guide to Working From Home Jobs NJ.
The Best Ways to Make Money Online – Here you will find dozens and dozens of ways to easily make money online
Best Businesses to Start – We have put together an amazing list of truly creative businesses to start.
How to Start a Blog – An actionable step by step guide
How to Start in Affiliate Marketing  – Here's a quick primer on how to get started in affiliate marketing
Best Affiliate Niches – Do you need a niche? We have recommendations for over 300 profitable niches!
Best Affiliate Networks to Join– Now you'll never run out of affiliate offers!
Affiliate Marketing Myths Debunked – Don't go in blind. This is the real truth about getting involved with affiliate marketing.
Starting a Business in NJ (A-Z) – This in-depth guide will show you step-by-step everything you need to do to format your business in the state of New Jersey.
Best online Courses – Hey you're already here on this page right now! If you click on the link page will simply refresh!