[  Work From Home Jobs NJ   |  53 Ways to Make Money Online   |  Best Businesses to Start   |  How to Start a Blog   ]
[ How to Start in Affiliate Marketing  | Best Affiliate Niches  |  Best Affiliate Networks to Join  |  Affiliate Marketing Myths Debunked ]  [  Starting a Business in NJ (A-Z) ]  [  Best online Courses  ]
99 Best Overall Affiliate Marketing Networks to Join: The Unadulterated Complete List
OK, Let's get right into this.
This is the most In-depth comprehensive list of affiliate networks in the world!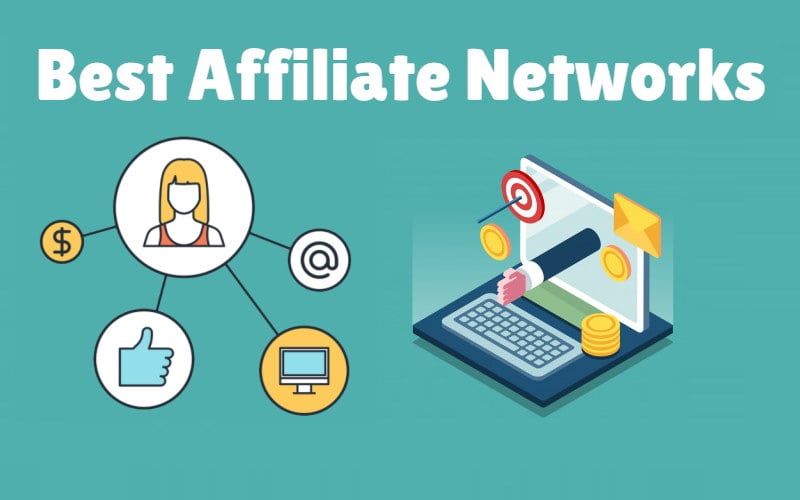 Let's Start With The Top 25 Best Affiliate Networks (Not in any particular order)
This is where you want to start digging around. These top 25 are Worldwide.
1. Share A Sale
This is one of the biggest and most trusted affiliate networks in the world.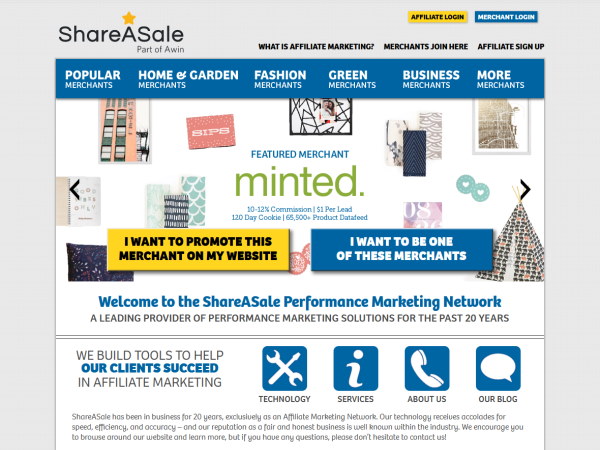 They have thousands of products.
Signing up is easy and free. Once you are approved inside of the network you will have to manually apply for the offers individually.
They still have some good offers where you can get approved automatically which makes it a good network for affiliate newbies.
Here are the countries that Share A Sale accepts.
2. CJ.com (Commission Junction)
Another pioneer and big player in affiliate network marketing space. They have about 3000 different merchants.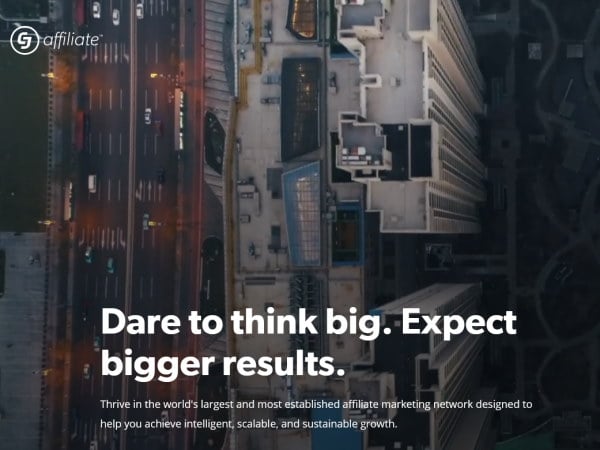 You have to sign up first, then you are able to go through the merchants, and then you will have to sign up for each merchant individually.
They do have some automatic approvals but many of the big ones will look at your credentials before you get approved.
They have a lot of cool niches.
Some notable merchants on this platform are
Grammarly
Hotels.com
Priceline
Office Depot
Overstock
3. Amazon Associates
Amazon is one of the easiest platforms to get started on starting commissions right away.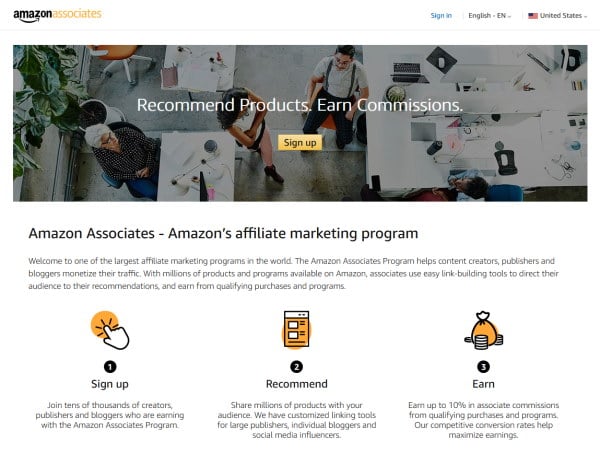 Not much to say here. I think we all know that Amazon is the Goliath of all affiliate networks!
They literally have tens of thousands of products.
Although they have made it pretty easy for affiliates to start promoting products, make sure you use caution when following the guidelines.
If you break one of the guidelines they could zonk you enclosed on your account. They can also make it almost extremely possible to get reconsidered, so be careful.
Commissions are on the lower end through Amazon but one of the biggest advantages is that if you send somebody to them through one of your affiliate links, you'll get credit for anything they purchase, whether it your product or not!
4. Awin (Formerly Affiliate Window)
Another one of the big boys! Get access to almost 15,000 different merchants!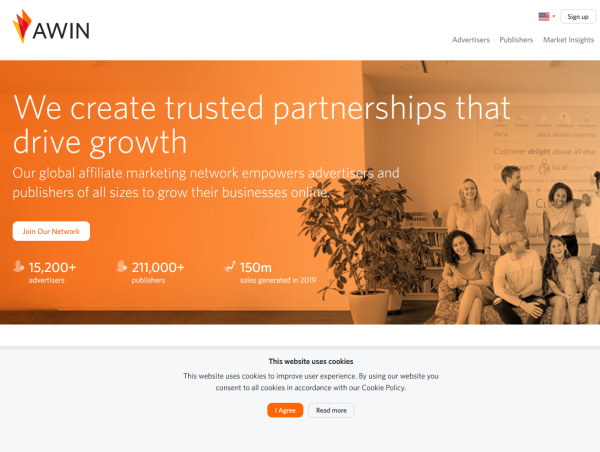 Some of the bigger more well-known merchants are
StubHub
Under Armor
They serve the USA market but they have a huge following in Europe as well.
5. Rakuten Marketing (Formerly LinkShare)
Rakuten has a lot of inventory of offers and products for affiliate marketers.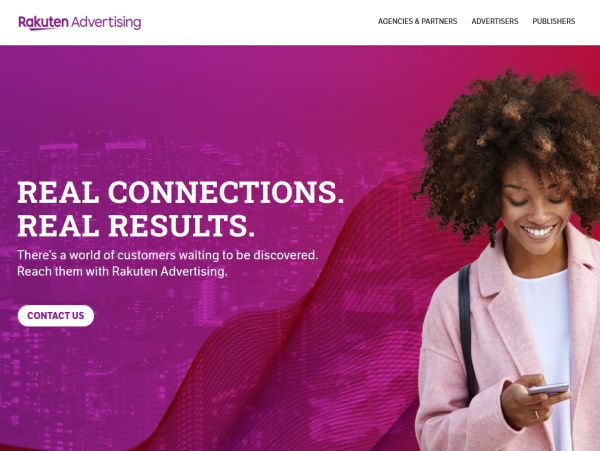 Rakuten has been around for a long time. They are unique in that they allow you to create rotating banner ads we can promote more than one service with one banner ad space.
Another big advantage is that they allow you to deep-link into individual products instead of just the top-level link to the merchant's website which will keep your links super laser targeted.
6. ClickBank
ClickBank is a great place to start if you're new affiliate marketer.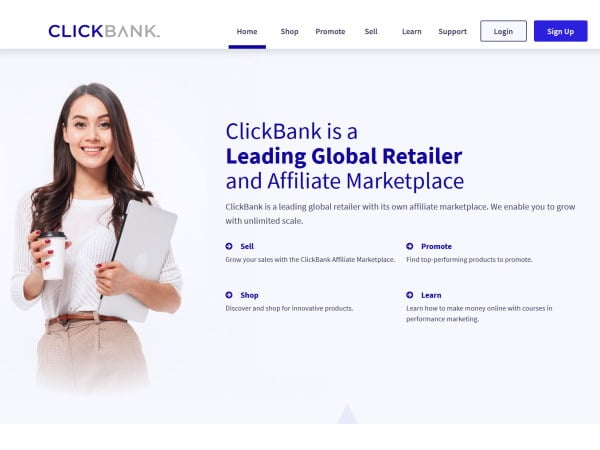 ClickBank is one of the easier affiliate networks for newbies to get started with.
Once you are approved, you do not have to reapply for individual offers. You get access to them.
They have a lot of digital product inventory. You also have a very high rate of being accepted into the network.
They also offer some really cool high-paying commissions on some of their products.
Beware however as they do have some lower quality products. Some are even really outdated and should be removed from their inventory.
7. Walmart Affiliates
Walmart is also relatively easy to get started with. Simply place banner or text ads on your website and earn a commission whenever a visitor follows them and complete the qualifying purchase.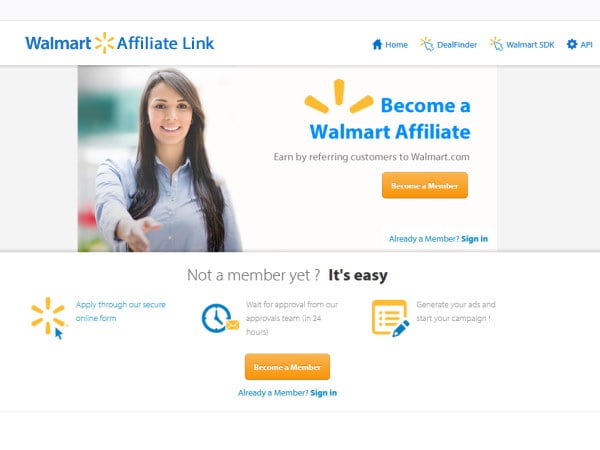 This is another one of the Goliaths in the affiliate network space. It's easy to get started and get quality creatives (banners and text links) to promote on your website.
The program is easy and free to join but make sure you have an active site before you do.
Commissions range about 4% on average.
They are one of the biggest networks alongside Amazon.
You can get almost virtually any product that you can think of including groceries, big-screen TVs, printers, toys, and thousands of other products.
8. eBay Partner Network
One advantage of this network is that they have endless products to promote.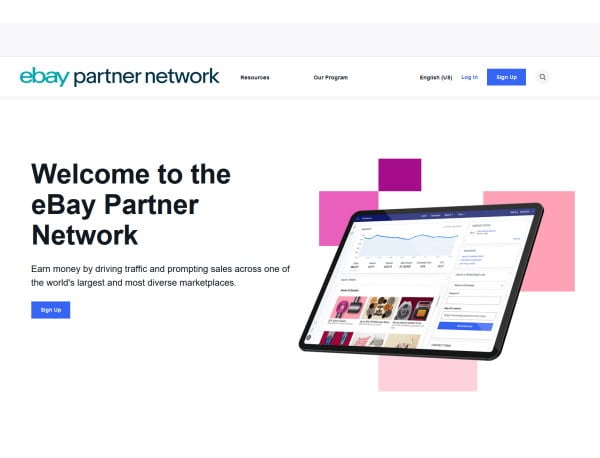 eBay is one of the largest online networks in the world where you can promote millions of products.
They do have stricter guidelines for approval than other networks.
Beware, as they do have a short cookie duration.
9. Fiverr
Fiverr is one of the more interesting affiliate marketing platforms if you are in the digital marketing vertical.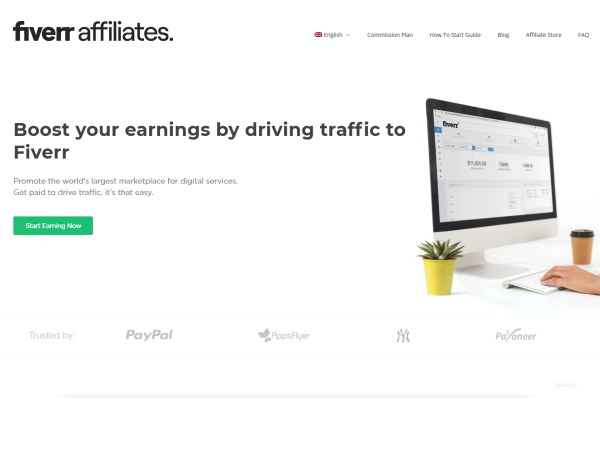 This is one of our personal favorites in the digital marketing space.
Fiverr has hundreds of categories and verticals for you to promote. They have pretty decent payouts too.
This one is definitely worth your time taking a look into if you are in the digital marketing space.
10. Avangate Affiliate Network
Avangate has a diverse inventory of offers which includes audio and video, business and finance, home, multimedia, utilities, security and software.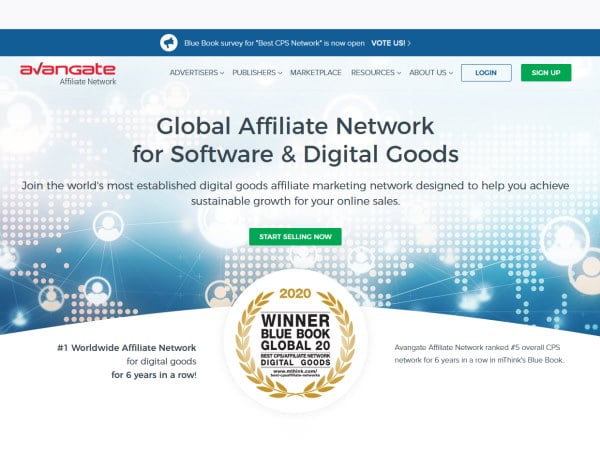 This is a top player in the digital products and software space.
The ability to create deep affiliate links that go directly to product checkout pages gives publishers a higher conversion rate.
11. FlexOffers
FlexOffers has hundreds of great top offers from big brands like deposit photos, audible JCPenney, and Monster.
Verticals include automotive, clothing, business, consumer electronics, education, health and wellness, insurance, financial services, credit cards, careers, shopping, travel and digital products among many others.
Once you get into the network you will have to apply for individual offers separately.
12. Impact Radius
Impact Radius offers a large selection of digital products.
They are a tiny little bit selective when allowing affiliates into their network.
But we have seen newbies get approved to get into the network itself.
Once in, you have to apply individually for each program
13. AvantLink
You'll find over 8000 premium advertisers including some big names like Mashable, Outside, Digital Trends, Yeti, Skull Candy, Adidas Outdoor as well as thousands of others.
Some of the top verticals include apparel, baby gifts, books, fashion, cooking, photography, toys, collectibles, tools, and travel.
They have three different major geotargeted networks: United States, Canada, and Australia.
Applicants must verify ownership of their website by placing the JavaScript code onto their website.
Once approved you will have full access to the network but you also have to apply separately to the merchant programs.
14. Gasmobi

Find high payout mobile offers. Has over 2,000 direct offers many with three lander pages
15. Pepperjam
Pepperjam and has been in the affiliate marketing network industry for over 20 years. They have a good diversity of offers including the shoes, apparel, personal care, cosmetics, and much more.
16. TopOffers
This affiliate network is well known for its dating offers.
If you are in the dating vertical you want to take a look at this affiliate network closely.
17. AdWork Media
AdWork Media has almost 3,000 top converting affiliate offers.
If you have traffic they will help you monetize it!
18. MaxBounty
MaxBounty boasts over 2000 offers.
They have some really cool performance-based bonuses where they pay additional earnings to their top affiliate producers.
19. VigLink
VigLink is a pioneer for hands-off affiliate marketing for bloggers. VigLink scans your content and creates links automatically in real-time.
There are both digital products and services as well as physical products in this network.
You do have to be approved manually by the merchants.
VigLink also takes a part of your commission for their service and automation.
20. JVZoo
Here is what we like about JVZoo. It is free and relatively easy to join and that is a really good marketplace if your niche is surrounded by new product launches.
You don't need to have a website as they have married fantastic modern looking on splash pages for you to use.
They have a lot of inventory as well.
Things to watch out for is that they do have some lower quality products.
21. Skimlinks
Skimlinks is a similar platform to VigLink.
It appeals to bloggers because it offers a  very easy to use integration with its plug-in on WordPress. The plugin creates dynamic links within page content. This way the bloggers do not have to get too involved with searching for affiliate programs. The affiliates are basically plugged in.
A big advantage of using Skimlinks is that once you are approved you get to work with any and all of the merchants within their platform.
The platform is free to use, but they do get you when they skim off 25% of your commissions.
22. Commission Factory
Commission Factory is based in Australia but has worldwide markets.
They have a lot of recognized brands in their inventory.
You definitely need to check out there great range of affiliate programs which span across many different verticals with their Australian affiliate network/
23. Target
Target obviously as many different types of products to promote.
One thing that we like about Target is that they do have well-known brand products in their inventory.
The top markets include all kinds of clothing, furniture, toys, supplies and food, home to core, beauty, electronics, and all types of office supplies.
One important note to be aware of however is that they do have an inventory where you do not get any commission at all.
This is important because if you are building content and marketing products where they give you no commission you are wasting your time.
Here is a quick list of categories where you get no commission:
Groceries, movies, gift cards, toys, electronics, video games, and sporting goods.
This is not a full list so make sure you check into their affiliate program in depth to see other categories where you get zero commission.
Target also has a tiered commission payout where you get more commissions if you sell more.
24. GiddyUp
This is a very interesting affiliate network to check out. GiddyUp has some of the most unique offers in the world.
If you're looking for innovative new products, this is a great place to start.
25. Envato
Envato is a marketplace of useful tools for web development and building blogs.
You can promote products that help bloggers to create scripts, code, WordPress themes, royalty-free images, and much much more.
This is a great affiliate network if you are teaching people how to create blogs to make money.
Not in Top 25 But Still Worth Checking out! 
26. Warrior Plus
Warrior Plus could easily have made the top 25 list. They have a lot of inventory with online courses and making money online products.
This is a good affiliate marketing network if you have experience with Internet marketing.
It's easy to get approved for but you have to manually submit to the programs that are inside of this network.
Be careful of products that look too good to be true.
27. PeerFly
PeerFly is a medium-sized a very network that is growing quickly. It is a little tough to get into this network as they want to make sure they bring on quality affiliates.
They have thousands of offers.
28. PayDotCom
Similarly to ClickBank, PayDotCom has a lot of digital product offers.
What we like about this affiliate network is that they have some unique digital offers that you will find on ClickBank or anywhere else.
Offers include video creation software, as well as SEO and marketing offers.
It's easy to join and get approved for the network but you do have to apply individually for the offers.
There are some really cool high commission items in here.
29. RevenueAds
This is a great affiliate network to find financial offers related to credit and debt problem resources.
RevenueAds also has a lot of really interesting loan offers.
30. LinkConnetor
LinkVonector is a trusted performance marketing network. It has a lot of major players in its inventory including Bitdefender, hats.com, shoeline.com, build a sign, holloweencostumes.com, Disney, and the Writers Digest just to name a few.
31. RevOffers
This is another niche affiliate network that specializes in cannabis, CBD oil, and vapor programs.
32. Webgains
Webgains takes pride in connecting publishers like you (affiliate marketers) with the bigger brands that you're looking to connect with.
If you join this affiliate network and get approved you will have access to more than 1,800 brands in some really cool verticals including sports, lifestyle, travel, leisure, and cool gadgets!
33. GoOffers
Interesting Network with over 600 exclusive offers inside the network.
34. advendor
advenendor prides itself as an affiliate network that works for both sides of the coin. They help to generate profit for both publishers and advertisers around the world.
This is an affiliate network that yields true results!
35. Madrivo
Madrivo is another good performance-based affiliate network that has exclusive offers and advanced analytics.
They have some high-quality brands inside the network and they have a good amount of exclusive and high payout offers.
Affiliate marketers can find some good financial products to market within this network.
They are a little selective in their approval process.
36. LEADBIT
This is a great affiliate network if you're looking for offers in the nutritional vertical.
37. RevenueWire
This is an affiliate network that I personally really like.
RevenueWire has been an up-and-coming affiliate network for many years and their platform boasts some of the best top paying offers within their specialty verticals.
Some of the many specialty verticals within the RevenueWire platform including dating, gaming, e-commerce, finance, insurance, sweepstakes, utilities, security, background checking, and downloadable software.
They are very proud of their high converting international offers and diverse payout models including cost per click, cost per lead, CPI, CPS, and some very unique revenue-sharing models.
This is an affiliate network that you need to really take a few minutes and check out.
We are not an affiliate of this great network and we do not make any commissions on our recommendations of joining.
We just are a big fan of how this company can really help you to make money online.
Get started by filling out a publisher application today
38. Olavivo
Small Boutique Network specializing in the Health and Beauty verticals.
39. AdMedia
AdMedia is an interesting affiliate network where they claim that you can reach Facebook users without having to buy actual ads on Facebook.
40. PropellerAds
This is another great affiliate network platform for pop and push notifications.
Other Interesting Affiliate Networks
41. Eloquens
Visit their website here.
42. Market Leverage
This is a small affiliate network that prides itself on helping publishers to generate more revenue.
Whether you have your own website, or you are marketing with newsletters or social media, you can earn revenue with their cost per acquisition or cost per click models.
43. Digital River | OneNetWorkDirect
If you are in the software or consumer electronics market, this one is worth checking out. Their website certainly needs an update but they do have a lot of big players in their inventory. You can also earn up to 60% commissions.
44. Markets
Markets.com is the King when it comes to trading and investing.
45. Circlewise
This is a partnership management software where you can manage all of your affiliates in one place.
46. Moonrover
Moonrover is a medium-sized boutique affiliate network.
They have about 700 affiliate programs in their network.
Media buyers and website owners can start relationships with vendors quickly and easily.
They are the first affiliate network that runs the eBay HIPO partner program.
47. CPAmatica
An affiliate network that specializes in dating, health, beauty, weight loss, and sweepstakes.
You can find more than 800 offers inside of this really cool unique network.
Learn more here.
48. PALO 
PALO is a leader in the call per conversion marketing space.
49. CrakRevenue
CrakRevenue has over 1000 affiliate offers in their network.
50. AdCombo
We really like this network because they have exclusive offers that you cannot find in other affiliate networks.
They are also a great resource to find high commission products.
51. EVADAV
Edadav is an ad network that specializes in push and pop-under ads under CPC and CPM pricing models.
Publishers can view their status in real-time in their dashboard.
Publishers are also assigned a dedicated account manager.
52. Affiliate.com
This is an interesting network that has a diverse selection of top-performing offers.
53. moreniche
Specializes in the Health and Wellness markets.
54. travelpayouts
This is a top player if you are in the travel industry and are wanting to promote tours, hotels, airline flights, and more!
55. Affiliaxe
This is where experienced affiliate marketers go to find offers and very profitable niches.
Niches include entertainment, dieting, health, and wellness.
56. adcash
This is a great network for publishers to monetize their web traffic with high-quality ads.
57. earnify
This is a great platform where you can promote your product.
58. Content.ad
Content.ad has a network of over 66,000 approved digital publishers!
59. TradeTracker
This is a great affiliate network where their main goal is to optimize your online revenue.
They have over 5000 merchants and they are partnered with over 1/4 of a million publishers.
Learn more about their platform here.
60. Perform cb
Affiliates have access to thousands of top-performing campaigns.
Top verticals include lifestyle, entertainment, financial, and health and beauty but affiliate partners will have access to many other different verticals within their inventory.
61. Copeac
Publishers can find and launch lucrative direct response CPC, CPL, and CPA campaigns across different media including display, social, search and email
62. Affiliate Future
This is a great affiliate network if you're looking for retailers.
Affiliates can find top targeted offers and ads from the big brands as well as from smaller niche retailers.
63. Paid On results
You can find advanced product feeds, dynamic content, tracking codes, and deep linking possibilities.
64. Bidvertiser
This is a great affiliate network for beginners to get started with.
Simply sign up and grab some banner ads and smart links and add them to your website.
Has a low payment threshold of only $10!
65. RingPartner
Inside of RingPartner, you'll find lead generation offers via calls click send data leads.
66. XY7 Elite
Their tagline is "run by super-affiliates, for super affiliates".
67. Refersion
Refersion is geared more for advertisers that want to manage and track their affiliate promotions.
68. GuruMedia
You will find over 1,500 offers in over 35 verticals. Top offers include weight loss, health, skincare, and CBD oils. You can visit their website here.
69. Paysale
Paysale has a very large amount of offers geared towards matchmaking, dating, travel, and e-commerce.
70. Terra Leads
You'll find unique offers related to beauty, health, diet, Nutra, and adult niches.
71. Marketcall
Has some good pay per call offers.
72. Zeydoo
Zeydoo has push subscriptions, financial and gaming offers among others.
73. Aragon Advertising
Aragon Advertising has some interesting financial offers as well as a variety of other verticals.
74. Smashloud
Smashloud offers some high converting offers.
75. MaxWeb
You'll find top converting offers with high payouts on Maxweb!
76. Rainmaker Network
Affiliates can get exclusive, direct, and in the house offers.
Rainmaker offers ROI ( return on investment) oriented data-driven monetization solutions on display, mobile, native, video, search and email.
77. admin
Ths AdsMain affiliate network has loads of international offers.
78. MyLead
MyLead is a great platform if you want to start earning money via the Internet.
New affiliate sign-ups can get unique free training that will help them to earn money right away!
79. CPARK
Verticals include mobile subscriptions, dating (both adult and mainstream), and sweepstakes.
A lot of affiliates that have joined this network say the conversion rates are great.
They do have very strict standards to get approved.
You must have experience in generating traffic to be approved.
Check out what we received from them on Skype after we signed up:
As you can see from the screenshot below, their requirements are pretty hefty.
Definitely not a good network for newbies to try to apply to.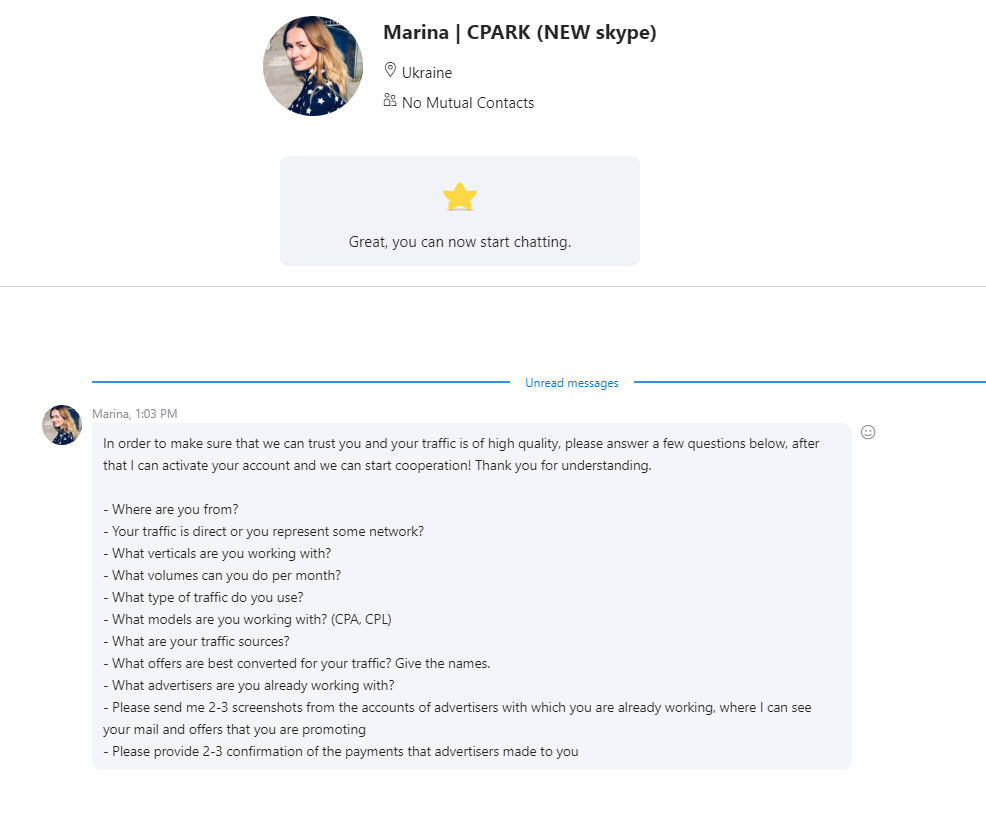 In hindsight, I'm kind of thinking that this network is for affiliate marketers that have a lot of experience in the adult dating vertical.
But don't hold me to that.
In any case, they definitely have strict requirements for newbies.
80. Sling Ads
This is a very reliable affiliate network that has over 1500 offers in over 20 different verticals.
81. CandyOffers
An adult dating affiliate network,
Top European Ad Networks
82. Tradedoubler
This Goliath network is in over 30 markets. Here are just a few. USA, Stockholm, London, Paris, Munich, Berlin, Zurich, Warsaw, Rotterdam, Milan, Madrid, Singapore, Copenhagen, Helsinki, Mougins, Aix-en-Provence.
83. Digital Advisor
This is an up-and-coming Danish company. Markets include Denmark, Argentina, Poland, Spain, Finland, Sweden and Norway.
84. Adtraction
Sweden, Finland, Norway, Poland, Denmark, Spain, Netherlands, Germany, United Kingdom
85. DoubleResults
Estonia, Latvia, Poland, Lithuania, and Denmark.
86. Adservice
This is an extremely trusted will network in Europe.
87. Adrecord
Markets are in Sweeden, Norway, Denmark, and Finland.
88. Adsettings
Sweeden
89. Effiliation
France
90. LeadGid
Offering financial based products in Europe.
Markets include Russia, Finland, Denmark, Spain, Estonia, Lithuania, Poland.
91. Daisycon
Europe
92. Doublenet
Europe
93. Optimise
Europe and Asia. Specializes in travel, utilities and finance
94. Pay4Results
Baltics
95. MatchingVisions
Europe
96. Mometise
UK
97. DoAffiliate.net
Markets include Latvia, Denmark, Russia, Georgia, Mexico, Bulgaria, Poland, Lithuania, Spain among many others.
Affiliate Programs in the Middle East | Asia
98. ArabClicks
Asia