[  Work From Home Jobs NJ   |  53 Ways to Make Money Online   |  Best Businesses to Start   |  How to Start a Blog   ]
[ How to Start in Affiliate Marketing  | Best Affiliate Niches  |  Best Affiliate Networks to Join  |  Affiliate Marketing Myths Debunked ]  [  Starting a Business in NJ (A-Z) ]  [  Best online Courses  ]
Starting a Business | Step by Step Guide 
With a sudden rise in working from home in 2020, many people are becoming more comfortable with creating their own schedules and controlling their workflow.
What if you could do this while also running a business that is completely your own?
The ability to make your own hours, be in control of your income, and (in most cases) work remotely. These are some of the biggest factors that draw individuals into starting their own business.
We know that starting your own business may seem like such a daunting task.
You may be asking yourself questions like Where do I begin? What do I need to know? How will I make a profit?
We've got you covered!
We're here to lay out the entire process for you–from beginning to end. From choosing a business structure down to the annual ongoing requirements.
Included in this free training is everything you need to start a business! This is your personal guide on how to start a business in NJ step by step!
We cover everything that you need to know to get started (and to be wildly successful at doing so).
This guide is geared towards starting a business in NJ, but luckily, the steps can be used to start a business from virtually anywhere in the world.

1. Market Research
Being that this is the first step in starting your new business, you should be aware that it is arguably the most important step.
It is absolutely vital that you take the time to research all of the business ideas you have in mind before jumping into one vertical.
Start by coming up with a list of business ideas that you might be interested in.
Which of your ideas are the most feasible?
Conduct thorough market research for all of your ideas. This will be your benchmark to see if there's a real opportunity for you to turn your business idea into a successful venture.
Some of the things you may want to look out for when selecting your best option include:
Value propositions – What value do I bring to my customers? What problems does my business help them solve? Which needs of theirs am I solving? Will you have a strong enough unique selling proposition?
Key resources – What key resources do my value propositions require? How can we obtain these resources?
Channels – How can I reach my customers?
Cost structure – What would be the most important costs in my business model?
Revenue streams – What would my customers be willing to pay for my product or service? How much are they currently paying for similar products or services? Will I be able to take market share from my competitors?
As part of your market research, it is a great idea to conduct an industry profile analysis.
This requires some research into the background and significant trends within your industry of choice.
A great place to start when conducting industry research is IBISWorld. You'll find all of the industry reports, financial reports, and resources needed to decide whether or not your chosen industry will be profitable.
Find the answers to questions like: How fast is the industry growing? Is the industry profitable? Are there any threats the industry is facing?
Of course, you most likely won't want to enter an industry that doesn't appear to be growing or succeeding. Look out for important factors such as the industry's growth rate, barriers to exit and entry, and key success factors.
Another good way to validate your business idea when doing market research is to see if other people are doing it successfully.
If there is a decent amount of competition and they are all doing well, that is a good sign.
A lot of people think that if there is a lot of competition and the vertical that they are considering too competitive they will be able to get in the door and take a market share but that simply isn't always true.
The best way to combat that is to pick sub-niche niche of that niche or market.
An example would be:
Instead of making an entire pet e-commerce store, it is a better idea to narrow it down into a sub nich like just dog bowls. That's right you could become an industry leader in just selling dog bowls! Or you can do high-end kitty apparel.
Once you have decided on a niche that you are interested in and appears to be feasible, it's time to get to work on a business plan!

2. Have a Sound Business Plan
Every single entrepreneur should write out a business plan, whether formal or informal.
This step is a vital part of the process if you are going to apply for a loan or look for investors. Even if this is not a part of your plan, writing a business plan is still very important.
The purpose of a business plan is to lay the groundwork for each step in making your new business venture a success. If you have a written plan, you are more likely to follow it!
Your business plan should include 12 main points:
a. Executive Summary
The executive summary will include a brief description of your business, the products and/or services offered, and what makes your business unique. You can include some of your strategy ideas, a brief description of your experience as the business owner, and some of the highlights of your financial forecasts.
b. Vision and Mission Statement
Each successful business needs a good vision statement and a good mission statement.
So what is the difference between the two?
A mission statement should clearly define the main objectives, the type of product or service offered, and your company's core values.
A vision statement aims to show where your company will be in the future and the impact it will make on the world.
For example, the mission and vision statement for the incredible online shopping platform Amazon are as follows:
Mission Statement: We strive to offer our customers the lowest possible prices, the best available selection, and the utmost convenience.
Vision Statement: To be Earth's most customer-centric company, where customers can find and discover anything they might want to be online.
Taking the time to think of a great vision and mission statement will help to give your business a purpose that you can work towards, and also tells your customers why they can trust you.
c. Products and Services
List all of your products and services offered, as well as how they benefit your customer.
Come up with your USP, or unique selling proposition. This will be the key point that sets your business apart from all of the competition. Your USP is what will create a bond between you and your customer.
d. Industry Overview
This is where you will include any research you have conducted in part one of our guide (Market Research). Be sure to include the trends and background you have gathered, including growth rates and key success factors.
e. Management Team
Even if you are going to be the only person working for your new business, it is a great idea to include an outline of your experiences and what you will really bring to the table.
You can also lay out plans for a potential future management team in this part of your business plan. It will be helpful to have these details set up further down the road!
f. Plan of Operation
In this section, you'll include the structure of ownership that you choose for your business (more on this later in part 6 of our guide – "Choosing a Business Structure") and future plans you have for staffing.
g. Competitor Analysis
For the competitor analysis, you will want to look into some of your biggest competitors. This includes direct competitors offering the same products and services as you, as well as indirect competitors offering similar products.
h. Business Strategy
In the Business Strategy section, you'll want to clearly outline your goals and objectives.
This is a good spot in your business plan to add in a SWOT analysis, which will define your business's strengths, weaknesses, opportunities, and threats.
i. Marketing Strategy
If you know anything at all about business, you probably know how important marketing is to your overall success.
You will have to take the time to drill down on your target market. This includes the problem you are solving for your customers, their demographic profile, and what their motivation to buy is.
Dive deep into what kind of advertising and promotion you want to do for your business.
If you're not experienced with marketing or ways to promote your business, have no fear! We will go completely in-depth with marketing later in this guide.
j. Location and Layout
Will you have a physical location for your business or an office? This step in the business plan is only really necessary if you plan to work anywhere other than home.
k. Financial Forecasts
The general rule of thumb when writing a business plan is to go three years into the future when forecasting financial statements.
In this section, you will want to include some of your financial assumptions. How much do you plan to make in the first year? What will your annual costs associated with running the business be?
l. Proposal for Loan or Investment
After you have business plan.
This brings us into our next topic… start-up capital!

3. Start-Up Capital
Now that we have explored the business plan and the purpose for writing one, you should have a better idea about what it may take to gather start-up capital.
By taking the time to come up with a strong business plan, you will have a good idea of how much money you will need to get your business going.
Make sure you are very realistic at this point.
Funding your new business will be the first financial step you'll take as a business owner.
Do you have enough money to get started or will you need to borrow money?
Do you know how to get the startup capital that you need?
A good benchmark when planning for the financial aspects of your business is to look about 3 years into the future. How will both cost and revenue streams change during this 3-year time period?
You need to have a good idea of how the need for finances may change in the future.
If you don't have money saved up yourself to fund your business, do not worry. There are many different ways to raise capital for your startup.
When the time comes to begin raising money for your business, there are a few different options to take on.
It is important that you take the time to look into each option and choose what works best for you as an entrepreneur.
Some of the ways to raise start-up capital include:
Small business loans
line of credit
Angel investors
Venture capitalists
Friends and family
Crowdfunding
Business credit cards
Self-funding
credit cards
Raising your start-up capital definitely will not be easy.
It can be very difficult to raise capital for a business that is not even formed or making a profit yet.
Venture Capitalists and Angel Investors
In the case of venture capitalists and angel investors, normally the investors involved will request some form of equity in the company. This might mean partial ownership or a seat on the board of directors.
The good part about this is that in most cases, obtaining money through a venture capitalist means that you will not be putting yourself or your business into debt.
However, it can be tough to find an investor who wants to invest in a brand new company. It becomes a little bit easier once you have a business that is producing a profit and shows the opportunity for growth.
Small Business Loans
Similar to what we mentioned about venture capitalists looking for businesses that are making a profit and quickly growing, banks are more likely to give out loans with more favorable terms to businesses that are already doing well.
You should plan to present your business plan, as well as forecasted financial sheets going three to five years in the future.
If you are able to layout a clear road map to success to the banks and credit unions, you are more likely to be offered a loan with a lower interest rate.
Crowdfunding
Crowdfunding involves creating a great pitch for your product or service and getting the public excited about it.
This method works particularly well for those who have a great story to tell about their product and their business.
Crowdfunding is one of the lowest risk ways to raise start-up capital, as it does not put your company into debt in any way–even if your business completely fails.
Unlike venture capitalists, corwdfunders are not considered investors as they will not receive any equity in return for their money.
If you are thinking of trying out the crowdfunding route, it is a good idea to come up with a way to thank your crowdfunders.
A nice way of doing so is to send them a gift or create a special moment for them.
Be creative with this, it does not always have to be something physical or expensive.
Remember that, while you do not actually owe your crowdfunders anything, they believed in and supported your business before it was even created so you should still aim to make them feel special!
Self-funding, Friends & Family, and Business Credit Cards
Self-funding, or bootstrapping, is one of the more obvious ways of raising capital for your start-up business.
The concept of self-funding includes not only using your own money that you have saved up, but could also include asking friends and/or family for some of theirs.
If you do not have much money saved up, you may consider taking some of the funds out of your 401k plans or signing up for a business credit card.
Because in this case all of the capital is coming from you or your loved ones, you are able to do whatever you want with it.
However, you should be aware that this means you are putting yourself at a lot of financial risk.
If you are borrowing large amounts of cash from yourself or your family members, you have to consider the consequences if you do not make any of it back.
When borrowing from your 401k retirement plan, you may have to face fees or penalties, so it is important to check with your plan's administrator before you make any big decisions.

4. Decide on Business Location
Having a Physical Brick and Mortar
If you plan to open a business that you cannot run from your home, you will need to come up with a location for your brick and mortar.
If you are in need of a physical location, then you'll have to use your due diligence and search your local cities and townships for rental property.
When searching for a location, you want to consider any factors that may make one location more favorable than another.
Is there a need for your product or service in the geo-targeted area that you're choosing?
Is there enough foot traffic in the location you are choosing? Is foot traffic important to your business?
Are there large businesses nearby that can drive traffic your way?
Does it cost more to open my business over another? Is that difference in cost worth it?
Starting an Online Business
Starting an online business is a great option because this means you will likely be able to work right from home.
Working from home will save you a lot of extra cash that you would be spending on rent, although you may want to think about other areas where costs can rise.
If you don't have fast internet service at home, this is an area you may want to put in a little bit more money to ensure your work from home experience is more seamless.
Will you need a business phone number of will you use your cell phone in the beginning? If you don't already have a spare phone that can be used for business-only calls, this is another investment that you may want to make.
These factors, of course, depend heavily on the type of business you will be running. For most online business opportunities, your cell phone will be perfectly fine for making business calls.
It's a great idea to invest in your very own local or toll-free vanity phone number if you are going to get your own business number. Having a phone number that your customers recognize and remember is a very important step in gaining the trust of your customers!
If you are starting an online business, you'll want to make sure to check if there are any licensing or legal requirements you need to abide by in your state. We will cover that specifically later on in this guide for New Jersey.
If you are starting an online e-commerce store, or any service really, it's important to choose the correct state to form your business structure.
You can have your business entity formed in a state that is not your own.
There are different registration requirements, different tax advantages, and different personal liabilities in different states.
We will cover that in-depth in the next section.

5. Choosing a Business Name
This one is very important! Your business's name will be the very first impression that customers get.
When trying to come up with a name, you'll want to try to capture the overall essence of your business. It should also be something that is either catchy or memorable.
Think of all of the businesses that you love. What kinds of business names really stick out to you?
Do you know how Nike got its name? Nike is actually the Greek goddess of victory, which is what makes it such an awesome name for a sportswear brand!
Some names, like Nike, are more abstract, meaning they are real or made-up words that do not directly indicate what a company is selling. A company name like Apple does not directly tell customers what the company is selling. Without knowing, you may think the company sells apples or fruits instead of computers and phone!
By "made-up" words, we mean names like Google, Pepsi, Hulu, or Sony. These words did not mean anything to us before they were the names of huge companies.
If you are creative enough to make up your own word to use as a company name, you might be able to think of something that really sticks. As long as it is memorable and not too difficult to spell!

5b. Registering a Domain Name
When it comes to actually reaching your potential customers, you're going to need a solid domain name and website. We will cover more on the website later in this guide.
An important part of coming up with a name for your business is finding and registering your domain name.
This will be your website address, which is the way customers will find you online.
Your domain name doesn't always have to completely match your business name, but it is usually better if it does.
The brand new, popular toothbrush company, quip, uses the domain name getquip.com rather than just quip.com. This can be kind of confusing to customers, as Quip.com exists, but seems to belong to a different company.
Before deciding on your business name, you may want to check to see what domain names are available. Just like you can't use a phone number that someone else already has, you can't use a domain name that someone else already owns.
Regardless of whether you want your domain name to be your business name or not, it is important that you think about how easy the domain you choose is to access and remember.
You will want to consider some of the following factors:
The shorter, the better! Usually, the shorter your domain name is, the easier it will be for visitors to remember.
Keep it simple. Uncommon or made-up words can be difficult to remember. If you do choose to use a made-up word, do not make it too complicated.
Build your brand. Try to keep it as close to your business name as possible. Ideally, your domain name will be your business name. This will help a lot in building your brand, not only with your customers but also with Google!
Use keywords. Including keywords in both your brand name and your domain name could really help you to rank better on Google. For example, our site name is FunNewJersey.com and we are a directory of fun things to do in New Jersey. Our domain name includes two of our most crucial keywords, "Fun" and "New Jersey".
Try out some other TLDs. A TLD (top-level domain) is the ending to your domain name. The most popular one is .com, but you've probably also heard of .net, .org, .gov, and more. Some TLDs are reserved for specific types of sites. For example, .gov is used for government organizations and .edu is used for educational organizations.
The use of newer and more creative TLDs has been growing. There are now over 1,000 TLDs to choose from when picking out your domain name. Go with something short or trendy like .io, .room, .pro, or .biz, or choose something more related to your business like .photo, .food, .financial, or .social.
Don't overthink it. Your new domain name does not have to be perfect. It's becoming harder and harder to find a "perfect" domain name everyday, as new names are taken by others every second of the day. If you put all of your energy into building your brand and business, having the "perfect" domain name won't really matter.
Some things you may want to avoid when coming up with your domain name include:
Spelling errors. This is one you definitely want to avoid! Before purchasing your domain name, check, double check, and triple check that everything is spelled correctly. Beside the obvious reasons for wanting to avoid spelling errors, a domain name with misspelled words also appears to be less credible to Google.
Numbers or special characters (dashes). Numbers and dashes are great for trying to come up with an Instagram name that isn't taken, but they won't work well for your website domain. These can be difficult to remember, easily mistyped, or accidentally left out all together.
Names of other brands. For example, don't use the word 'Google' as part of your brand name. In theory, one might believe that using the brand name of another company in their domain will make their business more memorable. This, however, can get you into a lot of legal trouble. Stay as far away from other brand names and trademarks as possible. It's not worth it!
Words or phrases that can be spelled different ways, or words that might sound like other words. Using words that have different meanings and spellings (like to, too, and two) can be very confusing. An issue we commonly have with our domain name lies in both the spelled out vs. abbreviated state name and the way that is sounds when spoken. Many of our customers try typing in FunNJ.com when looking for us and when the domain is spoken out loud, it is often misheard as another variation such as FundNewJersey.com.
6. Choosing a Business Structure
When starting a business, choosing a business structure is definitely one of the most important steps, especially when it comes to taxes and legal issues. The structure you choose will influence the way that day-to-day operations are run, as well as the liability you may carry as the owner of the business.
There are essentially four primary business structures to choose from: sole proprietorship, partnership, limited liability corporation (LLC), or a corporation.
Sole Proprietorship
Sole proprietorships are by far the easiest businesses to form. They do, however, come with a lot of liability.
When your business is a sole proprietorship, it is not its own separate entity. All of your business's assets and liabilities are also your own personal assets and liabilities.
This is a very high-risk business structure option, so you should not choose this unless you believe your business will be low-risk.
Partnership
If you're planning to start your business with one or more partner(s), a partnership may be the way to go. Similar to a sole proprietorship, it is relatively simple to set up a partnership.

In terms of liability, there are two common types of partnership, and the liability each partner has is subject to which kind is used.

Limited Partnerships
In limited partnerships, only one partner will take on unlimited liability. All other partners involved in this partnership have limited liability. The partner with unlimited liability generally has much more control over the business.
Limited Liability Partnerships
In a limited liability partnership, all partners have limited liability. This type of partnership is commonly referred to as an LLP. Because all partners have limited liability, all are protected from debts that may arise as well as the actions of other partners.

One important factor to take into consideration when creating a partnership is that in most cases, one partner cannot leave without the dissolving the entire partnership.
Limited Liability Corporation
A limited liability corporation is a kind of hybrid between a partnership and a corporation. Partners' personal assets are protected, such as cars and houses.
With an LLC, your business's profits and losses will not be subject to corporate taxes, but all members of the LLC are required to pay self-employment taxes as they are considered self-employed.
If your business of choice is considered medium or high risk, an LLC may be a great option for you.
Corporation
A corporation is a completely separate legal entity from its owners. This makes it great for businesses that are high risk as it offers the most protection to the business owner. However, the cost to set up a corporation is higher than the other business structures we've mentioned.
There are a few different options when it comes to corporations.
Publicly Held and Closely Held Corporations
A corporation can be either publicly held or closely held. A publicly held corporation has a large number of shareholders and stock traded through one of the large exchanges. A closely held corporation has shares that are only held by a small number of people–usually family members or friends.
C Corporation
A C Corp is the traditional form of corporation. The company pays taxes at a corporate tax rate. Stockholders also pay taxes on the dividends that they receive.
Corporations are completely separate entities from their shareholders, so if one wishes to leave they can do so while the corporation continues business as usual.
C Corps are subject to double taxation, which means that the corporation's profits are taxed twice–once at the corporate rate and again at the individual rate on the profits that shareholders receive as dividends.
S Corporation
From a legal point of view, the S Corp is the same as any other type of corporation. However, it avoids being subject to double taxation as it is taxed like a partnership.
All of the profits and losses of an S Corp are passed through to shareholders.
Keep in mind there are limits to the type and amount of people who can serve as shareholders.
B Corporation
A B Corp is more commonly known as a benefit corporation. These are not recognized in every state, so make sure if you choose this type of corporation that the rules apply in your state.
These are for-profit corporations that are held accountable by shareholders. The idea is that they are supposed to provide a public benefit while also making a profit.
Nonprofit Corporation
Finally, there are of course also nonprofit corporations. They generally work to benefit the public and can receive an exemption from taxes. If you are planning to start a nonprofit corporation, you must file with the IRS as so.
inc. Authority is an affordable solution to set up your business entity because it is free.
You only pay for the required state fees.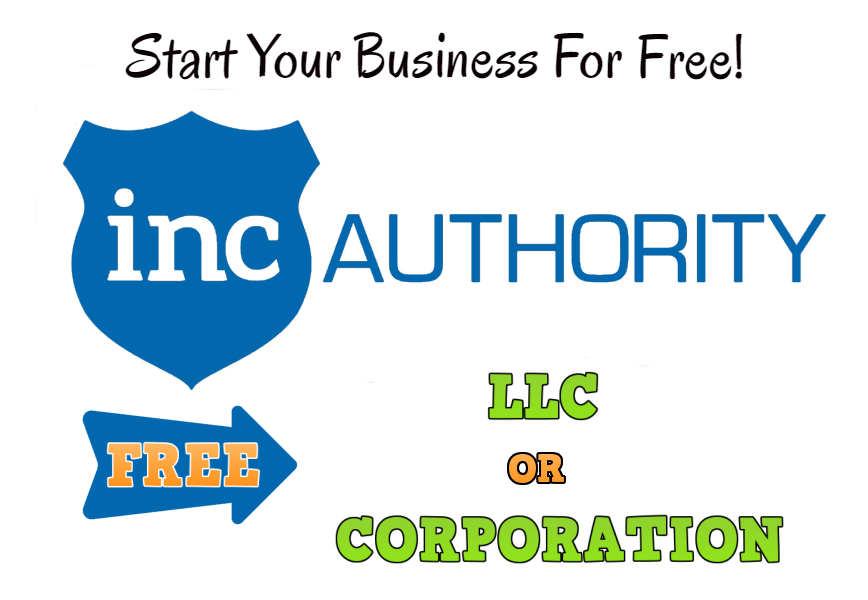 After you set up your business entity in New Jersey (or any state), you just need to get your Federal State and tax ID number.
Inc Authority charges a small fee to do this for you or you can do it on your own.
More information is below in step 7.

7. Register Your Business & Get Your federal and state tax ID numbers (EIN)
You will need to get an EIN number for your new business. EIN stands for "Employer Identification Number", and this is also known as your federal tax identification number.
This is how your business is identified by the government for tax reasons.
You can set up your entity on IRS.gov.
However, this can be a confusing task; especially for those who are not familiar with the process.
We highly recommend setting up your EIN with inc. Authority, as they will take you through the process from start to finish.
The best part is that inc. Authority is completely free. You will only pay your state's required fees!
Registering your business simply means to set up your business as the business structure you chose in Step 6.
There are many places online that will register your business for you.

8. Check to See if you Need any Licenses Bonds or Permits
Another step that goes hand in hand with steps #6, 7, and 8 is checking to see if your state has any special legal requirements for licenses.
Do your research and check for the following:
Special licenses
Any bonds that might be needed
Permits (Operating permits)
Certifications
State and Civic taxes
Liability insurance
Depending on what type of business you are going to be starting, there may be laws in your state or country associated with how your business runs.
The product or service you sell may have restrictions, and it is important to check to see if any of these will affect your business.

9. Set up a Bank Account
Now comes the part you've been waiting for… setting up the bank account for your new business! It's really starting to feel real now, isn't it?
You will need to open a new bank account for your LLC or corporation.
Check with your local banks to see if they are running any offers for new business accounts.
You may choose to work with a bank that you already have a relationship with, but there are usually some great offers out there for new business owners.
If you need start-up capital and plan to use credit as a means of raising it, you will also want to ask your bank if there are any business credit lines that you may be eligible for.
Depending on if you have already established credit with other business accounts, the banks will choose to look at your previous business credit profile or your personal credit profile.

10. Open a Merchant Processing Account
On the other side of setting up your bank account, you will need a merchant processing account.
This will be how you collect sales from your customers.
Whether or not your business will be run completely online, you need to consider how you will accept transactions on credit cards.
It's a good idea to shop around for the best credit card processing rates, as you can make a lot more money for your sales if you are able to simply save on fees.
Many new business owners use PayPal as a way to collect credit cards. With a PayPal business account, you will receive access to the PayPal Virtual Terminal. This makes processing credit card payments simple.

11. Consider Getting a Customer Relationship Management Software
Once you begin to create a list of potential customers, or you start to make sales, you will need a way to keep track of those who have taken an interest in your business.
Customer relationship management (CRM) software is extremely important and it becomes even more important as your business grows.
The good news is you do not have to spend an absurd amount of money for good software.
There are endless amounts of CRMs available online. Many are free altogether, and those that are not free generally offer a lengthy free-trial period.
We recommend starting with a free CRM and seeing how it works for you. The business you decide to start will likely need specific features. They are out there! Sometimes it takes some trial and error with different software companies to find all of the features you need.

12. Ongoing Training 
Here is one of the most important secret ingredients in running a successful business: you want to become an expert in your field and use this expertise to stand out among your competition.
Ongoing training is important not only for any employees that you may decide to bring on board, but also for you!
Invest your time in researching and learning all there is to know about your industry and your product. Do this before you start your business AND for the entire duration of your business's life.
You want to always be on top of any news related to your industry. Read books, news articles, and scholarly journals. Follow accounts related to your industry on Facebook, Instagram, and Twitter. Reach out to others in your industry on LinkedIn. This is how you become an expert, after all!

13. Getting You Business Ready for Opening
In these next few steps, we are going to talk about some of the main things you need to think about when getting your business off the ground.
We will touch on marketing and other important aspects of your opening.
These steps are going to be quite interchangeable most of the time. You do not need to follow them in order and should move between steps depending on what kind of business you are running and what your business's needs are.
Now that you are in charge of your very own business entity, it will be up to you to call the shots on what needs to happen at every stage.
Running a business is certainly not easy! We never said it would be. Take it day by day, but also create short-term and long-term goals that you hope to meet. This will help you to stay on track regardless of any obstacles that may present themselves.

14. Building a Website That Sells
Even If your business is not going to be an online-based business, having a strong online presence is very important.
You will definitely want to create a website with a gorgeous design, that easily sells the product or service you are offering.
A good idea is to check out other websites you like. Look through some of the sites that are also within your industry, as well as any other site designs that catch your eye.
It really comes down to what works for you and your business. As a business owner, it's your call to decide what the design should look like.
At this stage, you can hire a website developer to build your site for you or you can sign up for a site like Wix or WordPress in which you can build your site yourself using pre-made templates.
In our opinion, spending the extra dollars on hiring a web developer to help you brainstorm and fully customize your site is worth it, as it will save you the headache of trying to learn a new software and you will likely end up with a gorgeous finished project.
Building a nice website costs money, but it is so worth it. Your online presence will determine how your customer sees you and thinks of your business.

15. Hosting Your Website
Once you have your website design in mind, you will need to sign up for hosting for your new site.
Think of hosting as a company that puts your website on their server so that it can be accessed and displayed across the world.
Your hosting company will be your provider, and it is generally paid for in monthly fees.
The price of hosting depends on the size of your website. Hosting can be as cheap as $3.99 a month and can go up to several hundred dollars per month.
Because you are just starting, you will likely only need the smallest plan offered by your hosting company.
Many times, the registrar you purchase your domain name from (in Step 5b) will also offer hosting services for your website. If this is the case, the process will usually be a lot simpler.
However, if you are looking to save money it may be in your best interest to shop around for the best hosting services for your budget.
The most popular hosting company is Bluehost as they are affordable at $3.95 per month and they give you a free domain and a free SSL certificate so your site is secure and ready for taking payments.
16. Getting a Phone Number & Email Address For Your Business
Communication with your customers is very important. It is a good idea to allow for as many ways to communicate as possible.
Aside from the obvious of creating an email address for your business, we also highly recommend setting up a business phone number.
Using a branded email address is important for communicating with your customers. This means that it should include your domain name, not @gmail.com, @hotmail.com, or @yahoo.com.
Giving out your personal phone number to customers is fine when your business is beginning, but in the long run, it will appear much more professional if you are able to provide a business phone number.
One of the most important parts of setting up your phone number is having a business voicemail.
An awesome and extremely affordable online service for this is Nextiva. The plans start at $20 a month and include call attendants, recorded greetings, holding music, call recording, and more!

17. Hiring and Training Employees
Having well-trained employees is a crucial piece in any successful business.
The hiring and training process can be quite arduous.
Sites like LinkedIn and Indeed can be very helpful in finding prospective employees.
Once you've hired an employee or put together a team, it's time to focus on training them.
A great way to approach managing your new team is to create both training and performance goals for your employees.
This will keep you and them on the same page in terms of how they are doing.
The types of training that you want to offer for your employees may vary based on the industry you are in. However, some basic areas of focus are as follows:
Phone etiquette. You want to make sure your employees are communicating professionalism to your customers. It may be a good idea to set up a script for your employees to follow when speaking to customers on the phone.
Email etiquette. Similar to phone communication, there is also a right and a wrong way to write an email. You may want to provide your employees with some pre-written email templates to use in the beginning.
Software training. You will need to train your employees on how to use any software they might be using to complete their job (such as the customer relationship management software we mentioned in Step 11).
Knowledge of the industry. Just as you want to be an expert in your field, you want your employees to be experts as well. This is a key component in having a successful business. They should be interested in the product or service and conduct thorough research in your industry, especially if they are doing sales.

18. Sales Training
In order to run a successful business, you must be able to do sales.
If the sales department is not for you, you can always hire an employee who will do sales for you. However, your knowledge of sales should also be extensive.
When it comes to sales, knowledge is the most important ingredient.
If you know your product or service well and are an expert in your field, you will have a much easier time selling it.
If sales do not come easily to you, we recommend reading some books, watching videos, or listening to podcasts about sales techniques.
With some good techniques to keep in your back pocket and vast knowledge of your product, you are sure to become more comfortable with selling.
Remember: sales training (like the other training we mentioned in Steps 12 and 17) is ongoing! You should always be training in these areas, as strengthening your knowledge will only strengthen your business.

19. Marketing Your Business
When you created your business plan in Step 2, you probably touched on some of the marketing ideas that you have for your business.
Now is the time to dive deep into these marketing plans and really put them into action.
If you are not already familiar with digital marketing, it is a good idea that you do some research. We will go further into detail of some digital marketing tactics in Steps 20 and 21 (SEO and Running Ads).
Without doing any marketing, your business will not be found by customers. You should aim to market your business even more than your competitors do.
The key here is that the more you put in, the more you will get out of it!

20. SEO
Search engine marketing, or SEO, refers to optimizing your content and your website so that it is visible and ranks well on search engines.
In order to examine your own success with SEO, you need to have an idea of what keywords you are trying to rank for.
Ideally, you will rank in the top 3 first results when the keyword is searched on Google.
There are two types of SEO to be aware of:
On-page SEO. This deals with technical SEO and the content that is on your own website.

Did you write meta tags? Is the length correct?
Do your pages have proper headings?
Does your content contain quality, optimized images with alt tags?
Do you have any broken links?

Off-page SEO. This deals with getting backlinks to your site from other related websites.

Have you written great content that you can share socially?
Have you promoted your content by doing outreach to other site owners, influencers, and bloggers?
The key to SEO is that the more quality sites link to your blog, the more Google will trust you.
Therefore, if you are able to get a lot of quality backlinks for your amazing content, you will show up higher in the search results!
If you are not well versed at marketing or SCO, fear not!
You can outsource it very inexpensively.
Just put the keyword of what you're looking for in the box below you will find virtual assistants that you can choose from.
Read their skills and their reviews to vette the prospects.

21. Running Ads 
Running paid ads for your business is not absolutely necessary, but we do recommend it to all businesses.
If you spend money and write great ads, you may not see sales immediately but you will gain instant traffic.
We understand spending money on ads may not be in your budget at the beginning, but you should try to at least test the waters with paid advertising by running small campaigns.

22. Getting a Payroll Company
Getting a great payroll company is a good idea even if you do not plan to have any employees and only need to pay yourself.
There are a lot of payroll companies out there that only charge a small fee.
It's totally worth it to save the headache that comes with keeping track of and paying taxes at the end of the year.

23. Bookkeeping
Remember, running your new business is going to be a lot of work and you will have many tasks on your plate at one time.
Adding bookkeeping to your list of to-dos may be overdoing it.
However, it still needs to be done as bookkeeping is very important for any business when it comes to taxes and accounting.
If you have any prior experience in bookkeeping or think you will be able to stay organized and keep everything in line, we say "go for it!" regarding doing your own bookkeeping.
If not, you can hire a bookkeeper to keep all of your accounting up to date throughout the year.
Most bookkeepers can do your books quarterly for you so that they're ready at tax time for your account.

24. Accounting
For businesses set up as LLCs or corporations, we recommend hiring a certified accountant for your business.
Even if you do not make much revenue for the first year, you will receive protections and legal advantages for hiring a CPA to do your accounting.
25. Insurance
Business insurance is not always needed but is sometimes required.
It just makes good common sense to have some sort of liability insurance for protection.
If you have a physical location or office, you can check with your landlord to see if you have any protection.
You could check with your state or your local insurance agency to see if insurance is needed or not.
If you have a physical location or office
If you have employees, and you have a business entity, you are required to provide workers compensation insurance to anyone that works for you.
If you are sole proprietor, generally speaking, you probably would not need workers compensation. But check with your state, county or accountant to make sure.