Everything You Need to Know About Hiring Your Very Own Private Jet Rental (With Villiers Jets) to Almost Anywhere in the World!
Posted on January 16, 2023
By

Sabrina Regina

576 Views
Let's make something really fun, exciting, and unforgettable happen.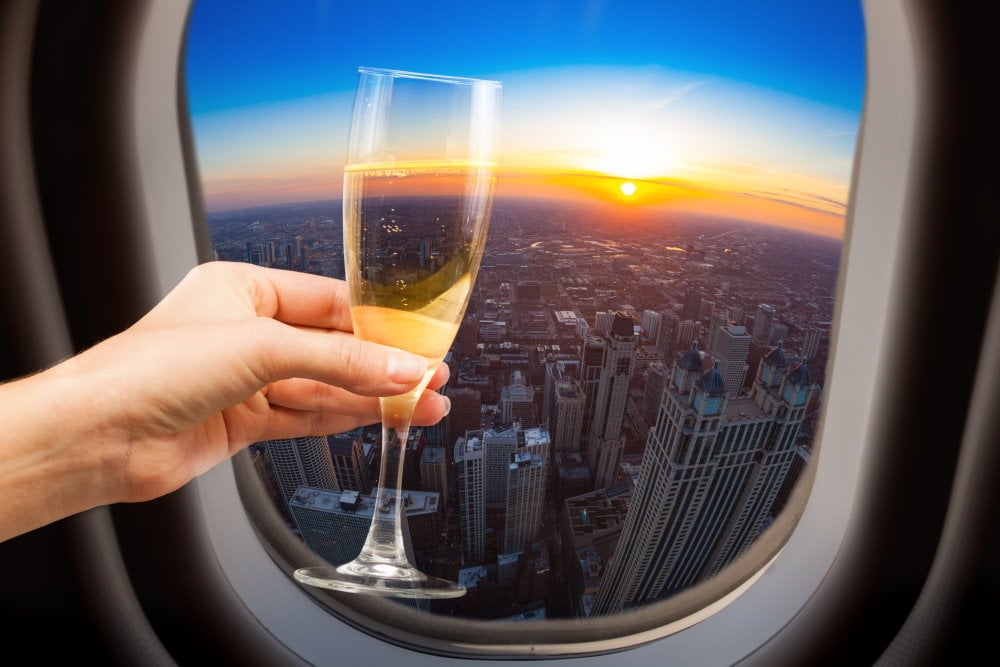 Take a Trip on a Private Jet Charter!
Villiers has an astounding network of over 10,000 private aircraft, that are able to fly to over 40,000 worldwide destinations.
There also one of the lowest-priced private jet charter companies in the world.
Here is Why Hiring a Private Jet With Villiers Can Be Once in A Lifetime Experience When Traveling | Our Honest Review
If you are a businessman or someone who has flown privately before, you can search and book flights right now.
If you have never hired a private jet rental, let's plan a once-in-a-lifetime experience together!
If you want to spoil yourself, your family, or your loved one, you should consider booking your vacation, weekend jaunt, or excursion with your own private jet charter. If you do, it will surely create an unbounded lifetime memory and ultimate experience of luxury like no other!
It's time to treat yourself!
Taking a private jet is unlike commercial travel. There are no long wait times lines to wait in. You simply arrive at the airport and you get on your jet.
THIE PRIVATE VIP TERMINALS AND UNPARALLELED FLEXIBILITY WILL SAVE YOU HOURS
Villiers Jets provides the highest level of service, security, and overall total flexibility on jet charters.
They are one of the biggest jet charter services in the world.
Who is Villiers Jets?
Villiers Jets is a London-based luxury private jet charter service that was established in 2013. They offer both private VIP flight options as well as shared private flight options.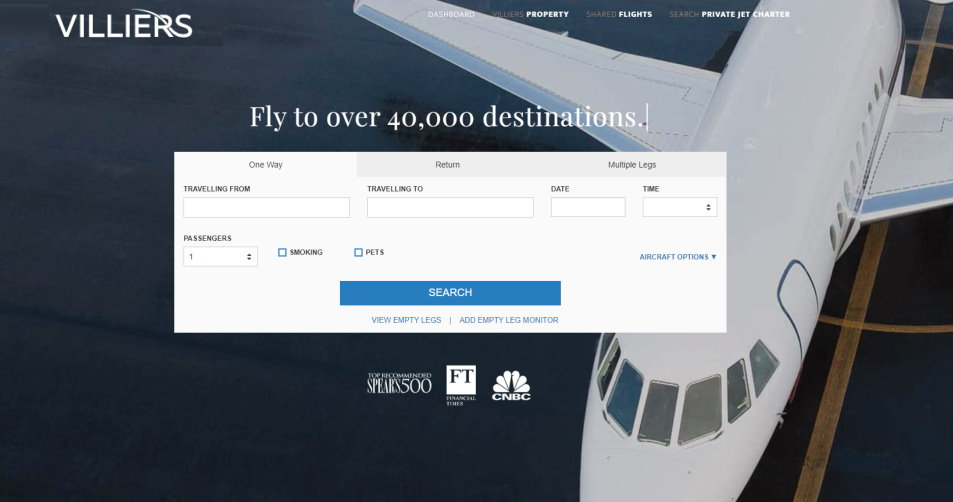 The company accesses over 40,000 destinations worldwide. The company also has access to a huge network of over 10,000 aircraft.
They have a certified team that takes care of and safety of jets.
Although they don't actually own the aircraft, Villiers Jets has a strong team of 150+ aviation professionals on hand.
You, their customer takes top priority to Villiers Jets. Their impeccable customer service is second to none in the industry.
It's Super Easy to Search and Book Private Jets
You can book your flight directly online.
You get to choose if you want to book a one-way or a round-trip flight.
Simply enter your starting point airport that you want to depart from and then mention where you are traveling to.
You then add the date, the time that you would like to depart, the number of passengers, and whether or not you bringing pets on the trip. You can also choose an option for smoking.
You can then choose your aircraft type which ranges from large propeller Jets, super-midsize Jets, or light jets like the Citation Mustang, Learjert45, or a Hawker 400XP.
The next step is to look at the charter flight prices. You then choose the flight that you want and lastly make payment.
Fly in Luxury in Your Own Spacious Private Jet
All of the Jets are fully equipped with the top amenities so you know you will be Shirley flying in comfort.
You will also fully enjoy your privacy.
If you ever book a private jet again, you can charter your private text with your own exclusive phone number to your own exclusive agent.
Your dedicated agent will take care of everything for you. It's like having your own concierge.
Actually, their concierge team is open 24/7
Available Aircraft: Here are Some of The Types of Aircraft That You Can Charter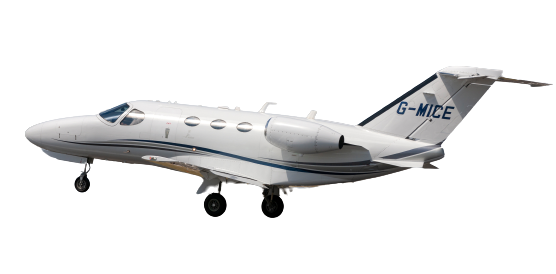 Light Jets
Light private jets are perfect for families and business travelers alike. Most light jets hold up to 6 passengers.
Available light private jets
Premier 1A, Beechjet 400A. Cessna Citation Mustang (Pictured here. This is a very light jet), Hawker 400 XP, Falcon 100 (A light6 passenger twin turbo)
Mid-Sized Jets
Mid-sized jets are better suited for longer flights than light jets. Most mid-size private jets can hold 8 passengers and can take flights up to 7 hours in duration. You'll also be able to take advantage of the ability to bring more luggage
Some available mid-size jets
Cessna Citation X, Hawker 4000,  Hawker 800XP, Challenger 300, Falcon 50, Falcon 200x, Learjet 45, Learjet 60
Heavy Jets
Heavy Jets can usually take on up to 10-14 passengers. These large private jets can fly up to 9 hours. These are great options if you want to enjoy more space and the luxury that they offer.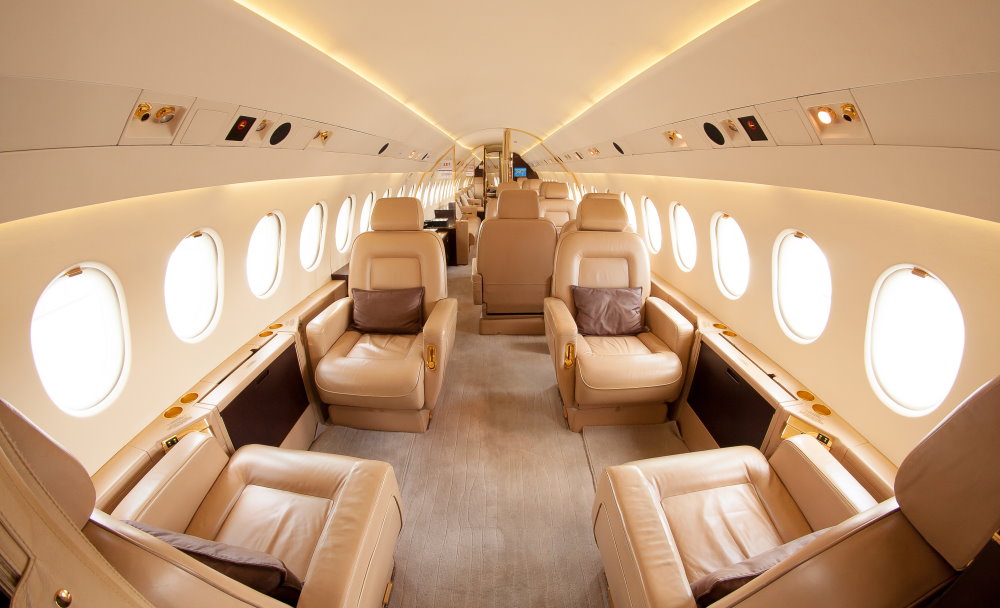 Listed beloe are a few of the heavy jets that are available for your private charter
Gulfstream IV-SP, Global Express, Falcon 2000, Legacy 600
Long Range Jets
Some long-range jets can fly at Mach .9 and can cruise a 7,500 nautical mile range. Flight times of course depend on the jet that you choose and the speed it can go but with a long-range jet can get from New York City to London in about 6-7 hours.
Challenger 604, Global 5000, Gulfstream V, Falcon 7X
Search Every Private Jet Worldwide
Flight Ideas
New York City Miami in style!
Benefits of taking a Private Jet Charter (With Villiers)
You'll get to your destination much quicker.
You can get in the air as little as 2 hours after booking your jet. They have the fastest turnaround time in the industry.
It is much more convenient than commercial flights.
You can book your flight whenever you want for any day and at any time
You don't have to wait at the airport. When you arrive your jet is there waiting for you.
You don't have to worry about delayed flights or having to make connections on flights.
You don't have to worry about security.
You have the advantage of your own privacy. You'll have serenity if you are in your own private jet.
You can have a drink (or 2) and eat dinner in luxury.
The luxury and comfort alone are very big advantages for your trip.
You will have a memory of a lifetime. It's an experience that you can revel in for a long time with your family, friends, or loved ones.
You will be able to knock it off your bucket list.
You'll get competitive pricing with Villiers.
Trips are available in over 30 countries.
Around-the-clock customer service.
You can become a member after just one flight. You can earn reward points to help you get discounts on future flights.
Here is Some Secret Sauce | Try to Find Empty Leg Charters
To get a more affordable (Cheap) jet charter you can try to book an empty-leg charter.
This is when a jet has to go somewhere but has no passengers.
You can sometimes get up to 50% to 75% off a private charter. Sometimes the prices are negotiable as well.
Luckily Villiers Jets has the option to search for empty-leg flights!
Just note that most of these opportunities will be posted last minute but if you are flexible if you check for empty leg flights often you can get lucky!
What is the Cost Of A Private Jet Charter?
Prices of course vary depending on the jet and trip. Prices can range typically from $2,000 to $20,000.