Tie Dye Town Throws the Best Party in NJ!
Posted on January 16, 2023
By

Ray Gallagher

497 Views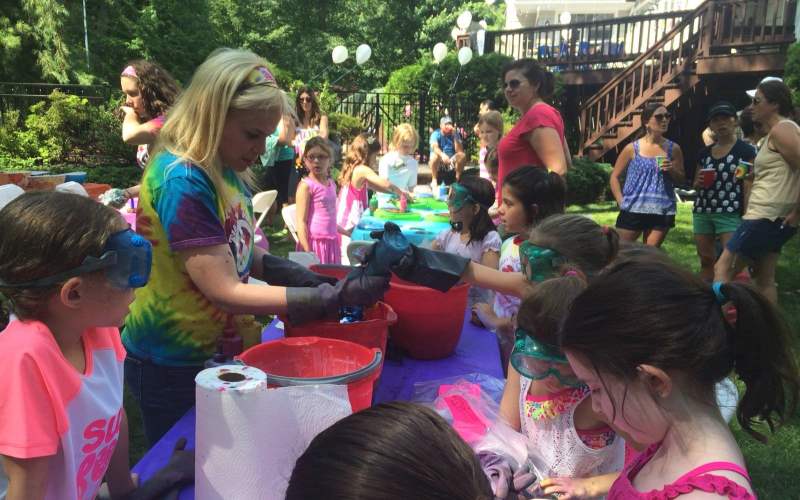 Where can you go for the "World's Greatest Party?" Tie Dye Town is the most unique place to party in Northern NJ. Kids love to create and get messy, so why not throw a party that allows them to do both? Tie Dye Town provides the fun and cleans up the mess!
Looking for something different to do at your child's next birthday party, bar or bat mitzvah or special event? Tie Dye Town offers something unlike the rest! Your guests will have a blast rotating through all of the different arts and crafts from designing their own tie dye t-shirt or article of clothing to take home with them, painting on their wall mural, making colorful spin art pictures, creating peace sign stencils and getting to dress up in their fun seventies costumes.
Choose from a variety of items to tie dye, as well as Cool Creative add-on's for each party, such as glitter tattoos, tie dye party favors and design-your-own cupcakes! Tie dye a t-shirt, sweatshirt, backpack, hat, shoelaces- even tie dye your sneakers! They will even design and print your own logo for special events.
Calling all boys! Tie Dye Town is not just for girls. They also offer tie dye parties with all the awesome stuff that boys love, such as LEGO Ninjago, Pokeman, dinosaurs and all your favorite action-packed sports. Kids who love to get extra messy will want to check out the World's Greatest Tie Dye & Tie Dye Slime Birthday. Roll up your sleeves and dive right into Tie Dye Town's gooey, goopy slippery slime.
If your child is having their bar or bat mitzvah, celebrate this milestone day with an interactive activity. Guests can design and take home a custom tie dye creation. Tie Dye Town can even print your child's name and date of the bar/bat mitzvah on your choice of clothing. There's no better way to commemorate this special event in your child's life.
Tie Dye Town is perfect for all ages! Tie-dyeing is not just for kids. Have them come to your next corporate event and let your employees feel like a kid again. A day of groovy tie dyeing makes for a fun team-building exercise or employee appreciation event. Employees will love to create and take home a tie dye creation with the company logo.
Can't come to them, they will bring the party to you! If Tie Dye Town's location in Bergen County, NJ is too far away, invite them to your house to throw the most colorful party on your block! Tie Dye Town on the Go will come to your summer camp or school event. Everyone will have a blast learning how to tie dye. Choose your colors, tie up your shirt and have fun. Even get a peace sign tattoo! Tie Dye Town will travel throughout the tri-state area.
For over ten years, Tie Dye Town has been throwing fun and groovy birthday parties kids and adults of all ages. Their professional staff will have an amazing time celebrating your special event with you. Visit their website to learn how you can throw your own groovy tie dye party in New Jersey.
---
Looking for a unique birthday gift?
Check out Fun New Jersey's new gift shop!
Find jewelry, apparel, home decor, and more!