14 Educational and Family-Friendly Alpaca Farms to Visit in NJ!
Posted on January 16, 2023
By

Summer Daidone

1166 Views
Alpaca Farm NJ | Find One Near You!
One of the newest crazes to hit NJ involves some of the cutest and fuzziest creatures in the Garden State.
The perfect day trip for animal lovers everywhere, making a visit to an alpaca farm is much different than a trip to your average farm or petting zoo.
What are Alpacas?
Alpacas come from the camelid family, which means they have very similar features to camels. They are most commonly mistaken for llamas, which look similar to alpacas despite being very different animals. Alpacas are herding animals, which means they crave companionship with other alpacas and often cannot be kept alone.
Alpacas are much smaller than llamas and are generally about half the size in terms of weight. They are raised as livestock for their soft and warm fleece, while llamas are used for herding sheep and alpacas.
There are two breeds of alpacas—huacaya and suri. The difference between the two breeds can be seen in the type of coat they have, although the huacaya is much more common. Suri alpacas grow long dreadlock-like fur that is very silky. Huacaya alpacas have a dense and crimped coat.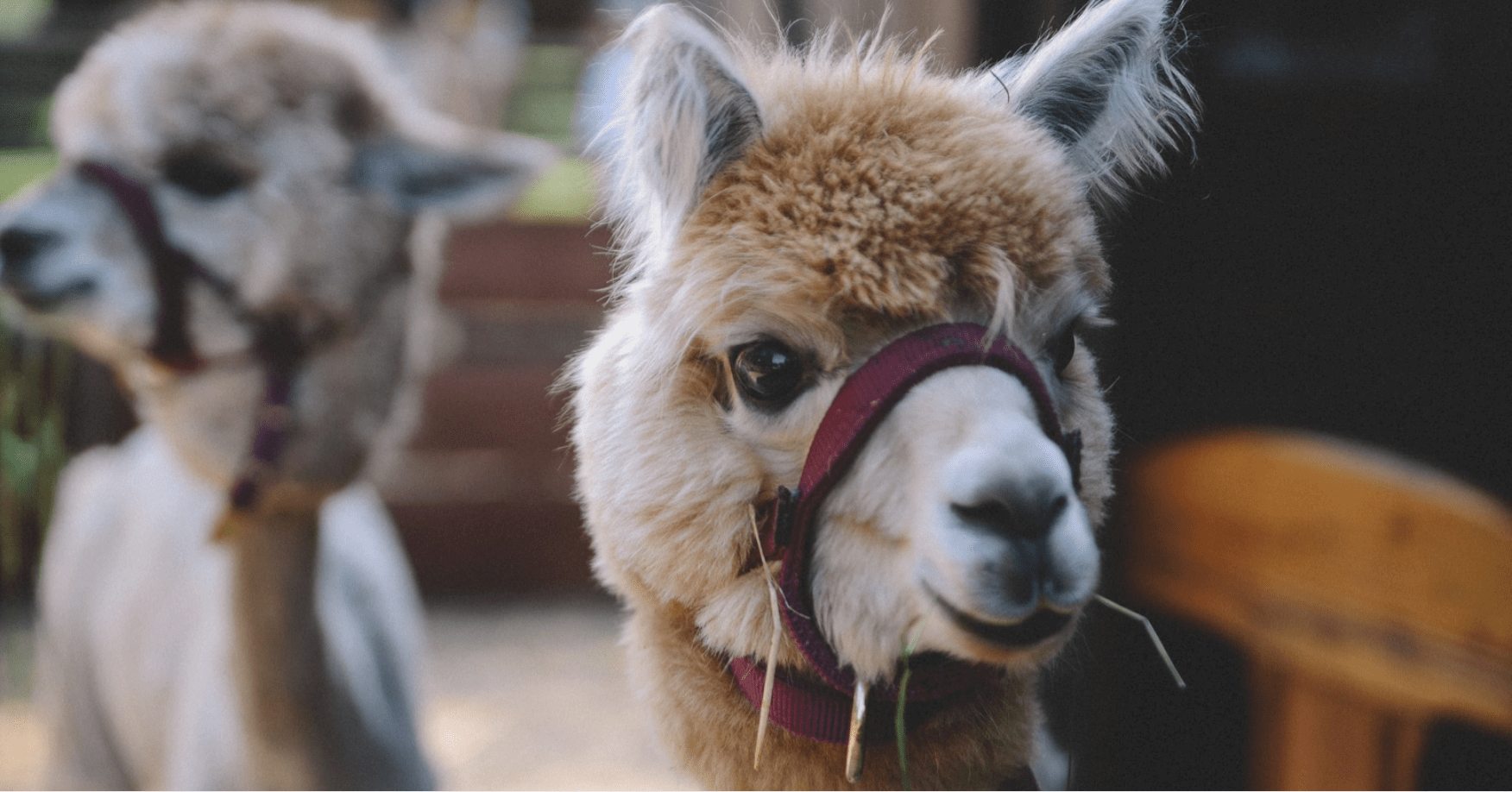 The Life of an Alpaca
The average lifespan of an alpaca is 15 to 20 years. They eat a small amount of grass and hay and come in twenty two colors.
Alpacas are known as being some of the cleanest livestock, as they are very aware of their surroundings and take care of their own environment. One of the ways they do this is by creating and using a communal dung pile amongst the herd. This helps to keep their living area very clean and reduces the chance of parasites.
They also live in very well-kept pastures. This is because the feet of alpacas are padded rather than being sharp hooves, which helps to keep their grass and pastures in great condition. A herd of alpacas will barely leave a mark on their field!
Alpacas have never been known to destroy trees and they also do not pull grass up by the roots. They are known as being "good lawnmowers", because their eating habits will trim the grass rather than ruin it!
Alpacas can live in both very hot and very cold climates, as they have adapted to living in all different areas throughout the thousands of years they have been domesticated.
Gentle Giants
All animals in the camelid family spit to express that they are annoyed or upset. Because alpacas are part of this family, they do spit to express annoyance.
Alpacas will usually only spit on other alpacas who they fear might be stealing their food or males that appear to be a threat.
Have no fear, it is very unlikely for an alpaca to purposely spit on a human. When this happens, it is usually because humans have gotten in the way of two alpacas who are annoyed with and spitting on each other.
Aside from spitting, there is not much more to be concerned about regarding alpacas. They are very safe animals, as they do not have sharp teeth or hooves. They also move very gently around their fields and will not try to run over people. Alpacas are well-known for being great around children.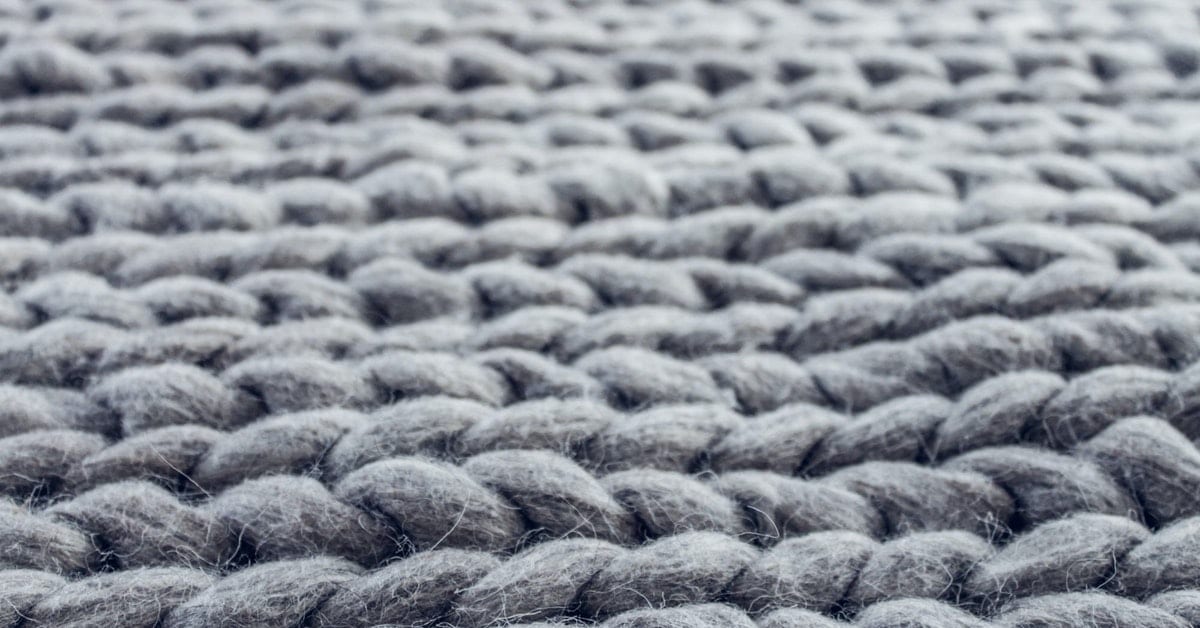 What does alpaca fiber feel like?
One of the best reasons for visiting an alpaca farm (other than having the chance to meet and feed one, and also snap a selfie!) is to stock up on some gorgeous handmade items.
Because the primary reason for keeping a herd of alpacas is for their fiber, almost all of the alpaca farms in NJ offer either an in-person or online store selling items made from the fibers of their very own alpacas.
Alpacas are sheared once a year in the springtime. Their fiber is then used for spinning into yarn, knitting, or weaving goods.
Alpaca fiber is very soft and ideal for making winter accessories. It is softer than cashmere and warmer than wool. Their fiber is also not as heavy weight as wool and does not ever feel prickly or itchy. Alpaca fiber is also hypoallergenic, water resistant, and fire resistant!
Alpaca Farm Locations Across NJ
Alpaca farms have become widely popular across the entire state of NJ. Because they are so easy to manage and can live in changing climates, open fields and farms in New Jersey are ideal places to keep herds.
Being that alpacas are so gentle, visiting an alpaca farm is a wonderful way for children to interact with animals. As an added bonus, many of the alpaca farms throughout the state also offer educational tours and demonstrations.
Remember–a selfie with an alpaca is sure to earn lots of likes on Instagram! 🙂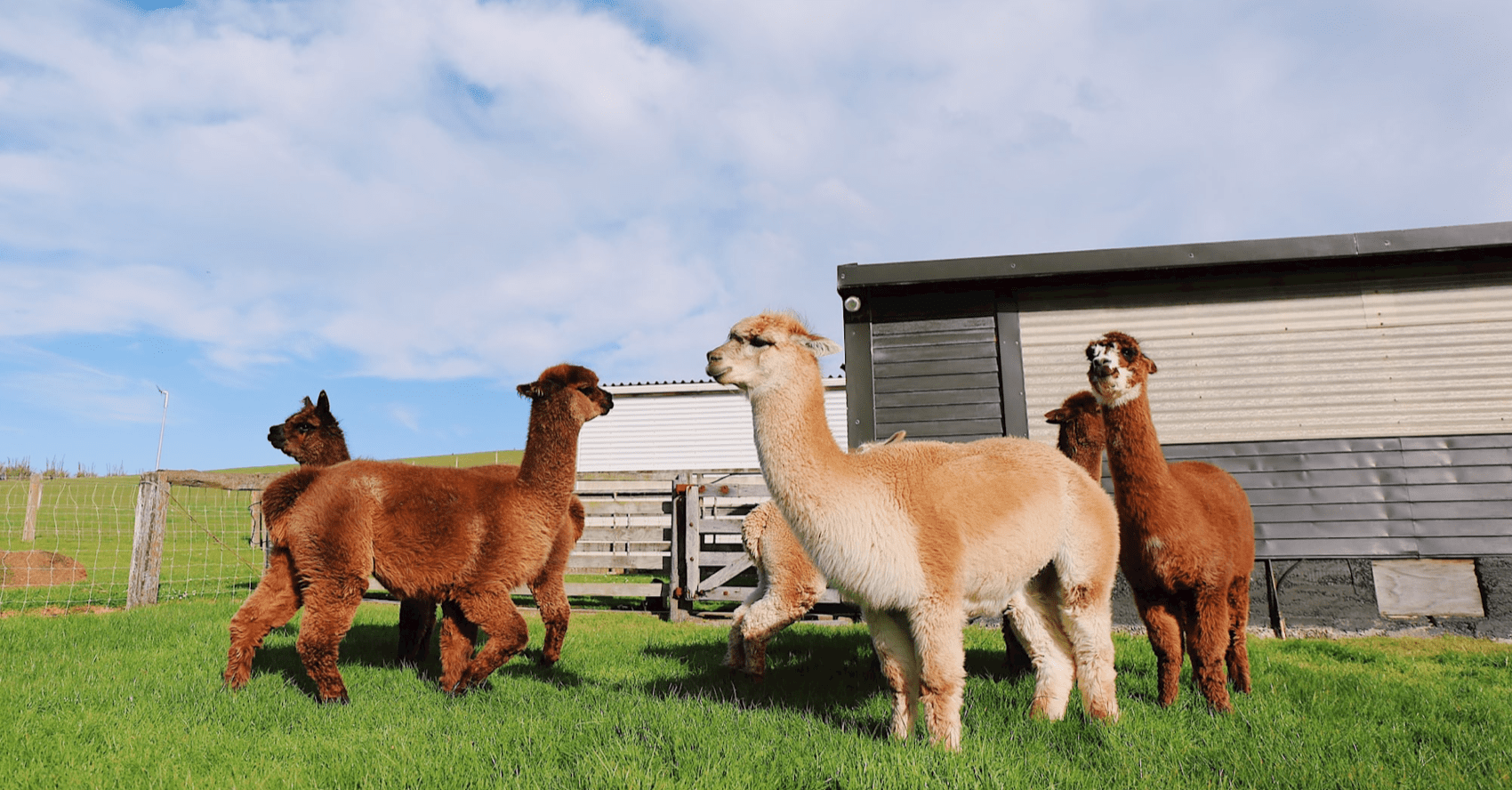 Atlantic County
Winding Creek Alpaca Farm
1148 Somers Point Rd., Egg Harbor, NJ 08234
Winding Creek Alpaca Farm has a herd of 22 huacaya alpacas on a 22 acre farm in Egg Harbor Township, NJ. At Winding Creek, owners Mike and Sheri von Fischer take great pride in teaching visitors about raising alpacas. They have put a lot of work into creating a stellar breeding program and educating the public about how to keep alpacas healthy and happy. You can also rent an alpaca for your next event!
Burlington County
Windy Farm Alpacas
61 White Pine Rd., Chesterfield, NJ 08515
Windy Farm Alpacas in Chesterfield, NJ has been breeding and selling alpacas for over 20 years. They also sell alpaca fiber, yarn, and an abundance of handmade products. Visit Windy Farm Alpacas for a farm tour or take one of their state-of-the-art classes! Some of the classes offered include knitting, sock knitting, felting classing, and more.
Far & Away Alpaca Farm
438 Medford Lakes Rd., Tabernacle, NJ 08088
Home to a herd of alpacas, Far & Away Alpaca Farm is located in Tabernacle, NJ. If you are interested in checking this farm out, be sure to give them a call at 609-268-8208 to set up a visit to the farm.
Nash Hill Alpacas
354 Tucketron Rd., Tabernacle, NJ 08088
When Nash Hill Alapacas opened just seven years ago, they started with a small herd of only four alpacas. They now have a herd of thirty four! They sell alpacas bred at their farm, as well as lots of handmade products such as hats, gloves, scarves, and more.
Cape May County
Jersey Shore Alpacas
521 Route 47 South, Cape May, NJ 08204
Jersey Shore Alpacas is home to a small herd of alpacas who love greeting new visitors! Owners Jim and Tish Carpinelli offer private tours of the farm year-round, in which they take pride in educating the public about caring for and raising alpacas. Saturdays are "Open Farm" days, where visitors can meet the alpacas and feed them carrots through the fence. There is no charge, but donations are greatly appreciated.
Hunterdon County
Emelise Alpacas
73 MacKenzie Rd., Hampton, NJ 08827
Emelise Alpacas is run by Susan and Wayne Robinson, along with their daughters Emma and Elise. Their farm has been home to a herd of alpacas since 2002 and they have made a great effort to get involved with different activities related to alpacas. Their alpacas even compete in different shows across the country. The farm is open for visitors on the weekends!
Monmouth County
Edel Haus Farm
2660 Allaire Rd., Wall, NJ 07719
If you're looking for a place to have your next family's party, Edel Haus Farm in Wall is the place to call! Parties are 3 hours long, kid-friendly and family oriented. All party guests will have to chance to meet with the alpacas at Edel Haus Farm, as well as entrance into the pasture.
Cedar Lane Alpacas
67 Victory Rd., Howell, NJ 07731
Cedar Lane Alpacas takes great care to breed healthy, colorful alpacas with the highest quality fleece. This alpaca farm is open to group visits for a fee and hosts events in the fall. Purchase of an alpaca includes a free beginners training class on how to care for alpacas. Learn all about nutrition, parasite control, nail trimming, and more.
Arrow Acres Alpaca Farm
2011 Bentz Rd., Wall Township, NJ 07719
Arrow Acres Alpaca Farm is a family-run farm. Owners Don & Dee Sherman have run the farm with great care for 40 years, with lots of help from their children and grandchildren. They have a farm store, as well as an online store selling handmade items made from alpaca fiber.
Somerset County
Bluebird Farm Alpacas
44 Willow Ave., Peapack, NJ 07977
Bluebird Farm Alpacas invites visitors to come and check out the farm on weekends. Farm tours and visits are offered by reservation only, so be sure to call before visiting! The alpacas at Bluebird Farm Alpacas live on a pasture that spans over 15 acres.
Sussex County
Humming Meadows Alpacas
131 Halsey Rd., Newton, NJ 07860
Humming Meadows Alpacas is a family owned alpaca farm on 27 acres of fields and wooded areas. The owners of Humming Meadows have many years of experience with training dogs, and have found there are many similarities in how the two different types of animals learn. If you have an alpaca of your own that needs a place to stay for some time, Humming Meadows also board alpacas.
Little Brushwood Alpaca Farm and Country Store
51 Parson Rd., Newton, NJ 07860
At Little Brushwood Alpaca Farm, it is easy to sit back and relax. Animal and nature lovers alike are sure to enjoy this little piece of country life in Newton, NJ. Visit with the alpacas and chickens and then browse through the farm store for some handmade goods and farm fresh eggs!
Hidden Pastures Luxury Fiber Farm
4203 35 Newton Ave., Branchville, NJ 07826
The fuzzy fun doesn't end with alpacas at Hidden Pastures Luxury Fiber Farm—the farm is also home to bunnies, goats, yaks, and more! The farm offers interactive tours that are available by appointment only. Learn how a fiber farm works and spend time with the animals for only $25 per family of 6. The shop at Hidden Pastures is open Friday-Sunday from 10AM-5PM.
Stone Mountain Farms
149 Old Beaver Run Rd., Lafayette, NJ 07848
Stone Mountain Farms is a 22 acre farm located in the midst of some of Sussex's County's most beautiful grassy hills in Lafayette, NJ. Come to see their gorgeous alpacas or purchase some of the handmade alpaca products offered in their store. The farm also sells cider apples, fruits, hops, bees, and more!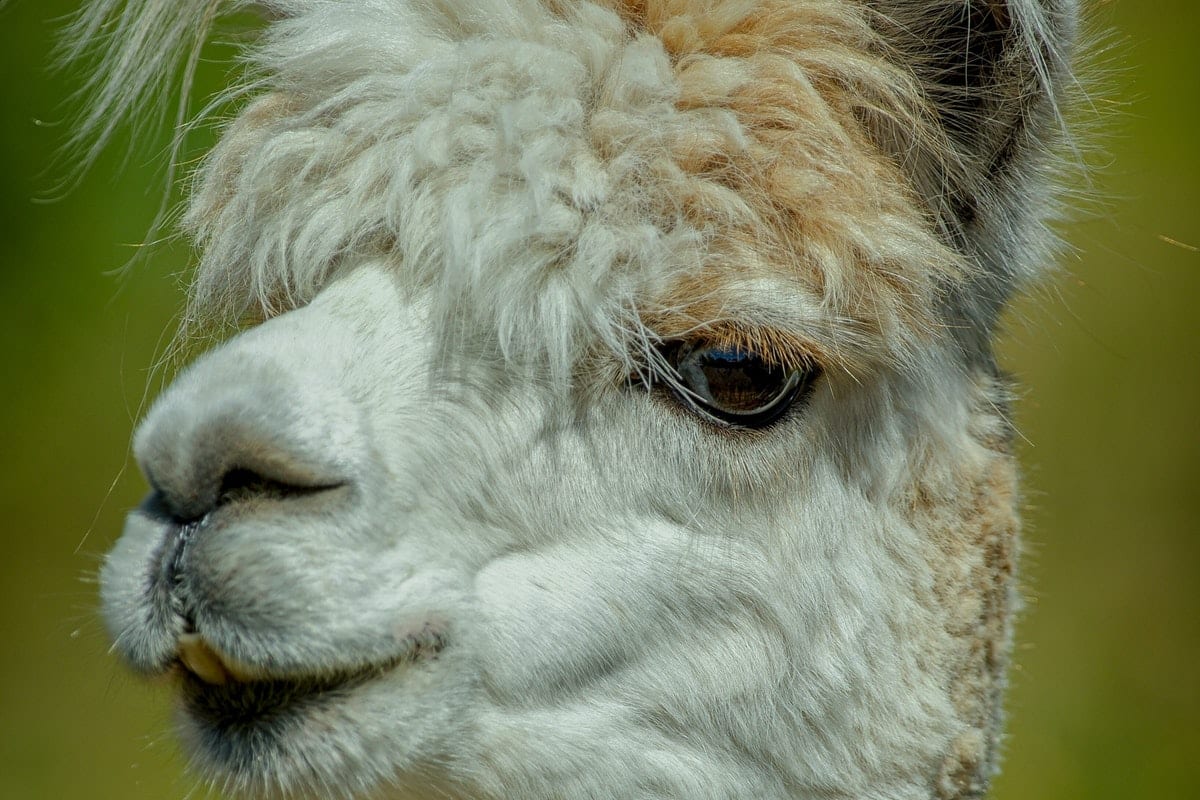 11 More Cool Alpaca Facts
Visited the alpacas yourself and still want to learn some more? Alpacas are definitely very interesting creatures. We've compiled a list of some of the most fun facts out there about the animals!
1. How do alpacas show each other how they feel? We already covered spitting—they surely will spit on each other if they get upset. However, one of the most common way for alpacas to communicate their feelings is with their tails! An alpaca who is upset will twitch their tails and an alpaca who is scared or being submissive to another alpaca will raise their tail up.
2. When alpacas breed, the male sings a song to his mate! This song is commonly known as an "orgle".
3. Alpacas absolutely love laying in the sun! They will actually lay down on their sides or their bellies in the field just to bask in the warm sun.
4. Alpacas all have their own individual personalities. Some are very independent and others prefer close companionship with other alpacas.
5. Alpacas make a humming sound to communicate to others throughout their herd! Their humming sounds very similar to a kitten's pur and it is used by mothers to call to their babies.
6. Alpacas only eat about 2 pounds of grass per day! This is much less than other animals their size.
7. Alpacas are able to convert their food into energy with high efficiency because they have three stomachs. They are actually able to absorb 50% more nutrients than sheep, which is why they do not have to consume as much food to be satisfied.
8. The first domesticated alpacas lived in Peru. They were domesticated by the Incas about 7,000 years ago and their fleece was so soft and luxurious, it was only reserved for the wealthiest of people.
9. Another job for alpacas that is becoming increasingly more used is in therapy! Therapy alpacas are becoming more popular at hospitals, retirement homes, and healthcare facilities each year.
10. Most photos and illustrations of alpacas showcase their silly looking underbite. The reason they look like they have an underbite is due to the fact that they don't have teeth in the top front of their mouth!
11. Believe it or not, there are no wild alpacas that exist. Every alpaca out there belongs to a herd on a farm. This makes them a completely domesticated animal.
Have more fun facts about alpacas to share?
We want to hear what you have learned about alpacas during your trip to a New Jersey alpaca farm.
Share any photos or interesting facts with us in the comments below or on our Facebook!