NJ Music Festival Season
Posted on January 16, 2023
By

admin

385 Views
While we may not be the home state of SXSW, New Jersey does have a lot of music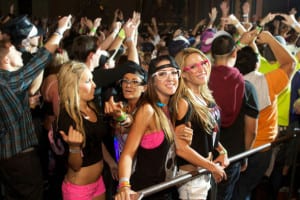 festivals that call the state home. With the current rise of the super-popular EDM music festival scene, New Jersey is going to be seeing a lot more people enjoying the music while basking in the sun and enjoying the beach. If this is your first time raving, or just your first time really getting into EDM, here's our advice for getting the most out of NJ music festival season.
Leave the kids at home. Seriously, we cannot stress this enough. Most electronica festivals, if not all, are not kid-friendly. NJ EDM concerts are no exception to this rule!
Bring extra cash. There are going to be a lot of times when festivals won't allow you to bring things such as bottled water or snacks. When this happens and you're strapped for cash, you're gonna end up having a bad time.
Don't worry about dressing appropriately. If you're at a rave, you can wear whatever you want to wear. You don't need designer clothing to be cool at an EDM festival. All you need is a fun attitude and a love of PLUR.
That being said, you should consider avoiding high heels at a music festival. Music festivals are notoriously muddy, bumpy ground places. Dancing in high heels while in mud is a great way to break an ankle.
Bring sunscreen. Unless it's an indoor festival, you're going to be out in the sun for at LEAST 5 hours straight. Do yourself a favor, and get some sunscreen. Otherwise, prepare to be bright red and peeling in a matter of days.
Go with friends. Sure, going to festivals alone can be fun, but it's always more fun if you head out with a cool posse. Most NJ concerts are better that way, actually.
Check festival rules before you actually attend. Some may allow outside food and drink. Some may allow beach towels or beach chairs. Others may not. It all depends on who's throwing the festival. By checking festival rules, you are making it easier for you to avoid being stopped and asked to put things back in your car.
There are some things that you really should bring. If it's a multiday event, then you will want to bring a tent, a flashlight, a towel, and some food. Many festivals do have a certain camping element to them. If you don't want to smell like death warmed over after a certain amount of time, you may also want to bring toiletry supplies. Baby wipes, deodorant, dry shampoo, hand sanitizer, and mouthwash are musts.
DO bring toys. Hula hoops, face paint, glowsticks, and poi are all generally accepted.
As long as you use common sense, your time at festivals will be filled with fun. Happy raving!