Cheesequake State Park NJ: Scenic Hiking for all Levels
Posted on January 16, 2023
By

Kerry O'Brien

539 Views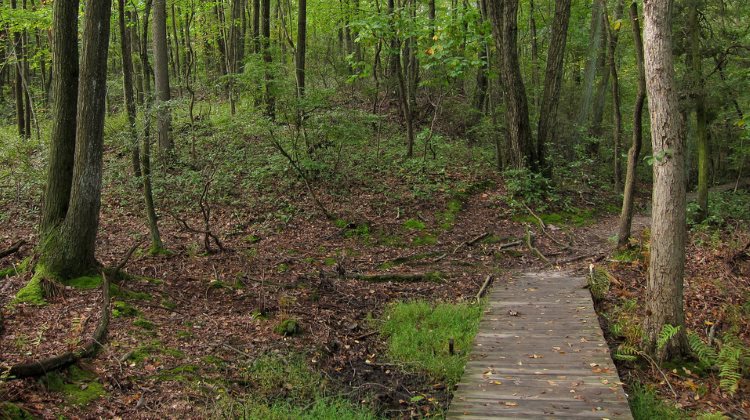 Cheesequake State Park
True nature lovers know that hiking is a therapeutic and rejuvenating hobby. No matter which trail you follow, the journey begins when the hiker takes their first breath of crisp, open air. Upon setting foot in a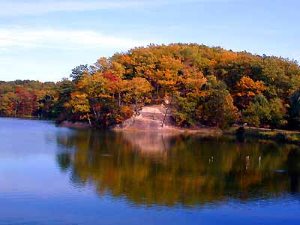 state park with a hiking trail, people are instantaneously transported to a carefree mindset where the worries and troubles of everyday life can be forgotten. The only thing that matters is the hike itself: which trail is taken, the duration of the hike and, most importantly, the destination.
While it may seem that hikers need to stick to the confines of a given trail, that is not always the case. Some hiking trails are designed to follow one path, but will have smaller side trails stemming from that path. Should hikers choose to digress from the main path when a spark of adventure is ignited from within, they will be creating an individual quest for themselves and begin exploring nature the way they want to.
Although the park rangers and those who designed the trails have given hikers a suggested path that they can take, and that path is absolutely breathtaking in itself, they also wanted to give people a chance to test their skill level and explore new areas. While the main trail may be more of a flat path, with only small hills and rugged areas, the side trails may lead to more challenging and complex terrain.
One Monmouth County New Jersey park with amazing hiking trails for all skill levels is Cheesequake State Park in Matawan. Their main hiking path, the Green trail, is essentially a beginners trail with only small elevations, rolling hills and marshlands to overcome. It is the epitome of a pleasant hike in Central New Jersey because hikers can leisurely stroll through the park and take in the beautiful scenery.
As they continue along this trail however, more experienced hikers may want to seek out a challenge. Cheesequake State Park also features more difficult terrain. Guests can take either their Blue, Yellow or Red trails. These trails are slightly more rugged, offering hikers the chance to challenge themselves and become their own nature guide.
Details of each trail
Green Trail
Begin your journey through Cheesequake State Park along the Green trail. Follow the path along the wooden boardwalk. As an easy to navigate path, beginner hikers will be given the chance to decide for themselves whether or not they enjoy the activity. If they are comfortable hiking and want to challenge themselves during their first outdoor adventure, Cheesequake State Park has made such a decision easy. Along the Green trail, visitors can follow user-friendly signs and decide to what extent they wish to increase the trail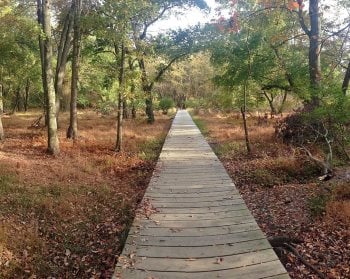 difficulty. Whether they want to take on a massive challenge and hike the most difficult trail, or they want to take on a moderately difficult trail, the choice is theirs.
Blue Trail
If hikers only wish to increase the difficulty level by one degree, the Blue trail is the next step on the path to adventure. On this trail, the difficulty level is higher, but by no means unmanageable for the beginner hiker. Those who turn off the Green trail onto the Blue trail will encounter a few more rolling hills, more elevation and more noticeable obstacles. It gives the hikers a new view into the park. There is slightly different scenery along this path and followers will be able to explore a new area, take in the fresh air and relax as they walk in tune to the sounds of nature.
Yellow Trail
Another trail that stems off of the main Green trail is the Yellow trail. Hikers who decide to venture into this territory are more likely to encounter obstacles such as staircases taking them down steep hills, curves, bridges and other natural roadblocks. Although the path is still carved out with wooden boards and a clear destination, the terrain is more difficult and hikers may require more experience to comfortably complete the course.
One advantage of taking this trail is that hikers are given the chance to fully appreciate natural land developments. As they follow each curve, bridge or staircase taking them up or down a hill, hikers begin to appreciate the beautiful area and ways in which it serves society. They feel the ground beneath their feet, the up and down motion the boards take as they follow the curves of earth and see all of the beautiful trees, plants and animals that call this area their home. Most people who take this path gain a newfound sense of relaxation.
Red Trail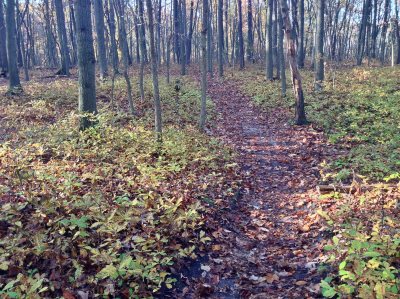 On the Red trail, the most difficult hiking trail in Cheesequake State Park, hikers are sure to encounter a multitude of elevation changes, curves and bridges. Hikers are not guaranteed a boardwalk walkway on this hiking trail, making the journey challenging and difficult. It is recommended that only experienced hikers or those who wish to truly experience nature venture down this path.
The Red trail is great for hikers who truly want to escape their troubles in the wilderness. Walking through the park on this path gives visitors a chance to lead their own path, listen to the natural sounds of the park, challenge themselves and see what they're truly capable of. Once hikers complete their journey on the Red trail, they often feel the rush of accomplishment that comes with overcoming obstacles.
White Trail
The last hiking trail option at Cheesequake State Park in Matawan, NJ is the White trail. This trail is not only designated to hikers, but also mountain bikers. Due to its multi-purpose use, the White trail has rugged terrain, no boardwalk walkway and a few, but not many, obstacles that hikers must overcome. If visitors are interested in both hiking and mountain biking, they may choose to walk the path prior to biking it. Also, as a completely separate path, not connected to the Green, Blue, Yellow or Red trails, the White trail is perfect for serious hikers or bicyclists who want to test their skill and complete the path as quickly as possible.
Why hike Cheesequake

With so many hiking options at this one state park, people who visit Cheesequake State Park know that they are going to find a hiking trail that is suitable for their hiking experience and skill level. The breathtakingly beautiful state park, in this sense, can be enjoyed by everyone. As hikers make their way through the 1.5 – 3.3 mile long hiking trails, overcoming obstacles and taking in the sounds of nature, feelings of peace and serenity can be experienced. The ability to choose the path they take, even alternating between difficulty levels and leading themselves through the park also attracts many people to this area. No one feels as though they are "stuck" when hiking at Cheesequake State Park because, much like it is to simply explore nature on their own, hiking in this park is almost entirely self-driven.
Cheesequake State Park
300 Gordon Rd., Matawan, NJ 07747
732-566-2161
Have you gone hiking at Cheesequake State Park before? Which trail is your favorite and why?
If this park isn't close to you, you can find a variety of other hiking trails with paths for all skill levels throughout the state.