Best Winter Camping Spots In Nj
Posted on January 16, 2023
By

Kerry O'Brien

1111 Views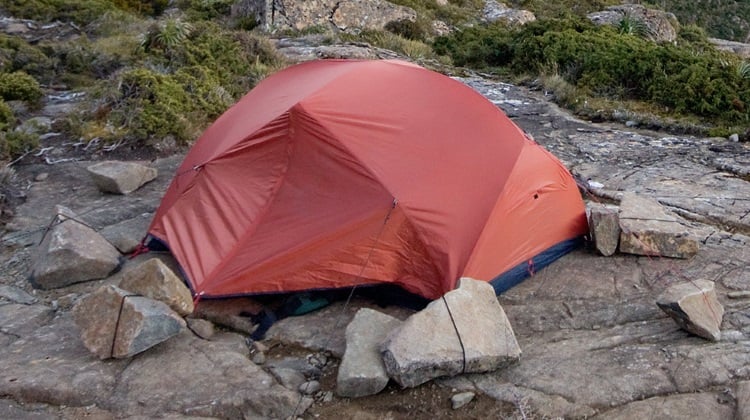 4 exceptional places that offer winter camping in NJ
1. One location in which you can go camping in the winter in NJ is Round Valley Recreation Area.
This campground offers both summer and winter camping, but during the winter, the adventure becomes more than anyone can imagine.
You gain the true experience of living outdoors during these trips because RVs are not allowed and some of the only equipment you will have access to include a fire pit and pit toilets.
If the weather is warm enough, you can access your campsite by boat or canoe, however, if it is too cold, your only option will be to hike.
Round Valley Recreation Area
1220 Lebanon-Stanton Rd., Lebanon, NJ 08833
908-236-6355
2. Another camping destination for the frigid NJ season is Stokes State Forest in Branchville, NJ. This campsite offers families the chance to experience the outdoors during the chillier months, yet still have fun and partake in seasonally appropriate activities.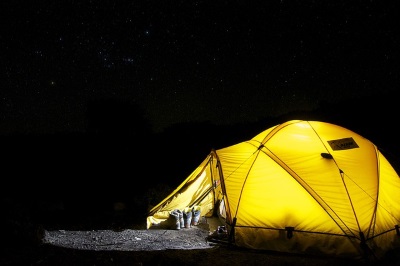 Stokes State Forest
1 Coursen Rd., Branchville, NJ 07826
973-948-3820
3. A third location to take your family camping during the winter in NJ is Wharton State Forest in Hammonton, NJ.
Attempting to give nature lovers the true feeling of winter wilderness in NJ, this campsite provides only the basic necessities for survival, campers embarking on this wintertime adventures can entertain themselves with hiking, warm fires and snuggling up in their tents at the end of the night.
Wharton State Forest
31 Batsto Rd., Hammonton, NJ 08037
609-0024
We've Saved the Best For Last!
4. Last but not least, here is one of our all-time favorites! Beachcomber Camping Resort in Cape May.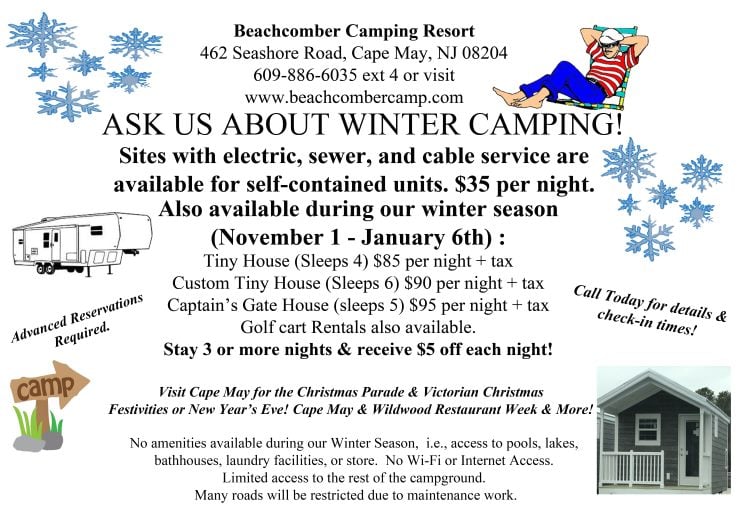 Beachcomber Camping Resort offers WINTER CAMPING for SELF CONTAINED CAMPING TRAILERS. What a great way to try out your new camper for the great low price of $35/night!
Beachcomber Camping Resort
462 Seashore Road
Cape May, New Jersey 08204
Ph: 609-886-6035 ext 4 ~ 1-800-233-0150
Email: [email protected]
---
Reasons to go winter camping in NJ
So many people think of camping as a summertime activity.
Ah, the fresh air, sleeping bags, campfires, and construction of s'mores. Camping is such a fun activity!
But wait, it's winter!
You can't go camping in the winter! It's too cold, no campgrounds are open and you'd be stuck in a tent all weekend because all of the fun activities require warmth, water, and sunshine!
These are the thoughts that likely pass through the heads of nature lovers every year as summer turns to fall and fall turns to winter.
They may love the outdoors and camping in the wilderness, but once the temperature drops below 50 degrees, the tents and sleeping bags need to be put in storage and packed away until next May, right?
Wrong!
Although commonly thought of as a summertime activity and vacation for families, those true nature lovers and camping experts around the state can still go camping in NJ during the winter….even if it is below 40 degrees and at a time when almost everyone else wants to sit inside next to the fireplace with a warm blanket and a good book.
Why winter is better than camping in the summer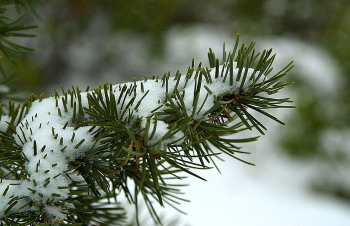 So many people think of camping as a summertime activity and family vacation where relaxation is a commonality
But it can be even more exciting as a wintertime activity where a new variety of adventures can be experienced.
People can take place in adrenaline-filled activities, go hiking along the snow-covered trails or simply enjoy the warmth of a cozy fire near their tent on a chilly night.
While camping in the spring or summer is inherently fun and exciting:
sleeping under the stars, swimming in the lakes, and sitting outside by the campfire eating s'mores in the comfortable evening air, the winter gives people a whole new perspective of the outdoors and what camping can truly mean.
When someone pitches their tent outdoors anytime between November and February, they can expect to see a much different landscape than they would in the summer. Instead of beautiful green trees and blue lakes, they may see a clearer view of the beautiful blue sky, snow-fallen areas of land, and pine trees that stand tall.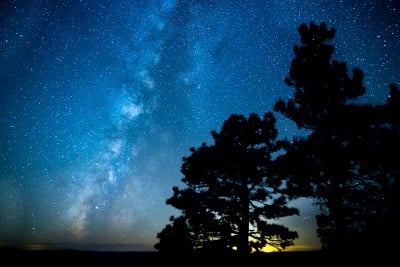 This description of the NJ area may seem unappealing to some, but once you take a chance and go on a camping trip during this season, you may be hooked because New Jersey winter camping also provides you with the opportunity to do activities that are impossible or unavailable during the summer months.
Brave the cold weather by building a fire and chatting by the campfire, snuggling up in your sleeping bag at night, and taking simple strolls through the wooded area in your free time. Adventurous campers may even choose to go hiking, skiing, or snowshoeing.
Of course, the available activities when camping during this time of the year are dependent upon the area in which you are camping, but they are all fun and you are guaranteed to do at least one of them in any NJ area that offers wintertime camping. Also, the whole experience is sure to get true nature lovers amped up and ready to plan their camping trips for the following year. In addition to their summertime reservations, they will now also look forward to their wintertime camping adventures.
Have you gone camping in the wintertime? If so, leave a comment below as to where and why you go. We would love to hear your feedback!
Here's how to make your camping experience a little more luxurious
If you want to camp in ultimate comfort, you can use a luxury motorhome and make your experience even more enjoyable. The luxury sprinter RV provides you with all the amenities of home while also allowing you to explore the beautiful NJ landscape during the winter season. With comfortable bedding, a fully equipped kitchen, and a heated interior, you can take on the challenges of winter camping with ease and comfort. Whether you're snuggling up by the campfire, exploring the snow-covered trails, or simply enjoying the beauty of the winter landscape, a luxury sprinter RV by Grech RV is the perfect way to make your camping experience memorable.

See a full list of campsites by NJ County.