Bars That Open Early In NJ
Posted on January 16, 2023
By

admin

1470 Views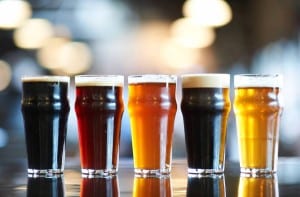 Finding a bar in NJ where you can grab an alcoholic drink before noon used to be quite a daunting task for the earlybird consumers. Not anymore! We have uncovered the mysteries concerning when and where you can get a drink at a bar in NJ.
The sale of alcohol In NJ is not regulated statewide, it is actually controlled and regulated by each respective municipality. So if you're looking for a drink before noon, you'll have to find the townships and municipalities that allow early consumption.
The rule of thumb in NJ is that bars, pubs, lounges and restaurants are prohibited to serve alcohol between 2AM and 7AM from Monday through Saturday and from 2AM through noon on Sunday.
Most municipalities stick to serving at noon Monday through Sunday, but below are the towns and establishments where you can get a drink a little bit earlier.
Open at 7AM
In terms of bars that open early, it's really hard to beat Point Pleasant Beach's Broadway bar and grill. This local dive bar is known for funny characters, and being open 7 days a week, from 7 AM up until the wee hours of the night. If you work third shift, then you probably will love hanging out here once you get off of work.
This Neptune City hotspot is yet another dive bar down the shore that opens at 7 in the morning on a regular basis. Though it is technically a dive bar, they do offer upscale food. Food options include sushi, lobster, and tuna bites. Needless to say, it's a very popular locale for food and cold drinks alike.
Bars that open before 4 PM
If you are not such an early bird, but you are still fond of a bar or lounge atmosphere, then you might be looking for a good bar atmosphere that opens before 4PM.
Thankfully, there are plenty of bars that open early in New Jersey – many of which often have a sporty edge to them. Whether you're in North Jersey or Central Jersey, there's a bar that opens early for you out there. Here are some of our favorite picks!
While it is also technically a restaurant, it's really hard to shake the rockabilly bar vibe that the place oozes. Besides, it's hard not to notice that the bar has a go go pole in the middle of the lounge area, a jukebox, and flyers for all sorts of events spread on counters. This bar and restaurant opens up at 11:30 AM, and serves a killer brunch menu on Sunday, too.
This is a pretty hip and happenin' bar and restaurant in Montclair that also maintains that classic bar feeling. If you're looking for a North Jersey bar that offers flat screen TVs, a pool table, and a fireplace, this is your new hangout. They also host events regularly and have a pretty respectable early happy hour.
The bar area opens as early as 11 AM on Sundays, to as late as 2PM on Mondays. (Most other days open at 11:30 AM.)
Jack's Goal Line Stand, Long Branch NJ
In the Jersey Shore area, there are very few bars that have as great a reputation as Jack's Goal Line Stand. This sports bar is known for attracting a college crowd, dirt cheap (but ice cold) drinks, and having one of the friendliest atmospheres in the area. They also have darts, arcade games, and a ton of different music events throughout the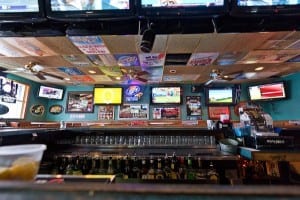 week. It opens at 11:00 AM, and closes around 2 AM every night.
Unlike many of the other bars that we've picked out on this list, Jack's is known for having ample parking across the street.
The Alibi Room, Waterford Works NJ
Recently hailed by NJ.com as one of the best bars in the state, the Alibi Room has been praised for its ice cold beer, amazing atmosphere, and tasty bar pies. It's also known for its "no stupid people allowed" rule, and for its charismatic owner. It's also worth mentioning that Alibi also throws pretty sick parties, and has a nifty outdoor tiki bar complete with tiki-appropriate drinks. It opens at 11 AM, so an early morning drink is never a problem.
The Stirling Hotel, Stirling NJ
The Stirling Hotel may just be Alibi's biggest competitor when it comes to bar quality. This old world hotel-turned-bar is famous for being super friendly to local vineyards and breweries, offering bar patrons an amazing variety of wines, mixed drinks, and beers, and also having the cool antique ambiance of a 19th century glamour hotel.
The Stirling Hotel regularly rotates its draft to ensure variety, and also provides plenty of tasty meals through its lunch and dinner menus. So, while it is also a restaurant, it's definitely also a bar! This one opens at 11:30 AM – just in time for a quick lunch and sip.
Triumph Brewing Company, Princeton NJ
If there was ever a place that attracted brilliant people like flies to honey, it's the Triumph Brewing Company in Princeton. This microbrewery has a pub entrance, serves its own home beer, and provides incredible gastropub fare. The bar's environment couldn't be sleeker and more upscale if they tried. It opens at 11AM every day except Sunday, when it opens up at noon.
Johnny Mac House Of Spirits, Asbury Park NJ
This quirky bar in Asbury Park is famous for three things:
1) Its bizarre, busy exterior.
2) The fact that it's almost always packs.
3) The fact that they give FREE pizza with a drink purchase.
It's hard not to love Johnny Mac as both an Irish pub and as an awesome place to hang out by the shore. What more is there to say? Oh, yeah! It has parking nearby, and opens up at 11 AM every day.
You Can Easily Find A Bar That Opens Before Noon In NJ
While it can be difficult to find a bar and lounge that opens early in New Jersey at first glance, the truth is that most of the bars in the NJ will have an earlier opening time. It's just really rare that you'll find a bar that opens at 7 AM. But, most bars that are worth their salt will open before noon. Happy drinking!