Luxury in NJ | How and Where to Truly Live the High Life in The Garden State
Posted on January 16, 2023
By

admin

1853 Views
What is Luxury?
Our definition of luxurious: 🙂
To be extremely comfortable. To be overwhelmingly graceful, elegant, and stylish. To have or experience (and fully enjoy) excessive, exorbitant, and extravagant things (usually involving great expense).
To have unreservedly and unconditionally self-indulgent, mystical or sensuous pleasure without boundaries.
Other definitions include:
Unsurpassed opulence, lavishness, sumptuousness…
Are you Getting the Point?
Well, did you know that these things can happen right here in NJ?
There are more than a few ways to find luxuriousness in our beautiful state of New Jersey.
And we are here to lay them on you right now.
If you are a man (or woman of course) and you want to lavishly spoil your spouse:
Here is your ultimate unabridged and exhaustive guide to finding Luxury in NJ!
Sit Back and Buckle up Because Here We Go  
Are you ready to consume the consummate list of luxurious things to do in NJ?
Luxury Spa NJ | The Most Luxurious Spas in NJ
Pampering yourself in a spa is surely one of the best ways to live the life of luxury. Here's where to go in New Jersey!
Sojo Spa Club
660 River Road. Edgewater, NJ, 07020
201-313-7200 
There is only one other spa that we have experienced that is even more luxurious as Sojo and that was at the Bota Bota in Montreal. Sojo Spa Club boasts over 140,000 square feet of luxuriousness.
SoJo Spa Club has five saunas and three therapy rooms, a volcanic sand bath experience, fitness center, bath house, relaxation lounge, and seven outdoor pools and baths.
The best part is the rooftop infinity pool, open year-round and offering some of the best views of the NYC skyline in all of New Jersey! You're sure to take a great photo for Instagram here.
Runner up Spa:
Island Spa & Sauna
1769 Lincoln Hwy. Edison, NJ 08817
732-253-7379
When they say "Your new home away from home", they mean it! This 30,000 square foot Korean Spa has one of the most beautiful atmospheres that we have ever seen.
Island Spa & Sauna is complete with 6 different saunas, gender-separated bathhouses, and several rooms and common areas meant for relaxation.
We recommend booking a body scrub and massage through their spa services area, as these are some of their most popular services offered!
It's super clean, peaceful, and luxurious in every way.
Grab a bite to eat at Cafe Island, serving delicious Korean cuisine, sushi, fresh juices, and smoothies.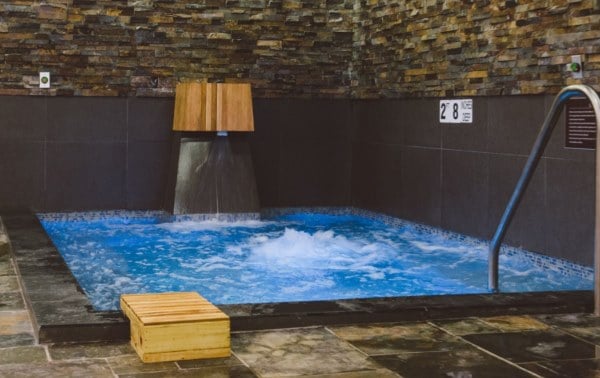 See all Spas in NJ.
Luxury Restaurants in NJ
Few things in life scream "luxury" as well as a delicious, well-prepared, high-end meal.
Head to one of these amazing luxury restaurants in NJ for a meal you won't ever forget.
Rat's Restaurant
16 Fairgrounds Rd. Hamilton, NJ 08619
609-584-7800
Rat's is well known not only for it's delectable menu, but also for it's stunning views.
Fun fact: the restaurant got it's name from the children's book The Wind in the Willows and was designed to feel like a village reminiscent of the town Giverny in Claude Monet's paintings.
Located inside of Grounds For Sculpture, you can expect to take in the view of a lifetime for the duration of your meal.
The restaurant is known for serving classic French cuisine, and we can confirm this is some of the best authentic French food you'll find in NJ.
Rat's is also a wonderful location to host the most luxurious special events, from weddings to birthdays to baby showers!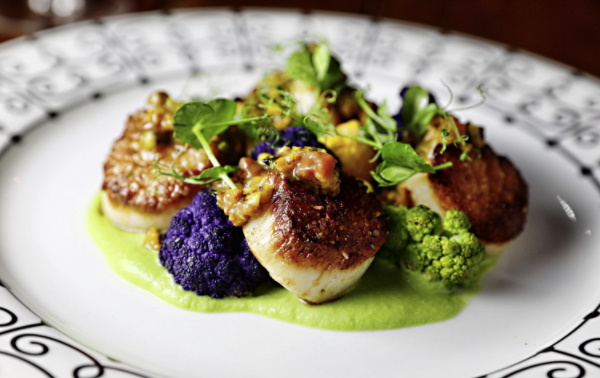 Elements
66 Witherspoon St. Princeton, NJ 08542
609-924-0078
Not only is Elements known as one of the most luxurious restaurants in the Princeton area, it is known for being one of the greatest restaurant experiences in all of the country.
The restaurant only has nine tables, each with a perfect view of the open kitchen.
Go for the four-course prixe-fixe menu, 10-12 course chef's tasting, or the 17-22 course grand tasting on a really special occasion.
All fresh ingredients used in the carefully constructed seasonal menu are sourced locally, and every dish hand delivered to the table is carefully explained by a member of the kitchen team.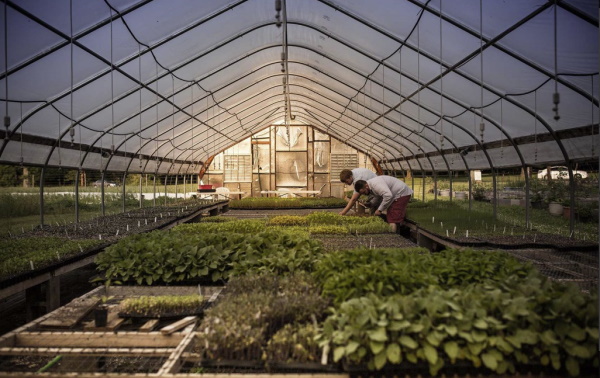 Nicholas Barrel & Roost
160 Route 35 South, Red Bank, NJ 07701
732-345-9977
Formerly known as Restaurant Nicholas, Nicholas Barrel & Roost in Red Bank takes pride in having modernized the idea of fine dining.
The restaurant is owned by Chef Nicholas Haray and his wife, Melissa, and has been serving a bold selection of foods since 2000.
Before changing it's name, Restaurant Nicholas served a fine dining menu in a white-tablecloth atmosphere. The best part about the new Nicholas Barrel & Roost? It offers very similar fine dining and luxurious eating in an atmosphere that is both comfortable and accessible.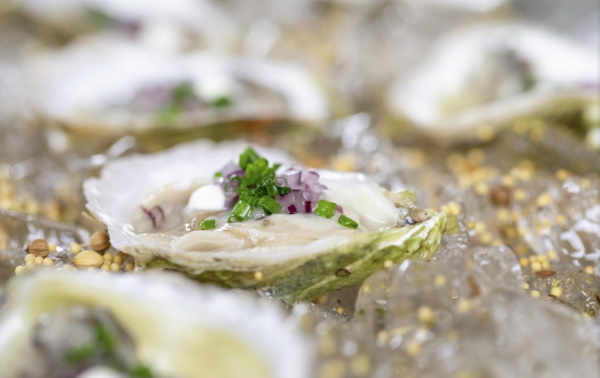 Chez Catherine
431 N Ave. West, Westfield, NJ 07090
908-654-4011
Are you surprised? We have another restaurant on our list of luxury in NJ serving outstanding French cuisine!
Chez Catherine serves elegance, luxury, and true culinary expertise in a beautiful and high-end atmosphere. It is known throughout the northeast as the classic French destination in NJ.
For a truly luxurious experience, we recommend trying the three or four-course prixe-fixed menu, which includes 2 Hors-d'ouvre with your meal.
For the full experience, try a bottle of French champagne with your meal!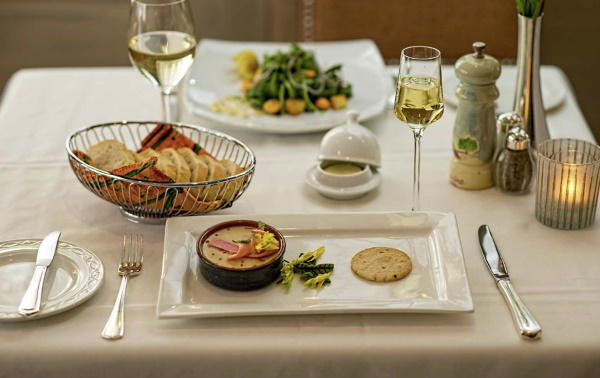 Want some more options for dinner?
See our guide to the best restaurants in NJ or check out our picks for the 122 top restaurants in NJ! Also, see our picks of the most romantic restaurants in NJ.
Luxury Resorts NJ
Ocean Place Resort and Spa
1 Ocean Blvd. Long Branch, NJ 07740
732-571-4000
Ocean Place Resort and Spa is indulgence and relaxation located right on the Jersey shore.
The resort is located right on 530 feet of a gorgeous private beach, with 258 guestrooms and suites, an outdoor and indoor pool, an outdoor Tiki Bar, outdoor dining at Terrace Grill, and Seaview Restaurant and Lounge, an on-site restaurant and lounge serving coastal cuisine.
Book a day at the resort's 14,000 square foot spa, The Spa at Ocean Place, in one of the 12 private ocean-view treatment rooms.
The spa services offered include steam rooms, body treatments, massage treatments, facials, nail and hair services.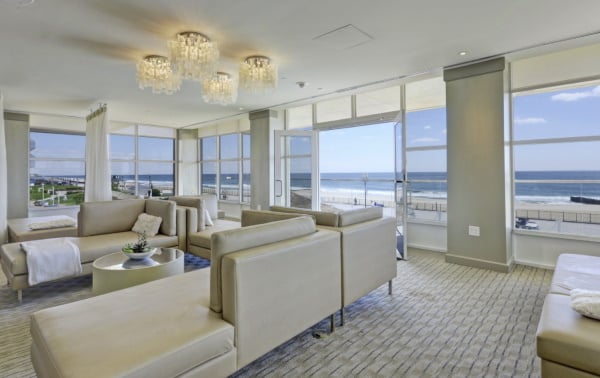 Wave Resort & Spa 
110 Ocean Ave. Long Branch, NJ 07740
732-612-9283
Wave Resort in Long Branch is brand new and was specifically designed to be your go-to luxury Jersey shore getaway destination.
The resort has a pool deck complete with a swim-up bar, sundeck, and amazing ocean views.
An on-site spa, Wave Spa, offers relaxing treatments and is even complete with a blow bar salon, Hot Mess Style Lounge.
Wave Resort has four on-site dining options. 100 Ocean offers a menu filled with dishes prepared with local and seasonal ingredients in a fine-dining atmosphere. BuzzBait is a coffee shop offering pastries and coffee. Branch Cantina's menu uses fresh, locally sourced ingredients in their Mexican-inspired dishes. LBK Grill is an oceanfront grill serving quick bites like burgers, salads, sandwiches, tacos, and more.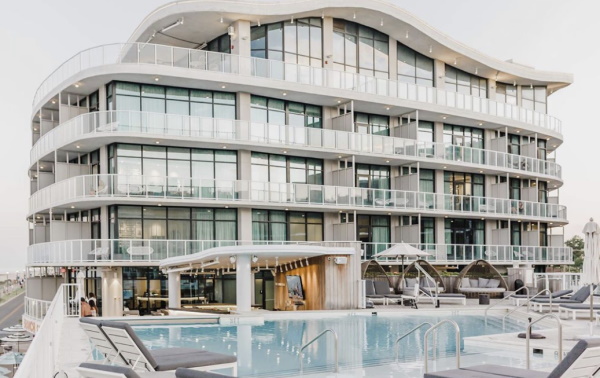 For more places to stay, see our guide to the best lodging in NJ.
Luxury Hotels in NJ
W Hoboken
225 River St. Hoboken, NJ 07030
201-253-2400
Here's the thing about W Hoboken–not only is this hotel one of the most luxurious and highly rated hotels in the entire state of New Jersey, but it also has the best views of the New York City skyline.
It's located right on the Hudson River with large windows in the suites, creating the perfect view of everyone's favorite city.
Halifax, W Hoboken's American coastal restaurant, serves fresh and local cuisine. Relax and unwind at W Hoboken's Living Room lounge with delicious cocktails and live music.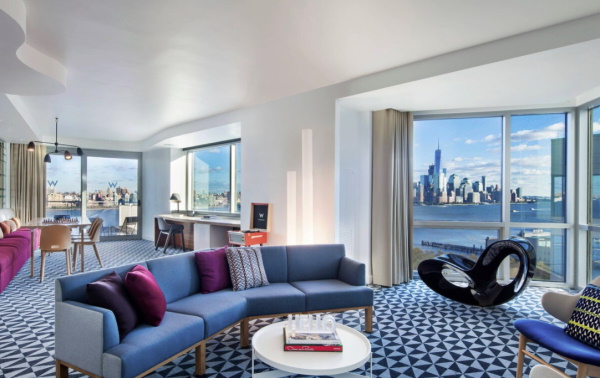 The Tower Cottage Luxury Inn
203 Forman Ave. Point Pleasant Beach, NJ 08742
877-766-2693
The Tower Cottage Luxury Inn is a bed and breakfast in Point Pleasant Beach that has been restored from a Queen Anne Victorian Inn.
The inn is located just two blocks from the beach, making for a much quieter getaway than the usual Jersey shore trip.
Each room at The Tower Cottage is decorated with an English, Italian, and French cultural flair. The bathrooms are finished with marble or Italian tile, a therapeutic whirlpool, and a separate shower with spa shower heads.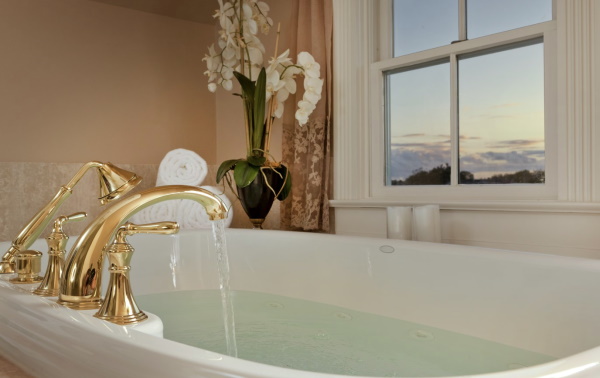 Asbury Ocean Club Hotel
1101 Ocean Ave. Asbury Park, NJ 07712
732-825-6000
Asbury Ocean Club is the shore's newest and hottest beach hotel. With one-bedroom suites and lofts, the Asbury Ocean Club is the perfect oasis on the beach.
Spend your day at the Pool & Garden Terrace, with an uninterrupted view of the ocean, sunbeams, and a modern bar area.
The hotel also has a spa, state-of-the-art fitness center, and a unique on-site dining experience.
The Gallery, the hotel's restaurant, offers a limited number of reservations each night for a culinary journey led by chef Michael Dunston.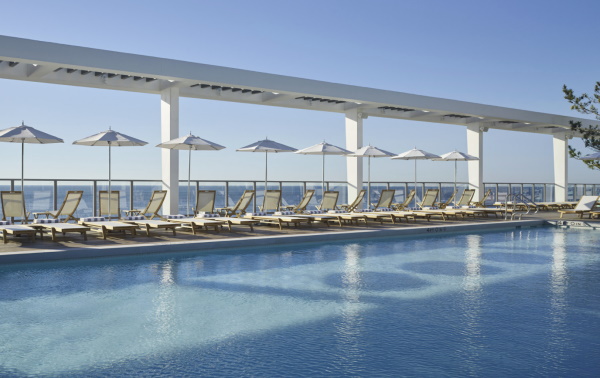 The MC Hotel
690 Bloomfield Ave. Montclair, NJ 07042
844-624-6835
The MC Hotel brings luxury and relaxation right to the heart of the artsy community in Montclair.
Staying at this hotel feels like staying at a top-tier boutique hotel in New York City. The common areas and guest rooms are extremely well-decorated, are very modern, and have lots of natural light.
Grab something to eat at Allegory, located right within the hotel. The food is served as shared plates with multiple courses.
The MC Hotel is also a wonderful venue for hosting both big and small events such as weddings, meetings, and more.
Check out our choices for the Top 10 Hotels in NJ!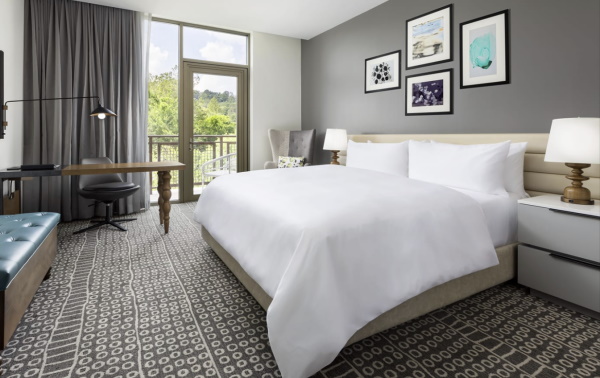 Luxurious Towns in NJ
Cape May, NJ
It doesn't get much lovelier or more luxurious than Cape May New Jersey. Beautiful Victorian homes line the streets in this wonderful shore town. Here are some of the best things to do in Cape May.
Luxury hotels cape may NJ
Congress Hall
Angel of the Sea
Caroll Villa hotel
The Southern Mansion
Lokal Hotel
Lambertville New Jersey
This gorgeous little town is top right on the banks of the Delaware River. Come and enjoy the lovely little shops and antique stores. This is also a great little town for foodies. They have many great little restaurants. Bucks County Pennsylvania is a hop skip and jump across the river.
Princeton New Jersey
Home of the world-famous Princeton University. Here you'll find amazing little boutiques and high-end shops as well as a brewery, and many other small eateries.
Spring Lake New Jersey
In Spring Lake you'll find some unbelievably beautiful homes. This quiet shore town is a gem.
Clinton New Jersey
Come visit and take a picture of the Red Mill Museum Village which is perched right on the Raritan River. This amazing town has some really cool restaurants and tiny shops.
Things to Do
So you've booked the hotel room and made reservations for the restaurant… now what?
We've put together a list of some of the most luxurious things to do in NJ. You're sure to impress that special someone with one of these!
Rent a yacht or charter boat
One of the best things about NJ is that we have so much to do down the shore. Renting a yacht, charter boat, or party boat for the day is an excellent way to live out your luxurious dreams.
Grab a bottle of champagne, some snacks, and set sail on the trip of a lifetime!
See our complete guide to boating in NJ for more information.
Horse and carriage ride
Picture this: you're setting off on your special date and a horse and carriage arrives to take you to your destination.
This is totally possible in New Jersey!
Hire one of the many horse and carriage services available to take your amazing day to the next level.
Take a trip to a winery
Take a trip to the local winery as another way to pamper yourself.
Many NJ wineries offer wine tasting, pairings, and even private tours of the vineyard.
Go on a Helicopter Tour!
Take off on one of the most exciting and luxurious trips of a lifetime… a helicopter tour!
There are various helicopter tours offered throughout New Jersey that provide different experiences. Want to fly over the Hudson River and take in the NYC skyline during your flight or do you want to fly over the stunning Jersey Shore?
Go shopping at some luxury boutiques
Nothing says luxury better than shopping! Shopping at boutiques provides for a super unique fashion experience.
Local boutique shops do their best to bring all of your favorite designers into one place.
They also generally offer a collection of clothing, accessories, and even shoes that all look great together.
See our hand-curated list of the best boutiques and shops in New Jersey.
Luxury cinemas NJ
cinepolis
Come enjoy their fully reclining leather seats in a theater and dining atmosphere.
You can have a full gourmet dinner and in a cocktail.
The lobby space at cinepolis is beautifully decorated and is elegant
Conclusion
When you think of New Jersey, you hardly think of living in the lap of luxury.
But you know what?
There is some real luxury and luxurious places to visit in this beautiful state.
My daughter Summer and I (my name is Charlie) are the owners of FunNewJersey.com. We have worked hard for years to build up this website. I thank each and every one of you that has ever come to visit us and spend time looking around our pages which are all about fun things to do in New Jersey.
Without you, our very valued visitors, we would not have this amazing resource.
We hope that you take a peek at Summers' new venture.
I thought I would mention it here while we're on the subject of luxury.
Summer's new site MyLuxuryLoft.com is all about luxurious goods, luxurious gifts, luxurious products, vacations, getaways, and much more!
If you get a moment please take a peek at her site. Here is a new blog post she just created about luxurious girlfriend getaway resorts all over the world.
There are some seriously epic places listed in that post. Hope you enjoy it.
And once again thank you for visiting for FunNewJersey.com.
Please leave some feedback below. We love feedback!