10 Crazy Themed Restaurants In NJ
Posted on January 16, 2023
By

admin

3061 Views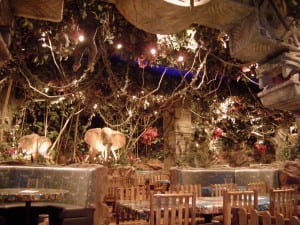 Themed restaurants are making a comeback, and it's not just for kids anymore! Since New Jersey is known for a bustling restaurant business, it comes as no surprise that there are plenty of restaurants to suit every palate possible in the Garden State. These themed restaurants may raise an eyebrow, but they'll definitely make your visit an unforgettable experience.
Medieval Times, Lyndhurst – You just can't have a New Jersey themed restaurants list without including the mother of all themed restaurants in the state. Medieval Times is, as one would expect, a medieval-themed restaurant in the shape of a castle. This restaurant comes complete with real jousting, costumed actors, medieval food, and amazing special effects. If you love Renaissance fairs, you'll adore this restaurant.
Rainforest Café, multiple locations – This themed chain restaurant is all about the rainforest. Bring your kids, and let them unleash their inner jungle explorer at the restaurant. Special effects include animatronic animals, aquariums, and a booming soundsystem.
The Kitchen Consigliere, Collingswood – What do you get when you have a restaurant owner who loves The Godfather and great Italian cuisine? You get the Kitchen Consigliere. It's all about mafia, great food, and of course, feeling like you're in the famous movie. It's an awesome concept, and it's one that was so cool, it even made TIME magazine! Oh, and did we mention that the restaurant owner is a convicted mobster? We didn't? Oh, well, he is. So, it's definitely the most authentic themed restaurant on this list.
Pilsener Haus & Biergarten, Hoboken – This is a great German-themed restaurant that really prides itself on authenticity. You get everything that you'd expect from a legit German restaurant. For example, they have real German beer, the place goes crazy during FIFA, and they also offer an Austro-Hungarian brunch once in a while. This is more adult-oriented theme restaurant, but definitely an awesome one if you love German culture.
The Ringside Lounge, Jersey City – Love boxing? So did the owner of the Ringside Lounge! This more adult-oriented themed restaurant is all about boxing, and actually has famous boxers drop in from time to time. Rumor has it that Mike Tyson is a regular, too. (Luckily, ears are not served on the menu.)
Gotham, Red Bank ­– This is, by far, the most upscale restaurant on this list so far, and while it is Batman-themed, it's totally not for kids. Gotham features a small but absolutely decadent food menu, an expansive drinks menu, insane amounts of provocative artwork, as well as a bit of Batman paraphernalia. While it's subtle in its theme, there's no doubt about the fact that you'll feel like you're hanging out in Bruce Wayne's mansion while you're there.
Captain Paul's Firehouse Dogs, Lawrenceville – If you haven't guessed, this is a hot dog restaurant with a funky firehouse theme to it. Every gourmet hot dog has cool themed names, and there's both indoor and outdoor seating available. This restaurant is known for a friendly staff and for some of the best hotdogs in the Princeton area. Yum!
Hard Rock Café, Atlantic City – This classic theme restaurant chain has made its home in Atlantic City for years, and has become somewhat of a local favorite. If you love rock music and classic American cuisine, then it's definitely worth a stop.
The Garlic Rose, Cranford – If you love garlic, then you're going to adore the Garlic Rose. Every single dish in this restaurant, as well as a number of alcoholic beverages, is made with garlic. While we might not suggest this location as a dining venue for a first date, couples who both enjoy garlic and don't mind garlic breath will definitely want to hit this romantic little locale later on in the relationship.
Pub 199, Mt. Arlington – People who hate the sight of taxidermied animals may want to avoid Pub 199, since it has enough stuffed animal heads to make Chuck Testa feel inadequate. This very old school hunting and fishing themed restaurant serves beer, clams, and meat. Definitely, this is a man's man's venue if there ever was one.
There's a reason why New Jersey is considered to be eccentric, but the truth is that in terms of food, it's something you have to see in order to believe. Have you been to any of these restaurants? Tell us in the comments below!