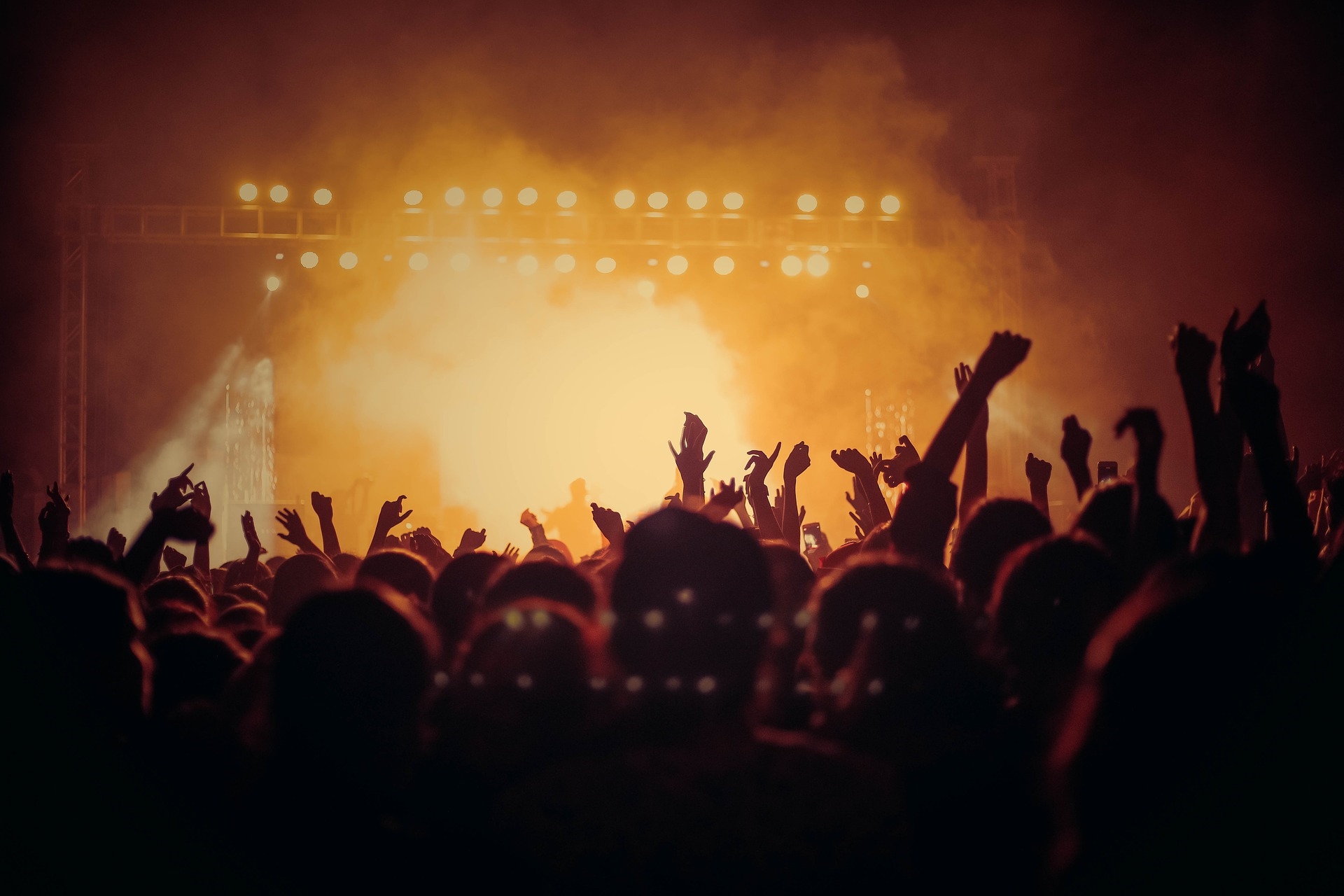 Upcoming Concerts, Theater and Performances in New Jersey in December 2018
Do not miss NJ Ballet's Nutcracker at the Bergen Performing Arts Center – Playing from the 1st through the 27th if December 2018.
See only upcoming Christmas Holiday Shows or Christmas Attractions in NJ
Find your Date below and enter FunNJ1 to get 8% off your order. Merry Christmas!
Upcoming concerts in NJ in December 2018
Sun Dec 2
1:00PM
PARKING: New York Giants vs. Chicago Bears
Sun Dec 2
1:00PM
Monster Jam
Sun Dec 2
1:00PM
New Jersey Ballet: The Nutcracker
Sun Dec 2
2:00PM
Boston Pops
Sun Dec 2
2:00PM
Motor City Live – A Motown Tribute

Sound Waves at Hard Rock Hotel & Casino – Atlantic City – Atlantic City, NJ

Sun Dec 2
3:00PM
Monty Python's Spamalot

Community Theatre At Mayo Center For The Performing Arts – Morristown, NJ

Sun Dec 2
3:00PM
New Jersey Symphony Orchestra: Joshua Weilerstein – Rhapsody In Blue and The Firebird

New Jersey Performing Arts Center – Prudential Hall – Newark, NJ

Sun Dec 2
4:30PM
New Jersey Ballet: The Nutcracker
Sun Dec 2
7:00PM
A Magical Holiday Spectacular

Tropicana Showroom at Tropicana Casino – NJ – Atlantic City, NJ

Sun Dec 2
7:00PM
Motor City Live – A Motown Tribute

Sound Waves at Hard Rock Hotel & Casino – Atlantic City – Atlantic City, NJ

Sun Dec 2
7:00PM
Frank Sinatra's Birthday Celebration
Sun Dec 2
7:30PM
Monty Python's Spamalot

Community Theatre At Mayo Center For The Performing Arts – Morristown, NJ

Mon Dec 3
3:30PM
Jingle – A Magical Holiday Spectacular

Tropicana Showroom at Tropicana Casino – NJ – Atlantic City, NJ

Mon Dec 3
7:00PM
New Jersey Devils vs. Tampa Bay Lightning
Mon Dec 3
7:00PM
A Magical Holiday Spectacular

Tropicana Showroom at Tropicana Casino – NJ – Atlantic City, NJ

Mon Dec 3
7:30PM
Dave Koz

Community Theatre At Mayo Center For The Performing Arts – Morristown, NJ

Mon Dec 3
8:00PM
Mike Cooley
Tue Dec 4
3:30PM
Jingle – A Magical Holiday Spectacular

Tropicana Showroom at Tropicana Casino – NJ – Atlantic City, NJ

Tue Dec 4
6:00PM
Reverend Peyton's Big Damn Band
Tue Dec 4
6:30PM
Seton Hall Pirates vs. New Hampshire Wildcats
Tue Dec 4
7:00PM
A Magical Holiday Spectacular

Tropicana Showroom at Tropicana Casino – NJ – Atlantic City, NJ

Tue Dec 4
7:00PM
Otep
Tue Dec 4
7:30PM
Craig Ferguson

Community Theatre At Mayo Center For The Performing Arts – Morristown, NJ

Tue Dec 4
8:00PM
Brian Wilson, Al Jardine & Blondie Chaplin
Tue Dec 4
8:00PM
Dave Koz
Wed Dec 5
7:00PM
Dave Koz
Wed Dec 5
7:30PM
Neil deGrasse Tyson

New Jersey Performing Arts Center – Prudential Hall – Newark, NJ

Wed Dec 5
8:00PM
David Crosby
Thu Dec 6
6:00PM
Killswitch Engage
Thu Dec 6
6:00PM
Lee DeWyze
Thu Dec 6
7:00PM
Ashley McBryde
Thu Dec 6
7:30PM
Donny and Marie Osmond

Community Theatre At Mayo Center For The Performing Arts – Morristown, NJ

Thu Dec 6
8:00PM
Neil deGrasse Tyson
Thu Dec 6
8:00PM
Mannheim Steamroller
Thu Dec 6
8:00PM
Dino's Cool Christmas Party
Fri Dec 7
6:00PM
Like Moths To Flames
Fri Dec 7
6:00PM
Becky Lynch
Fri Dec 7
7:00PM
Newsboys
Fri Dec 7
7:00PM
Jerry Seinfeld

New Jersey Performing Arts Center – Prudential Hall – Newark, NJ

Fri Dec 7
7:00PM
O.A.R.
Fri Dec 7
7:00PM
Almost Queen
Fri Dec 7
8:00PM
98 Degrees

Community Theatre At Mayo Center For The Performing Arts – Morristown, NJ

Fri Dec 7
8:00PM
Cirque Dreams: Holidaze
Fri Dec 7
8:00PM
Twelve Twenty Four
Fri Dec 7
8:00PM
Kenny G
Fri Dec 7
8:00PM
Rick Springfield
Fri Dec 7
8:00PM
Dino's Cool Christmas Party
Fri Dec 7
9:00PM
Craig Ferguson
Fri Dec 7
9:00PM
A Magical Holiday Spectacular

Tropicana Showroom at Tropicana Casino – NJ – Atlantic City, NJ

Fri Dec 7
9:30PM
Jerry Seinfeld

New Jersey Performing Arts Center – Prudential Hall – Newark, NJ

Sat Dec 8
1:00PM
The Nutcracker
Sat Dec 8
2:00PM
Paw Patrol Live

New Jersey Performing Arts Center – Prudential Hall – Newark, NJ

Sat Dec 8
2:00PM
Cirque Dreams: Holidaze
Sat Dec 8
4:00PM
Never Forget Tribute Classic: Clemson vs. Mississippi State & UConn vs. Florida State
Sat Dec 8
5:00PM
The Nutcracker
Sat Dec 8
6:00PM
Paw Patrol Live

New Jersey Performing Arts Center – Prudential Hall – Newark, NJ

Sat Dec 8
7:00PM
Holiday Doo Wop Extravaganza
Sat Dec 8
7:00PM
Reverend Horton Heat
Sat Dec 8
7:00PM
Dimenation – Pantera Tribute
Sat Dec 8
7:30PM
Chon – Band
Sat Dec 8
7:30PM
Primal Men Male Revue
Sat Dec 8
7:30PM
Emo Night Brooklyn
Sat Dec 8
8:00PM
Cirque Dreams: Holidaze
Sat Dec 8
8:00PM
A Magical Holiday Spectacular

Tropicana Showroom at Tropicana Casino – NJ – Atlantic City, NJ

Sat Dec 8
8:00PM
The Mavericks
Sat Dec 8
8:00PM
Wynonna Judd & The Big Noise
Sat Dec 8
8:00PM
Bayside
Sat Dec 8
8:00PM
O.A.R.

Sound Waves at Hard Rock Hotel & Casino – Atlantic City – Atlantic City, NJ

Sat Dec 8
8:00PM
The Voice of Elvis – Doug Church
Sat Dec 8
8:00PM
Dino's Cool Christmas Party
Sat Dec 8
9:00PM
Tony Orlando & Dawn
Sat Dec 8
10:00PM
Tchami
Sun Dec 9
10:00AM
Paw Patrol Live

New Jersey Performing Arts Center – Prudential Hall – Newark, NJ

Sun Dec 9
1:00PM
Marnie Met High Definition Broadcast
Sun Dec 9
1:00PM
The Nutcracker
Sun Dec 9
2:00PM
Paw Patrol Live

New Jersey Performing Arts Center – Prudential Hall – Newark, NJ

Sun Dec 9
2:00PM
Cirque Dreams: Holidaze
Sun Dec 9
2:00PM
Motor City Live – A Motown Tribute

Sound Waves at Hard Rock Hotel & Casino – Atlantic City – Atlantic City, NJ

Sun Dec 9
2:00PM
The Laurie Berkner Band
Sun Dec 9
3:00PM
Glenn Miller Orchestra
Sun Dec 9
5:00PM
The Nutcracker
Sun Dec 9
6:00PM
Paw Patrol Live

New Jersey Performing Arts Center – Prudential Hall – Newark, NJ

Sun Dec 9
7:00PM
A Magical Holiday Spectacular

Tropicana Showroom at Tropicana Casino – NJ – Atlantic City, NJ

Sun Dec 9
7:00PM
ICON 2018 Finals

Mainstage at Union County Performing Arts Center – Rahway, NJ

Sun Dec 9
7:00PM
Motor City Live – A Motown Tribute

Sound Waves at Hard Rock Hotel & Casino – Atlantic City – Atlantic City, NJ

Sun Dec 9
8:00PM
Dino's Cool Christmas Party
Sun Dec 9
8:15PM
Jake The Snake Roberts
Mon Dec 10
3:30PM
Jingle – A Magical Holiday Spectacular

Tropicana Showroom at Tropicana Casino – NJ – Atlantic City, NJ

Mon Dec 10
7:00PM
A Magical Holiday Spectacular

Tropicana Showroom at Tropicana Casino – NJ – Atlantic City, NJ

Mon Dec 10
8:00PM
Mannheim Steamroller
Mon Dec 10
8:00PM
Bob Woodward
Tue Dec 11
3:30PM
Under The Streetlamp
Tue Dec 11
3:30PM
Jingle – A Magical Holiday Spectacular

Tropicana Showroom at Tropicana Casino – NJ – Atlantic City, NJ

Tue Dec 11
7:00PM
A Magical Holiday Spectacular

Tropicana Showroom at Tropicana Casino – NJ – Atlantic City, NJ

Tue Dec 11
7:30PM
A Christmas Carol
Tue Dec 11
8:00PM
Jewel
Wed Dec 12
7:30PM
Vienna Boys Choir
Wed Dec 12
8:00PM
Puddles Pity Party
Thu Dec 13
7:00PM
Breaking Benjamin
Thu Dec 13
7:00PM
East Coast Indoor Dirt Nationals
Thu Dec 13
7:00PM
The Bunny The Bear
Thu Dec 13
7:30PM
The Hip Hop Nutcracker: Kurtis Blow

Paramount Theatre at Asbury Park Convention Hall – Asbury Park, NJ

Thu Dec 13
7:30PM
The Irish Tenors
Thu Dec 13
8:00PM
Vienna Boys Choir
Thu Dec 13
8:00PM
Puddles Pity Party
Thu Dec 13
8:30PM
Keller Williams' PettyGrass & The Hillbenders
Fri Dec 14
6:00PM
The Royal Scam – Tribute to Steely Dan
Fri Dec 14
7:00PM
New Jersey Devils vs. Vegas Golden Knights
Fri Dec 14
7:00PM
East Coast Indoor Dirt Nationals – Friday
Fri Dec 14
7:00PM
Eve 6
Fri Dec 14
7:00PM
Taking Back Sunday
Fri Dec 14
7:00PM
Midnight North
Fri Dec 14
7:30PM
New Jersey Ballet: The Nutcracker

Community Theatre At Mayo Center For The Performing Arts – Morristown, NJ

Fri Dec 14
7:30PM
Holiday Doo Wop
Fri Dec 14
8:00PM
Chris Lane
Fri Dec 14
8:00PM
Rodgers & Hammerstein's The King and I
Fri Dec 14
8:00PM
The Hot Sardines
Fri Dec 14
9:00PM
A Magical Holiday Spectacular

Tropicana Showroom at Tropicana Casino – NJ – Atlantic City, NJ

Sat Dec 15
TBA
Brian Fallon
Sat Dec 15
12:00PM
Basketball Hall of Fame Boardwalk Classic: Iona vs. Princeton, Temple vs. Davidson, Penn State vs. NC State & Virginia Tech vs. Washington
Sat Dec 15
1:00PM
New Jersey Ballet: The Nutcracker

Community Theatre At Mayo Center For The Performing Arts – Morristown, NJ

Sat Dec 15
1:00PM
La Traviata Met High Definition Broadcast
Sat Dec 15
2:00PM
The Nightmare Before Christmas

New Jersey Performing Arts Center – Prudential Hall – Newark, NJ

Sat Dec 15
2:00PM
Rodgers & Hammerstein's The King and I
Sat Dec 15
2:00PM
Seton Hall Pirates vs. Rutgers Scarlet Knights
Sat Dec 15
3:00PM
A Christmas Carol
Sat Dec 15
4:00PM
Rutgers Scarlet Knights vs. LSU Tigers [WOMEN]
Sat Dec 15
4:30PM
New York Jets vs. Houston Texans
Sat Dec 15
4:30PM
PARKING: New York Jets vs. Houston Texans
Sat Dec 15
5:00PM
East Coast Indoor Dirt Nationals – Saturday
Sat Dec 15
6:00PM
New Jersey Ballet: The Nutcracker

Community Theatre At Mayo Center For The Performing Arts – Morristown, NJ

Sat Dec 15
6:00PM
Billy Hector and The Midnight Horns
Sat Dec 15
6:30PM
Life Of Agony & Sick Of It All
Sat Dec 15
7:00PM
Atlantic City Ballet: The Nutcracker
Sat Dec 15
7:00PM
Taking Back Sunday
Sat Dec 15
7:00PM
Teen Top
Sat Dec 15
7:30PM
The Nightmare Before Christmas

New Jersey Performing Arts Center – Prudential Hall – Newark, NJ

Sat Dec 15
7:30PM
Primal Men Male Revue
Sat Dec 15
8:00PM
A Christmas Carol
Sat Dec 15
8:00PM
Rodgers & Hammerstein's The King and I
Sat Dec 15
8:00PM
A Magical Cirque Christmas
Sat Dec 15
8:00PM
Home Again – A Tribute to the Music of Carole King
Sat Dec 15
8:00PM
A Magical Holiday Spectacular

Tropicana Showroom at Tropicana Casino – NJ – Atlantic City, NJ

Sat Dec 15
8:00PM
Penn & Teller

Sound Waves at Hard Rock Hotel & Casino – Atlantic City – Atlantic City, NJ

Sat Dec 15
8:00PM
Louie Anderson

Mainstage at Union County Performing Arts Center – Rahway, NJ

Sat Dec 15
8:00PM
The Hot Sardines
Sat Dec 15
8:00PM
Frankie Zulferino

Resorts Atlantic City – Superstar Theater – Atlantic City, NJ

Sat Dec 15
9:00PM
98 Degrees
Sat Dec 15
10:00PM
Borgeous

Haven Nightclub at Golden Nugget Atlantic City – Atlantic City, NJ

Sun Dec 16
11:00AM
Shopkins Live!

Mainstage at Union County Performing Arts Center – Rahway, NJ

Sun Dec 16
1:00PM
New York Giants vs. Tennessee Titans
Sun Dec 16
1:00PM
PARKING: New York Giants vs. Tennessee Titans
Sun Dec 16
1:00PM
New Jersey Ballet: The Nutcracker

Community Theatre At Mayo Center For The Performing Arts – Morristown, NJ

Sun Dec 16
1:00PM
A Christmas Carol
Sun Dec 16
1:00PM
Rutgers Scarlet Knights vs. Rider Broncos

Rutgers Athletic Center – Piscataway Township – Piscataway, NJ

Sun Dec 16
1:00PM
Rutgers Scarlet Knights vs. Rider Broncos
Sun Dec 16
2:00PM
State Ballet Theatre of Russia: The Nutcracker

New Jersey Performing Arts Center – Prudential Hall – Newark, NJ

Sun Dec 16
2:00PM
Shopkins Live!

Mainstage at Union County Performing Arts Center – Rahway, NJ

Sun Dec 16
3:00PM
Bolshoi Ballet: Don Quixote High Definition Broadcast
Sun Dec 16
3:00PM
Local Sunday Matinee
Sun Dec 16
4:00PM
Atlantic City Ballet: The Nutcracker
Sun Dec 16
4:00PM
Monmouth Civic Chorus: Joy To The World
Sun Dec 16
4:30PM
A Christmas Carol
Sun Dec 16
5:00PM
The Front Bottoms, Manchester Orchestra & SWMRS
Sun Dec 16
6:00PM
New Jersey Ballet: The Nutcracker

Community Theatre At Mayo Center For The Performing Arts – Morristown, NJ

Sun Dec 16
7:00PM
State Ballet Theatre of Russia: The Nutcracker

New Jersey Performing Arts Center – Prudential Hall – Newark, NJ

Sun Dec 16
7:00PM
A Magical Holiday Spectacular

Tropicana Showroom at Tropicana Casino – NJ – Atlantic City, NJ

Sun Dec 16
7:00PM
Jim Brickman
Mon Dec 17
3:30PM
Jingle – A Magical Holiday Spectacular

Tropicana Showroom at Tropicana Casino – NJ – Atlantic City, NJ

Mon Dec 17
7:00PM
A Magical Holiday Spectacular

Tropicana Showroom at Tropicana Casino – NJ – Atlantic City, NJ

Mon Dec 17
8:00PM
Broadway Holiday

Resorts Atlantic City – Superstar Theater – Atlantic City, NJ

Tue Dec 18
3:30PM
Jingle – A Magical Holiday Spectacular

Tropicana Showroom at Tropicana Casino – NJ – Atlantic City, NJ

Tue Dec 18
7:00PM
New Jersey Devils vs. Toronto Maple Leafs
Tue Dec 18
7:00PM
A Magical Holiday Spectacular

Tropicana Showroom at Tropicana Casino – NJ – Atlantic City, NJ

Wed Dec 19
3:30PM
Vincent Talarico

Resorts Atlantic City – Superstar Theater – Atlantic City, NJ

Wed Dec 19
6:30PM
Seton Hall Pirates vs. Sacred Heart Pioneers
Wed Dec 19
7:00PM
Billy Strings
Wed Dec 19
7:30PM
Seasons Greetings
Wed Dec 19
8:00PM
A Magical Cirque Christmas
Thu Dec 20
6:00PM
The Acacia Strain
Thu Dec 20
6:00PM
Secondhand Serenade
Thu Dec 20
7:30PM
Seasons Greetings
Thu Dec 20
7:30PM
Darlene Love
Thu Dec 20
8:00PM
Anuel AA
Fri Dec 21
5:00PM
Boardwalk Battle: Towson Tigers vs. Tulane Green Wave & La Salle Explorers vs. Alabama A&M Bulldogs
Fri Dec 21
6:00PM
Angel Vivaldi & Nita Strauss
Fri Dec 21
7:00PM
Streetlight Manifesto
Fri Dec 21
7:00PM
New Jersey Devils vs. Ottawa Senators
Fri Dec 21
7:00PM
Back To The Eighties: Jessie's Girl
Fri Dec 21
7:00PM
John Eddie And His Dirty Old Band
Fri Dec 21
7:30PM
New Jersey Ballet: The Nutcracker

Community Theatre At Mayo Center For The Performing Arts – Morristown, NJ

Fri Dec 21
7:30PM
American Repertory Ballet: The Nutcracker
Fri Dec 21
8:00PM
Seasons Greetings
Fri Dec 21
8:00PM
VH1 That Metal Show Holiday Bash: Eddie Trunk, Don Jamieson & Jim Florentine
Fri Dec 21
8:00PM
From Good Homes
Fri Dec 21
9:00PM
A Magical Holiday Spectacular

Tropicana Showroom at Tropicana Casino – NJ – Atlantic City, NJ

Sat Dec 22
12:00PM
Boardwalk Battle: 3rd Place & Championship Game
Sat Dec 22
1:00PM
New Jersey Ballet: The Nutcracker

Community Theatre At Mayo Center For The Performing Arts – Morristown, NJ
Sat Dec 22
2:00PM
American Repertory Ballet: The Nutcracker
Sat Dec 22
3:00PM
Seasons Greetings
Sat Dec 22
3:00PM
Trans-Siberian Orchestra
Sat Dec 22
6:00PM
New Jersey Ballet: The Nutcracker

Community Theatre At Mayo Center For The Performing Arts – Morristown, NJ

Sat Dec 22
7:00PM
Streetlight Manifesto
Sat Dec 22
7:00PM
American Repertory Ballet: The Nutcracker
Sat Dec 22
7:00PM
Countess Luann & Her Holiday Cabaret Show
Sat Dec 22
7:00PM
Sensational Soul Cruisers
Sat Dec 22
7:30PM
Primal Men Male Revue
Sat Dec 22
8:00PM
Headbangers Holiday Hell: Mike LePond's Silent Assassins
Sat Dec 22
8:00PM
Seasons Greetings
Sat Dec 22
8:00PM
Trans-Siberian Orchestra
Sat Dec 22
8:00PM
From Good Homes
Sat Dec 22
8:00PM
Trophy Scars
Sat Dec 22
8:00PM
Brian Kirk & The Jirks
Sun Dec 23
1:00PM
New York Jets vs. Green Bay Packers
Sun Dec 23
1:00PM
PARKING: New York Jets vs. Green Bay Packers
Sun Dec 23
1:00PM
New Jersey Ballet: The Nutcracker

Community Theatre At Mayo Center For The Performing Arts – Morristown, NJ

Sun Dec 23
1:00PM
New Jersey Devils vs. Columbus Blue Jackets
Sun Dec 23
1:00PM
American Repertory Ballet: The Nutcracker
Sun Dec 23
3:00PM
Seasons Greetings
Sun Dec 23
3:00PM
Local Sunday Matinee
Sun Dec 23
5:00PM
American Repertory Ballet: The Nutcracker
Sun Dec 23
6:00PM
New Jersey Ballet: The Nutcracker

Community Theatre At Mayo Center For The Performing Arts – Morristown, NJ

Mon Dec 24
1:00PM
New Jersey Ballet: The Nutcracker

Community Theatre At Mayo Center For The Performing Arts – Morristown, NJ

Wed Dec 26
1:00PM
New Jersey Ballet: The Nutcracker

Community Theatre At Mayo Center For The Performing Arts – Morristown, NJ

Wed Dec 26
6:00PM
New Jersey Ballet: The Nutcracker

Community Theatre At Mayo Center For The Performing Arts – Morristown, NJ

Wed Dec 26
7:00PM
Cirque Dreams: Holidaze

New Jersey Performing Arts Center – Prudential Hall – Newark, NJ

Wed Dec 26
8:00PM
Broadway Holiday

Resorts Atlantic City – Superstar Theater – Atlantic City, NJ

Thu Dec 27
1:00PM
New Jersey Ballet: The Nutcracker

Community Theatre At Mayo Center For The Performing Arts – Morristown, NJ

Thu Dec 27
7:00PM
Cirque Dreams: Holidaze

New Jersey Performing Arts Center – Prudential Hall – Newark, NJ

Thu Dec 27
7:00PM
The Werks
Thu Dec 27
7:00PM
The Roots
Thu Dec 27
8:00PM
Broadway Holiday

Resorts Atlantic City – Superstar Theater – Atlantic City, NJ

Fri Dec 28
2:00PM
Imagination Movers
Fri Dec 28
4:00PM
Rutgers Scarlet Knights vs. Northwestern Wildcats [WOMEN]
Fri Dec 28
6:30PM
Clutch
Fri Dec 28
7:30PM
U.S. Bombs
Fri Dec 28
8:00PM
The E Street Shuffle – A Tribute to the Boss
Fri Dec 28
8:00PM
Kevin Hart

Mark G. Etess Arena at Hard Rock Hotel & Casino – Atlantic City – Atlantic City, NJ

Fri Dec 28
8:00PM
Broadway Holiday

Resorts Atlantic City – Superstar Theater – Atlantic City, NJ

Fri Dec 28
9:00PM
Japanese Breakfast
Sat Dec 29
1:00PM
New Jersey Devils vs. Carolina Hurricanes
Sat Dec 29
3:00PM
Rutgers Scarlet Knights vs. Maine Black Bears
Sat Dec 29
7:00PM
U.S. Bombs
Sat Dec 29
7:00PM
Light My Fire – A Tribute To The Doors
Sat Dec 29
7:30PM
Primal Men Male Revue
Sat Dec 29
8:00PM
Sinbad
Sat Dec 29
8:00PM
Ghostface Killah
Sat Dec 29
8:00PM
Margo Price & Lilly Hiatt
Sat Dec 29
8:00PM
Felix Cavaliere's Rascals
Sat Dec 29
8:00PM
Broadway Holiday

Resorts Atlantic City – Superstar Theater – Atlantic City, NJ

Sat Dec 29
8:30PM
Seton Hall Pirates vs. St. Johns Red Storm
Sat Dec 29
10:00PM
Brklyn

Haven Nightclub at Golden Nugget Atlantic City – Atlantic City, NJ

Sun Dec 30
TBA
Dark Star Orchestra – 2 Day Pass
Sun Dec 30
12:00PM
Choo Choo Soul
Sun Dec 30
1:00PM
New York Giants vs. Dallas Cowboys
Sun Dec 30
1:00PM
PARKING: New York Giants vs. Dallas Cowboys
Sun Dec 30
4:00PM
Choo Choo Soul
Sun Dec 30
6:00PM
The Harlem Globetrotters
Sun Dec 30
7:00PM
Dark Star Orchestra
Sun Dec 30
8:00PM
Hop Along
Sun Dec 30
8:00PM
Breaking Benjamin

Mark G. Etess Arena at Hard Rock Hotel & Casino – Atlantic City – Atlantic City, NJ

Mon Dec 31
1:00PM
New Jersey Devils vs. Vancouver Canucks
Mon Dec 31
6:00PM
Salute To Vienna
Mon Dec 31
7:00PM
Dark Star Orchestra
Mon Dec 31
7:00PM
Milo Z
Mon Dec 31
9:00PM
Southside Johnny and The Asbury Jukes
Mon Dec 31
9:00PM
The O'Jays

Mark G. Etess Arena at Hard Rock Hotel & Casino – Atlantic City – Atlantic City, NJ

Mon Dec 31
9:30PM
War – Band

Tropicana Showroom at Tropicana Casino – NJ – Atlantic City, NJ

Mon Dec 31
10:00PM
Hop Along
Mon Dec 31
10:30PM
Tavares

Resorts Atlantic City – Superstar Theater – Atlantic City, NJ

Thu Jan 3
7:00PM
Disney On Ice: 100 Years of Magic
Thu Jan 3
7:00PM
Disney On Ice: Frozen
Thu Jan 3
7:30PM
New Jersey Symphony Orchestra: Constantine Kitsopoulos – Star Wars: The Empire Strikes Back
Fri Jan 4
7:00PM
Rutgers Scarlet Knights vs. Brown Bears [WOMEN]
Fri Jan 4
7:00PM
Disney On Ice: 100 Years of Magic
Fri Jan 4
7:00PM
Disney On Ice: Frozen
Fri Jan 4
7:00PM
Shwayze
Fri Jan 4
7:00PM
Lez Zeppelin
Fri Jan 4
8:00PM
Star Wars Episode V – The Empire Strikes Back In Concert
Fri Jan 4
8:00PM
The Purple Xperience
Sat Jan 5
11:00AM
Disney On Ice: 100 Years of Magic
Sat Jan 5
11:00AM
Disney On Ice: Frozen
Sat Jan 5
2:00PM
Rutgers Scarlet Knights vs. Maryland Terrapins
Sat Jan 5
2:00PM
Princeton Tigers vs. Pennsylvania Quakers [WOMEN]
Sat Jan 5
3:00PM
New Jersey Symphony Orchestra: Constantine Kitsopoulos – Star Wars: The Empire Strikes Back

New Jersey Performing Arts Center – Prudential Hall – Newark, NJ

Sat Jan 5
3:00PM
Disney On Ice: 100 Years of Magic
Sat Jan 5
3:00PM
Disney On Ice: Frozen
Sat Jan 5
7:00PM
Badfish
Sat Jan 5
7:00PM
Disney On Ice: 100 Years of Magic
Sat Jan 5
7:00PM
Disney On Ice: Frozen
Sat Jan 5
7:30PM
Primal Men Male Revue
Sat Jan 5
8:00PM
New Jersey Symphony Orchestra: Constantine Kitsopoulos – The Empire Strikes Back In Concert

New Jersey Performing Arts Center – Prudential Hall – Newark, NJ

Sat Jan 5
8:00PM
The Englishtown Project
Sun Jan 6
11:00AM
Disney On Ice: 100 Years of Magic
Sun Jan 6
12:00PM
Disney On Ice: Frozen
Sun Jan 6
1:00PM
La Traviata Met High Definition Broadcast
Sun Jan 6
3:00PM
New Jersey Symphony Orchestra: Constantine Kitsopoulos – Star Wars' The Empire Strikes
Recent posts in Music Scene